Community Blog
Keep up-to-date on postgraduate related issues with our quick reads written by students, postdocs, professors and industry leaders.
Thesis and Dissertation Appendicies – What to Include
By DiscoverPhDs
August 12, 2020
An appendix is a section at the end of a dissertation that contains supplementary information. An appendix may contain figures, tables, raw data, and other additional information that supports the arguments of your dissertation but do not belong in the main body.
It can be either a long appendix or split into several smaller appendices. Each appendix should have its own title and identification letters, and the numbering for any tables or figures in them should be reset at the beginning of each new appendix.
Purpose of an Appendix
When writing the main body of your dissertation, it is important to keep it short and concise in order to convey your arguments effectively.
Given the amount of research you would have done, you will probably have a lot of additional information that you would like to share with your audience.
This is where appendices come in. Any information that doesn't support your main arguments or isn't directly relevant to the topic of your dissertation should be placed in an appendix.
This will help you organise your paper, as only information that adds weight to your arguments will be included; it will also help improve your flow by minimising unnecessary interruptions.
Note, however, that your main body must be detailed enough that it can be understood without your appendices. If a reader has to flip between pages to make sense of what they are reading, they are unlikely to understand it.
For this reason, appendices should only be used for supporting background material and not for any content that doesn't fit into your word count, such as the second half of your literature review .
What to Include in a Dissertation Appendix
A dissertation appendix can be used for the following supplementary information:
Research Results
There are various ways in which research results can be presented, such as in tables or diagrams.
Although all of your results will be useful to some extent, you won't be able to include them all in the main body of your dissertation. Consequently, only those that are crucial to answering your research question should be included.
Your other less significant findings should be placed in your appendix, including raw data, proof of control measures, and other supplemental material.
Details of Questionnaires and Interviews
You can choose to include the details of any surveys and interviews you have conducted. This can include:
An interview transcript,
A copy of any survey questions,
Questionnaire results.
Although the results of your surveys, questionnaires or interviews should be presented and discussed in your main text, it is useful to include their full form in the appendix of a dissertation to give credibility to your study.
Tables, Figures and Illustrations
If your dissertation contains a large number of tables, figures and illustrative material, it may be helpful to insert the less important ones in your appendix. For example, if you have four related datasets, you could present all the data and trend lines (made identifiable by different colours) on a single chart with a further breakdown for each dataset in your appendix.
Letters and Correspondence
If you have letters or correspondence, either between yourself and other researchers or places where you sought permission to reuse copyrighted material, they should be included here. This will help ensure that your dissertation doesn't become suspected of plagiarism.
List of Abbreviations
Most researchers will provide a list of abbreviations at the beginning of their dissertation, but if not, it would be wise to add them as an appendix.
This is because not all of your readers will have the same background as you and therefore may have difficulty understanding the abbreviations and technical terms you use.
Note: Some researchers refer to this as a 'glossary', especially if it is provided as an appendix section. For all intended purposes, this is the same as a list of abbreviations.
Finding a PhD has never been this easy – search for a PhD by keyword, location or academic area of interest.
How to Format a Dissertation Appendix
In regards to format, you can include one lengthy appendix or structure it into several smaller appendices.
Although the choice is yours, it is usually better to opt for several different appendices as it allows you to organise your supplementary information into different categories based on what they are.
The following guidelines should be observed when preparing your dissertation appendices section:
Each appendix should start on a new page and be given a unique title and identifying letter, such as "Appendix A – Raw Data". This allows you to more easily refer to appendix headings in the text of your main body should you need to.
Each appendix should have its own page numbering system, comprising the appendix identification letter and the corresponding page number. The appendix identification letter should be reset for each appendix, but the page number should remain continuous. For example, if 'Appendix A' has three pages and 'Appendix B' two pages, the page numbers should be A-1, A-2, A-3, B-4, B-5.
The numbering of tables and figures should be reset at the beginning of each new appendix. For example, if 'Appendix A' contains two tables and 'Appendix B' one table, the table number within Appendix B should be 'Table 1' and not 'Table 3'.
If you have multiple appendices instead of a single longer one, insert a 'List of Appendices' in the same way as your contents page.
Use the same formatting (font size, font type, spacing, margins, etc.) as the rest of your report.
Example of Appendices
Below is an example of what a thesis or dissertation appendix could look like.
Referring to an Appendix In-Text
You must refer to each appendix in the main body of your dissertation at least once to justify its inclusion; otherwise, the question arises as to whether they are really needed.
You can refer to an appendix in one of three ways:
1. Refer to a specific figure or table within a sentence, for example: "As shown in Table 2 of Appendix A, there is little correlation between X and Y".
2. Refer to a specific figure or table in parentheses, for example: "The results (refer to Table 2 of Appendix A) show that there is little correlation between X and Y".
3. Refer to an entire appendix, for example: "The output data can be found in Appendix A".
Appendices vs Appendixes
Both terms are correct, so it is up to you which one you prefer. However, it is worth noting that 'appendices' are used more frequently in the science and research community, so we recommend using the former in academic writing if you have no preferences.
Where Does an Appendix Go?
For a dissertation, your appendices should be inserted after your reference list.
Some people like to put their appendices in a standalone document to separate it from the rest of their report, but we only recommend this at the request of your dissertation supervisor, as this isn't common practice.
Note : Your university may have its own requirements or formatting suggestions for writing your dissertation or thesis appendix. As such, make sure you check with your supervisor or department before you work on your appendices. This will especially be the case for any students working on a thesis.
A thesis and dissertation appendix contains additional information which supports your main arguments. Find out what they should include and how to format them.
The term rationale of research means the reason for performing the research study in question.
A concept paper is a short document written by a researcher before starting their research project, explaining what the study is about, why it is needed and the methods that will be used.
Join thousands of other students and stay up to date with the latest PhD programmes, funding opportunities and advice.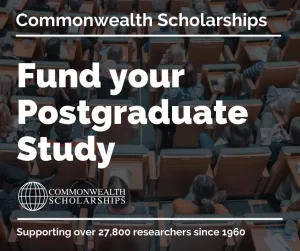 Browse PhDs Now
An In Press article is a paper that has been accepted for publication and is being prepared for print.
If you're about to sit your PhD viva, make sure you don't miss out on these 5 great tips to help you prepare.
Sammy is a second year PhD student at Cardiff Metropolitan University researching how secondary school teachers can meet the demands of the Digital Competence Framework.
Annabel is a third-year PhD student at the University of Glasgow, looking at the effects of online self-diagnosis and health information seeking on the patient-healthcare professional relationship.
Join Thousands of Students
Have a language expert improve your writing
Run a free plagiarism check in 10 minutes, generate accurate citations for free.
Knowledge Base
Research paper
Research Paper Appendix | Example & Templates
Research Paper Appendix | Example & Templates
Published on August 4, 2022 by Tegan George and Kirsten Dingemanse. Revised on November 29, 2022.
An appendix is a supplementary document that facilitates your reader's understanding of your research but is not essential to your core argument. Appendices are a useful tool for providing additional information or clarification in a research paper , dissertation , or thesis without making your final product too long.
Appendices help you provide more background information and nuance about your thesis or dissertation topic without disrupting your text with too many tables and figures or other distracting elements.
We've prepared some examples and templates for you, for inclusions such as research protocols, survey questions, and interview transcripts. All are worthy additions to an appendix. You can download these in the format of your choice below.
Download Word doc Download Google doc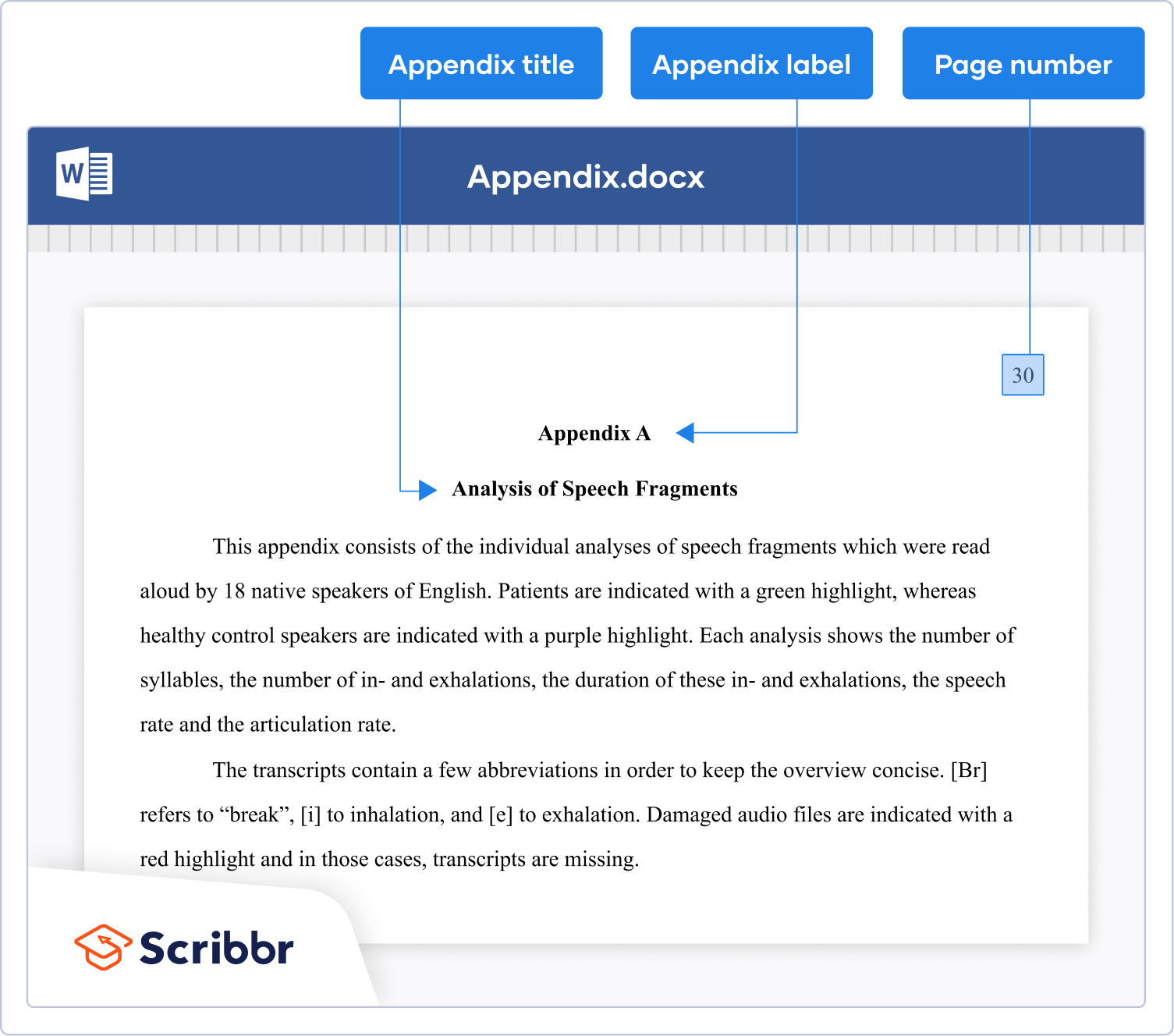 Table of contents
What is an appendix in a research paper, what to include in an appendix, how to format an appendix, how to refer to an appendix, where to put your appendices, other components to consider, appendix checklist, frequently asked questions about appendices.
In the main body of your research paper, it's important to provide clear and concise information that supports your argument and conclusions . However, after doing all that research, you'll often find that you have a lot of other interesting information that you want to share with your reader.
While including it all in the body would make your paper too long and unwieldy, this is exactly what an appendix is for.
As a rule of thumb, any detailed information that is not immediately needed to make your point can go in an appendix. This helps to keep your main text focused but still allows you to include the information you want to include somewhere in your paper.
An appendix can be used for different types of information, such as:
Supplementary results : Research findings  are often presented in different ways, but they don't all need to go in your paper. The results most relevant to your research question should always appear in the main text, while less significant results (such as detailed descriptions of your sample or supplemental analyses that do not help answer your main question), can be put in an appendix.
Statistical analyses : If you conducted statistical tests using software like Stata or R, you may also want to include the outputs of your analysis in an appendix.
Further information on surveys or interviews : Written materials or transcripts related to things such as surveys and interviews can also be placed in an appendix.
What can proofreading do for your paper?
Scribbr editors not only correct grammar and spelling mistakes, but also strengthen your writing by making sure your paper is free of vague language, redundant words, and awkward phrasing.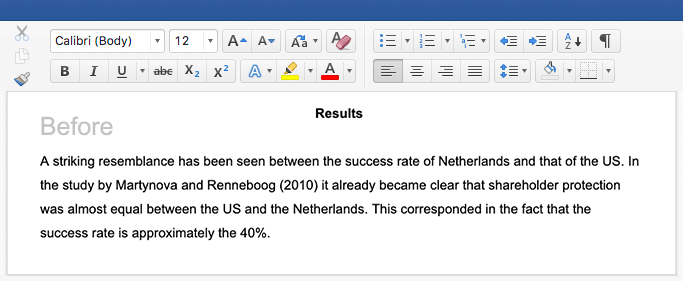 See editing example
You can opt to have one long appendix, but separating components (like interview transcripts, supplementary results, or surveys ) into different appendices makes the information simpler to navigate.
Here are a few tips to keep in mind:
Always start each appendix on a new page.
Assign it both a number (or letter) and a clear title, such as "Appendix A. Interview transcripts." This makes it easier for your reader to find the appendix, as well as for you to refer back to it in your main text.
Number and title the individual elements within each appendix (e.g., "Transcripts") to make it clear what you are referring to. Restart the numbering in each appendix at 1.
It is important that you refer to each of your appendices at least once in the main body of your paper. This can be done by mentioning the appendix and its number or letter, either in parentheses or within the main part of a sentence. It's also possible to refer to a particular component of an appendix.
Appendix B presents the correspondence exchanged with the fitness boutique. Example 2. Referring to an appendix component These results (see Appendix 2, Table 1) show that …
It is common to capitalize "Appendix" when referring to a specific appendix, but it is not mandatory. The key is just to make sure that you are consistent throughout your entire paper, similarly to consistency in  capitalizing headings and titles in academic writing .
However, note that lowercase should always be used if you are referring to appendices in general. For instance, "The appendices to this paper include additional information about both the survey and the interviews ."
The simplest option is to add your appendices after the main body of your text, after you finish citing your sources in the citation style of your choice. If this is what you choose to do, simply continue with the next page number. Another option is to put the appendices in a separate document that is delivered with your dissertation.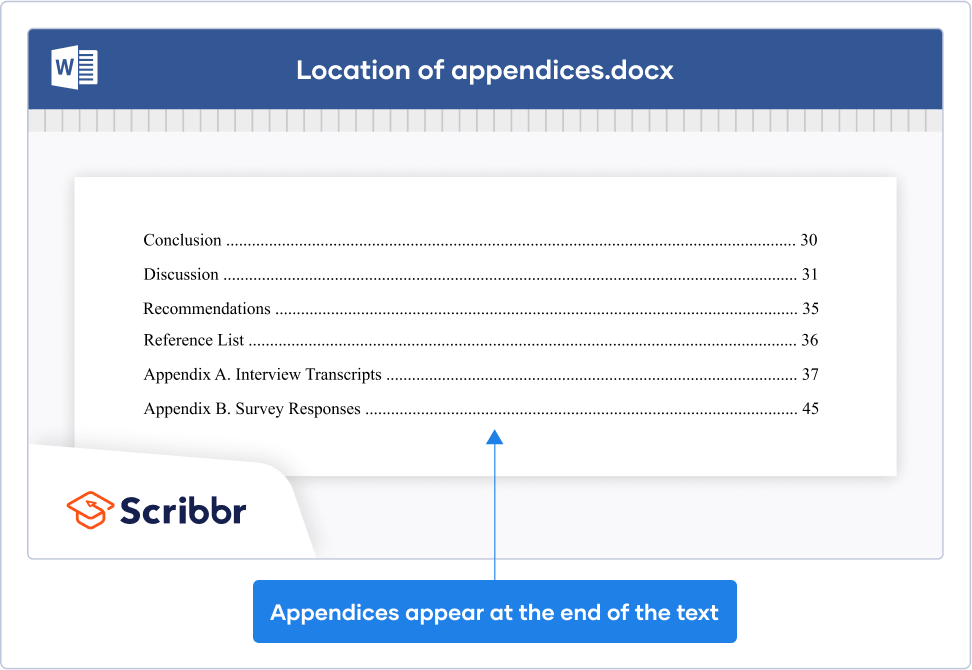 Remember that any appendices should be listed in your paper's table of contents .
There are a few other supplementary components related to appendices that you may want to consider. These include:
List of abbreviations : If you use a lot of abbreviations or field-specific symbols in your dissertation, it can be helpful to create a list of abbreviations .
Glossary : If you utilize many specialized or technical terms, it can also be helpful to create a glossary .
Tables, figures and other graphics : You may find you have too many tables, figures, and other graphics (such as charts and illustrations) to include in the main body of your dissertation. If this is the case, consider adding a figure and table list .
Checklist: Appendix
All appendices contain information that is relevant, but not essential, to the main text.
Each appendix starts on a new page.
I have given each appendix a number and clear title.
I have assigned any specific sub-components (e.g., tables and figures) their own numbers and titles.
My appendices are easy to follow and clearly formatted.
I have referred to each appendix at least once in the main text.
Your appendices look great! Use the other checklists to further improve your thesis.
Yes, if relevant you can and should include APA in-text citations in your appendices . Use author-date citations as you do in the main text.
Any sources cited in your appendices should appear in your reference list . Do not create a separate reference list for your appendices.
An appendix contains information that supplements the reader's understanding of your research but is not essential to it. For example:
Interview transcripts
Questionnaires
Detailed descriptions of equipment
Something is only worth including as an appendix if you refer to information from it at some point in the text (e.g. quoting from an interview transcript). If you don't, it should probably be removed.
When you include more than one appendix in an APA Style paper , they should be labeled "Appendix A," "Appendix B," and so on.
When you only include a single appendix, it is simply called "Appendix" and referred to as such in the main text.
Appendices in an APA Style paper appear right at the end, after the reference list and after your tables and figures if you've also included these at the end.
You may have seen both "appendices" or "appendixes" as pluralizations of " appendix ." Either spelling can be used, but "appendices" is more common (including in APA Style ). Consistency is key here: make sure you use the same spelling throughout your paper.
Cite this Scribbr article
If you want to cite this source, you can copy and paste the citation or click the "Cite this Scribbr article" button to automatically add the citation to our free Citation Generator.
George, T. & Dingemanse, K. (2022, November 29). Research Paper Appendix | Example & Templates. Scribbr. Retrieved February 27, 2023, from https://www.scribbr.com/dissertation/appendix/
Is this article helpful?
Tegan George
Other students also liked, dissertation table of contents in word | instructions & examples, what is a glossary | definition, templates, & examples, figure and table lists | word instructions, template & examples, what is your plagiarism score.
The Graduate College at the University of Illinois at Urbana-Champaign
Appendix(es) (optional).
Refer to either the Sample (Straight Numbering) or Sample (Decimal Numbering) pages as you read through this section. Note: For the Appendices, you should use the same numbering style you chose for the Main Text.
The appendix is a section that is placed at the end of the thesis and may contain material such as tables, figures, maps, photographs, raw data, computer programs, musical examples, interview questions, sample questionnaires, CDs, and many other types of material.
An appendix is considered a chapter equivalent and the appendix title should be formatted like a chapter title.
Multiple appendices should be numbered A, B, C, and so on. Each appendix should be treated as a separate chapter equivalent and will therefore start on a new page.
Page numbers used in the appendix must continue from the main text.
As a best practice, include your IRB approval letter (if applicable) in an appendix.
Do not include a curriculum vitae or author's biography in your thesis; the Graduate College no longer accepts these sections.
As part of the thesis, any appendix materials must be reviewed and approved by the director of research and committee.
The thesis or dissertation itself should be understandable without the supplemental appendix materials.
As part of the ETD submission, students may upload supplemental electronic files as part of their thesis or dissertation. These files are considered appendix items, and an appendix page must be included as part of the thesis and should be numbered accordingly. This page should include an appendix title, such as "Appendix A: Interview Transcriptions," and a brief description of the material along with the name of the file in which the material is contained.
Formatting your thesis: Appendices & supplemental material

On this page
Introduction, materials included in appendices, supplemental material, order of appendices, appendix headings, formatting help.
Appendices provide supplementary information to the main thesis and should always appear after the references/bibliography. If you are unsure about whether content should be included in the thesis or in an appendix, consult with your supervisor. The thesis and appendices must be uploaded in a single file.
For more information about appendices, please see the Thesis Template Instructions .
Note: Signatures, personal phone numbers, or personal email addresses (ones that contains part of a person's name) must be redacted from your thesis. This means that the text is fully removed, and cannot be copied & pasted out of the document.
If including copyrighted materials as appendices, see Copyright at SFU .
Examples of material included in appendices are as follows--also refer to Formatting Help .
interview questions
participant letters / forms  
surveys / questionnaires (if not your own work, these require copyright permission)
supplemental tables / figures / graphs / image
If you have material that cannot be included within your document (data, audio, video, hi-resolution images), you can upload supplemental material files to your library submission record (in addition to your thesis document). The maximum file size for each file is 600MB .
If you are including supplemental material in your submission, you must also include an appendix within your thesis document, which contains an overall description of the subject matter, credits, and file name(s). This assists in "linking" your document to any additional supplementary material, as well as providing further information and context about the file(s).
Upload .mp3 (audio) and .mp4 (video) files for embedded playback at the document's Summit page
Summit supports H.264 HD video
Lossless audio (.wav, .aif, .flac) can be packaged into a zip file for download.
video file example
raw data (.txt), Microsoft Excel (.xls and .xlsx), and zip file (.zip)
data file example
Appendices appear in the order in which they are introduced in the text.  
You may include one appendix or a number of appendices.
If you have more than one appendix, you would letter each accordingly (i.e., Appendix A, Appendix B, etc.). Write your appendix headings in the same manner as your chapter headings.
Transfer the text and re-format using the template styles as necessary, or 
Convert the documents into images and insert them into your document, one image per page.
Successful Study Guide
Writing Dissertations
Which sections go into a dissertation.
survey questionnaires
observation sheets
interview transcripts
or supplementary data that, while not essential to the understanding of the paper, does add useful information or insight.
Make sure you number and title each individual appendix and start each on a new page. You also have ought to use a different page numbering system for your appendices ('A-1', 'A-2' etc.). Luckily, our dissertation template has that all set out for you - click the image of an appendix on the right and you'll download the template.
Position The appendices will always be the final section of your dissertation or thesis.
You've finished the hard part, now we will cover how to format and present your work.
Campus Community Health • HEERF I, II & III
Thesis/Dissertation Formatting
Introduction & Help
General Formatting
Table of Contents
Acknowledgments
List of Figures
List of Tables
Content/Chapters
You may or may not have appendices depending on your content.
Always start an appendix on a new page. Use the page break function to insert a blank page; do not use the Enter key multiple times.
Type Appendix A: Title of Appendix on the top line; your appendices will be labeled sequentially starting at A and continuing with B, C, etc. If you only have one appendix, still label it Appendix A. Be sure to label this title as a page title heading to format it properly; see Content/Chapters for more information about headings.
Leave the next line blank.
Start your appendix.
Experience Tech For Yourself
Visit us to see what sets us apart.
Quick Links
Tech at a Glance
Majors & Concentrations
Colleges & Schools
Student Life
Research at Tech
Tech Express
Current Students
Faculty & Staff
Mission and Vision
Facts about Tech
University Rankings
Accreditation & Memberships
Maps & Directions
Board of Trustees
Office of the President
Strategic Plan
History of Tech
Parents & Family
International
Military & Veteran Affairs
Tuition & Fees
Financial Aid
Visit Campus
Scholarships
Dual Enrollment
Request Information
Office of the Provost
Academic Calendar
Undergraduate Catalog
Graduate Catalog
Volpe Library
Student Success Centers
Honors Program
Study Abroad
Living On Campus
Health & Wellness
Get Involved
Student Organizations
Safety & Security
Services for Students
Upcoming Events
Diversity Resources
Student Affairs
Featured Researchers
Research Centers
ttusports.com
Social Media
Student Resources
Faculty & Staff Resources
Bookstore/Dining/Parking
Event Management System
Pay Online - Eagle Pay
IT Help Desk
Strategic Planning
Office of IARE
Student Complaints
No notifications.
Disclaimer: This study guide was produced by one of our dissertation writers to help university students with their studies.
View full disclaimer
Any opinions, findings, conclusions, or recommendations expressed in this study guide are those of the authors and do not necessarily reflect the views of UKDiss.com.
How to Write Dissertation Appendices
Info: 420 words (2 pages) Dissertation Writing Guide Published: 20th Jan 2022 in Dissertation Writing Guide
Reference this
What is an appendix?
An appendix is a section of the paper that is included at the end of a report or a dissertation. If there is more than one item being included in this section, the section plural is appendices.
Items that would usually be included as an appendix are relevant to the context of the study but may not be useful to have in the main body of the work. Each appendix should discuss a separate topic and should be listed separately.
When listing an appendix, it is common practice to list is as Appendix A, Appendix B, Appendix C, etc. As each appendix will be evidence of a different topic or will be on a different topic, as with figures within the work, you will be required to title each individual appendix separately within the appendices section.
Make sure you refer to them in-text by the appropriate name. If you do not refer to your appendix in the main text, it does not need to be there!
Do I need an appendix?
Not every dissertation will require an appendix or appendices! It depends on the type of research you are doing, the subject you are studying and the requirements of your university.
What is included in an appendix?
Some examples of appendix items could include interview transcripts, full data sets (i.e., numerical data), a full breakdown of a company's background or financial information, full PESTLE analysis, search strategy tables or an example of a survey or questionnaire, amongst many others.
Any work in the appendix does not usually count towards the overall word count of a piece of work. However, this rule is not the same with all universities and you must ensure that you check with your own university about their rules and regulations on appendices.
Even in the appendix, you must remember to reference! Ensure you include these references in your bibliography too.
Checklist for dissertation appendices
Have I presented my appendices clearly?
Have I labelled the appendices in order of appearance in the main body?
Have I made certain that my appendix is suitably relevant to the text to be included?
For further help with writing your dissertation see our Dissertation Writing Service .
Cite This Work
To export a reference to this article please select a referencing stye below:
Related Services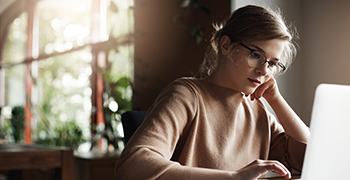 Dissertation Writing Service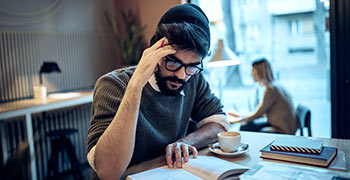 Dissertation Proposal Service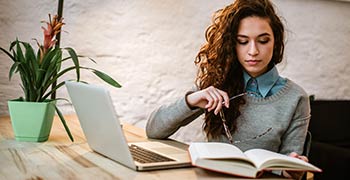 Literature Review Writing Service
Dissertation Writing Guide
Our dissertation writing guide chapters .
Choosing a Dissertation Topic
Writing a Dissertation Title
How to Write a Proposal
How to Write an Abstract
How to Write an Introduction
How to Write a Background
How to Write a Literature Review
How to Write a Methodology
How to Write the Results Section
How to Write a Discussion
How to Write a Conclusion
How to Write Appendices
Our academic writing and marking services can help you!
Marking Service
Samples of our Service
Full Service Portfolio
Study Resources
Free resources to assist you with your university studies!
Dissertation Examples
Dissertation Proposal Examples
Example Dissertation Titles
Example Dissertation Topics
How to Write a Dissertation
Free Resources Index
Search Support Articles
*You can also browse our support articles here >
Dissertation & Thesis Guides
Basics of Dissertation & Thesis Writing
Appendix Dissertation: What to Write & How to Use
Appendix Dissertation: What to Write & How to Use
Table of contents
Appendix of a dissertation is one of the essential research components. It is an application that shows work you have conducted. Like other elements of scientific work, applications should be drawn up accordingly. This article includes detailed information on how to do it correctly. What if I need someone more qualified to do my dissertation ? Don't hesitate and check our solutions straight away!
What Is a Dissertation Appendix?
Appendix in dissertation is a section where non-standard format data is included. It is designed to improve quality of work, make it more evident and trustworthy. This section shows your readers the level of your competence and topic's depth. This part contains elements related to your research like tables, images, maps, documents, etc. Here should be any additional material which will not be added into general text. Just make sure you put data, which is not meant to be placed into the body of work. It includes vast material, for example, statistical data for calculation. Usually, the last pages are where you put this part of a dissertation. Appendixes' volume is not taken into account in total work size. If your research requires 70 pages, then your main text without attachments should be 70 pages. There are no volume requirements for the appendix itself. It can consist of 1 or 100 pages.  
What Is the Purpose of Appendix in Dissertation?
Appendix in a dissertation includes all large materials that are not placed into worktext. This place is for informational or reference purposes only. Imagine there is disagreement about research conclusions. Then, detailed useful data from appendices will help you clarify the situation. For example, members of the defense commission had questions about certain conclusions. In turn, you can demonstrate application form and methodology for analyzing answers. It makes no sense to include these documents in work text due to their large volume. But this part is a super helpful place to prove the process's correctness.  
Appendices or Appendixes
Wondering how to write correctly: appendices or appendixes ? You may think that both are correct. But which is more widespread? We'll explain it quickly! These are views of American English over past few decades: "Appendixes" was previously a completely incorrect plural form of "Appendix." This word was considered as a supplementary body part. Instead, the plural form was "Appendices." But it seems, many people made a mistake and preferred the wrong variant. So, with English being constantly evolving, it began to spread out quickly. This variant started to appear in academic and public materials. Both words are now considered correct according to modern dictionaries. "Appendixes" are becoming increasingly popular. We recommend you to look at other similar publications of your field. Check which word they are using.  
What to Include in Dissertation Appendix?
Most often, your appendix for dissertation should include:
Research Results Research results can be presented in tables and figures at the end or in the main text. So let's discover what information to submit in what form. Display main results that are relevant to your research question into the main text. Less significant results that do not help answer your main question can be placed in the appendix. This includes a detailed description of your sample or additional tests you have performed. For example, if you used software for statistics, including the results of your analysis.
Questionnaires and Interviews In this section, you can add written materials relevant to survey and interview. Include these points in your dissertation so that readers can see what you have drawn your conclusions from. But they are usually not in the main body of text.
Tables and Figures Any material that is less important to the main text can be included in the appendix. This includes tables, figures, and other graphic elements (such as charts and illustrations).
Personal/Used Correspondence This should include correspondence between you and other researchers. Maybe you have applied for permission to reuse copyrighted material. This will help protect your dissertation from suspicion of plagiarism.
Abbreviations It would be wise if you added a list of abbreviations to the appendix. Not all of your readers can understand the abbreviated technical terms you use. Note: Some researchers call this a "glossary."
Dissertation Appendix: Format
Now it's time to discuss how to do a dissertation appendix ! Here are some format and style rules you should keep in mind while writing your work:
Heading "Appendix" should be centered on the first page of the section.
Each reference should have its own number. It is located at the top of the page (for example, Appendix 1).
Type and font size should be the same as in main work.
Each attachment should be placed on a separate sheet even if it does not occupy the entire page.
A "page break" should be inserted at the end of the page. So that materials do not move when a file is opened in another version of Microsoft Word.
At different universities, format requirements may differ. So we recommend you consult with your starting supervisor.
How to Refer to Appendix in Dissertation In-Text
Now let's discuss how to use an appendix in a dissertation in-text. All attachments should be arranged in the same order in which they are mentioned in text. In text, mark results with links. For example: "See Appendix №." We also recommend you make a list of attachments as you write your work. For example, you mentioned in a text a survey conducted. Immediately add a questionnaire and essential processing method in the appendix. When work is finished, you can easily collect all materials for application. Consider dissertation help services if you lack time to start the work.
Dissertation Appendix: Example
Here you can see some dissertation appendix samples. Don't hesitate and double-check this part. It is important for you to make your experience of writing a dissertation understandable for every reader. 
Appendix in Dissertation: Bottom Line
Appendix of a dissertation is not less important than any other part of writing a thesis paper . This section consists of materials that do not fit into the main body. These can be images, tables, questionnaires, diagrams, calculations, drawings. It shows your severe approach and ability for working with information and increases the value of all work. Check our recommendations provided above if you wanna cope quickly with this section. We provided all the necessary background for you to succeed. Also, we recommended reading about  how to write a dissertation abstract ,  dissertation acknowledgments , or  dissertations proposal template .  
If difficulties arise, you can always turn to our writing services online for expert help. They will deliver your dissertation quickly and efficiently!  
Joe Eckel is an expert on Dissertations writing. He makes sure that each student gets precious insights on composing A-grade academic writing.
You may also like
An appendix** comes at the end (after the reference list) of a report, research project, or dissertation and contains any additional information such as raw data or interview transcripts. The information in the appendices is relevant but is too long or too detailed to include in the main body of your work.
**Note: Appendix is singular and appendices is plural. When you want to refer to one of your appendices, use appendix - for example, 'See Appendix 1'.
Scroll down for our recommended strategies and resources.
Ensure everything in your appendices has a purpose. This guide gives a useful overview of the structure, format, and effective use of appendices:
Appendices (University of Southern California)
Your appendices should have a clear labelling system (Appendix 1, Appendix 2, Appendix 3) and each item in an appendix should have a descriptive title saying what it is ('Appendix 1: Flowchart of purchasing decision-making process).
You need to refer to your appendices in the body of your assignment or the reader will not know they are there. Use a short phrase such as 'See Appendix 1'.
If you have taken data, diagrams, or information from other sources to put in your appendices, you need to reference them as normal; include an in-text citation next to the item in your appendices and a full reference in your reference list. If you have created your own graphs or tables using data from another source you can explain this in your in-text citation: (Table author's own, data from Jones, 2017).
Back to top
Cookie statement

What is Appendix in the Dissertation?
Published by Alvin Nicolas at August 12th, 2021 , Revised On January 9, 2023
Appendix or appendices (plural) is/are used to provide additional data related to your dissertation research project.
An appendix section in  dissertation  helps you to provide background data related to your topic; present  tables, illustrations, and figures  that are not directly relevant to your research questions in order to avoid disrupting the flow of the text; to make sure that your dissertation paper's word count does not go beyond the limit. This article explains what is an appendix in the dissertation.
The Purpose of an Appendix
The main body of the dissertation paper generally contains text that adds weight to your arguments. However, some information that is not directly relevant to the topic of research but might be useful to your audience could be provided under the appendices section.
Any additional information that does not directly support your in-text arguments goes into appendices. This helps to keep your paper organised and within the word limit. It is important to make sure that your readers can understand the contents of your dissertation paper without having to look at the appendices. Any information that is important should be mentioned in the main body.
Items Included in Appendices in Dissertation
An appendix, which is also known as a postscript, includes the following:
Research findings can be presented in several ways. Findings including tables, illustrations and figures that are directly relevant to your research questions or  research problem  are included in the main body.
However, there are certain text,  tables and figures —such as supplemental analyses—that really need to be shown and cannot be ignored, but (due to less significance) can't be included in the main body as it can disturb the flow of the text.
Such tables and figures are then included in the appendix section. The appendix includes more of the illustrations and  findings as a result of data analysis  that doesn't directly address the research question but are essential to be shown.
Also Read:  How to Write Dissertation Acknowledgements
Surveys/Interviews
Appendices are helpful in mentioning extra information related to surveys , interviews or focus groups. You can clearly mention how respondents responded to underpin your findings.
Include abbreviations section
If you have utilised a lot of abbreviations or jargon, it might be difficult for lay-person to understand those terms. You can include the  abbreviations  section or a  glossary  section in the appendix, which are sometimes positioned at the start of the dissertation.
Tables, figures and/or graphs
Your dissertation may include a lot of tables, figures and/or graphs due to the  nature of research . The appendix is the appropriate platform to include all this information, including illustrations.
Looking for quantitative dissertation help?
Research prospect to the rescue then.
We have expert writers on our team who are skilled at helping students with quantitative dissertations across a variety of STEM disciplines. Guaranteeing 100% satisfaction!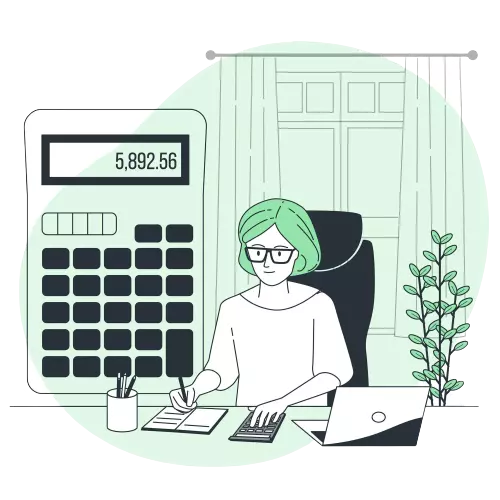 Appendix Format
You can carry on with just one long appendix (if you don't want to break it into different components and want it to be the only appendix in your dissertation).
On the other hand, you might want to have separate sections in appendices such as questionnaire responses, findings, key phrases and key terms; it would be easier to figure out the information provided in appendices.
If you decide to include multiple sections within your appendices, each appendix should start on a new page with a clearly assigned title and number, for instance, 'Appendix 7. Survey questions' . It allows for each section of the appendix to be clearly visible to the reader and researcher.
It is also recommended to mention the number and title against each element that is directly linked to the appendix so that the reader will be able to know what you are referring to in the main body.
While numbering tables and figures, make sure that you re-start the numbering for each appendix. This means that each table and figure in a new appendix would be titled Table 1 or Figure 1.
Referring to Appendix in the Main Body of the Dissertation
It is recommended to indicate all appendices at least once in the main body of your dissertation. Make sure that you mention the appendix number (enclosed in brackets, called parenthetical reference ) or within text in the main body (called descriptive reference ) as highlights for the readers.
It is not mandatory to capitalise it as that typically depends on the researcher's will. You can also refer to certain elements within the appendix (which can be a specific illustration or table).
Example #1. When you are referring to an entire appendix
The focus-group interview (see Appendix 1) shows that… Appendix 2 describes how we gathered data from the sample population….
Example #2. While you are referring to an appendix component
These findings (see Appendix 1, Table 2) show that… Table 2 in Appendix 1 describes the factors which result in the increase in sales.
It would be a good practice to mention Appendix in upper-case, especially when referring to a specific component. However, this is not compulsory and you can choose to use lower-case, i.e., 'The appendices provided at the end of the documents contain relevant content about the questionnaire responses.'
Here are some more appendix examples for you .
Which is More Appropriate: Appendices or Appendixes?
Both of these words (spellings) are true in their sense and can be used, but appendices is more appropriate according to APA style. However, it is important to ensure consistency throughout the thesis document. Don't use alternative words in different  sections of the dissertation .
Where to Include Appendices?
The general idea in this regard is to include appendices after the main body, i.e., the reference section. If you opt for this option, you need to continue with the same page number format. You can also submit appendices as a separate document with your dissertation project.
You should write down appendices (including titles and page numbers) in the table of contents.
Even if you are still unsure about what an appendix in a dissertation is, our writers can help with this chapter of your paper. All you have to do is complete our online order form , select the dissertation part/chapter as the required service type, attach your dissertation draft, and let us know your deadline. We guarantee that the writer we will assign to your order will have the expertise and qualification to create the appendices to your exact requirements.
FAQs about Appendices in Dissertation
What should i not include in a dissertation appendix.
Don't include any irrelevant and/or vague information. It will only distract your readers from understanding your study's overall purpose, significance, etc.
What can I include in an appendix?
You can include in it things like figures and/tables that are too lengthy to be included within the dissertation ; maps, photographs, raw data like participant score lists, computer programs like SPSS, musical examples like audios etc., interview questions and/or sample questionnaires, etc.
Can I include web URLs in an appendix?
Not really, although you can include PDF documents or weblinks to such documents within your dissertation appendix.
You May Also Like
A list of glossary in a dissertation contains all the terms that were used in your dissertation but the meanings of which may not be obvious to the readers.
Table of contents is an essential part of dissertation paper. Here is all you need to know about how to create the best table of contents for dissertation.
Dissertation Methodology is the crux of dissertation project. In this article, we will provide tips for you to write an amazing dissertation methodology.
Ready to place an order?
Useful links, learning resources.

COMPANY DETAILS