Best Survey Tools for research in Academics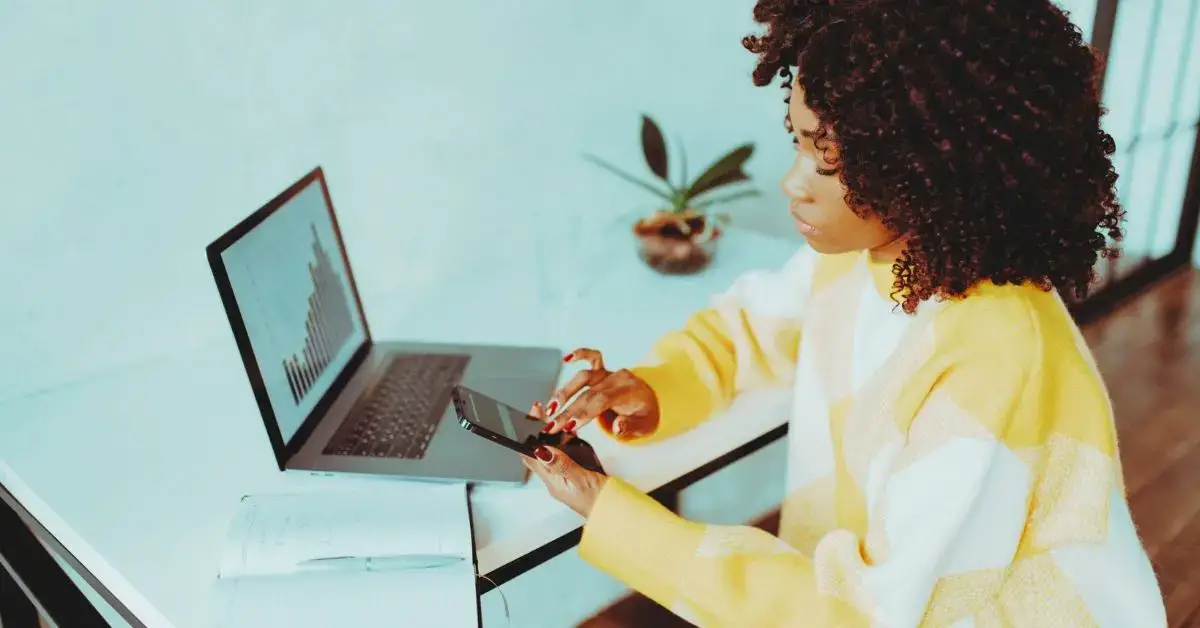 Please enable JavaScript
Today we will try to identify the best online survey software. We will compare the most popular survey software. We will also explore the limitations of free survey tools and discuss the merits of premium tools. 
Table of Contents
First off, why survey research?
As with all research methods and approaches, it is easy to conduct a low-quality survey rather than one of high quality and real value. Kate Kelley et al. wrote a paper on Oxford Academics that provides a checklist of good practices for conducting and reporting surveys. [1] 
They talked about the pros and cons of conducting survey research:
10 Do's and Don'ts of Survey Research
Top researchers know how to conduct research that is trustworthy, objective, and rigorous. 
Best Survey Tools for Research
Here are the top options that we have selected based on ease of use, performance, value, and compatibility. Microsoft Forms will make our list because of the very fact that it works with Microsoft Teams. This makes a lot of sense for certain groups of users.
SurveySparrow – Best User Experience
You will be able to design your own customized polls that are tailored specifically to your needs.  It offers a variety of features, including surveys, questionnaires, and feedback forms.
Qualtrics – Most Trusted Online Survey Tools
Qualtrics is trusted by 100+ top universities and has all the features needed, such as artificial intelligence for analyzing survey data, different types of questions, ready-made templates.
SurveyMonkey – Best Overall 
Many people conduct their first online surveys because of SurveyMonkey. It was one of the best online survey tools for a while because of its simplicity. When it came out some 10 years ago, an online survey is meant to be ugly, chunky, and a pain to do. 
As a trusted name, SurveyMonkey has been providing survey tools to academics and scientific researchers for over a decade. Through its robust system, the company has helped millions of people be heard and has completed over 10 million surveys. With their free and paid services. 
QuestionPro – Best for experience research
It also computes scores on how many questions got answered and presents the overall scores once it is completed. You can then export results into CSV, Excel, and other formats or share them through the mobile app.
SurveyLegend – Emphasis on Privacy 
Pricing/ Free Version
SoGoSurvey 
The most compelling feature of SoGoSurvey is its ability to generate results for both binary and multiple-choice responses, as well as its easy-to-use format. 
Zoho Survey
Zoho Survey is a free, easy-to-use online survey tool. It's a great choice for individuals and small businesses looking to conduct surveys with 10 questions or less. The interface is slick and easy to navigate, with help options relative to each field. 
Google Forms – Free Online Survey tool Great for Individual Projects
Google Forms is a good survey software for academic researchers because it is easy to use, has a customizable design, provides real-time response information and charts, and can be synced with other Google products. Additionally, Google Forms can also be used as a quiz maker for educational professionals.
Famous tools that didn't make our list
Microsoft forms – limited coverage .
Most people, I mean me mostly, don't know what's the other green icon Microsoft app other than Excel. Until Teams become the tool your boss uses to harass you more instantaneously. And, one day, some HR is smart enough to figure out how to save cost from using survey tools and opt for the Microsoft forms. 
How to choose a survey tool for academic projects
Related considerations are:
So, choose the right online survey tool that works the best for you. 
Final Thoughts
Leave a comment cancel reply.
Online surveys for students
Surveys and tests for students and the academy. k-12..
Data collection and analysis for a research paper can be a difficult and time-consuming task. SurveyLab can help you significantly reduce the time needed to create and conduct online research, and with real-time reports you will be able to start data analysis without any delay. Sing up for FREE and check our innovative online survey system.
SurveyLab is professional and easy to use tool that enables you to create online surveys, questionnaires, tests and forms. No software to download or install, all you need is a web browser.

Market research
Customer experience, ux / digital.
Online forms
Surveys for government.
Mobile surveys
Multi-language surveys
Any language support
Automation and notifications
Survey branding
Survey results export
Survey logic
API & integration
On-demand development
Try surveylab.com for free Best survey tool with great features
14 days trial | view complete list of features.
Integrations
Partner Program
Mobile Surveys
Professional Services
Survey Panel
Survey Examples
Market Research
Customer Experience
360° Employee Feedback
Terms of Use
Privacy Policy
Anti-Spam Policy
GDPR compliance
Copyright © 2009-2023 SurveyLab | Best survey software
How to Create a Survey
6 best survey tools for research
Best survey tools for research.
SurveyMonkey
Google Forms
Sogolytics (Formerly SoGoSurvey)
Zoho Survey
Collecting data from a group of people can be a powerful way to gain insights about a target demographic. Whether you're looking for feedback or need information about their interests, the right survey tools for research can help you gather and organize this data.
Research surveys are useful in a variety of settings: Students use these tools for academic purposes, and businesses often use surveys to ask for customer feedback.
Surveys let you connect with participants and get valuable data from them. You can then evaluate that data using tools like spreadsheets to develop deeper insights.
Survey features to look for
Using the right survey tools for research will streamline the data-collection process and optimize your overall results. When you're choosing a survey tool, look for a solution that offers a variety of features, such as
Predesigned templates. Templates mean you don't have to start from scratch when creating new surveys. Find a template that includes the main features you need for each research project.
Customization options. Whether you're using a premade template or starting from scratch, you need the flexibility to customize each survey's details.
Survey logic. Built-in logic features ensure that respondents only see relevant questions. For example, a good survey tool will skip a question if a previous answer makes it irrelevant.
Data analysis. Collecting the responses is just the first step. You also need an effective tool to review and analyze the data. There's no reason to go through answers manually when a good survey tool can organize and sort information.
Website integration. When the survey tool integrates with your website, it's simple to share the link with participants. Look for a tool that allows you to embed the survey on your website or in email messages.
While each research project will have different requirements, finding the right survey tool is an essential step in ensuring your research efforts go smoothly. You'll be able to adapt your surveys to meet each project's unique specifications.
6 top-rated survey tools
Here's a summary of the best survey tools for research that can help you find the insights you need.
Jotform's Form Builder is easy to use, and our no-code survey building solutions are customizable and simple to integrate, even for customers with limited technical experience. In addition, responses feed into Jotform Tables for easy data analysis.
Notable features include a variety of themes and templates, app integrations, widget customization, and an intuitive drag-and-drop form editor. All features, except for HIPAA compliance, are available through the free Starter plan.
If you'd like to present the data from your survey, it's easy to create a professional looking report using the Jotform Report Builder .
You can also build surveys with Jotform's free online survey maker .
2. SurveyMonkey
One of the most widely known tools in the industry, this survey platform is popular for good reason. Similar to Jotform, SurveyMonkey offers a user-friendly admin area that requires no coding skills to build surveys. The free personal plan is appealing to many businesses, but the basic account limits certain features, such as data exporting.
3. Typeform
When you're looking for versatility, Typeform is a great option to consider. This tool has a variety of options for building questionnaires, forms, and surveys. Not only does Typeform make it easy to develop a survey, but it also creates a great user experience for participants — and that can increase the overall completion rate of each survey.
Users need to subscribe to one of the paid plans to access the best features and a higher limit on the number of responses.
4. Google Forms
Google offers a cloud-based suite of office tools that are free to anyone with a Google account. Google Forms is popular because it provides unlimited surveys and responses without requiring you to go through a paywall to use all the features.
This tool provides many of the customization features available through other tools listed above, including skip logic, data analysis, and the option to embed the form into a website or email.
5. Sogolytics (Formerly SoGoSurvey)
This free survey tool includes comprehensive design features and in-depth analysis to gain insights from the responses you collect. With over 25 types of questions available to choose from, you'll find it easy to customize each form based on your project's needs.
Sogolytics is the preferred choice for small projects since the free version allows up to 200 responses annually. More extensive research projects will require a paid account so you can collect information from more respondents.
6. Zoho Survey
The basic Zoho Survey account provides everything you need to create a simple survey. If you want more customization options, then it's helpful to have a paid version. Available features include email notifications, offline surveys, advanced reporting, and multilingual forms.
These survey tools for research make it simple to collect the information you need. Whether you are creating an online survey or you need custome r feedback , the right form design streamlines the process and provides valuable insights.
RECOMMENDED ARTICLES
How to add a signature in SurveyMonkey
4 tips for creating effective quantitative surveys
How to collect secure survey data
Exit survey questions to ask your former employees
Survey rating scales 1-5: Understand your audience better
How to create a survey in Google Forms
How to create an NPS survey email that gets results
The 6 best customer satisfaction survey tools
Multiple-choice survey questions: Examples and tips
SurveyLegend alternatives
Top 10 demographic questions to ask in your surveys
Survey report examples with informative visuals
How to close a survey on SurveyMonkey
Peakon alternatives
How to write good survey questions
Top 8 brand survey questions
Survey questions 101: Examples and tips
How to create a survey on Facebook
16 best survey tools worth checking out
How to embed a survey in a website
How to add a popup survey on your website
Pre-sales surveys: How to focus on your best leads
Top 5 Qualtrics alternatives
How to send surveys: 4 survey distribution methods
9 examples of ranking survey questions
Social media survey questions: Examples and best practices
How to conduct an online survey
Likert scale survey questions and examples
Best training survey questions to evaluate effectiveness
The 5 most powerful Bucket.io alternatives
How to measure customer experience: Key metrics and KPIs
7 important user experience survey questions you should ask
12 best SurveyMonkey alternatives in 2023
How to create an inviting welcome screen for online forms
What is a survey?
22 excellent customer service survey questions
How to do a poll in Slack
How to turn survey results into a great presentation
Qualtrics vs SurveyMonkey: Which should you choose?
Basic product survey questions to ask customers
Top 9 Qualaroo alternatives
Using survey logic to elicit better survey responses
How to write a survey report
Top 3 SurveySparrow alternatives
What you need to know about SurveyMonkey pricing
6 EmailMeForm alternatives to build powerful surveys
How to send a survey to your email list on AWeber
4 survey design tips to get more accurate results
How to embed a survey in an email
5 ways to improve your online surveys
Top 25 nonprofit survey questions
15 of the best Refiner.io alternatives
Survey data collection: 5 best practices
Survey vs questionnaire: Which one should you use for your next project?
20 essential human resources (HR) survey questions
4 types of survey questions to engage your audience
15 website usability survey questions to ask your user
How is public opinion measured with surveys?
How to write a research question
The 3 best Checkbox Survey alternatives
80 survey question examples and when to use them
How to analyze survey data
How to make Google Forms anonymous
Announcing Jotform's free Student Survey Program
How to create an employee pulse survey
How to get the most out of Peakon surveys
How to send Mailchimp surveys easily
How to conduct a pricing survey: Questions to ask
Yes-or-no questions in online forms and surveys
Top 7 KwikSurveys alternatives
Top podcast survey questions to ask guests and listeners
Top diversity and inclusion questions to ask employees
Closed-ended questions: Definition and examples
How many questions to include in an online survey
Webinar: How to use surveys and email marketing to gain key insights
How to write a survey introduction (plus examples)
How to use a survey dashboard effectively
What is the smiley face rating scale?
Top 3 Key Survey alternatives
Top 6 QuestionPro alternatives
29 best customer experience survey questions
Parent survey questions: What to ask and why
The 4 survey data collection software you should start using today
Offline surveys: How to collect data anywhere
SurveyMonkey vs Alchemer (Formerly SurveyGizmo)
20 religion survey questions to ask your church community
How to use open-ended survey questions
10 questions to ask in your membership survey
20 business survey questions to ask your customers
A Guide to Creating the Perfect Survey Form
Creating a survey in Microsoft Word
How to calculate the Net Promoter Score (NPS)
How to ask someone to fill out a survey
How to distribute a survey
How to ask someone to take a survey via email
How to create and analyze 5-point Likert scales
One question at a time: The best strategy for a survey
How to set up and send a Constant Contact survey
Send Comment :

Access powerful form features with Jotform's free plan.
Make an online form in minutes with jotform., discover jotform's powerful online form features..
Thanks for verification!
Jotform Blog Newsletter
Create & send surveys with the world's leading online survey software
Empower your organization with our secure survey platform
Bring survey insights into your business apps
Collect survey responses from our global consumer panel
Understand & improve customer experience (NPS®)
Understand & increase employee engagement
Create marketing content from customer feedback
Collect, review & manage applications online
Gather data & payments with online forms
Customer feedback for Salesforce
Customer Satisfaction Customer Loyalty Event Surveys
Employee Engagement Job Satisfaction HR Surveys
Market Research Opinion Polls Concept Testing
People Powered Data for business
Win more business with Customer Powered Data
Build a stronger workforce with Employee Powered Data
Validate business strategy with Market Powered Data
Delight customers & increase loyalty through feedback
Improve your employee experience, engagement & retention
Create winning campaigns, boost ROI & drive growth
Elevate your student experience and become a data-driven institution
Best practices for using surveys & survey data
Our blog about surveys, tips for business, & more
Tutorials & how-to guides for using SurveyMonkey
How to use academic surveys
Add depth to your scholarly research with data and insights gathered from surveys.
Put your theories to the test. Sound survey data makes your research conclusions stronger and more compelling, providing direct evidence to support or refute your claims.
Academics can use surveys to test hypotheses about attitudes and behaviors in a range of domains: business, politics, health, and more. Have a new program of research? Test your intuitions with open-ended questions first and get rich qualitative data. For longitudinal research, repeated survey measures can help you establish a baseline and track changes over time.
Moreover, online surveys medium allow you to survey people around the world instead of having to bring them in. It also eliminates the hassle of entering data from a pencil and paper survey. When you use SurveyMonkey, you can export your research data in a variety of formats such as SPSS, XLS, and more.
Are you a student or educator? 
With valid ID, SurveyMonkey offers discounted pricing for students, faculty, or administrators. 
What are academic surveys?
Students, faculty, and professionals conduct academic surveys as part of their research projects. An academic survey is a tool designed to obtain more knowledge and data about a chosen subject. The results are used to answer questions or confirm hypotheses posed by the researchers. Surveys results can then be the basis of your research report or presentation.
What can you gain from using academic surveys?
Academic surveys can help you accomplish a variety of things. Here are a few:
Push boundaries beyond textbooks
Bring learning out of the classroom when you use surveys to conduct your own research and data collection. Surveys can expose students and other academics to current research models, how applications function, and the evolution and theories. These things are more effectively learned by conducting actual academic surveys.
Deeper knowledge of the chosen subject
When a professor wishes to improve their expertise in a specific field, academic research surveys offer in-depth insights beyond what is already known. Academic surveys give people the chance to perfect their expertise and become subject-matter experts.
Validate research findings with solid data
Validate your academic theories by examining them within the context of solid, real-world data from your target audience. Surveys can provide the data needed to confirm or refute your professional opinion.
Stay current with survey tools and technology
Academic research technology and tools are constantly evolving and improving. SurveyMonkey uses artificial intelligence and machine learning to help you conduct the best possible surveys, earning you higher response and completion rates.   
Find new opportunities to research
Surveys can sometimes shed light on areas of discovery. Research based on academic survey data can be used for your academic thesis or published in accredited journals. This can lead to scholarships, grants, funding, and more. 
Reach an audience around the world
Academic survey research tools allow you to collect data beyond the confines of your locality. Your study can become global with a few clicks of the keyboard, and you can collect data from anywhere in the world.
How to use surveys in academic research
Launching a large-scale or costly project? Surveys can help validate ideas by allowing you to get a glimpse of what insights are out there. Testing your methodology with an online survey and a convenience sample first can help you catch any errors or confusion early on, saving you time and money. Learn more about our methodology .
Sample smarter
Surveys help you reach a subset of your target population, even before your research project begins. Before you test your hypothesis, determine what method you'll use for reaching your target population. What's the best way to reach them—email, SMS, maybe a QR code? Start small by testing your surveys on a small population before determining what survey methodology you need for your academic research. SurveyMonkey Audience can help you find that target population in just a few clicks.
Utilize longitudinal studies
Want to research the long-term impact of something? For example, you could consider the livelihood of public health awareness programs, economic policy, energy practices, and more but by looking at specific demographics of people. Academic surveys can help you obtain a baseline or even benchmark against other industries. Learn more about SurveyMonkey industry benchmarks .
Conduct field training and development
Use surveys to obtain feedback and assessments at places where you intern or train for valuable insight on the "way you show up" in the professional world. Use the feedback you receive on your practicum, internship, graduate student research, lab work, or student teaching to guide your continued skills development.
Sample academic research survey templates
Here are some ways in which you can use surveys to support specific areas of study and academic research.
Healthcare and medical research
Explore patient demographics, behaviors, access to healthcare, gender health issues, community outreach programs, and more. SurveyMonkey has an extensive selection of healthcare questionnaires and medical research survey templates for you to use.
See healthcare surveys
Healthy lifestyles and behavioral studies
Use health and lifestyle surveys to gather information from research subjects about the way they live. You could learn about nutrition, exercise routines, smoking habits, and more, then connect that data to demographics to learn more about the lifestyles of certain populations.
See nutrition surveys
Child development and education studies
Use templates from our collection of education, school, and academic online survey templates for research projects on family and school relationships, educational outcomes, school climate, online learning programs, student satisfaction, and more. 
See education surveys
Psychology and political science
Correlate attitudes and approaches of specific population groups with perspectives on a range of experiences and issues—from social networking to media consumption, political views to social identity, and more.
See online poll surveys
Demographic data
Use SurveyMonkey Audience for help in reaching the target audiences for your research, and build relevant, real-world data into your research proposals or business plans. SurveyMonkey has a ready-to-use template of demographics verified by our staff methodologists that you can add to any survey to make sure you know who you're looking at.
See SurveyMonkey Audience
Business studies
Get information on how businesses are run and the challenges people face. Find out about specific industries by reaching out to businesses with questions about location, size, and market.
See industry tracking surveys
Economic and social research
In many cases, social and economic researchers are examining the social impact of some type of economic change and notably, how businesses think about social responsibility. This type of research can affect both business and government decision-making.
See corporate social responsibility survey
Launch academic surveys as a group project
SurveyMonkey offers collaboration features to help you create and analyze surveys as a team.
Tips for launching academic surveys
When you're conducting academic research, it's important to gather as much data as possible. Using online survey tools for academic research helps simplify the process and data collection, but your survey still has to grab and hold your respondents' attention. 
Make them engaging
Keep your audience interested in taking your survey by making the questions engaging. Personalize surveys to particular segments of your respondents. Keep the survey brief and concise, asking only what you need in order to collect the data relevant to your study.
Resource: Make surveys more engaging with these 5 things >
Diversify question types
Balance open- and closed-ended questions to keep respondents interested. While closed-ended questions are fast and easy to answer and quantify, open-ended questions are interesting to answer and provide individualized information you may not otherwise learn.
Remember to stay away from double-barreled, leading, vague, or biased questions. These may frustrate survey participants and affect the quality of the data you receive.
Resource: 5 common survey question mistakes that'll ruin your data >
Looking for education surveys?
SurveyMonkey has customizable education survey templates for parent feedback, instructor evaluations, faculty satisfaction, student satisfaction, and even bullying. Browse all survey templates for gathering feedback in academia and education.
See how SurveyMonkey can power your curiosity
Leadership Team
Board of Directors
Investor Relations
App Directory
Office Locations
Terms of Use
Privacy Notice
California Privacy Notice
Acceptable Uses Policy
Security Statement
GDPR Compliance
Email Opt-In
Accessibility
Cookies Notice
Online Polls
Facebook Surveys
Survey Template
Scheduling Polls
Google Forms vs. SurveyMonkey
Employee Satisfaction Surveys
Free Survey Templates
Mobile Surveys
How to Improve Customer Service
AB Test Significance Calculator
NPS Calculator
Questionnaire Templates
Event Survey
Sample Size Calculator
Writing Good Surveys
Likert Scale
Survey Analysis
360 Degree Feedback
Education Surveys
Survey Questions
NPS Calculation
Customer Satisfaction Survey Questions
Agree Disagree Questions
Create a Survey
Online Quizzes
Qualitative vs Quantitative Research
Customer Survey
Market Research Surveys
Survey Design Best Practices
Margin of Error Calculator
Questionnaire
Demographic Questions
Training Survey
Offline Survey
360 Review Template
Time-saving software and hardware expertise that helps 200M users yearly. Guiding you with how-to advice, news and tips to upgrade your tech life.
Let's keep in touch!
Best Survey Software for Academic Research [Easy-to-Use]
Discover specialized software that will exceed your requirements.
If you want to collect feedback from people to inform your research project, you definitely need the best survey software for academic research.
Some of the solutions presented below use artificial intelligence in the analysis of survey data.
When looking for such a tool, you should also consider capabilities like real-time results, predefined templates, and multiple question types.
By using specialized survey software for academic research, you can create surveys that are either anonymous or personalized and then use the results to get answers to your scientific queries.
There are dozens of reliable tools for academic research , but finding the specific one to collect data, experiences, or feedback, may be an uphill task as you'd have to test-run each to discover a suitable one. Luckily, we've already done this for you!
What should I look for in a survey app?
Among the important things to consider are data management, distribution, and formatting, ease of use, pricing, versatile appearance, and branding.
Of course, we also considered the capabilities for sophisticated analysis, the accuracy of results, simple uploading, and a responsive experience.
We did the hard work for you to help with that dilemma by sharing the best survey software for academic research while highlighting their key features.
What is the best survey software for academic research?
Easyfeedback – best academic survey creation tool.
With Easyfeedback, it is very easy to create great surveys for academic research, as the tool provides all the necessary functions to create, conduct and analyze surveys.
Build your questionnaire or quiz simply by dragging & dropping, 14 different question types, set one or more questions per page, include media like images, audio, and video, and use simple or complex branching logic depending on response behavior.
Then, change the background image, logo, and colors of your survey exactly as you want them.
After that, it's all a question of how you disseminate the results but Easyfeedback has plenty of answers in that department too.
For instance, you will be able to use different result views to filter answers and discover the right data.
You can create reports with individual or overall results, segment them or create comparisons. And then, send reports easily to anyone.
The most important aspect is that this solution gives you all the tools to send the survey to your target, including by email, link, social media, QR code, and even website integration.
And if you're not the most creative person or you're simply in a rush, get inspired with over 60 free templates available.
Take a look at its most important features :
Easy to create surveys, forms, and quizzes for any purpose, especially for academic research
More than 60 free and fully customizable survey templates
Change the background image, logo, and colors of your survey exactly as you want them
Export results in SPSS, CSV, XLS, and PDF
Invite participants via email, social media, QR code, and more
Extensive evaluation possibilities
Great support team available
Easyfeedback
Connecteam – all-in-one employee management tool.
The Connecteam software and app is an excellent all-in-one survey creator for academic and workplace team management purposes.
Project and task management, communication features, scheduling, time tracking, checklists, digital forms, and staff training are all included in the Connecteam app and software.
With this tool, you can effectively inform, teach, supervise, and manage staff while also increasing productivity and doing your research for academic purposes.
When you opt to build your own Survey, you may include rating, multiple-choice, open-ended, yes or no, and free text questions.
Connecteam may be accessed via a web browser, a Mac or Windows computer, or a mobile app for Android and Apple devices. Although the company does not share information on integrations, it does provide virtually all services needed by companies directly within its desktop and mobile apps, including job training capabilities.
Let's review some of its key features :
User-friendly interface
Customizable templates
Push notifications for survey status
Anonymous polls
Digital polls in real time
Staff insights
First mobile-experience surveys
Nonetheless, we want to highlight Connecteam's utilization of the engagement survey. The way they incorporate it into their curriculum is extremely unique and unlike most of what is currently on the market.
Essentially, they prioritize employee communication by assisting businesses in using honest feedback to make the best possible business decisions.
SurveySparrow – Best survey building and automation
SurveySparrow is a complete customer experience that provides effective support for enterprise surveys, quick offline surveys, website chatbots, and many more.
You can employ this intuitive survey tool and conduct the research in a logical manner. It includes a logical survey builder, assorted question types, and smart surveys with variables or piping technology.
For academic purposes and requirements, you have insightful tools that can add value to your projects and bring qualitative findings.
Hence, there are helpful features such as an executive dashboard to access data from all surveys in one view, and customer journey maps to track and analyze respondents or see essential metrics.
Plus, you can benefit from improved insights about your research with reporting tools, cross-tabulation, or advanced filters to sort out questions and answers.
You can even schedule survey reports to your inbox and get notified via email about dashboard news, staying updated about any actions.
In addition, you can have recurring surveys and choose the exact date and time to share your surveys and conduct resourceful analysis.
Take a look at its best features :
White label surveys
Embedded and conversational forms
Data-rich dashboards
Case management tools
Smart survey sharing options
Dedicated mobile survey types
Eye-catching surveys themes and builder
Video surveys
SurveySparrow
Forms on fire – effective mobile data surveys.
This cloud survey solution is created for custom mobile devices to conduct effective analysis and gather your data with ease.
Using this mobile survey provider, you can create offline surveys with built-in functionalities for multiple platforms.
The software delivers productivity tools for creating descriptive surveys and reports with useful apps like Microsoft Word or Excel.
You can as well utilize this mobile survey platform and design it with photos and annotations, audio or videos, sketches, file attachments, or GPS and mapping support.
Plus, the Forms on Fire application comes with other app integrations that help you transfer and manage survey data between different platforms, such as Google Sheets, Drive, Dropbox, Sharepoint, or Microsoft Azure.
Another significant capability lets you automate repetitive tasks and use dispatch office to mobile, recurrent tasks, structured workflows, the first available option, and so on.
Analytics tool with summary data
Offline printing
Barcode and NFC Scan
Task management
Hidden fields option
No coding skills required
Available with Windows, Mac, and mobile devices
Forms on Fire
Questionpro – great tool for questionnaire creation.
This web-based survey software comes with multiple pre-built templates and over 30 types of questions which you can use to create personalized surveys and questionnaires for your academic research.
Among its features includes email, integrated pop-ups, and posting of your survey on social media channels like Facebook and Twitter.
Each of the surveys you create in QuestionPro has a survey progress bar that lets your respondents know how much of the survey is left to complete (in percentage), plus you can ensure primary questions are answered by keeping some fields mandatory.
It also computes scores on how many questions got answered and presents the overall scores once it is completed.
Expert tip:
Some PC issues are hard to tackle, especially when it comes to corrupted repositories or missing Windows files. If you are having troubles fixing an error, your system may be partially broken. We recommend installing Restoro, a tool that will scan your machine and identify what the fault is. Click here  to download and start repairing.
You can then export results into CSV, Excel, and other formats or share them through the mobile app.
Other great features include the multimedia integration for customized surveys that contain videos, pictures, and emoticons that make the survey more interactive for your respondents, plus you have full control over the survey.
It is also multilingual, with a full set of reporting features like text and trend analytics, segmentation, and real-time summary.
For academic research, you get unlimited access to the highest-paid license if you're a student in an academic institution.
The most important features include:
Over 30 types of questions are available
Post your survey on social media channels like Facebook and Twitter
Text and trend analytics, segmentation, and real-time summary
Export results into CSV, Excel, and other popular formats
The app is available in multiple languages
QuestionPro
Surveymonkey – great tool for academic research studies.
This survey software for academic research lets you launch any survey on its easy-to-use platform, in which you can tailor surveys based on your audience and variables.
It reaches out to millions of respondents and delivers real-time results, even with a huge amount of data that is collected, analyzed, and reported using its tools.
Additionally, the data and report analysis are easily exported in different formats and shared for collaborative purposes.
The great thing about SurveyMonkey is its features, which include built-in configurable attributes that make the creation, collection, and analysis of data from many respondents so easy.
Some of the powerful features include a wide question bank with customizable questions, a reporting and analyzing tool, survey templates, security encrypted surveys, answer validation, custom branding, SPSS integration, real-time results, and you can export results to Excel/PDF.
Design academic research surveys with confidence, reach the people that matter most via email/chat/mobile/web or social media and maximize your data's potential.
Built-in configurable attributes
Security encrypted surveys, answer validation, custom branding, SPSS integration
Provides real-time results
Wide question bank with customizable options
Data and report analysis that can be exported
SurveyMonkey
Qualtrics – best professional survey tool.
Trusted by over 100 schools worldwide, this award-winning survey software for academic research is built to help researchers and scholars generate better results for better analysis and conclusions in their research projects.
It is the first software solution to use artificial intelligence in analyzing survey data, with intelligent and advanced features called Qualtrics IQ, and machine learning to make your sophisticated academic research simpler.
With a plethora of tools to create, test, and modify your survey instantly, you can get your insights easily and as fast as possible, and in case of issues, their professional experts are available 24/7 via phone, email, or chat to assist.
It is an intuitive survey software with bespoke solutions for multiple uses including research and development, segmentation, and strategy among others.
Whether you're a beginner or expert, Qualtrics makes research simplified, using the Stats IQ that helps you decipher data, identify trends, and derive predictive models, while guiding you towards the strongest statistical relationships and translating these into simple and actionable terms.
Its Text IQ capability gives actionable insights by using AI and natural language processing to analyze open texts and then suggest relevant topics with sentiment scores to each comment.
Qualtrics also has an information repository or IQ directory that stores all the data including emotions, sentiments, beliefs, and preferences, for use in your academic research.
Additionally, it supports multi-channel distribution whether that is email, SMS, mobile, social media, or others, so you can embed your survey wherever you like or use QR codes to get people to take them.
AI and machine learning capabilities
Multi-channel distribution including SMS, mobile, and social media
Helps you decipher data, identify trends, and derive predictive models
Intelligent data survey analysis
Natural language processing
⇒ Get Qualtrics
Alchemer – Best tool for data dissemination
This is yet another online survey software for creating and conducting surveys for academic research.
It has a customizable interface that makes for an easy and interactive experience for your audience, convenience when conducting the actual surveys, and integration into social media and other digital platforms.
At the end of the survey, this software offers options to analyze the data via advanced reporting and data export features, in formats including PDF, PowerPoint, Excel, and Word, after which you can share or distribute them for thorough analysis.
Among its best features are email distribution, mobile and embeddable surveys, question library, skip logic, templates, kiosk survey, support for audio/image/video, custom survey URLs, and data analysis among many others.
Consider its most important features below:
Mobile and embeddable survey
Extensive question library
Support for audio, images, and videos
Custom survey URLs
Data analysis capabilities
⇒ Get Alchemer
Need survey software for academic research? Here are 5 tools
Best automated survey software
Best software to create quizzes
TypeForm – Best tool for easy survey creation
Technology has made everything easier in terms of making forms and surveys exciting and fun for people to fill and submit.
TypeForm is a survey software solution that has changed the conventional forms and surveys, using interactive mediums that make your respondents want to be part of the process.
Making a form in this tool is so easy, and its features include a drag-and-drop feature, flexible form creation, multiple question types and pictures, rating and opinion scales, and many more.
It has a user-friendly and interactive interface, a free API to integrate surveys and forms with other apps, and data export options.
A unique feature that makes this survey software powerful is the Logic Jumps, with which you can integrate your survey logic using Typeform tools.
Your return rates will also increase and you'll get more credible and reliable data for further processing and accuracy of results.
You can also make an unlimited number of forms and/or surveys with its free account, and rest assured of security what with its 128-bit SSL encryption of forms and surveys.
Drag-and-drop functionality
Flexible form creation
Multiple question types and pictures
Rating and opinion scales
User-friendly and interactive interface
⇒ Get TypeForm
These are some of the most reliable survey tools that you can use for academic purposes. Install the one that best suits your needs.
5 Best Windows 10 School Apps to Help Kids With Learning
Top marathi typing software to download [english to marathi], best anatomy app & software for pc [3d, human, complete].
All the software and solutions from our list come with powerful data dissemination capabilities to help you create comprehensive reports.
Therefore, they will definitely help you with your academic research and study for your target audience.
You should also take a look at our list including the best survey software for PC because it may provide other viable options.
Did you try any of the survey software listed above? If so, tell us all about your experience in the comments section below.
Leave a Reply Cancel reply
Commenting as . Not you?
Save information for future comments
More on this Topic
5 best mathematical equation writing software [2023 guide], 5 best learn to sing software used by singers [100% results], 9 best course making software for e-learning [2023 updated], calculator for windows 10: best apps to download in 2023, get the best ispring deals for this year's shopping season, class schedule maker app: 8 best to pick from.
Dissertation surveys: Questions, examples, and best practices
Collect data for your dissertation with little effort and great results.
Dissertation surveys are one of the most powerful tools to get valuable insights and data for the culmination of your research. However, it's one of the most stressful and time-consuming tasks you need to do. You want useful data from a representative sample that you can analyze and present as part of your dissertation. At SurveyPlanet, we're committed to making it as easy and stress-free as possible to get the most out of your study.
With an intuitive and user-friendly design, our templates and premade questions can be your allies while creating a survey for your dissertation. Explore all the options we offer by simply signing up for an account—and leave the stress behind.
How to write dissertation survey questions
The first thing to do is to figure out which group of people is relevant for your study. When you know that, you'll also be able to adjust the survey and write questions that will get the best results.
The next step is to write down the goal of your research and define it properly. Online surveys are one of the best and most inexpensive ways to reach respondents and achieve your goal.
Before writing any questions, think about how you'll analyze the results. You don't want to write and distribute a survey without keeping how to report your findings in mind. When your thesis questionnaire is out in the real world, it's too late to conclude that the data you're collecting might not be any good for assessment. Because of that, you need to create questions with analysis in mind.
You may find our five survey analysis tips for better insights helpful. We recommend reading it before analyzing your results.
Once you understand the parameters of your representative sample, goals, and analysis methodology, then it's time to think about distribution. Survey distribution may feel like a headache, but you'll find that many people will gladly participate.
Find communities where your targeted group hangs out and share the link to your survey with them. If you're not sure how large your research sample should be, gauge it easily with the survey sample size calculator.
Need help with writing survey questions? Read our guide on well-written examples of good survey questions .
Dissertation survey examples
Whatever field you're studying, we're sure the following questions will prove useful when crafting your own.
At the beginning of every questionnaire, inform respondents of your topic and provide a consent form. After that, start with questions like:
Please select your gender:
What is the highest educational level you've completed?
High school
Bachelor degree
Master's degree
On a scale of 1-7, how satisfied are you with your current job?
Please rate the following statements:
I always wait for people to text me first.
Strongly Disagree
Neither agree nor disagree
Strongly agree
My friends always complain that I never invite them anywhere.
I prefer spending time alone.
Rank which personality traits are most important when choosing a partner. Rank 1 - 7, where 1 is the most and 7 is the least important.
Flexibility
Independence
How openly do you share feelings with your partner?
Almost never
Almost always
In the last two weeks, how often did you experience headaches?
Dissertation survey best practices
There are a lot of DOs and DON'Ts you should keep in mind when conducting any survey, especially for your dissertation. To get valuable data from your targeted sample, follow these best practices:
Use the consent form.
The consent form is a must when distributing a research questionnaire. A respondent has to know how you'll use their answers and that the survey is anonymous.
Avoid leading and double-barreled questions
Leading and double-barreled questions will produce inconclusive results—and you don't want that. A question such as: "Do you like to watch TV and play video games?" is double-barreled because it has two variables.
On the other hand, leading questions such as "On a scale from 1-10 how would you rate the amazing experience with our customer support?" influence respondents to answer in a certain way, which produces biased results.
Use easy and straightforward language and questions
Don't use terms and professional jargon that respondents won't understand. Take into consideration their educational level and demographic traits and use easy-to-understand language when writing questions.
Mix close-ended and open-ended questions
Too many open-ended questions will annoy respondents. Also, analyzing the responses is harder. Use more close-ended questions for the best results and only a few open-ended ones.
Strategically use different types of responses
Likert scale, multiple-choice, and ranking are all types of responses you can use to collect data. But some response types suit some questions better. Make sure to strategically fit questions with response types.
Ensure that data privacy is a priority
Make sure to use an online survey tool that has SSL encryption and secure data processing. You don't want to risk all your hard work going to waste because of poorly managed data security. Ensure that you only collect data that's relevant to your dissertation survey and leave out any questions (such as name) that can identify the respondents.
Create dissertation questionnaires with SurveyPlanet
Overall, survey methodology is a great way to find research participants for your research study. You have all the tools required for creating a survey for a dissertation with SurveyPlanet—you only need to sign up . With powerful features like question branching, custom formatting, multiple languages, image choice questions, and easy export you will find everything needed to create, distribute, and analyze a dissertation survey.
Happy data gathering!
Sign up now
Free unlimited surveys, questions and responses.
Academic Research & Scholarly Surveys
Collecting the best data leads to the most accurate conclusions. Support your academic research and scholarly projects with online surveys
Surveys for academics and students
The collection and analysis of raw data is a vital part of many academic research and scholarly project. The collected data adds weight to your research and its analysis supports or disproves your theory. Surveys and questionnaires can be used across every discipline and responses collected using varying methodologies. With our online survey tool you can download your results ready for including in your thesis or export data to excel for further analysis. Whichever methodology you choose, SmartSurvey's  student survey software  is a convenient, affordable and efficient way to collect and analyse your data.
How to use online surveys in your academic research
Surveys are an imperative aspect of many academic and scholarly programmes and projects. When you have hundreds of responses to collect and data to analyse, conducting this research with paper surveys proves very time consuming. By using an online survey software, you remove the additional hard work so you can concentrate on analysing your findings.
With an online survey software you have the flexibility to conduct multiple studies using multiple methodologies, all from a centralised location. Whether you are conducting quantitative research with cross-sectional studies, opinion polls, longitudinal studies , social attitude questionnaires or qualitative research with open text surveys, SmartSurvey will be able to help.
Surveys can also be used to hone your research methodology. By sending a pre-test survey to a sample of your audience you can find out if your questions are easy to understand and ensure you're using the best distribution channel. This will ultimately save you time and increase your survey completion rates.
Examples of academic research surveys
Here are a few types of research surveys and how they can be used by academics and scholars:
Economic and social research
Social science is, broadly speaking, the study of people and the way we influence the world around us. Social and economic research therefore plays a vital role in many organisations, from government to public sector services. Conducting surveys is an imperative aspect of this research, so we offer advanced and flexibility tools to manage most research projects.
Healthcare and medical research
Investigate patient demographics, identify common health issues, and assess healthcare access, and much more.
Business studies
Looking to find out what business are in your area, how many people they employ, or where there are gaps in the market? Reach out to these industries with quick to complete and user-friendly online surveys.
Lifestyle and sports science
Use lifestyle and health surveys to collect information from your target audience about their exercise habits, eating routines and sleeping patterns, and much more.
Childhood development and education
Online surveys are a user-friendly way to conduct research projects on classroom climate, parent and school relationships, student satisfaction and concentration, and lots more.
Dissertation research
One of the most commonly used methods of collecting data for dissertation topics is the online survey. SmartSurvey enables you to create surveys, distribute them and get the answers you need, quickly.
Demographic surveys
We can help you reach the exact target audience you need for your academic research. Select who you need to survey (age, gender, location, profession, house hold etc) and our Live Audience feature will do the rest. You'll get the exact number of responses you need from the right people, fast.
See for yourself, create a survey within minutes for FREE
No credit card required.
Smarter Survey Software
See why people use SmartSurvey to better engage respondents and reveal actionable insights.
Solutions to meet any survey need
Ready to get started.
Choose a plan and start collecting feedback now.
Discover our enterprise survey software
Our most advanced tools, features and integrations.
Sign Up for Free to use this Template
EN Action Another action
Course Match
How to Get People to Take Your Dissertation Survey
Without a doubt, it's the worst part of writing a dissertation. Some might try and argue that writing out all your references is worse, but at least you can lock yourself away for that and avoid the outside world until it's over. When it comes to getting responses for your dissertation survey, hiding from everybody else isn't an option. You actually have to *shudder* ask people for help.
Persuading strangers to lend you a helping hand and spend loads of time filling in your survey is, unsurprisingly, not straightforward. Sure, you can start by asking friends and family instead, but even they won't all agree to help you. Worse still, some of them will lie and say they've done it even though you both know they really couldn't be bothered.
So, you're stuck, relying completely on the kindness of strangers. Fortunately, there are ways to sweeten the deal and make taking your dissertation survey a more attractive proposition to people you've never met before. If your response rate is embarrassingly low and your sample size needs a boost, try some of these tricks.
Grab a tablet and stop people around campus
The problem with sending people a link to your survey over Facebook is you've really got no way of knowing if that person ever bothers to click on it. Skip the uncertainty by taking your survey out around campus, pre-loaded on a tablet which you can pass to people.
Approaching strangers around campus might be a bit daunting, so team up with a friend. Pick somewhere busy like the library or a popular lunch spot and try to get people's attention as they walk past. If you're still struggling to get people to take the time to complete your survey, consider buying a big bag of cheap sweets or other rewards you can hand out to people as a thank you.
Post about your survey in our forums
Our forums are full of thousands of students from around the world, many of whom are also looking for survey respondents for their dissertation. Register for the site (don't worry, it's free) and join the conversations people are already having about their dissertation surveys.
Join a dissertation survey exchange group on Facebook
Another quick way to find people online who can take your dissertation survey is via Facebook and other social media networks. There are several pre-existing groups on Facebook ( such as this one ) which allow students to exchange survey links. You'll have to take other people's surveys as well as just posting your own, but it's a small price to pay for a vital boost in respondents.
Offer a prize to one lucky respondent
Admittedly, this idea will cost you a bit of money as you'll probably have to buy whatever prize you offer, but it could be an effective way to incentivize your lazier friends to lend you a hand. Pick a prize which is affordable but also genuinely desirable. A good idea would be to speak to local businesses which are popular with students (e.g. bars and restaurants) and see if they have any vouchers or deals you could offer the winner. Once you've got a prize, promote your survey on the condition that one respondent will be chosen at random to win the prize.
To increase your chances of getting lots of responses, make it clear that people must also share a link to your survey on social media to be entered into the prize draw. This should help you get people taking part who aren't just your friends.
Do it over the phone
If you don't require the responses you receive to be anonymous, try calling friends and family up and asking them questions over the phone. Often, people will ignore a link to a survey when they see it online but they'll be more receptive if you start asking them questions as part of a normal conversation. The only worry is that they might not answer as truthfully as they would if it was anonymous.
This article was originally published in April 2017 . It was last updated in April 2021
Want more content like this Register for free site membership to get regular updates and your own personal content feed.
As Head of Content, Craig is responsible for all articles and guides published across TopUniversities and TopMBA. He has nearly 10 years of experience writing for a student audience and extensive knowledge of universities and study programs around the world.
saved this article
Share this Page
Get assisted by higher education experts
Our expert teams can help start your academic journey by guiding you through the application process.
Find your perfect University program with our matching tool
Meet and apply to universities
Connect with peers
The 8 Best Free Online Survey Tools for Gathering Data & Feedback
What's one of the worst mistakes you can make as a business owner or marketer? Relying too much on your own ideas and opinions. In fact, studies consistently show there are gaps between what marketers think consumers want and what consumers actually want.
The best way to get a true read on your audience? Online surveys. In this post, I'm going to cover the eight best free online survey tools you can use to stay on top of your customers' needs, including:
Noteworthy free features
Paid plans and features, why online survey tools.
The success and longevity of most businesses hinge on customer and employee satisfaction. So it should be your habit to periodically gather feedback from these groups to:
Do fresh market research.
Gather feedback on the quality of your customer service.
Ask for product feedback from your current or ideal customers.
Gauge employee satisfaction.
Make sure your messaging is clear and persuasive.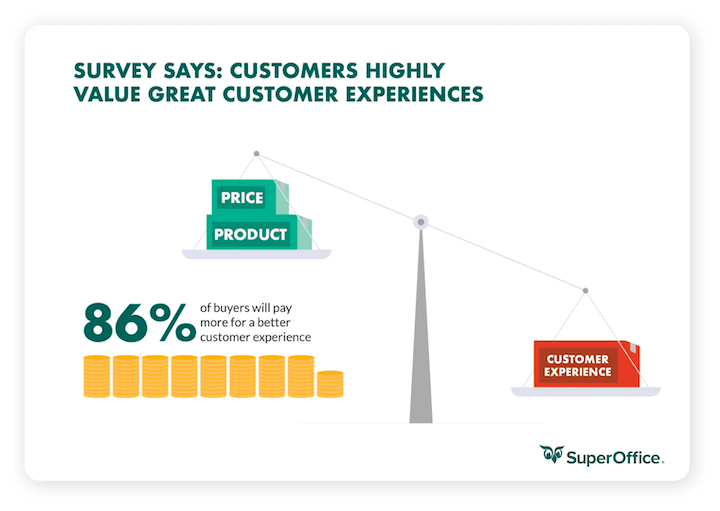 Have free plans (with the option to upgrade for access to more robust features)
Make it possible to reach out to and start collecting data and feedback from large groups of people today
Offer data analysis features to help you make sense of (and act on) the feedback you receive.
The 8 best free online survey tools
It's never been easier to get the raw insights you need to improve your business. Here are the eight best survey tools to help you:
Google Forms
SurveyMonkey
SurveyPlanet
Zoho Survey
Crowdsignal
1. Google Forms: Best 100% free tool
Google is known for offering some of the best and most widely-used free business tools. Google Forms is one of them.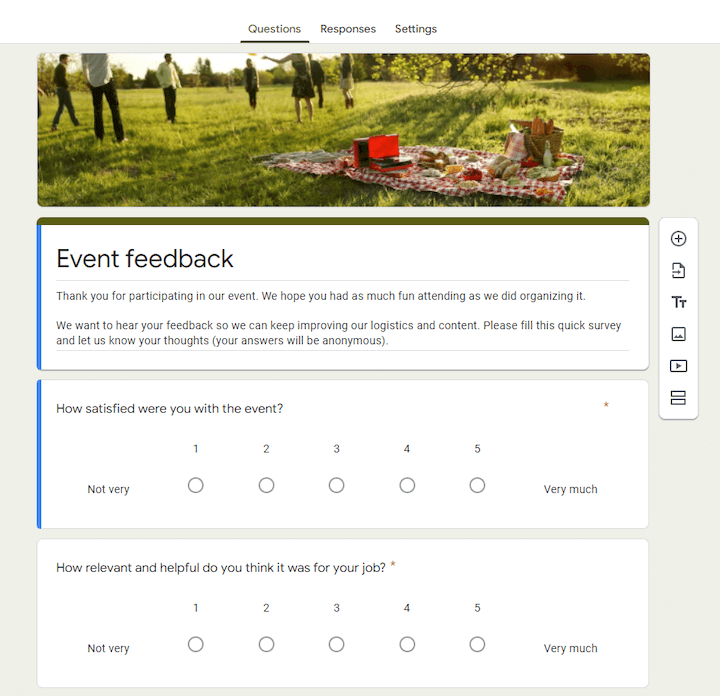 Some of Google Forms' best features are:
Responses to spreadsheets. Have responses sent to Google Sheets automatically to view, filter, and sort your data any way you want.
Use your logo, branded banners, and brand colors to keep your brand experience consistent.
Skip logic and page branching. Create customized, frictionless experiences for survey participants by guiding them through your survey in a structured manner (and with thoughtful questions that yield without forcing them to answer irrelevant questions).
Media options. Add images or videos to give survey takers context or instructions.
Data analysis features. See the percentage of participants that selected a certain answer to spot patterns at a glance and, as a result, make more informed decisions.
As you'll see, most free online survey tools are actually free mium tools. Or, if not, they have limited functionality. Google Forms is not only a 100% free tool but Google also has been generous as far as features are concerned.
2. SurveyMonkey: Best for short surveys
With "20 million questions answered daily," SurveyMonkey is one of the leading online survey tools.
Maximum number of surveys: Unlimited
Maximum questions per survey: 10
Maximum responses: 10 per survey
SurveyMonkey's free plan offers access to:
Three collectors. Send your surveys to participants via up to three modes including links, website embeds, and email.
40 short survey templates. Spend less time creating surveys by modifying existing ones.
A filter. Compare how different groups of participants responded to your survey questions.
The free version of this survey tool will work if you create short, straightforward surveys and don't need bells and whistles.
SurveyMonkey has paid plans for individuals, teams, and enterprises.
Standard Monthly at $99 per month: Includes features such as unlimited questions per survey, 1,000 responses per month, unlimited collectors, 180 templates, and so on.
Standard Annual at $192 per year: Includes unlimited surveys, 10 questions and 40 responses per survey, three collectors, and more.
Advantage Annual at $384 per year: Includes Unlimited surveys and questions per survey, 5,000 responses per year, priority email support, and so on.
Premier Annual at $1,428 per year: Includes unlimited surveys, questions per survey, ad collectors, 7,500 responses per year, priority email support, and 180+ templates.
It also has plans specifically for teams and enterprises.
3. Typeform: Best user experience
Like SurveyMonkey, Typeform is probably one of the first tools that come to mind for online survey creation as it's known for being an effective way to gather customer feedback and data. In fact, the company claims that 87% of users get deeper insights with its tool than with alternative online survey tools.
Maximum responses: 10 responses per month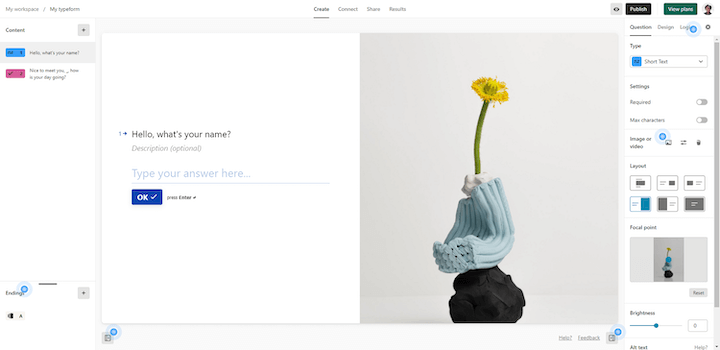 The free Typeform plan includes:
Logic jumps. Usually a paid feature, logic jumps allow survey-takers to skip to the questions that are most relevant to them based on their responses.
Send collected data to other apps with Zapier, Automate.io, Slack, HubSpot, and other integrations.
Create surveys from scratch or use one of Typeform's templates as a starting point.
Data downloads. Download survey insights and store them where it's most convenient for you.
From start to finish, Typeform is the cream of the crop as far as user experience goes. Not only is the onboarding process quick and easy, but it also gives users a taste of what it's like to fill out Typeforms, giving them confidence in their decision to sign up. Plus, the overall user interface is simple, minimal, modern, resulting in efficient survey creation and great experiences for survey respondents.
Considering upgrading to a paid version? Here are your options.
Basic at $29 per month: Includes features such as 100 responses per month with unlimited questions, file uploads, and payment acceptance.
Plus at $59 per month: Includes up to 1,000 responses per month, 3 users, custom links and subdomains, redirects, and more.
Business at $99 per month: Includes up to 10,000 responses a month, drop-off rates, advanced embed options, analytics features, priority support, and so on.
Enterprise plans are also available if you need custom response limits and seats, custom domains and branding, Single Sign-On, etc.
4. Jotform: Most complete freemium plan
Jotform is another one of the most popular online survey tools and for good reason. It's packed with flexible features to help you create sophisticated surveys, even on the free plan.
Maximum number of surveys: 5
Maximum questions per survey: 100
Maximum responses: 100 per month (with total submission storage of 500)
What stands out about Jotform's free plan?
Thousands of templates. Jotform claims to have the largest selection of free templates available online and, with more than 7,000 listed, that's not hard to believe.
100+ integrations. Automatically sync form data with tools you already use for time-savings and better information management.
40+ payment gateways. Some online survey tools offer no payment gateways or only a few such as PayPal and Stripe. With Jotform you get access to more than 40 so that you can accept payments with ease.
100+ widgets. Go beyond basic form fields and elements. Add widgets for e-signatures, form calculations, checklists, inventory, PDF embeds, and much more.
Although free, this plan is by no means basic.
Jotform has four paid versions as well.
Bronze at $29 per month: Includes up to 25 forms, up to 1,000 monthly submissions and 10,000 total submissions, 250 fields per form, and no Jotform branding.
Silver at $39 per month: Includes up to 50 forms, 2,500 monthly submissions and a 25,000 submission storage total, HIPAA compliance, and more.
Gold at $99 per month: Includes 100 forms, 10,000 monthly submissions and up to 100,000 total submissions, and 1,000 monthly payment submissions.
Enterprise, which requires a custom quote: Includes unlimited everything, custom domains, white-labeling, and more.
Jotform has more limits to keep up with than other tools—monthly and total submissions, monthly form views, fields per form, monthly payments submissions, and available space. So, if you create a lot of surveys, you'll need to monitor your usage. However, the quality and completeness of the survey tool itself can make that extra task on your to-do list worth it.
5. SoGoLytics: Best for scaling
SoGoLytics is used by the likes of Apple, IBM, Marriott, and Sony. But it's not just tailored to big-name brands. This full-featured, end-to-end online survey software has a plan fit for any business size. Take the free plan, for example.
Maximum questions per survey: Unlimited
Maximum responses: 100 email invitations and responses per survey per year and up to 200 email invitations and responses per year
With one of the most robust free plans available, SoGoLytics' Basic plan offers:
A template bank. Instead of starting from scratch every time, grab a template and modify it to fit your needs.
Various question types. These include multi-select, text boxes, radio buttons, Likert scales, like/dislike, ratings, and dropdowns.
Embed audio or video, provide introductory or descriptive text, and display images in surveys to give participants helpful context and collect quality responses.
Publishing to social media. Gather more responses by getting the word out about your survey to as much of your target audience as possible.
Not only is data storage secure, but SSL encryption protects participants' information.
This tool is best for scaling. You can get started for free without tons of restrictions and upgrade as you do more surveys or require more features.
SoGoLytics also has paid versions.
Plus at $25 per month: Includes features such as skip logic, custom thank you messages, single-use email invites, real-time reports, data filters, and more.
Pro at $66 per month: Includes automatic survey expiry, graded quizzes, downloadable results, survey embeds, and much more.
Premium at $99 per month: Includes all basic and advanced question types, survey participant anonymity, survey auto-translation, pre- and post-population, autosave, and more.
Enterprise, which requires a custom quote: Includes live survey editing, customizable email alerts, customizable URLs and login pages, conditional formatting, 9 types of exports, and so on.
It also has a plan for businesses in case several people on your team are involved in survey creation or data collection and analysis.
6. SurveyPlanet: Best unlimited freemium plan
While not as well-known as some other names in the industry, SurveyPlanet is another great free online survey platform.
Maximum responses: Unlimited
SurveyPlanet's free plan gives access to:
30+ languages. Get the valuable insights you need from your employees, customers, and others, no matter what language they or you are most comfortable with.
Survey distribution. Embed your online surveys on your site, share them via social media or send them via email to collect as many responses as possible.
Make participants more comfortable giving honest answers and remove conscious and unconscious bias from the equation during data analysis.
10 survey themes. When you don't want to spend time on design, choose a ready-to-go theme.
Competitor SoGoSurvey offers more free features than SurveyPlanet. However, since SurveyPlanet also allows unlimited responses on the free plan in addition to unlimited surveys and questions, this gives it an edge as the best unlimited freemium tool.
If you outgrow the free plan, here are your options.
Pro at $20 per month: Includes features such as custom themes, question branching, results filtering, and white-labeling just to name a handful.
Enterprise at $250 per year: Includes all Pro features plus teams, survey insights, and custom URLs.
SurveyPlanet has several live previews on its website for different use cases, including conducting market research. Try one to see the tool's capabilities and judge the quality of the user experience for yourself.
7. Zoho Survey: Best for Zoho users
Another free online survey tool with great ratings and reviews is Zoho Survey .
Maximum responses: 100 per survey
Here's what Zoho Survey's free version includes:
All question types. Unlike many alternatives, this survey tool doesn't limit the types of questions you can ask (although the free version does limit logic).
250+ templates. With such a wide range of templates to choose from, you'll never have to worry about not knowing where to start with survey creation.
Real-time responses. Start reviewing collected data the second it comes in.
Support for mobile devices. Respondents can take your surveys on iOS and Android for ease of use on the go.
Embed survey on your website or embed videos and call links.
Since the free version integrates mainly with Zoho tools, this is a great option if you're already a Zoho user. And, even if you're not, this tool might suit you if you create short employee or customer feedback surveys.
Zoho Survey has three paid versions with more functionality.
Plus at $35 per month: Includes features such as unlimited survey questions, 3,000 responses monthly, complete design customization, customizable reports, sentiment analysis, integrations, and more.
Pro at $49 per month: Includes up to 5,000 responses a month, custom variables, multilingual surveys and reports, webhooks, and triggers.
Enterprise at $109 per month: Includes features such as 7,000 monthly responses, user management and department creation, audit logs, and personalized training and onboarding.
P.S. If you choose an annual plan for any of the above, you'll get unlimited responses, which is great if you routinely create surveys for large groups of people. Think original research for thought leadership content.
8. Crowdsignal: Best for WordPress users
Crowdsignal —built by the team behind WordPress.com—is also one of the best online survey tools. You can get started today with no credit card required.
Maximum responses: 2,500 signals (each question equals a signal)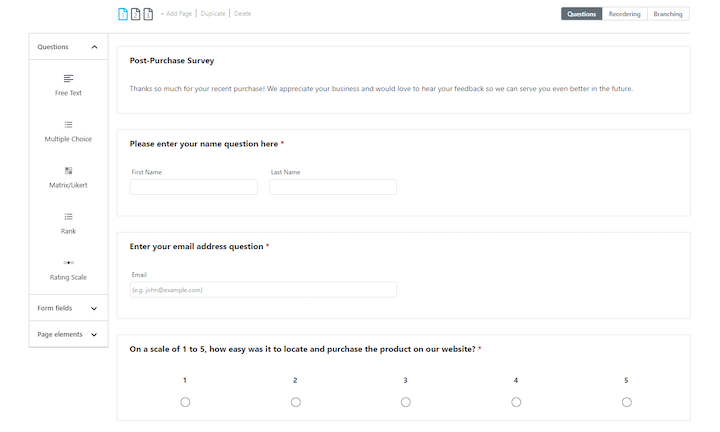 Crowdsignal features:
WordPress design themes. If you like WordPress themes like TwentyTwentyOne or want a simple way to keep the design of your surveys on-brand, you can choose from popular WordPress design themes.
com login. One less password to remember if you sign in via an existing WordPress account, which will also automatically sync your Gravatar image.
Basic elements and fields. Drag and drop free text, multiple-choice, rating scale, matrix, name, email, URL, headline, and other fields and elements to build your survey.
Printable results overviews. Review and print survey results including responses, participant info such as location data, and survey completion rate.
The free version of Crowdsignal is best if you're a WordPress fan and need a simple online survey tool for light usage.
If you want to upgrade, for example, to see responses beyond the 2,500 signals on the free plan, you have a few options.
Premium at $25 per month: Includes unlimited signals, branching and logic trees, syncing to Google Sheets, exports, report filters, and more.
Business at $59 per month: Includes features such as custom domains, redirect after submit, customizable CSS themes, API access, and more.
Team at $29 per user per month: Includes shared theme, templates, and assets, centralized company data, and team analysis, filtering, and exports.
Note: If you're interested in the team plan, be aware that it's billed annually.
Bonus tool: Qualaroo
If you're looking for something a little more advanced, you might consider the contextual online survey tool Qualaroo . This app isn't free but does offer a free trial so you can see if it's right for you.
Rather than using traditional email surveys, Qualaroo lets you ask the right question to the right person at the right time. The questions are asked via unobtrusive "Nudges" and the responses are processed through its proprietary Sentiment Analysis technology. This runs on IBM Watson, a powerful natural-language-processing AI that gives you actionable user insights.
Noteworthy features
Unlimited Nudges.
Feedback campaign consultation.
Advanced export capabilities.
Pre-made templates.
Integrations with Google Analytics, Marketo, Zapier, Slack, and more.
Qualaroo pricing starts at $80/month and offers a free trial for you to check out all the features. Regardless of the plan chosen, every Qualaroo user gets the core features that every good survey software needs:
Engagement options – In-Product Nudge™, Link Nudge™, website overlay, lead gen form, and NPS
Survey customization – branching and skip logic, visual customization, and Nudge placement
Audience targeting – behavioral, URL, and technology
Which is the best online survey tool?
While the best online survey tool for you will ultimately depend on your business needs and budget, I'd recommend starting with Google Forms or Jotform. Both give a ton of value away for free.
If you're after a modern, minimal, seamless user experience—for yourself and the people you'll be surveying—Typeform is worth trying.
Looking to do frequent and/or large-scale surveys now or in the future? SoGoSurvey's free and paid plans make creating online surveys easy no matter what stage you're at now or are aiming for down the road.
And, of course, you can also try the other survey tools on this list to find the best fit. But before you do, prioritize what features you need now and consider how your needs may evolve. That way, you can start off with the right tool and hopefully save yourself the hassle of having to switch later on.
Why not take five minutes to make a list of your priorities now and see which tools on our list match them?
To recap, here are the best free online survey tools:
Google Forms: Best 100% free tool
SurveyMonkey: Best for short surveys
Typeform: Best user experience
Jotform: Most complete freemium plan
SoGoSurvey: Best for scaling
SurveyPlanet: Best unlimited freemium plan
Zoho Survey: Best for Zoho users
Crowdsignal: Best for WordPress users
Meet The Author
Nia Gyant is a freelance writer and brand messaging strategist with a background in online marketing. She supports marketing agencies and small to mid-sized businesses in need of strategically-crafted, goal-oriented content and copy.
See other posts by Nia Gyant
More Articles Like This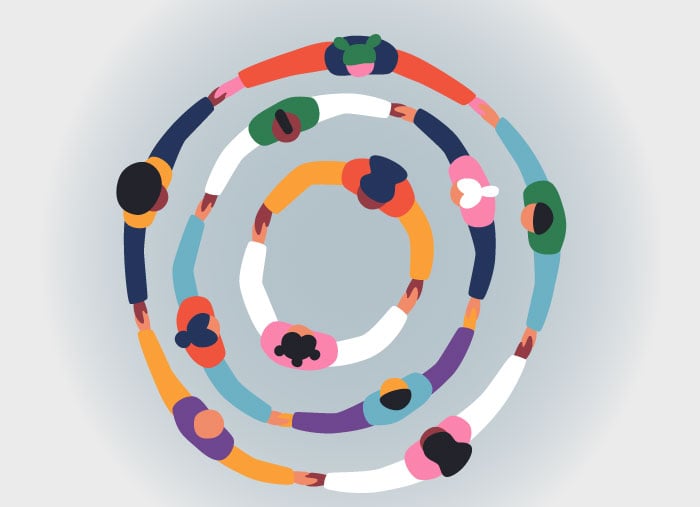 76 Perspective-Broadening Stats About Diversity & Inclusion in Marketing for 2023
Get equipped and inspired to make meaningful change in society through your marketing efforts.
60+ Easy & Creative March Marketing Ideas (With Examples!)
In like a lion, out like a lamb, and chock full of opportunities to connect with your audience.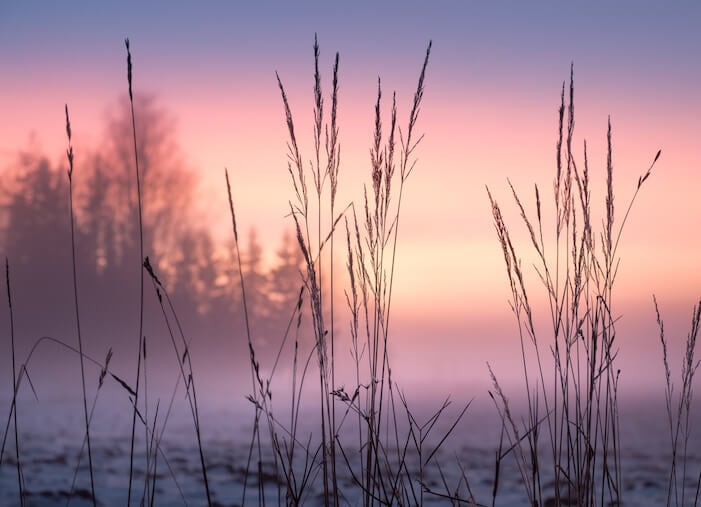 50+ Creative February Marketing Ideas (Beyond Valentine's Day!)
There's a National Public Sleeping Day in February. Who knew?
Please read our Comment Policy before commenting.
Sign up for our weekly newsletter!
Related articles.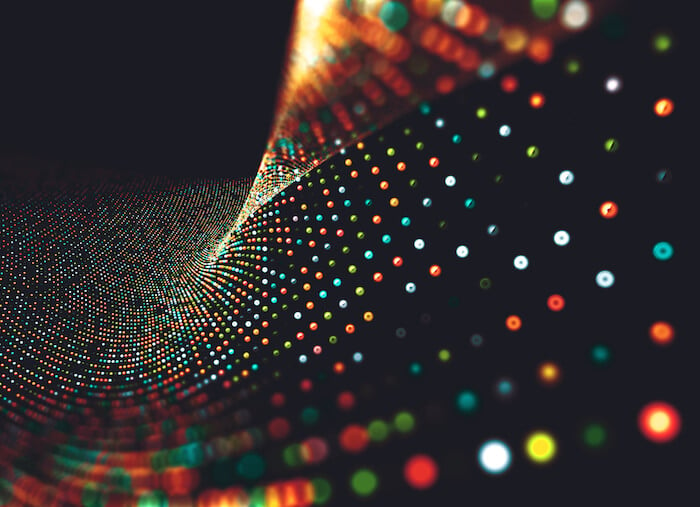 These 14 Digital Marketing Trends Will Have the Biggest Influence in 2023