Dissertation Structure & Layout 101: How to structure your dissertation, thesis or research project.
By: Derek Jansen (MBA) Reviewed By: David Phair (PhD) | July 2019
So, you've got a decent understanding of what a dissertation is , you've chosen your topic and hopefully you've received approval for your research proposal . Awesome! Now its time to start the actual dissertation or thesis writing journey.
To craft a high-quality document, the very first thing you need to understand is dissertation structure . In this post, we'll walk you through the generic dissertation structure and layout, step by step. We'll start with the big picture, and then zoom into each chapter to briefly discuss the core contents. If you're just starting out on your research journey, you should start with this post, which covers the big-picture process of how to write a dissertation or thesis .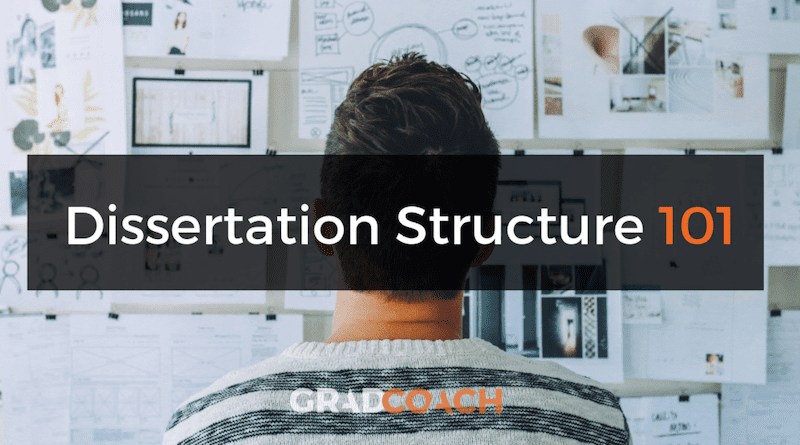 *The Caveat *
In this post, we'll be discussing a traditional dissertation/thesis structure and layout, which is generally used for social science research across universities, whether in the US, UK, Europe or Australia. However, some universities may have small variations on this structure (extra chapters, merged chapters, slightly different ordering, etc).
So, always check with your university if they have a prescribed structure or layout that they expect you to work with. If not, it's safe to assume the structure we'll discuss here is suitable. And even if they do have a prescribed structure, you'll still get value from this post as we'll explain the core contents of each section.  
Overview: S tructuring a dissertation or thesis
Acknowledgements page
Abstract (or executive summary)
Table of contents , list of figures and tables
Chapter 1: Introduction
Chapter 2: Literature review
Chapter 3: Methodology
Chapter 4: Results
Chapter 5: Discussion
Chapter 6: Conclusion
Reference list
As I mentioned, some universities will have slight variations on this structure. For example, they want an additional "personal reflection chapter", or they might prefer the results and discussion chapter to be merged into one. Regardless, the overarching flow will always be the same, as this flow reflects the research process , which we discussed here – i.e.:
The introduction chapter presents the core research question and aims .
The literature review chapter assesses what the current research says about this question.
The methodology, results and discussion chapters go about undertaking new research about this question.
The conclusion chapter (attempts to) answer the core research question.
In other words, the dissertation structure and layout reflect the research process of asking a well-defined question(s), investigating, and then answering the question – see below.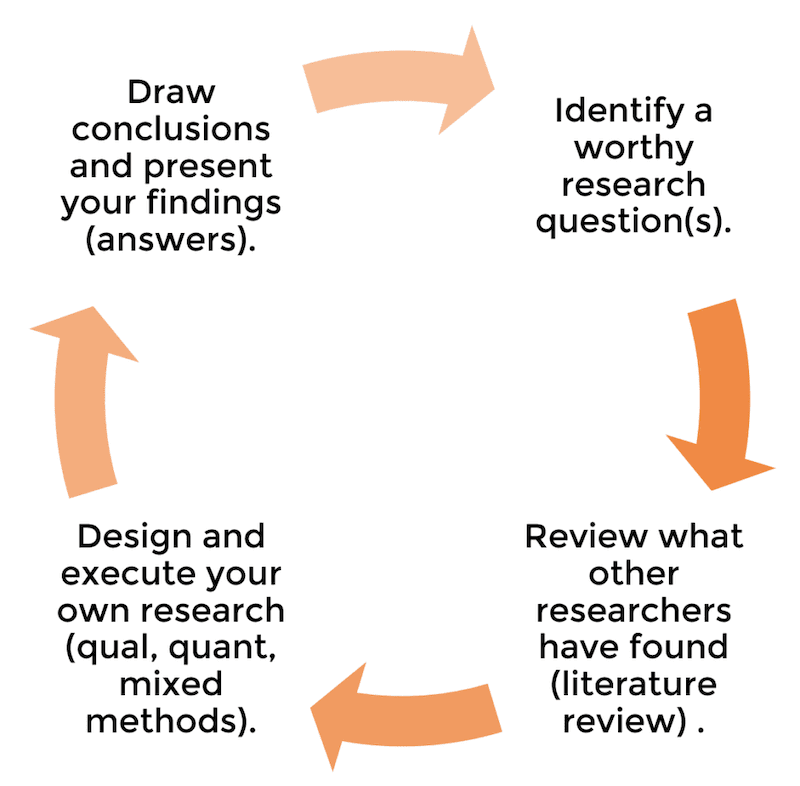 To restate that – the structure and layout of a dissertation reflect the flow of the overall research process . This is essential to understand, as each chapter will make a lot more sense if you "get" this concept. If you're not familiar with the research process, read this post before going further.
Right. Now that we've covered the big picture, let's dive a little deeper into the details of each section and chapter. Oh and by the way, you can also grab our free dissertation/thesis template here to help speed things up.
The title page of your dissertation is the very first impression the marker will get of your work, so it pays to invest some time thinking about your title. But what makes for a good title? A strong title needs to be 3 things:
Succinct (not overly lengthy or verbose)
Specific (not vague or ambiguous)
Representative of the research you're undertaking (clearly linked to your research questions)
Typically, a good title includes mention of the following:
The broader area of the research (i.e. the overarching topic)
The specific focus of your research (i.e. your specific context)
Indication of research design (e.g. quantitative , qualitative , or  mixed methods ).
For example:
A quantitative investigation [research design] into the antecedents of organisational trust [broader area] in the UK retail forex trading market [specific context/area of focus].
Again, some universities may have specific requirements regarding the format and structure of the title, so it's worth double-checking expectations with your institution (if there's no mention in the brief or study material).
Acknowledgements
This page provides you with an opportunity to say thank you to those who helped you along your research journey. Generally, it's optional (and won't count towards your marks), but it is academic best practice to include this.
So, who do you say thanks to? Well, there's no prescribed requirements, but it's common to mention the following people:
Your dissertation supervisor or committee.
Any professors, lecturers or academics that helped you understand the topic or methodologies.
Any tutors, mentors or advisors.
Your family and friends, especially spouse (for adult learners studying part-time).
There's no need for lengthy rambling. Just state who you're thankful to and for what (e.g. thank you to my supervisor, John Doe, for his endless patience and attentiveness) – be sincere. In terms of length, you should keep this to a page or less.
Abstract or executive summary
The dissertation abstract (or executive summary for some degrees) serves to provide the first-time reader (and marker or moderator) with a big-picture view of your research project. It should give them an understanding of the key insights and findings from the research, without them needing to read the rest of the report – in other words, it should be able to stand alone .
For it to stand alone, your abstract should cover the following key points (at a minimum):
Your research questions and aims – what key question(s) did your research aim to answer?
Your methodology – how did you go about investigating the topic and finding answers to your research question(s)?
Your findings – following your own research, what did do you discover?
Your conclusions – based on your findings, what conclusions did you draw? What answers did you find to your research question(s)?
So, in much the same way the dissertation structure mimics the research process, your abstract or executive summary should reflect the research process, from the initial stage of asking the original question to the final stage of answering that question.
In practical terms, it's a good idea to write this section up last , once all your core chapters are complete. Otherwise, you'll end up writing and rewriting this section multiple times (just wasting time). For a step by step guide on how to write a strong executive summary, check out this post .
Need a helping hand?
Table of contents
This section is straightforward. You'll typically present your table of contents (TOC) first, followed by the two lists – figures and tables. I recommend that you use Microsoft Word's automatic table of contents generator to generate your TOC. If you're not familiar with this functionality, the video below explains it simply:
If you find that your table of contents is overly lengthy, consider removing one level of depth. Oftentimes, this can be done without detracting from the usefulness of the TOC.
Right, now that the "admin" sections are out of the way, its time to move on to your core chapters. These chapters are the heart of your dissertation and are where you'll earn the marks. The first chapter is the introduction chapter – as you would expect, this is the time to introduce your research…
What will you be investigating (in plain-language, big picture-level)?
Why is that worth investigating? How is it important to academia or business? How is it sufficiently original?
What are your research aims and research question(s)? Note that the research questions can sometimes be presented at the end of the literature review (next chapter).
What is the scope of your study? In other words, what will and won't you cover ?
How will you approach your research? In other words, what methodology will you adopt?
How will you structure your dissertation? What are the core chapters and what will you do in each of them?
What does the literature currently say about the topic you're investigating?
Is the literature lacking or well established? Is it divided or in disagreement?
How does your research fit into the bigger picture?
How does your research contribute something original?
How does the methodology of previous studies help you develop your own?
Now that you've investigated the current state of knowledge in your literature review chapter and are familiar with the existing key theories, models and frameworks, its time to design your own research. Enter the methodology chapter – the most "science-ey" of the chapters…
In this chapter, you need to address two critical questions:
Exactly HOW will you carry out your research (i.e. what is your intended research design)?
Exactly WHY have you chosen to do things this way (i.e. how do you justify your design)?
Remember, the dissertation part of your degree is first and foremost about developing and demonstrating research skills . Therefore, the markers want to see that you know which methods to use, can clearly articulate why you've chosen then, and know how to deploy them effectively.
Importantly, this chapter requires detail – don't hold back on the specifics. State exactly what you'll be doing, with who, when, for how long, etc. Moreover, for every design choice you make, make sure you justify it.
In practice, you will likely end up coming back to this chapter once you've undertaken all your data collection and analysis, and revise it based on changes you made during the analysis phase. This is perfectly fine. Its natural for you to add an additional analysis technique, scrap an old one, etc based on where your data lead you. Of course, I'm talking about small changes here – not a fundamental switch from qualitative to quantitative, which will likely send your supervisor in a spin!
You've now collected your data and undertaken your analysis, whether qualitative, quantitative or mixed methods. In this chapter, you'll present the raw results of your analysis . For example, in the case of a quant study, you'll present the demographic data, descriptive statistics, inferential statistics, etc.
Typically, Chapter 4 is simply a presentation and description of the data, not a discussion of the meaning of the data. In other words, it's descriptive, rather than analytical – the meaning is discussed in Chapter 5. However, some universities will want you to combine chapters 4 and 5, so that you both present and interpret the meaning of the data at the same time. Check with your institution what their preference is.
Now that you've presented the data analysis results, its time to interpret and analyse them. In other words, its time to discuss what they mean, especially in relation to your research question(s).
What you discuss here will depend largely on your chosen methodology. For example, if you've gone the quantitative route, you might discuss the relationships between variables . If you've gone the qualitative route, you might discuss key themes and the meanings thereof. It all depends on what your research design choices were.
Most importantly, you need to discuss your results in relation to your research questions and aims, as well as the existing literature. What do the results tell you about your research questions? Are they aligned with the existing research or at odds? If so, why might this be? Dig deep into your findings and explain what the findings suggest, in plain English.
The final chapter – you've made it! Now that you've discussed your interpretation of the results, its time to bring it back to the beginning with the conclusion chapter . In other words, its time to (attempt to) answer your original research question s (from way back in chapter 1). Clearly state what your conclusions are in terms of your research questions. This might feel a bit repetitive, as you would have touched on this in the previous chapter, but its important to bring the discussion full circle and explicitly state your answer(s) to the research question(s).
Next, you'll typically discuss the implications of your findings? In other words, you've answered your research questions – but what does this mean for the real world (or even for academia)? What should now be done differently, given the new insight you've generated?
Lastly, you should discuss the limitations of your research, as well as what this means for future research in the area. No study is perfect, especially not a Masters-level. Discuss the shortcomings of your research. Perhaps your methodology was limited, perhaps your sample size was small or not representative, etc, etc. Don't be afraid to critique your work – the markers want to see that you can identify the limitations of your work. This is a strength, not a weakness. Be brutal!
This marks the end of your core chapters – woohoo! From here on out, it's pretty smooth sailing.
The reference list is straightforward. It should contain a list of all resources cited in your dissertation, in the required format, e.g. APA, Harvard, etc.
It's essential that you use reference management software for your dissertation. Do NOT try handle your referencing manually – its far too error prone. On a reference list of multiple pages, you're going to make mistake. To this end, I suggest considering either Mendeley or Zotero. Both are free and provide a very straightforward interface to ensure that your referencing is 100% on point. I've included a simple how-to video for the Mendeley software (my personal favourite) below:
Some universities may ask you to include a bibliography, as opposed to a reference list. These two things are not the same . A bibliography is similar to a reference list, except that it also includes resources which informed your thinking but were not directly cited in your dissertation. So, double-check your brief and make sure you use the right one.
The very last piece of the puzzle is the appendix or set of appendices. This is where you'll include any supporting data and evidence. Importantly, supporting is the keyword here.
Your appendices should provide additional "nice to know", depth-adding information, which is not critical to the core analysis. Appendices should not be used as a way to cut down word count (see this post which covers how to reduce word count ). In other words, don't place content that is critical to the core analysis here, just to save word count. You will not earn marks on any content in the appendices, so don't try to play the system!
Time to recap…
And there you have it – the traditional dissertation structure and layout, from A-Z. To recap, the core structure for a dissertation or thesis is (typically) as follows:
Most importantly, the core chapters should reflect the research process (asking, investigating and answering your research question). Moreover, the research question(s) should form the golden thread throughout your dissertation structure. Everything should revolve around the research questions, and as you've seen, they should form both the start point (i.e. introduction chapter) and the endpoint (i.e. conclusion chapter).
I hope this post has provided you with clarity about the traditional dissertation/thesis structure and layout. If you have any questions or comments, please leave a comment below, or feel free to get in touch with us. Also, be sure to check out the rest of the  Grad Coach Blog .
Psst… there's more (for free)
This post is part of our research writing mini-course, which covers everything you need to get started with your dissertation, thesis or research project.
You Might Also Like:
27 Comments
many thanks i found it very useful
Glad to hear that, Arun. Good luck writing your dissertation.
Such clear practical logical advice. I very much needed to read this to keep me focused in stead of fretting.. Perfect now ready to start my research!
what about scientific fields like computer or engineering thesis what is the difference in the structure? thank you very much
Thanks so much this helped me a lot!
Very helpful and accessible. What I like most is how practical the advice is along with helpful tools/ links.
Thanks Ade!
Thank you so much sir.. It was really helpful..
You're welcome!
Hi! How many words maximum should contain the abstract?
Thank you so much 😊 Find this at the right moment
You're most welcome. Good luck with your dissertation.
best ever benefit i got on right time thank you
Many times Clarity and vision of destination of dissertation is what makes the difference between good ,average and great researchers the same way a great automobile driver is fast with clarity of address and Clear weather conditions .
I guess Great researcher = great ideas + knowledge + great and fast data collection and modeling + great writing + high clarity on all these
You have given immense clarity from start to end.
Morning. Where will I write the definitions of what I'm referring to in my report?
Thank you so much Derek, I was almost lost! Thanks a tonnnn! Have a great day!
Thanks ! so concise and valuable
This was very helpful. Clear and concise. I know exactly what to do now.
Thank you for allowing me to go through briefly. I hope to find time to continue.
Really useful to me. Thanks a thousand times
Very interesting! It will definitely set me and many more for success. highly recommended.
Usefull, thanks a lot. Really clear
That was incredibly useful. Thanks Grad Coach Crew!
My stress level just dropped at least 15 points after watching this. Just starting my thesis for my grad program and I feel a lot more capable now! Thanks for such a clear and helpful video, Emma and the GradCoach team!
Do we need to mention the number of words the dissertation contains in the main document?
It depends on your university's requirements, so it would be best to check with them 🙂
Such a helpful post to help me get started with structuring my masters dissertation, thank you!
Trackbacks/Pingbacks
What Is A Literature Review (In A Dissertation Or Thesis) - Grad Coach - […] is to write the actual literature review chapter (this is usually the second chapter in a typical dissertation or…
Submit a Comment Cancel reply
Your email address will not be published. Required fields are marked *
Save my name, email, and website in this browser for the next time I comment.
Department of Psychology
This is a nice tagline
Dissertation.
Course Organiser: Prof. Hugh Rabagliati
Dissertation Information Session
An introductory session for the dissertation will be held on Monday of Week 1 (19th September) at 9AM. The session will be held in person in Appleton Tower Lecture Theatre 3, and you will receive more details by email.
Declaring your dissertation project
Feedback policies and marking procedures
Writing your DISSERTATION
Statistics and R Support for Dissertation s
Technical Support for Dissertation s
First year participant pool (SONA)
Psychometric tests
Ethics committee submissions 
Procedures for honours projects involving children  at schools
Dissertation Submission
Public Availability of Dissertations
Declaring your dissertation project
When your project and supervisor have been arranged, you must submit the working title of your project and the name(s) of your supervisor(s) and dissertation partner(s) (if applicable) via this  form , which should be submitted electronically to the Teaching Office via the Dissertation Learn page by  Wednesday 5th October, 12 noon . Note that your final dissertation does not need to use this title – the declaration is for our records.
The dissertation involves engaging in a research project, and this project can take many forms. It can use quantitative or qualitative methods, and it can require you to collect new data, repurpose an existing dataset, or perhaps conduct a meta-analyses on the results of the existing literature on some topic. It is important to note that all these different kinds of projects have their advantages and drawbacks, and each draws on different sets of skills. As such, although the methods used may not be strictly comparable, the amount of work required in each will be similar.
The Dissertation is the capstone to your career in Edinburgh's psychology department and, for many students, the most meaningful and personal piece of work that you will complete. It is an excellent opportunity to practice your acquired skills and even build new ones. This page contains some key information about the steps for completing your dissertation, including details on the Semester 1 Poster Day, on how to submit for ethical approval, on how you will be given feedback, and on how your dissertation should be submitted.
The Poster Day in Semester 1 will be an opportunity for you to get feedback from peers and staff on the design of your dissertation, as well as an opportunity to get practice communicating science. Students will make a poster describing their planned dissertation research, that will be presented at the Poster Day on Monday 28th November . The poster sessions will take place in person. There will be a competition with a prize for the best poster. A few weeks before the Poster Day, we will release a short video describing how to produce strong, impactful posters. Note that the posters will not count towards the assessment, but they're a great opportunity to get essential feedback on your work.
Your supervisor will be available for guidance and advice on your dissertation work, and it is expected that you will hold regular meetings with him/her, at which you will receive informal feedback on progress in your project. There is an additional opportunity to get early-stage feedback from staff and peers at the Poster Day, during S1.
Formal feedback will be given on two documents: a  structured report form  and a 1000 word  writing sample (the forms can be found on Learn) . These forms should be submitted on Learn, and we expect most students to submit them between week 8 of Semester 1 and week 3 of Semester 2. However, the precise timing of your submission should be discussed with your supervisor. You and your supervisor will then discuss these documents in a specific feedback meeting  where progress to date, and plans for completion and writing of the project, will be discussed.  You should ensure to arrange this feedback meeting with your supervisor in advance, so that they have enough time to fully process your report form and writing sample.
The dissertation is worth 100% of the mark for the dissertation project. It will be marked by two independent markers, the first of whom will be your thesis supervisor. The second marker will mark your dissertation anonymously (he/she will not know your identity). Note that the second marker may not be an expert in your precise topic of study, and so it is important for your dissertation to be written clearly enough that a non-expert psychologist can understand it.
Keep in mind that excellent project work means asking questions: to know when to seek help from others, and whom to approach is an important characteristic of a successful research worker. Once you have graduated, you will be entitled to receive a summary of the markers' comments and supervisor report.
The Psychology Final Honours Dissertation write up should be your own individual piece of work, even if you have done the project collaboratively. 
Do not hope to earn marks through quantity of words rather than quality: Your markers will be more impressed by a precise and well-structured argument than by a bloated review full of tangential information. Remember also that a description of your own research is more important than your summary of research by other people. You need to demonstrate that you can move on from just describing the literature, to evaluating it, and using that evaluation to motivate your own study.
Some useful general advice about writing the dissertation can be found below. Further information, along with examples of best practice to follow, can be found at the PPLS Skills Centre https://skillscentre.ppls.ed.ac.uk/ .
1. Try to choose a TITLE which is short and to the point, rather than a long one. It does not have to be the title that you submitted in Semester 1.
List on the TITLE PAGE the names of your partner(s) in the project, your supervisor(s) and anyone else who has materially helped in the design, execution and analysis of the work, so that it is clear what is your own work.
2. The ABSTRACT should be brief (300 words maximum). Some commentators now believe that asking for structured abstracts (with subheadings, e.g., Objectives / (Design) / Methods / Results / Conclusions) encourages the writer to sharpen up the composition and conveys more information. But this scheme is not yet widely used in journal abstracts, and for the present it is enough to make sure you cover each of these points where appropriate - but be succinct!
3. The INTRODUCTION should be short (say, 1000 to 1500 words) and you should focus on those sections of the literature that are most relevant for your particular project rather than reviewing the whole literature. It usually helps to end the introduction with a paragraph or section on 'The Present Study' (you may even separate this out with a sub-heading) which spells out what you intend to do in your study and why. This section should make clear to the reader the point of your piece of work, and the logic behind the design of your study, and springboard them into the Methods.
4. The METHODS section should not be a slavish transplant of the kind of methods sections you wrote in second year practical reports: look at the range of methods sections in published papers in the area you are working in to see what is essential and what is optional. If procedures are well known or standard, you can get away with a short description or reference, but if you have invented your own techniques describe these succinctly but in full. You may want to write the methods and results in parallel, to see which points about the design and statistics can be explained better in the methods and which can be explained better in the results. If you are collaborating with someone else on your project, do not use a co-written Methods section, even if you will say very much the same things. It is essential also to include a statement reporting the study's ethical approval, including the name of the body (or in some case bodies) giving approval, and any reference number/s. All projects must be approved by the School (PPLS) Ethics Committee ( https://resource.ppls.ed.ac.uk/ethics/ ).
5. The RESULTS section is one of the most important, so allocate a due amount of time for writing it up. It helps if you have worked out how you are going to analyse the data before you embark on the study (but the situation can usually be rescued, even if you have not, providing that you have used a straightforward design). Because of the diversity of Honours Dissertation topics, it is difficult to lay down firm guidelines for the analysis - the guide must be what would be acceptable in an up-to-date publication in the relevant area. Exploratory data analysis is an important precursor to good statistical analysis. Think about your data before you dive into the analysis, and decide how you can best present or summarise it (e.g., Figures vs. Tables) so that the reader can understand the important features before you get down to hypothesis testing, etc. Different studies will demand different approaches, so be aware that you are trying to demonstrate that you know what would be appropriate in a published piece of work - choose a statistical analysis appropriate in kind and level of complexity (speak to your supervisor), and show that you are aware of the complications of post-hoc and multiple testing, etc. (For example, it is often appropriate to use a Bonferroni adjustment to the critical P value if you are going to carry out statistical tests across a number of different measures; in the past, some honours students have been so delighted to find that even one comparison, out of 20+ made, "was significant at P < .05" that they disregarded the possibility that this might be the one in twenty that would reach this level by chance). Remember that analyses of the effect sizes or of the power of your study may be necessary to understand the importance of any significant or non-significant results. If you are collaborating you will want to discuss the results with your partner - but you must  write your Results sections independently .
6. The DISCUSSION is also arguably a critical section in showing your own critical thinking and evaluation of your results in the light of your hypotheses. It can cover: (a) what you have discovered or achieved, and how this relates to results already in the literature, (b) strengths and weaknesses of the current study (and of any that have gone before), and (c) where now? i.e., it can suggest the next questions to be tackled in research stemming from your work. Always try to be brief and to the point - this is a discussion of what you have achieved, not a free-floating essay. 
A good article on how to structure a Discussion is by:
M. Docherty & R. Smith (1999). The case for structuring the discussion of scientific papers. BMJ, 318, 1224-5, 8 May 1999
This article can be obtained at :  http://www.bmj.com/cgi/content/full/318/7193/1224 , but remember that what is appropriate for a medical paper may not work as well in a fourth year thesis reporting a project involving discourse analysis or psychophysics, so treat their suggestions as hints rather than stipulations. The best place to look for inspiration is published articles in a field similar to that of your dissertation project, particularly in journals with papers of a similar length.
7. The formatting of the thesis, including CITATIONS and REFERENCES, should follow that of the American Psychological Association (6th or 7th edition) ( http://www.apastyle.org/ ). 
Statistics and R Support for Dissertations
Please refer to the PPLS Data Collection and Analysis  page.
Technical Support for Dissertations
Technical support is available for your thesis work. In the first instance, please consult with your supervisor about the technical requirements of your chosen project. There will also be workshops available for students wishing to learn to use online stimulus presentation software packages such as Testable or jsPsych. Information about these will be circulated via email. If you require further information, or you need assistance with any matter relating to labs, equipment or software, please contact the department's technical support team on  [email protected] , stating clearly what kind of support you need.
Online surveys (Qualtrics)
If you would like to use an online survey engine, our department has a license for Qualtrics, which is a powerful research tool. More information is available at  https://ppls.ed.ac.uk/techsupport/2017/02/22/surveys-qualtrics/
Qualtrics can also be used to create simple online experiments, as long as you do not require collecting reaction time data or using specialised input devices. 
The first-year subject pool can be used even for online studies. If you would like to use it to recruit participants, you should follow the steps below:
Request a SONA researcher account from  [email protected]
Use your University of Edinburgh email address
Familiarise yourself with the SONA Researcher introduction . 
Aside from participants being 18 or older, studies offering credits  cannot  have eligibility requirements (e.g., you cannot require that participants have English as a native language).
Ethics expiration date must match that on the ethics approval form
Credits/No Shows should be granted/noted as soon as possible
A Principle Investigator must be named prior to a study being approved
Studies that have been inactive for more than a year will be deleted from the system
Psychometric Tests
Many students will wish to use psychometric tests in their research projects. Psychology houses store of tests, and – depending on COVID-19 restrictions – students may borrow some of these tests from the librarian. Some general information about choosing and locating tests, together with some information about specific types of test, e.g. personality, can be found at the following links:
http://www.ed.ac.uk/ppls/psychology/research/facilities/philosophy-and-psychology-library
http://www.ed.ac.uk/ppls/psychology/research/facilities/philosophy-and-psychology-library/psychological-tests
Ethics Committee Submissions   (Convenor, Prof Sergio Della Sala)
Ethics and student projects
All psychologists doing research involving human subjects are required to ensure their projects conform to British Psychological Society ethical guidelines. Researchers therefore submit their proposals to independent ethics committees for review.
In accordance with this, all staff, postgraduates and final honours students carrying out projects are required to submit information about their research projects to the Psychology Research Ethics Committee. The Ethics Committee will review your proposal and will, usually, either (1) approve it as it stands or (2) ask you to clarify things or make adjustments to your protocol before your study can go ahead. It is important that you submit your proposal as soon as your study design has been agreed by your supervisor, so that your data collection phase is not delayed by not having approval from the Ethics Committee. Before submitting your proposal, it is important to have your supervisor go over it, to ensure that any obvious errors or omissions are taken care of; this will avoid unnecessary work for the ethics reviewers and delays to approval of your proposal.
Preparing your project proposal for the Ethics Committee
Ethics applications are to be completed online here:
https://resource.ppls.ed.ac.uk/ethics/  . The form should be completed either in collaboration with your supervisor, or you should  complete the form and then your supervisor should check it over (ask your supervisor what s/he would like you to do). Note that all applicants on the form (including your supervisor) will be required to provide an electronic signature after the form is submitted, but before the form is processed. It is your responsibility to ensure that all required signatures have been provided, as the application will not be reviewed until all outstanding signatures are received.
If your project has already been submitted to an external committee, such as Lothian Health, please indicate on the application that you have gained approval elsewhere, and hand in a copy of your approval letter with your ethics application. Along with your submission, you must include copies of any material you are planning to hand out to your participants – e.g., questionnaires or information sheets. This is important so that the Committee can see exactly what your participants are being told and what they are being asked to do.
Approval can take as long as 2-3 weeks, so plan accordingly. Once you have submitted your proposal, you will get an automatic email confirming the submission. You will receive the Committee's response by email once review has been completed. If you do not receive any response at all after submission, check the system to be sure that you application has been fully submitted. If your proposal has been successfully submitted but you do not get a response from the committee within 3 weeks (this is very unusual), ask your supervisor to contact the head of the Committee (or send them an email yourself).
Health and Safety
Students are required to follow the health and safety rules for the department at all times. This means you are required to design your study so that you are not breaching these rules. See your Health & Safety handbook for the current guidelines on personal safety and times you are allowed to see participants in the psychology building.
Studies with children
Studies involving children may encounter significant delays because of the additional requirements regarding Disclosure Scotland. Your project supervisor will advise you on this process.
Wider information on Ethics
It is expected that you will be familiar with, at minimum, the BPS ethics guidelines, which can beconsulted on the BPS's website:
Guidelines and policies
Procedures for honours projects involving children at schools
Where students are seeking to conduct research projects in schools within the City of Edinburgh and the Lothians, there is a formal procedure that should be followed. Students should first discuss their projects with their supervisors after which the supervisor (not the students) should make a first informal approach to the relevant schools by phone or letter. At this stage the supervisor can make it clear that all projects are subject to local ethics vetting and that the students would be following through by sending the school copies of their supporting documents (see below).
If the head teacher is willing to proceed, then the students should send a brief summary of the proposed study, including an estimate of the time required for testing sessions; the age and number of children required for the study; the timescale of the project and an indication of what may be required by way of testing space and tables, electrical sockets, etc. They should also enclose a copy of a letter for gaining parental permission, and a copy of their Disclosure Scotland forms.
Note that the school may also ask students to fill out their own forms for testing approval.
These procedures apart, all students should also consult the guidelines for testing children and vulnerable adults by following the link to "Testing children" in the local-only access from the Psychology Department homepage and comply with all relevant instructions.
Please read the information below to find guidelines on the formatting and submission rules for your dissertation.
You need to submit one electronic copy, and use the cover page (below). You may acknowledge your dissertation partners (if you have any). Please use size 12 font and add page numbers. Do not exceed the agreed word limit - this is an upper limit and not a guideline. Headings and subheadings count towards the word limit. Tables and figures (and their titles) do not count. Footnotes do not count towards the word limit. However, the APA Manual advises against using footnotes excessively. For dissertations taking a qualitative approach, where long textual extracts are required for analysis, please see guidance below. If you have further questions email the Senior Teaching Coordinator ( [email protected] ) or speak to your supervisor. 
Dissertation cover page template [Word document]
An electronic copy must be submitted by  13th April 2023 via Turnitin, the plagiarism detection software. A link to Turnitin will be available via Learn. This will also link directly to Edinburgh Research Archive (see details on the archive below). 
Students should be aware that it is University policy to deduct 5 marks from the final mark for each calender day that you are late with submitting your dissertation and that after 7 calender days the work will be awarded a mark of zero.
The submitted dissertation is part of the degree examination, and it will contribute to the determination of the degree awarded. This deadline is therefore firm, and only under very exceptional circumstances will the Course Organiser (in consultation with the Convenor of the Board of Examiners) agree to an extension for which permission must be sought in advance. You should be aware that for your degree to qualify for accreditation by the BPS, it is essential to obtain a pass mark for your dissertation.
As the second marking of your dissertation will be anonymous, the electronic copy must not have your name on the title page. Instead you should include on the title page your exam number, along with the name of your supervisor(s). 
The dissertation must not normally exceed 6000 words  (approximately 18 pages of single-sided A4, double spaced, 12 point font). This limit does not include the text of the abstract, references, tables or figures (but note that figure captions should only clarify what is shown in the figure - if you use them to cram in text that should not be in a caption, in order to avoid exceeding word limits, this may have a negative impact on your mark). Discourse analysis extracts are also not included in the word limit. Where it is desirable, for completeness, to include full sets of stimulus material, lengthy descriptions of procedure, or computer analyses etc., which would take the thesis above this limit, these should be put in an appendix. Material in the appendix will not necessarily be read by the examiners, and so it should not be used for evidence which is essential to the argument of the dissertation. Your dissertation should be your own piece of written work, even in a collaborative project.
If you are conducting a qualitative project, then you can request from your supervisors the option of having a word limit that is higher than 6000 but no higher than 8000 (e.g., 7000). Your supervisor can determine this at their discretion. 
In using computers (e.g., to store data and to word-process your dissertation), you are strongly advised to ensure that you back up your work adequately. Also, in case you encounter last minute computer or printer problems, you should have a draft copy of your thesis available well before the deadline. This copy should be identical in text to the final copy (i.e., it may differ only in format or in minor typographical respects). Further details regarding submission criteria will be circulated in due course to the course secretary.
From 2005/6, the School of Philosophy, Psychology and Language Sciences at the University of Edinburgh keeps an electronic copy of your Honours dissertation for use in teaching or research in the Philosophy/Psychology Library, 7 George Square. The Freedom of Information (Scotland) Act 2002 requires the University to make available to any enquirer any information held by the University, unless one of the legislation's narrowly defined exemption applies. Information contained in your dissertation will be made available to any enquirer unless you indicate that it should be withheld.
Edinburgh Research Archive (ERA) www.era.lib.ed.ac.uk
ERA is a digital repository which showcases the research output from the University of Edinburgh to the world. This online repository contains full-text PhD Theses, MSc dissertations, book chapters, journal pre-prints and peer-reviewed journal reprints. Most of the content is available to download, and indexed by the major search engines (Google Scholar, Yahoo) which give material from ERA a higher ranking in their search results.
Putting peer-reviewed scientific and scholarly literature on the internet, and making it available free of charge and free of most copyright and licensing restrictions, removes the barriers to serious research. The School of Philosophy, Psychology & Language Sciences has its own closed collection in ERA for dissertations.
To put your research online you can do so by submitting through Turnitin in Learn where it will be automatically uploaded into ERA. Please note that unless you actively opt-out, all submissions via Turnitin will appear in our closed collection, meaning they will be available to future PPLS students and staff. You can choose to opt-out for any reason, but sometimes you will want to do so at the request of your supervisor because you intend to publish your work, or because your results feed into a larger research project. If this applied to you, your supervisor will let you know.
If you have any questions, would like to opt-out of the closed collection, or need a hand, please send email enquiries to: [email protected]
This page has been archived and is no longer being updated regularly.
Degree In Sight
Starting the dissertation
Experts offer tips on picking a topic, conducting a lit review and narrowing your focus.
By MELISSA DITTMANN
gradPSYCH Staff
You've watched other classmates sweating over their dissertation topics, poring over the literature, agonizing over their research design, writing and editing. Now, it's your turn.
But, when and how do you begin?
Ideally, dissertation advisers say, students identify a research interest in the first or second year of their program and then use that general area as a theme throughout their coursework. But students don't need to view that general area as a trajectory of their career. Instead, experts encourage students to view the dissertation as a teaching exercise, in which they learn how to conduct, design and analyze independent research.
So first off, you need a topic.
"The topic is the foundation for everything-with a good topic and research question, you'll be set to go," says Melinda Stoops, PhD, a director of the counseling center at Framingham State College in Framingham, Mass., who has spoken at APA conferences on writing the dissertation.
Experts offer the following advice on tackling these beginning stages of your dissertation-from getting organized to narrowing your topic to identifying your problem and research questions.
Then, take it one chapter at a time, dissertation advisers say.
  PICKING A TOPIC
When deciding your topic, keep in mind that you will undoubtedly spend the next few years immersed in it, says psychologist John Cone, PhD, a professor emeritus at Alliant International University (AIU) and co-author with Sharon Foster, PhD, of " Dissertations and Theses from Start to Finish " (APA, 1993). Cone advises the following steps to pick a topic:
Ask a favorite professor, preferably one active in research, about possible topics.
Read departmental information on the research interests of the faculty to find a topic a faculty member is interested in as well. Consider asking the faculty member to be a part of your dissertation committee, which will help guide you in your research.
Read an empirical paper that interests you and see what future research is suggested in the discussion section.
Think about term papers you enjoyed writing and choose a topic that reflects those interests.
Sift through literature reviews in your areas of interest-such as in the Annual Review of Psychology, Psychological Bulletin and Clinical Psychology Review.
Avoid topics in which you are overly emotionally involved-such as research on depression if you or a family member is depressed. Such emotional elements can interfere with your research, Cone says.
To narrow your focus, identify what within your chosen topic area interests you, says Foster, a psychology professor at AIU. Bounce ideas off a mentor and consult the literature to determine what has been done before, she advises. Also, consider choosing a topic that you've already been exposed to, such as through your master's thesis or a research project.
That's exactly what sixth-year doctoral student Jody Ernst did. Ernst-who is in the University of Texas at Austin's individual differences and evolutionary psychology program-has spent her entire graduate career researching behavioral genetics.
"Selecting the topic sort of fell into place naturally as a product of the research I have been doing for the past five years," Ernst says. In particular, her dissertation investigates the genetic factors that influence problem behavior development over the life span.
"It is helpful to choose a topic that builds upon past work you have done," Ernst says. "I think this makes the process of identifying the big questions much easier because you are already familiar with the relevant literature."
But, make sure you have passion for the topic. Nate Tomcik-a fifth-year doctoral student in the clinical psychology program at the University of Tennessee-has an interest in his research on therapists' views of couples therapy because it allowed him to integrate research with his clinical work with couples.
"My advice would be to not choose a topic that is an unappealing offshoot of your adviser's work or a project that you have lukewarm feelings about in general," Tomcik suggests. "It's important to remember that the dissertation is a marathon, not a sprint, and lukewarm feelings can turn cold quickly.
"If I didn't love my dissertation idea as much as I do, I know it would have been much harder to stay on track and focused," he adds.
  CONDUCTING THE LIT REVIEW
Once you've identified a topic, the next step is to write a review of the literature in the area. The lit review section will include a brief introduction to your topic, introduce key concepts and review the existing literature.
But be prepared: The lit review often is the most difficult part of the dissertation, Foster maintains.
"Sometimes you are going to feel lost and like you don't know where you're going," Foster says. "The reason for that is because you are trying to do several things concurrently-you're trying to learn about this whole field and get a conceptual framework of how to map out this area of research."
But, it's nothing your classes haven't prepared you to take on, Foster says.
Cone and Foster also suggest that students:
Determine how experts in the field have organized their thinking by reading chapters or integrative articles they've written.
Find meta-analyses, journal articles or books on the topic and scan their reference sections for other references.
Identify key journals that cover the topic and scan their table of contents from the past five years for material.
Search electronic bibliographies-such as PsycINFO (which contains nearly 2 million citations of journal articles, books and dissertations in psychology) or the Education Resources Information Center, or ERIC, which offers a database of journal and other education literature.
Identify major authors in the area and search for them by name in databases, such as PsycLIT, to determine if they've written on other related items.
Determine if related research might be published under different keywords.
For example, Foster says in her research on girls' aggression, "aggression" as a keyword didn't cover it. Without trying other keywords, she would have missed key information on "delinquency" and "conduct disorders," which use similar criteria to define the population.
Jennifer Reese-a fourth-year doctoral student in the PsyD program at the University of Denver-used what she calls the "scavenger hunt" approach for her lit review; she scanned reference sections of relevant books and journal articles and then found those referenced sources as well. She is validating the use of Jane Elliott's Blue Eyes Brown Eyes exercise, a behavior training method that uses discrimination against a person's eye color to teach Caucasians about prejudice and oppression. Reese even spoke with Elliott-a retired schoolteacher who created the experiment in the 1960s-to get background on what similar studies had been done.
So how do you know when you've gathered enough for your lit review? "I know when I go to the reference sections, and I'm not finding any new things-when I keep turning up the same things over and over again," Foster says.
  IDENTIFYING THE PROBLEM AND QUESTIONS
Once you feel confident that you've covered the literature, identify the rationale for your study, why it's important and what hasn't been studied about it before, Foster says.
To do that, Cone suggests writing a paragraph or two summarizing the literature review. Then, determine what unresolved issues are identified in the most recently cited studies-and most relevant to your study. Select one of these issues and formulate one or two research questions and associated hypotheses.
When formulating the research question, consider whether you'll be able to recruit enough participants, Stoops says. Ask your dissertation committee-which usually comprises three or four faculty members you choose when you first begin your dissertation-for feedback on whether they believe you'll be able to recruit enough participants or obtain animals, if needed, dissertation advisers suggest.
After her extensive lit review, Ernst was able to pinpoint her research questions for her dissertation on problem behavior development, including: Are there predictable developmental trajectories for problem behaviors? What factors influence the development of problem behaviors for vulnerable individuals across the life span? She identified these questions by finding the gaps within the problem behavior development literature.
Both the statement of the problem and research questions will be lumped in the introduction of your dissertation, which provides an overview of your study. But, while the introduction is sometimes the first chapter in your dissertation, don't feel compelled to have it be the first thing you do, says Framingham State College's Stoops. She didn't write her introduction until after doing her lit review and methodology.
However, Ernst wrote her statement first and then continually added relevant citations as she came upon them.
"Writing the intro first helped me to organize my thoughts about gaps in current research and helped me to identify what new and relevant information I would be adding to this line of research," she says.
  STAYING ON TRACK
Whatever methods you choose, even these beginning stages to your dissertation may seem overwhelming. So treat your dissertation as a job, Cone advises. He suggests committing 10 to 20 hours per week for 12 to 18 months to avoid becoming a casualty to the All But Dissertation (ABD) label. Set specific work hours and choose a specific place to work, he advises.
And tap the guidance of others-such as professors, peers or other mentors-who can help you through the process, Foster adds. (For tips to finding a mentor, see Building mentorships for success .)
"People who are a little ahead of you in the process can be very helpful," Foster says. "They will tell you what they've gone through and normalize your experience and give you leads."
One way to get a peer network for your dissertation: Join the APAGS dissertation listserv . 
Another is taking a class on the dissertation process. That certainly helped Chris Bernuth, a sixth-year counseling psychology doctoral student at University of Missouri-Columbia, to stay on track. The professor's due dates and the class's extra support prevented procrastination, he says.
"Very smart people can become ABD because they procrastinate or think they can write the dissertation in a couple of all-night sessions, and you cannot do that with a dissertation," Foster says.
When Stoops was working on her dissertation, she combated tendencies to procrastinate by setting deadlines with her dissertation chair. One way to set those deadlines, Cone says, is to list each step in chronological order and then use it to create a milestone chart.
And most importantly, Cone says students can be confident about their ability to complete the dissertation.
"After all," he says, "you have made it this far."
The dissertation, start to finish
Letters to the editor.
Future Students
Parents/Families
Alumni/Friends
Current Students
Faculty/Staff
MyOHIO Student Center
Visit Athens Campus
Regional Campuses
OHIO Online
Faculty/Staff Directory
College of Arts and Sciences
Awards & Accomplishments
Mission and Vision
News and Events
Teaching, Learning, and Assessment
A&S Support Team
Faculty Affairs
Human Resources
Promotion & Tenure
Overview | Meet Our Stars
Explore Yesterday, Today & Tomorrow
Centers, Institutes and Special Programs
Colloquia & Academic Events
Faculty Professional Development
Faculty Labs
Special Facilities
Undergraduate Research
Environmental Majors
Pre-Law Majors
Pre-Med, Pre-Health Majors
Find an Internship. Get a Job.
Honors Programs & Pathways
Undergraduate Research Opportunities
Undergraduate Advising & Student Affairs
Online Degrees & Certificates
Ph.D. Programs
Master's Degrees
Certificates
Graduate Forms
Thesis & Dissertation
Departments
Alumni Awards
Alumni News
Engage Newsletters
Giving Opportunities
Dean's Office
Department Chairs & Contacts
Faculty Directory
Staff Directory
Undergraduate Advising & Student Affairs Directory
Helpful Links
Navigate ohio, connect with us, thesis and dissertation format for clinical psychology, proposal draft, proposal meeting, final draft, cover letter.
Students are required to prepare a detailed proposal for their theses and dissertations. Generally, the proposals will include an extensive literature search,  rationale for their projects, and specific hypotheses. The methodology will detail all of the procedures that are to be utilized, including instruments, proposed participants, and a summary of the statistical procedures to be utilized.
Although the proposals need to be detailed and cover relevant background information and procedures to be utilized, the final thesis and dissertation projects should be in the format of a journal article. The Clinical Section utilizes a journal submission format because students who successfully complete our graduate program in Clinical Psychology are expected to demonstrate a wide range of competencies in research domains. Although not all of our students intend to move on to a professional position in research or academia, our department currently strives to prepare all students for this option; in addition, such training is consistent with and expected in a Scientist Practitioner model of training. Specific guidelines for the format of the thesis and dissertation include the following:
The standard proposal format requires the student to demonstrate comprehensive and critical review of the research that serves as a foundation for their study. As proposed projects may be outside of committee members' areas of expertise, an extensive review of the theoretical and empirical literature may be necessary to evaluate the merits and needs of project hypotheses and design.
Students will initiate their 2-hour proposal meeting with a short presentation (10-15 minutes). This is to allow sufficient time for critique and discussion by the committee about the proposed project. The student and their mentor should take careful note of committee members' critiques, concerns, and requested revisions during the proposal meeting so that the student can formally respond to these issues at the time of the defense meeting (see below). Prior to the close of the proposal meeting, the student's mentor should confirm with committee members which of these issues are necessary for the student to address as they proceeds with the project and prepares the final draft to submit to the committee.
The final draft of thesis and dissertation projects will be formatted as a manuscript prepared for publication. Students will format sections, content, and citations using APA publication guidelines for submitted manuscripts. Final drafts will vary in length from student to student; however, overall length will fall within a range appropriate to journal submission requirements in the student's area of research. At the very least, this will require more succinct introduction, discussion, and reference sections relative to the proposal document. In the methods section, students should include the level of methodological detail that would be necessary for publication of the study in a peer-reviewed journal. The results section may remain more comprehensive than a typical journal manuscript, as students should include a comprehensive review of all statistical strategies used in order to test research hypotheses, including initial analysis of data and statistical test assumptions.
In addition to the traditional manuscript format, final drafts to the committee will include additional content areas as Appendices. The additional sections may be removed or revised upon final preparation for submission for publication outside the university. Appendix sections are listed below.
Introduction : If deemed necessary by the committee, the student may include an Appendix (A) to the submitted document, which would address shortcomings in the proposal introduction that were identified by the committee and that cannot be addressed in a shorter manuscript (e.g., a review of an important issue that had been neglected by the student in the proposal draft, a rewrite of a particular section of the original proposal that does not fit into the flow of the final manuscript's introduction, a complete rewrite of the original proposal introduction).
Methods : Copies of the instruments used in the study and detailed review of psychometric properties of instruments used in the study should be placed in Appendix B. Before submitting the document to the College of Arts and Sciences, however, copyrighted measures will need to be removed from the Appendix.
Statistical Analyses : Supplemental, post-hoc, and exploratory analyses can appear as Appendix C to the document. The student and their mentor can decide which supplemental statistical analyses can be placed in the body of the document and which can appear as Appendix C.
Limitations . Students will include an examination of project limitations and their potential impact on the results. If there are limitations to the study that warrant discussion during the dissertation defense but, due to journal style, may not be presented in a detailed way in the main body of the defense document, the student can either orally present a detailed examination of study limitations during their defense meeting and/or opt to include a longer limitations section as an Appendix (E) to the main document.
Tables & Figures . Tables and figures should be submitted as separate documents attached to the draft of the manuscript text. Titles and footnotes should be included with the tables and figures and not on a separate page.
Students should also note that additional formatting may be necessary before submitting the final draft to Arts and Sciences. Please refer to the A&S website for specific formatting instructions.
In addition to the defense document described above, the student should provide each committee member with a cover letter, in which they addresses the committee members' critiques, concerns, and requested revisions that were raised during the proposal meeting. The format of the letter should list, point by point, the specific critique, concern, or requested revision, and the specific way in which the student has addressed or will address the issue (e.g., specific places in the defense document that address an issue, changes to the methodology, additional hypotheses that were tested, indicating the concern will be discussed during the defense meeting presentation rather than in the written document).
Defense Meeting
The defense meeting format will differ from the proposal meeting in length (2½ hours), presentation requirement, and audience present.
Defense meetings will include a longer presentation from the student (approximately 45 minutes) about their project and will take a format similar to a job talk or colloquium presentation, followed by oral examination/questions from the committee regarding the project and document. Students are encouraged to use Powerpoint or other visual aids as part of their presentation. Students are reminded that during their presentation they can provide details beyond that provided in their defense document. For example, a student may choose to respond to an issue raised at the proposal meeting during their defense presentation rather than in the submitted document.
For dissertation and thesis projects, meetings will be open to the public during the presentation and questioning. Non-committee members will have the opportunity to ask questions of the student following completion of committee questions.
Students are advised to consider that, although their written document is much shorter, they are still likely to have to answer detailed questions about rationale for study, methodology, statistical analyses, and discussion/ implications/limitations of their study.
Following questions, committee members will conduct a closed evaluation of the student, dismissing both the student and the audience during this process.
Students defending their dissertation and thesis will need to schedule their defense meeting and submit their document to committee members at least two weeks in advance. At this time, students must also submit a proposal announcement form to the Chair of Graduate Studies, who will post the time, date, and location of the meeting via e-mail and in department and college postings.
5 Tips to Survive Your Psychology Dissertation Process
BestCounselingDegrees.net Staff
Contributing Writer
Learn about our editorial process .
Updated November 30, 2022 · 2 Min Read
BestCounselingDegrees.net is an advertising-supported site. Featured or trusted partner programs and all school search, finder, or match results are for schools that compensate us. This compensation does not influence our school rankings, resource guides, or other editorially-independent information published on this site.
Are you ready to discover your college program?
Every student enrolled in a psychology PhD program will go through the psychology dissertation process at one point or another. While similar to writing a thesis, writing a dissertation requires a larger commitment on your part because you will spend more time doing research, writing and editing. Use some basic tips to ensure that you can survive this process and write an effective dissertation.
Select an Engaging Topic
The psychology dissertation process starts when you select a topic. Make sure that you pick a topic that is both engaging and interesting but also one that works with your future career goals or plans. If you want to work with kids in a public high school, you might look at how standardized test scores relate to college success or how a college prep curriculum assists those going on to college. Keep in mind that you'll spend months working on your dissertation, which is why you should select a topic that interests you.
Write Frequently
The two biggest pieces of advice that students like you need is that you should write frequently and that you should write as often as possible. Even if you only have 30 to 60 minutes free during the day, take a seat and jot down some notes or do some simple research. The more work you do now, the less work you need to do later. Writing frequently also helps you stay on top of the psychology dissertation process. This ensures that you are ready for each stage in the process.
Skip Between Sections
A typical psychology dissertation features multiple sections, including an introduction, citation's page and methodology section. Many students think that they must start at the beginning, work on one section at a time and only move on to the next section after completing the previous section. As you work on some of those sections, especially the longer sections, you may find yourself suffering from writer's block, which will make it nearly impossible for you to keep writing. Feel free to skip between sections as you write. This helps keep the information fresh in your mind and lets you avoid writer's block.
50 Best Psy.D. Programs in Clinical Psychology
Top 25 Most Affordable, Accredited Graduate Degree Programs in Psychology and Counseling in the West
Avoid Distractions
There are dozens of distractions that you might face as you write your dissertation. Those distractions can include the work that you do for the school or in an off-campus job, your family and friends and any other personal commitments or obligations that you might have. While you cannot avoid all those distractions during the psychology dissertation process, you can take steps to reduce those distractions. You might spend more time working in the campus library than at home, but you can also create a weekly schedule that shows you when you need to work on your paper every day.
Featured Online Programs
Figuring out where to apply? These top, accredited schools offer a variety of online degrees. Consider one of these accredited programs, and discover their value today.
Set Clear Deadlines
Stephanie Hedge , who went through the dissertation process herself, recommends that you set clear deadlines for yourself during the psychology dissertation process. Before you write or type a single word, create multiple deadlines for yourself that will guide you through this process. Write down when you want to complete each section, the time you will spend doing research in the library, the editing work that you need to do and any appointments that you have with faculty members in your program. Those deadlines will help you stay on track as you research, write and edit.
Before you can earn your psychology PhD, you must write a dissertation. Though your college will give you the option of choosing your own topic, you need to know how to survive the psychology dissertation process, which may include writing frequently and setting clear deadlines.
Latest Posts
Are you ready to do impactful work in your community.
Have a language expert improve your writing
Run a free plagiarism check in 10 minutes, generate accurate citations for free.
Knowledge Base
Dissertation
What Is a Dissertation? | Guide, Examples, & Template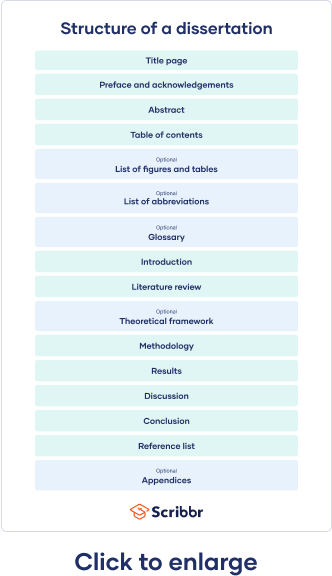 A dissertation is a long-form piece of academic writing based on original research conducted by you. It is usually submitted as the final step in order to finish a PhD program.
Your dissertation is probably the longest piece of writing you've ever completed. It requires solid research, writing, and analysis skills, and it can be intimidating to know where to begin.
Your department likely has guidelines related to how your dissertation should be structured. When in doubt, consult with your supervisor.
You can also download our full dissertation template in the format of your choice below. The template includes a ready-made table of contents with notes on what to include in each chapter, easily adaptable to your department's requirements.
Download Word template Download Google Docs template
In the US, a dissertation generally refers to the collection of research you conducted to obtain a PhD.
In other countries (such as the UK), a dissertation often refers to the research you conduct to obtain your bachelor's or master's degree.
Table of contents
Dissertation committee and prospectus process, how to write and structure a dissertation, acknowledgements or preface, list of figures and tables, list of abbreviations, introduction, literature review, methodology, reference list, proofreading and editing, defending your dissertation, free checklist and lecture slides.
When you've finished your coursework, as well as any comprehensive exams or other requirements, you advance to "ABD" (All But Dissertation) status. This means you've completed everything except your dissertation.
Prior to starting to write, you must form your committee and write your prospectus or proposal . Your committee comprises your adviser and a few other faculty members. They can be from your own department, or, if your work is more interdisciplinary, from other departments. Your committee will guide you through the dissertation process, and ultimately decide whether you pass your dissertation defense and receive your PhD.
Your prospectus is a formal document presented to your committee, usually orally in a defense, outlining your research aims and objectives and showing why your topic is relevant . After passing your prospectus defense, you're ready to start your research and writing.
The structure of your dissertation depends on a variety of factors, such as your discipline, topic, and approach. Dissertations in the humanities are often structured more like a long essay , building an overall argument to support a central thesis , with chapters organized around different themes or case studies.
However, hard science and social science dissertations typically include a review of existing works, a methodology section, an analysis of your original research, and a presentation of your results , presented in different chapters.
Dissertation examples
We've compiled a list of dissertation examples to help you get started.
Example dissertation #1: Heat, Wildfire and Energy Demand: An Examination of Residential Buildings and Community Equity (a dissertation by C. A. Antonopoulos about the impact of extreme heat and wildfire on residential buildings and occupant exposure risks).
Example dissertation #2: Exploring Income Volatility and Financial Health Among Middle-Income Households (a dissertation by M. Addo about income volatility and declining economic security among middle-income households).
Example dissertation #3: The Use of Mindfulness Meditation to Increase the Efficacy of Mirror Visual Feedback for Reducing Phantom Limb Pain in Amputees (a dissertation by N. S. Mills about the effect of mindfulness-based interventions on the relationship between mirror visual feedback and the pain level in amputees with phantom limb pain).
Prevent plagiarism. Run a free check.
The very first page of your document contains your dissertation title, your name, department, institution, degree program, and submission date. Sometimes it also includes your student number, your supervisor's name, and the university's logo.
Read more about title pages
The acknowledgements section is usually optional and gives space for you to thank everyone who helped you in writing your dissertation. This might include your supervisors, participants in your research, and friends or family who supported you. In some cases, your acknowledgements are part of a preface.
Read more about acknowledgements Read more about prefaces
The abstract is a short summary of your dissertation, usually about 150 to 300 words long. Though this may seem very short, it's one of the most important parts of your dissertation, because it introduces your work to your audience.
Your abstract should:
State your main topic and the aims of your research
Describe your methods
Summarize your main results
State your conclusions
Read more about abstracts
The table of contents lists all of your chapters, along with corresponding subheadings and page numbers. This gives your reader an overview of your structure and helps them easily navigate your document.
Remember to include all main parts of your dissertation in your table of contents, even the appendices. It's easy to generate a table automatically in Word if you used heading styles. Generally speaking, you only include level 2 and level 3 headings, not every subheading you included in your finished work.
Read more about tables of contents
While not usually mandatory, it's nice to include a list of figures and tables to help guide your reader if you have used a lot of these in your dissertation. It's easy to generate one of these in Word using the Insert Caption feature.
Read more about lists of figures and tables
Similarly, if you have used a lot of abbreviations (especially industry-specific ones) in your dissertation, you can include them in an alphabetized list of abbreviations so that the reader can easily look up their meanings.
Read more about lists of abbreviations
In addition to the list of abbreviations, if you find yourself using a lot of highly specialized terms that you worry will not be familiar to your reader, consider including a glossary. Here, alphabetize the terms and include a brief description or definition.
Read more about glossaries
The introduction serves to set up your dissertation's topic, purpose, and relevance. It tells the reader what to expect in the rest of your dissertation. The introduction should:
Establish your research topic , giving the background information needed to contextualize your work
Narrow down the focus and define the scope of your research
Discuss the state of existing research on the topic, showing your work's relevance to a broader problem or debate
Clearly state your research questions and objectives
Outline the flow of the rest of your work
Everything in the introduction should be clear, engaging, and relevant. By the end, the reader should understand the what, why, and how of your research.
Read more about introductions
A formative part of your research is your literature review . This helps you gain a thorough understanding of the academic work that already exists on your topic.
Literature reviews encompass:
Finding relevant sources (e.g., books and journal articles)
Assessing the credibility of your sources
Critically analyzing and evaluating each source
Drawing connections between them (e.g., themes, patterns, conflicts, or gaps) to strengthen your overall point
A literature review is not merely a summary of existing sources. Your literature review should have a coherent structure and argument that leads to a clear justification for your own research. It may aim to:
Address a gap in the literature or build on existing knowledge
Take a new theoretical or methodological approach to your topic
Propose a solution to an unresolved problem or advance one side of a theoretical debate
Read more about literature reviews
Theoretical framework
Your literature review can often form the basis for your theoretical framework. Here, you define and analyze the key theories, concepts, and models that frame your research.
Read more about theoretical frameworks
Your methodology chapter describes how you conducted your research, allowing your reader to critically assess its credibility. Your methodology section should accurately report what you did, as well as convince your reader that this was the best way to answer your research question.
A methodology section should generally include:
The overall research approach ( quantitative vs. qualitative ) and research methods (e.g., a longitudinal study )
Your data collection methods (e.g., interviews or a controlled experiment )
Details of where, when, and with whom the research took place
Any tools and materials you used (e.g., computer programs, lab equipment)
Your data analysis methods (e.g., statistical analysis , discourse analysis )
An evaluation or justification of your methods
Read more about methodology sections
Your results section should highlight what your methodology discovered. You can structure this section around sub-questions, hypotheses , or themes, but avoid including any subjective or speculative interpretation here.
Your results section should:
Concisely state each relevant result together with relevant descriptive statistics (e.g., mean , standard deviation ) and inferential statistics (e.g., test statistics , p values )
Briefly state how the result relates to the question or whether the hypothesis was supported
Report all results that are relevant to your research questions , including any that did not meet your expectations.
Additional data (including raw numbers, full questionnaires, or interview transcripts) can be included as an appendix. You can include tables and figures, but only if they help the reader better understand your results. Read more about results sections
Your discussion section is your opportunity to explore the meaning and implications of your results in relation to your research question. Here, interpret your results in detail, discussing whether they met your expectations and how well they fit with the framework that you built in earlier chapters. Refer back to relevant source material to show how your results fit within existing research in your field.
Some guiding questions include:
What do your results mean?
Why do your results matter?
What limitations do the results have?
If any of the results were unexpected, offer explanations for why this might be. It's a good idea to consider alternative interpretations of your data.
Read more about discussion sections
Your dissertation's conclusion should concisely answer your main research question, leaving your reader with a clear understanding of your central argument and emphasizing what your research has contributed to the field.
In some disciplines, the conclusion is just a short section preceding the discussion section, but in other contexts, it is the final chapter of your work. Here, you wrap up your dissertation with a final reflection on what you found, with recommendations for future research and concluding remarks.
It's important to leave the reader with a clear impression of why your research matters. What have you added to what was already known? Why is your research necessary for the future of your field?
Read more about conclusions
It is crucial to include a reference list or list of works cited with the full details of all the sources that you used, in order to avoid plagiarism. Be sure to choose one citation style and follow it consistently throughout your dissertation. Each style has strict and specific formatting requirements.
Common styles include MLA , Chicago , and APA , but which style you use is often set by your department or your field.
Create APA citations Create MLA citations
Your dissertation should contain only essential information that directly contributes to answering your research question. Documents such as interview transcripts or survey questions can be added as appendices, rather than adding them to the main body.
Read more about appendices
Making sure that all of your sections are in the right place is only the first step to a well-written dissertation. Don't forget to leave plenty of time for editing and proofreading, as grammar mistakes and sloppy spelling errors can really negatively impact your work.
Dissertations can take up to five years to write, so you will definitely want to make sure that everything is perfect before submitting. You may want to consider using a professional dissertation editing service to make sure your final project is perfect prior to submitting.
After your written dissertation is approved, your committee will schedule a defense. Similarly to defending your prospectus, dissertation defenses are oral presentations of your work. You'll present your dissertation, and your committee will ask you questions. Many departments allow family members, friends, and other people who are interested to join as well.
After your defense, your committee will meet, and then inform you whether you have passed. Keep in mind that defenses are usually just a formality; most committees will have resolved any serious issues with your work with you far prior to your defense, giving you ample time to fix any problems.
As you write your dissertation, you can use this simple checklist to make sure you've included all the essentials.
Checklist: Dissertation
My title page includes all information required by my university.
I have included acknowledgements thanking those who helped me.
My abstract provides a concise summary of the dissertation, giving the reader a clear idea of my key results or arguments.
I have created a table of contents to help the reader navigate my dissertation. It includes all chapter titles, but excludes the title page, acknowledgements, and abstract.
My introduction leads into my topic in an engaging way and shows the relevance of my research.
My introduction clearly defines the focus of my research, stating my research questions and research objectives .
My introduction includes an overview of the dissertation's structure (reading guide).
I have conducted a literature review in which I (1) critically engage with sources, evaluating the strengths and weaknesses of existing research, (2) discuss patterns, themes, and debates in the literature, and (3) address a gap or show how my research contributes to existing research.
I have clearly outlined the theoretical framework of my research, explaining the theories and models that support my approach.
I have thoroughly described my methodology , explaining how I collected data and analyzed data.
I have concisely and objectively reported all relevant results .
I have (1) evaluated and interpreted the meaning of the results and (2) acknowledged any important limitations of the results in my discussion .
I have clearly stated the answer to my main research question in the conclusion .
I have clearly explained the implications of my conclusion, emphasizing what new insight my research has contributed.
I have provided relevant recommendations for further research or practice.
If relevant, I have included appendices with supplemental information.
I have included an in-text citation every time I use words, ideas, or information from a source.
I have listed every source in a reference list at the end of my dissertation.
I have consistently followed the rules of my chosen citation style .
I have followed all formatting guidelines provided by my university.
Congratulations!
The end is in sight—your dissertation is nearly ready to submit! Make sure it's perfectly polished with the help of a Scribbr editor.
If you're an educator, feel free to download and adapt these slides to teach your students about structuring a dissertation.
Open Google Slides Download PowerPoint
Is this article helpful?
Other students also liked.
How to Write a Literature Review | Guide, Examples, & Templates
Dissertation Table of Contents in Word | Instructions & Examples
How to Choose a Dissertation Topic | 8 Steps to Follow
More interesting articles
Checklist: Writing a dissertation
Dissertation & Thesis Outline | Example & Free Templates
Dissertation Binding and Printing | Options, Tips, & Comparison
Example of a dissertation abstract
Figure and Table Lists | Word Instructions, Template & Examples
How to Write a Discussion Section | Tips & Examples
How to Write a Dissertation or Thesis Proposal
How to Write a Results Section | Tips & Examples
How to Write a Thesis or Dissertation Conclusion
How to Write a Thesis or Dissertation Introduction
How to Write an Abstract | Steps & Examples
How to Write Recommendations in Research | Examples & Tips
List of Abbreviations | Example, Template & Best Practices
Operationalization | A Guide with Examples, Pros & Cons
Prize-Winning Thesis and Dissertation Examples
Purpose and structure of an advisory report
Relevance of Your Dissertation Topic | Criteria & Tips
Research Paper Appendix | Example & Templates
Shorten your abstract or summary
Theoretical Framework Example for a Thesis or Dissertation
Thesis & Dissertation Acknowledgements | Tips & Examples
Thesis & Dissertation Database Examples
Thesis & Dissertation Title Page | Free Templates & Examples
What is a Dissertation Preface? | Definition & Examples
What is a Glossary? | Definition, Templates, & Examples
What Is a Research Methodology? | Steps & Tips
What Is a Theoretical Framework? | Guide to Organizing
What Is a Thesis? | Ultimate Guide & Examples
What is your plagiarism score?
Skip to content
Skip to navigation
Skip to footer Psychology and Counseling
Campus Life
Vision and Mission
Contact Information
PSYCH SIGNs
Racial Equity/Social Justice
Checksheets & Program Completion Plans
School Psychology Undergraduate Pathway & Mentoring Program (UPMP)
Academic Advising Process
Academic Advising Tips
Frequently Asked Questions
Career Opportunities
Volunteer Opportunities
Tips for Applying to Graduate School
Links to Psychology Organizations
PSYC 1300 General Psychology
Psi Chi International Honor Society
UCA Psychological Society
Richard A. Scott Outstanding Psychology Student Award
UCA Outstanding Student Award
Honors in the Major Program
Resources for Writing in APA Style
Concept Maps for Stats and Research Methods
Fundamentals of Behavioral Research Textbook
Future Students in the Doctoral Program in Counseling Psychology
Current Students in the Doctoral Program in Counseling Psychology
Current Students – Doctoral Program in School Psychology (PhD)
Guide to Completing the Dissertation
Mental Health Counseling (M.S.)
Specialist in School Psychology (Ed.S.)
CAPS (Counseling And Psychology Students)
Non-degree Seeking Students
Retired Faculty and Staff
Faculty Research Interests
Research Opportunities
Arkansas Symposium for Psychology Students (ASPS)
Support the Department
This site is intended to help doctoral candidates in the UCA Department of Psychology and Counseling navigate the steps of their dissertation as well as provide helpful resources and links. Variation in the details below may occur as a function of the dissertation topic itself, the student, the dissertation chair and committee, and other aspects of the process. This information should be considered along with UCA's Thesis and Dissertation Preparation Guide  available on the UCA Graduate School website. Students are responsible for initiating all the major steps of this process.
#1: Pre-Proposal
1. access your resources:.
Handbook for the Counseling PhD Program
Handbook for the School Psychology PhD Program
Graduate School Dissertation and Thesis page
Graduate School Dissertation Guide page
2. Enroll in Dissertation Research Seminar (PSY 74V1)
PSY 74V1 is a one-hour course which you will take for three consecutive sessions (fall, spring, and summer). This course will help you develop and research possible dissertation topics. There are numerous sources for ideas including: Faculty interests listed on the departmental website, topics and issues that emerge from coursework, perusal of journal articles and dissertation abstracts, discussions with faculty members, previous and current professional experiences. In addition to being researchable, the topic should be important to the field.
3. Identify your dissertation chair and have this approved by the program's director, then develop your topic and research question(s).
Counseling Program only: The chair or co-chair must be a member of the Counseling Psychology Core.
4. Choose a dissertation committee
Discuss potential committee members with your chair (4 from within Department; 1 from outside Department). You can view a List of Previous Outside Department Committee Members  (not an exhaustive list) and a List of Previous Dissertations in the Department of Psychology and Counseling. 
Potential members should be provided a brief prospectus on your project so they can make an informed decision about membership.
Complete the Committee Selection Form and turn it into your program director.
Each committee is to include at least two of the core faculty members in their program in its membership. (School Psychology Program only: Should the student request that the Department Chair serve as the dissertation chair, the Director of the School Psychology Program will be responsible for approving the remaining committee membership.)
5. Enroll in PSYC 9310 (Dissertation Research)
See your program sequence of courses and consult with your Dissertation Chair to determine the most appropriate semesters to enroll in PSYC 9310.
Consult with your Dissertation Chair to complete a Semester Work Agreement form for each semester of PSYC 9310.
6. Finish writing your proposal
Students have the option of formatting their dissertation using the traditional or alternative format. You will work with your chair to decide which format you will use. For further information, see the UCA Dissertation Guide for an explanation of the two forms and see the attached Traditional vs Alternative Dissertation document . In addition, an example of an alternative-format dissertation can be found here  or by searching: Mikeal, C. W. (2016). A dismantling study of the partners for change outcome management system.
For formatting specifics—see the Graduate School Dissertation and Thesis page
7. Obtain approval from your Dissertation Chair (and possibly other committee members) to schedule a dissertation proposal meeting.
#2: Proposal Defense Meeting
1. make preparations for the proposal meeting.
Work with committee members to set a proposal date and time. Preferred time frames for proposal meetings include fall and spring semester, at least a month prior to the end of the semester.
Work with the department administrative assistant to secure a room for the meeting.
Provide all committee members with a copy of the proposal.
The proposal should be given to committee members at least two weeks in advance of the scheduled proposal meeting. Committees should provide feedback within one week. You then have one week to address any concerns or questions prior to the meeting. 
Consider inviting other graduate students to the meeting in order to assist you in taking notes and to allow the non-proposing students an opportunity to observe and learn more about the proposal meeting process.
2. Hold Proposal Meeting
For Counseling Psychology students – proposal must be approved prior to applying for internship.
For School Psychology students – proposal must be approved prior to going on internship.
The proposal meeting consists of the student delivering a 30-40 presentation of their dissertation and then answering questions from committee members (defend the proposal). The meeting is designed to clarify dissertation plans and procedures as deemed necessary by the student and committee members. At the conclusion of the meeting, committee members vote on the proposal and share the decision with the student. In most cases of approval, revisions to the proposals will be required. These should be listed on the Report of Dissertation Proposal Defense Form.
3. Complete Report of Dissertation Proposal Defense Form  with your committee chair.
After review and approval, have each committee member sign the form. After all signatures have been completed, submit copies to each committee member and the original returns to the committee chair.
#3: Data Collection and Writing
1. obtain irb approval.
Complete and submit IRB application for the study. You will complete the IRB Application and submit to the departmental IRB Chair. After department IRB Chair approves application, it goes to the Department Chair for signature. Department Chair forwards application to UCA IRB for review. After UCA IRB approval, data collection can begin.
2. Complete data collection, data analysis, and writing .
The student is responsible for all arrangements and details associated with conducting their dissertation study including (but not limited to) securing the necessary research settings(s), subjects, observers, data collectors, and so forth. This includes any financial costs incurred in order to carry out the dissertation and approvals (e.g., IRB, informed consents of all participating individuals and/or groups). For information regarding possible financial assistance related to grant funding for dissertation research, please see the University Research Council website .
The student is also responsible for saving dissertation data and, in collaboration with the Committee Chair, ensuring for proper storage of the data within the department (e.g., locked/secure filing cabinet). Committee members may request restricted access to the raw data in order to perform their role on the committee. Some data may require additional de-identification procedures prior to such access to protect client confidentiality, which is also the joint responsibility of the student and Committee Chair.
3. Complete written dissertation document .
4. obtain approval from dissertation chair (and possibly other members) to schedule a defense meeting..
#4: Defense Meeting
1. schedule dissertation meeting..
Dissertation defense meeting must be held 4 or more weeks prior to your graduation date
Work with committee to agree on a date and time. Preferred time frames for proposal meetings include fall and spring semester, at least a month prior to the end of the semester.
Notify the department administrative assistant at least 30 days prior to the proposed dissertation defense date. The assistant and the student will work together to reserve a room with appropriate technology.
At least two weeks prior to the meeting, the student must provide a copy of their dissertation document to each of the five members of the dissertation committee. Within one week, the committee members will provide feedback to the student. The student then has one week to address any concerns or questions.
At this time, student may send draft of dissertation document to Graduate School in 238 Torreyson for formatting review.
2. Hold Dissertation Defense Meeting
The dissertation defense is a public event in which the Ph.D. candidate gives a formal 30-40-minute presentation (overview of study, summary of results, discussion, and implications) without interruption. After the presentation and a brief break, the dissertation committee will question the candidate. When the committee has completed its questioning of the candidate, they will discuss the candidate's performance in private. Following deliberations, committee members vote to "approve" or "not approve" the defense. In most cases of approval, revisions to the documents are required. A written list of required revisions should be developed and agreed to by the committee.
3. Paperwork Process after Successful Defense
After the dissertation has been successfully defended and the student has completed all needed changes to the document, the dissertation chair will digitally sign the " Thesis/Dissertation Committee Approval Form ." Once the entire committee has digitally signed this form, the student will be provided with an electronic copy. 
The student will print and include the digitally signed Approval form with the hardcopy dissertation submitted to the Graduate School. The Graduate School will then review the document for formatting compliance. 
After the student is notified that the document is in compliance with formatting requirements, submit to the Graduate School: one unbound original on acid-free archival paper with original signatures of the dissertation committee on the Signature Page and original signature of the student on the Permission to Use page; and one unbound copy of the dissertation with original signatures of the dissertation committee on the Signature Page and original signature of the student on the Thesis/Dissertation Permission page. The documents are to be submitted in an appropriately-sized envelope that will accommodate both copies of the dissertation. The dissertation must be accompanied by the signed Routing Form . Final verification that all requirements have been met will be given by the Graduate Dean who will notify the student and committee chair. The original on acid-free bond paper and its copy will be forwarded to the library where it will be bound. One copy will be archived and one will be placed in Torreyson Library for public use. This step must be completed at least 3 week prior to graduation .
In addition to any copies the student wants for him/herself, provide one bound copy of the completed dissertation to the Department of Psychology & Counseling and one bound copy to the committee chairperson. The student may choose, out of professional courtesy, to provide copies to each of the dissertation committee members. After Graduate School approval, follow emailed instructions to upload the final copy to Proquest .
"A good dissertation is a done dissertation" —  Ancient grad student proverb
"it always seems impossible until it's done" —  nelson mandela.
UCA dedicates itself to academic vitality, integrity, and diversity. University of Central Arkansas · 201 Donaghey Ave., Conway, AR 72035 · (501) 450-5000 UCA is accredited by the Higher Learning Commission . Report Accessibility Issue Concerned About a Student? Copyright © 2023 · All Rights Reserved
Return to Top
Academia.edu no longer supports Internet Explorer.
To browse Academia.edu and the wider internet faster and more securely, please take a few seconds to upgrade your browser .
Enter the email address you signed up with and we'll email you a reset link.
Writing your third year psychology dissertation in the UK: A practical guide
The dissertation is an essential part of your work as an undergraduate psychology final year student which should give you a taste of what it is like to carry out research in a university or real world setting. At the beginning, the task ahead can be daunting, but it is important to realize that there are many good resources available to help you complete the dissertation and even to enjoy it. This dissertation guide is one of those resources.
Related Papers
Journal of Counseling …
Timothy B. Smith
Ashley Grosso
This dissertation evaluates the effects and implementation of an education program aimed at increasing knowledge and changing attitudes about HIV and AIDS among high school students. Using a quasi-experimental pretest posttest design and process and outcome evaluation, the research was conducted in four Newark, New Jersey public high schools. Students in the intervention group attended an art exhibit related to AIDS consisting of the AIDS Museum's collection, participated in a discussion with an artist living with HIV, and created their own art projects about HIV. Students in the comparison group participated in the standard of care, consisting of the usual HIV education provided through health classes...
Kathryn Dekas
Journal of Medical Ethics
Sara Nora Ross
Dessalegn Fufa
Tejaswini Kotian
Md Ekram Hossain
Md Amir Hossain
Mohd Helmy Hakimie Mohd Rozlan
Loading Preview
Sorry, preview is currently unavailable. You can download the paper by clicking the button above.
RELATED PAPERS
Cyril Jeusset
Sarada Dhakal
Jiselle Denise Lim
Zain Ul Hussain
ismail samad
Christopher Ryan
Lindsy Richardson
Training and Education in Professional Psychology
Nicholas Ladany
Stephanie Brooks
Xinxing Jiang
Daniel Parker
Lynn E Barry
Abigael Maan Escobar
Pamela Orozco Márquez
James M. Lashbrooke
Daniel Woods
Nguyễn Hoan
Transforming Research Methods in the Social Sciences: Case studies from South Africa
Prof Elizabeth (Liz) Archer
research methodology
Musangamfura Vincent
Tsadiku Setegn
Journal for New Generation Sciences
Hermanus Moolman
Faruk Zulkarnaini
Marco Antonio Perez
kingsley Daraojimba
Nguyen Phuoc Bao An
Yasmin Yusuf
Wafaa Almotawah
Silvia Cont
QMiP Bulletin
Shani Burke
Dr. Fredrick Ssempala (Ph.D.) , James Lam Lagoro
We're Hiring!
Help Center
Find new research papers in:
Health Sciences
Earth Sciences
Cognitive Science
Mathematics
Computer Science
Academia ©2023
The Dissertation and Final Examination
Adopted 1/20/2012
Planning the Dissertation Research
Time limits, the ph.d. committee for the dissertation, writing the dissertation proposal, dissertation proposal review, conducting the research, planning for publication, writing the dissertation, final examination.
Dissertations conducted in the Department of Psychology & Neuroscience (P&N) at Duke University can employ any of the wide variety of approaches to research evidenced in our field. Research designs in psychology and neuroscience take many forms, from purposive laboratory manipulation to field-based naturalistic measurement. They examine thoughts, feelings and behavior using a broad range of levels of analysis, from biological processes to group interactions. They are conducted using both human and non-human animals as subjects. In virtually all instances P&N dissertations are based upon empirical research. On rare occasions, the dissertation can involve the formulation of new theoretical or historical analyses without empirical data. Individual training programs in P&N may have additional guidelines and expectations.  
Students and their committees will evaluate the appropriateness of a dissertation topic based upon its level of contribution to the field. The dissertation methodology will be evaluated based on the scientific rigor of the proposed design and analysis and the feasibility of its successful completion. In addition, the proposed research will be considered in the context of (a) the students' training and experiences up to and including the dissertation and (b) the student's career objectives.  
According to the Graduate School, "the doctoral dissertation should be submitted and accepted within two calendar years after the preliminary examination [in P&N, the Major  Area Paper, or MAP] is passed." Should the dissertation not be submitted and accepted within four calendar years after the MAP examination, the student, with the approval of the committee, may petition the Associate Dean of the Graduate School for an extension of up to one year. If this extension is granted and the dissertation is not submitted and accepted by the new deadline, the student will be dropped from candidacy. The student must then pass a second MAP examination to be reinstated as a candidate for a degree. In such cases, the time limit for submitting the dissertation will be determined by the Associate Dean of the  Graduate School and the student's committee. Credit will not be allowed for a MAP that is six years old at the date of the Final Examination. In cases of exceptional merit, however, the Associate Dean of the Graduate School may extend these limits. Should the six year limit be exceeded, the student's department will submit to the Dean specific requirements for  revalidating credits. On occasion a student will receive an extension but then fail the Final Examination. In these cases, a second examination cannot be scheduled sooner than six months after the first (another Graduate School rule). This compulsory delay often forces the candidate beyond the six-year limit which renders the MAP examination invalid.  Consequently, the student is faced not only with the pressure of a second (and terminal) Final Examination but with a second MAP as well. Thus, it is wise to plan the dissertation carefully in order to avoid such a circumstance.  
It is not unusual to change committee membership between the MAP and the dissertation because faculty availability changes from year to year for a multitude of reasons. Additionally, the rationale for a particular committee structure at one stage of graduate training may not be appropriate to a later stage. It is the student's responsibility to make adjustments as necessary. Changes in the committee membership should be conducted in consultation with the Faculty Mentor; or, in the case of a change in Faculty Mentor, the student should involve the program director and the DGS. In these guidelines, 'Faculty Mentor' refers to the student's intellectual advisor and Chair; 'administrator' refers to the committee member who will run the meeting and ensure that all procedures are followed. Students should be aware that after the MAP is passed, the committee remains intact.
Therefore, if the student then wishes to substitute new members, s/he must communicate with those to be removed from the committee and inform them of the reasons for change. They will rarely  object, but this is a requirement and they deserve this courtesy.  A written confirmation from the dropped committee member should be sent to the DGS via email. 
As in the case of initial establishment of the committee, any changes in membership involve:
(1) consulting with the Faculty Mentor (or DGS in the case of a new supervisor) about the new committee membership; (2) getting consent of the new members to serve; (3) getting consent of former members to withdraw; (4) requesting of the DGS in writing the new committee structure. This is done on the Committee Approval Form. The DGS will then submit the change form electronically to the Associate Dean of the Graduate School requesting the committee change. Committee changes should be requested two weeks prior to the Final Examination date; However, even with changes each step takes considerable time, so do not put off committee changes when they are needed.  Note that students may  not change their committee composition if s/he fails to pass the Final Examination and elects to take a second examination.
The committee that supervises and evaluates the dissertation must contain a minimum of four members, but the Graduate School allows more than four when such additions seem warranted (see Committee Formation guidelines on the P&N Website). As in the case of the MAP, one member of the committee must be from a related field but outside the candidate's principal area ('Minor Member'). In most instances, the administrator of the committee will be selected by the student's Faculty Mentor but cannot be the Faculty Mentor or the Minor Member.  
All students must meet with their committee within six months after passing the MAP and at least once in every 12-month period thereafter until a dissertation proposal is submitted or until the Final Examination is passed.
Perhaps the best format for the proposal is that suggested by the National Institute of Health for research grant applications. We also suggest restricting the proposal to 15 single-spaced pages of text (or 30 double-spaced pages), not counting title page, references, tables, etc. The plan should contain an introduction giving the rationale for the study and providing clearly stated objectives and  hypotheses. The design should be outlined with specific statements about the methods to be used, including quantitative methods for data analysis. Although it is very helpful to include preliminary data, it may be counterproductive to collect a large amount of data before meeting with the committee. Consequently a student should consult with her/his Faculty Mentor as to the appropriate time for scheduling this meeting. The proposal meeting should take place at least nine months prior to the Final Examination.  
All members of the committee must meet together with the student to review the proposal. An exception can be made only in the case of a member from a distant university in which case the member must join the meeting by teleconference. Notification of the proposal review date must be given to the DGS Assistant to help in locating a room for the proposal review. The dissertation proposal should be distributed to the committee at least 10 days before the meeting. The approval of the dissertation proposal is made by completion of the "Dissertation Project Approval Form" and obtaining the signatures of all committee members. This form must be filed with the DGS Assistant.
Note that the proposal meeting is not an exam and there is no "passing" or "failing" of the proposal meeting.  If the committee discussion with the student leads to alterations in the proposal plans, then the committee can ask for changes prior to signing the form. This can take place after the proposal meeting.
Note: Clinical psychology students must have dissertation proposal successfully defended prior to applying for internship (i.e., before October 1.)
The student's ability to proceed with their work over the summer will often suffer if they are unable to have a dissertation proposal review meeting after the beginning of May. Assuming committee  members are available in the summer months students have the option of having a summer meeting for the proposal without paying a registration fee. However, when possible, these meetings should take place by the end of May or at the end of August right before the semester begins.  
During data collection, students should regularly consult with committee members, either individually or in a group, to obtain advice and keep them informed of their progress. All research with human subjects must be approved by the Institutional Review Board (IRB). If the studies require the use of animals, an animal use protocol must be filed with the DUIACUC. Students will need approval from these committees before beginning data collection. P&N maintains a Human Subject Pool that may be helpful in research. (For information concerning University Principles and Procedures for Human Subject Research and Human Subject Pool Information, see Appendix V.)  
Although completion of the dissertation and passing of the Final Examination are the proximate goals of most students, the faculty expects prompt, visible publication of the dissertation research. It is a disservice to oneself and the field not to publish the culmination of what is usually a great amount of thought and effort. Yet many excellent dissertations are never published. The reasons are many and varied, but there seem to be two main, related causes. First, the dissertation often must be rewritten to meet the format requirements of a specific journal. Second, since the student completes the PhD before publication then the publication process competes with the demands of a new job or postdoctoral position.
Given these considerations, we strongly urge students to publish each publishable unit along the way to the dissertation. Students should work with their Faculty Mentor to decide whether the dissertation will constitute one or more publishable papers. As much as possible, the dissertation should be composed of material easily converted into journal articles and/or book chapters.  
The Graduate School provides an online booklet titled, Guide for the Preparation of Theses and Dissertation, although it is revised from time to time so students should be sure to have the most up-to-date guide. It includes references to other guides as well. Students should pay close attention to the format requirements for a Duke dissertation described in the guide. All final dissertation format checks must be approved by the Graduate School.
Students should use the format listed by the Graduate School to compose text, references, tables, figures and citations. The Graduate School's format is a broader format within which APA style can be written (or other styles such as Chicago, or Turabian). In P&N we use APA style.    
The student must "Apply for Graduation" early in the semester in which she/he plans to receive the degree (e.g., late January for May graduation).  There is no penalty for failing to finish in that semester, but a student cannot graduate without applying. Students must also submit an electronic version of the dissertation approximately two weeks prior to the Final Examination. This Final Examination cannot be held later than mid-April for a May graduation. The timeline is available here: http://gradschool.duke.edu/academics/preparing-graduate  
It is the student's responsibility to schedule the Final Examination. The scheduling process should begin well in advance of the intended exam date (e.g., 6-8 weeks). If the Final Examination occurs after the semester is over (the beginning of May), the Graduate School expects the student to be registered and pay registration fees in the summer session.  If a student is willing to pay the registration fee to take the exam in the summer, consideration must be given to the faculty. The administrator of the committee must be the negotiator with the committee members about attending a summer exam. It is legitimate for some committee members to be unavailable during the three summer months.
The completed paper must be submitted to committee members at least 10 days before the Final Examination.  Students should ask committee members if they would like a paper copy or an electronic document and provide them with the format preferred. The committee members must email the administrator their vote on whether the the Final Examination should proceed no later than 48 hours prior to the scheduled exam. The Final Examination proceeds as long as there is no more than one dissent among the committee and that dissent is not from the Committee Chair.
The Committee administrator will compile votes and must notify the student and the other committee members no later than 24 hours prior to the scheduled exam whether the Final Examination will proceed. If the paper is not acceptable, the exam is canceled. All committee members are expected to be present for the Final Exam and will arrive at the meeting having closely read the dissertation and having considered the kinds of questions they will ask. In rare instances, a member may need to join via teleconference, but this requires notification and approval from the Associate Dean. The Faculty Mentor must always be present.
At the start of the exam, the student should leave the room to allow the committee members a short discussion period.  When the student returns he/she should give a 20 minute presentation of the dissertation, typically using a small number of slides to illustrate major points.
Amendment Open Session
The first part of the Final Examination will be open to all members of the Duke community and other invitees. Announcement by the administrative member of the time and place of the exam will occur only after the committee has agreed that the exam should proceed (24 hours advanced notice). The student should begin by giving a 40-50 minute presentation of the dissertation, typically using slides  to illustrate major points. Attendees who are not members of the student's committee will then be invited to ask questions. Then, all invitees will be asked to leave and the committee members will begin their part of the examination.
Committee   members   will   ask   questions   that   stem   from   the   dissertation's   written document.  The  defense  should  be  focused  on  the  paper,  but  the  student  should  also  be prepared to demonstrate knowledge in the broad field of study. Students are responsible for answering all questions.
The closed oral defense will consist of at least two rounds of questions. In each round, each committee member questions the student with the administrator establishing the order of questioning. Each committee member will be allowed up to 15 minutes of time to examine the student during the 1st round, and up to 10 minutes during the 2nd round.
The time allocated to each committee member is intended to be used primarily by that member; other members may ask brief questions of clarification during that period but extensive questioning by other members is not appropriate. The administrator is responsible for monitoring time and for gently enforcing time limits. After the two rounds of questions, the committee may decide to have an optional 10-15 minute discussion period in which all members may ask questions.
At the conclusion of the exam, the student will leave the room and the committee members will determine whether the candidate has passed or failed the exam. The committee will complete the forms titled "Written Dissertation Evaluation Form" and "Dissertation Final Examination Evaluation Form."  These forms ask for specific judgments regarding the student's accomplishments along  several dimensions related to the written paper and oral defense (see attached evaluation form).
The evaluation forms are first completed individually by committee members. Following discussion, individual committee members can change their rating if they wish to do so. The committee members should consider a score of 3 or higher on each of the evaluative dimensions as passing. If there is a shared feeling among committee members that the scores could improve with additional questioning, they may decide to have an additional round of questioning. After the final ratings and questioning, the committee members must vote either "pass" or "fail." The ratings on both forms are then used to provide the student with feedback regarding the written and oral portions of the examination.  These rating forms should be turned into the DGSA to file as the data are used for SACS reporting.
Note that while the committee can request some minor revisions, the pass or fail vote must be made at the end of the Final Examination. It is then the responsibility of the Faculty Mentor to make sure that any suggested minor revisions are made prior to the dissertation being submitted to the graduate school.
Successful completion of the Final Examination requires at least four affirmative votes and no more than one negative vote. The sole exception to this policy is that a negative vote cast by the Faculty Mentor will mean a failure on the examination. A student who fails the Final Examination may be allowed to take it a second time, but no earlier than six months from the date of the first examination. Permission to take the second examination must be obtained from the Faculty Mentor and from the Dean of the Graduate School. Failure to pass the second examination renders the student ineligible to continue work for the Ph.D. degree at Duke University. The committee may also decide that no re-examination is possible. This occurs via a second vote taken after a failing vote on the first round.
Diversity, Equity & Inclusion
Climate Handbook
Librarian for Psychology & Neuroscience
Degree Requirements
Practicum and Ongoing Research Projects in Psychology
Summer Vertical Integration Program (VIP)
Psychology Courses
Graduate School Advice
Career Options
Forms & Resources
Global Education
Trinity Ambassadors
Co-requisite Requirement
Neuroscience Courses
Neuroscience: Undergraduate Research Opportunities
Neuroscience Research Practicum & Laboratories
Summer Neuroscience Program
Research Independent Study in Neuroscience
Graduation with Distinction
Frequently Asked Questions
Student Spotlights
Other Job Boards
Student Organizations
Clinical Psychology
Cognition & the Brain
Developmental Psychology
Social Psychology
Systems and Integrative Neuroscience
Admitting Faculty
Application FAQ
Financial Support
Teaching Opportunities
Departmental Graduate Requirements
MAP/Dissertation Committee Guidelines
MAP/Oral Exam Guidelines/Timeline
Dissertation and Final Examination Guidelines
Awards for Current Students
Teaching Resources
Instructor/TA Guidelines
Faculty Mentorship Vision Statement
All Courses
Psychology: Course Sequence
Psychology: Methods Courses
Neuroscience: Course Clusters
Neuroscience: Courses By Category
Primary Faculty
Joint Graduate Training Faculty
Instructional Faculty
Secondary Faculty
Graduate Students
Postdocs, Affiliates, and Research Scientists
Research News Stories
Child Studies
Community Volunteers
Charles Lafitte Foundation: Funding Support
Meet Our Alumni
For Current Students
Assisting Duke Students
Giving to the Department