Hypothesis Maker Online
Looking for a hypothesis maker? This online tool for students will help you formulate a beautiful hypothesis quickly, efficiently, and for free.
Are you looking for an effective hypothesis maker online? Worry no more; try our online tool for students and formulate your hypothesis within no time.
🔎 How to Use the Tool?
⚗️ What Is a Hypothesis in Science?
👍 What Does a Good Hypothesis Mean?
🧭 Steps to Making a Good Hypothesis
🔗 References
📄 hypothesis maker: how to use it.
Our hypothesis maker is a simple and efficient tool you can access online for free.
If you want to create a research hypothesis quickly, you should fill out the research details in the given fields on the hypothesis generator.
Below are the fields you should complete to generate your hypothesis:
Who or what is your research based on? For instance, the subject can be research group 1.
What does the subject (research group 1) do?
What does the subject affect? - This shows the predicted outcome, which is the object.
Who or what will be compared with research group 1? (research group 2).
Once you fill the in the fields, you can click the 'Make a hypothesis' tab and get your results.
⚗️ What Is a Hypothesis in the Scientific Method?
A hypothesis is a statement describing an expectation or prediction of your research through observation.
It is similar to academic speculation and reasoning that discloses the outcome of your scientific test . An effective hypothesis, therefore, should be crafted carefully and with precision.
A good hypothesis should have dependent and independent variables . These variables are the elements you will test in your research method – it can be a concept, an event, or an object as long as it is observable.
You can observe the dependent variables while the independent variables keep changing during the experiment.
In a nutshell, a hypothesis directs and organizes the research methods you will use, forming a large section of research paper writing.
Hypothesis vs. Theory
A hypothesis is a realistic expectation that researchers make before any investigation. It is formulated and tested to prove whether the statement is true. A theory, on the other hand, is a factual principle supported by evidence. Thus, a theory is more fact-backed compared to a hypothesis.
Another difference is that a hypothesis is presented as a single statement , while a theory can be an assortment of things . Hypotheses are based on future possibilities toward a specific projection, but the results are uncertain. Theories are verified with undisputable results because of proper substantiation.
When it comes to data, a hypothesis relies on limited information , while a theory is established on an extensive data set tested on various conditions.
You should observe the stated assumption to prove its accuracy.
Since hypotheses have observable variables, their outcome is usually based on a specific occurrence. Conversely, theories are grounded on a general principle involving multiple experiments and research tests.
This general principle can apply to many specific cases.
The primary purpose of formulating a hypothesis is to present a tentative prediction for researchers to explore further through tests and observations. Theories, in their turn, aim to explain plausible occurrences in the form of a scientific study.
It would help to rely on several criteria to establish a good hypothesis. Below are the parameters you should use to analyze the quality of your hypothesis.
🧭 6 Steps to Making a Good Hypothesis
Writing a hypothesis becomes way simpler if you follow a tried-and-tested algorithm. Let's explore how you can formulate a good hypothesis in a few steps:
Step #1: Ask Questions
The first step in hypothesis creation is asking real questions about the surrounding reality.
Why do things happen as they do? What are the causes of some occurrences?
Your curiosity will trigger great questions that you can use to formulate a stellar hypothesis. So, ensure you pick a research topic of interest to scrutinize the world's phenomena, processes, and events.
Step #2: Do Initial Research
Carry out preliminary research and gather essential background information about your topic of choice.
The extent of the information you collect will depend on what you want to prove.
Your initial research can be complete with a few academic books or a simple Internet search for quick answers with relevant statistics.
Still, keep in mind that in this phase, it is too early to prove or disapprove of your hypothesis.
Step #3: Identify Your Variables
Now that you have a basic understanding of the topic, choose the dependent and independent variables.
Take note that independent variables are the ones you can't control, so understand the limitations of your test before settling on a final hypothesis.
Step #4: Formulate Your Hypothesis
You can write your hypothesis as an 'if – then' expression . Presenting any hypothesis in this format is reliable since it describes the cause-and-effect you want to test.
For instance: If I study every day, then I will get good grades.
Step #5: Gather Relevant Data
Once you have identified your variables and formulated the hypothesis, you can start the experiment. Remember, the conclusion you make will be a proof or rebuttal of your initial assumption.
So, gather relevant information, whether for a simple or statistical hypothesis, because you need to back your statement.
Step #6: Record Your Findings
Finally, write down your conclusions in a research paper .
Outline in detail whether the test has proved or disproved your hypothesis.
Edit and proofread your work, using a plagiarism checker to ensure the authenticity of your text.
We hope that the above tips will be useful for you. Note that if you need to conduct business analysis, you can use the free templates we've prepared: SWOT , PESTLE , VRIO , SOAR , and Porter's 5 Forces .
❓ Hypothesis Formulator FAQ
How to Write a Hypothesis in 6 Steps - Grammarly
Forming a Good Hypothesis for Scientific Research
The Hypothesis in Science Writing
Scientific Method: Step 3: HYPOTHESIS - Subject Guides
Hypothesis Template & Examples - Video & Lesson Transcript
Free Essays
Writing Tools
Lit. Guides
Donate a Paper
Referencing Guides
Free Textbooks
Tongue Twisters
Job Openings
Expert Application
Video Contest
Writing Scholarship
Discount Codes
IvyPanda Shop
Terms and Conditions
Privacy Policy
Cookies Policy
Copyright Principles
DMCA Request
Service Notice
Use our hypothesis maker whenever you need to formulate a hypothesis for your study. We offer a very simple tool where you just need to provide basic info about your variables, subjects, and predicted outcomes. The rest is on us. Get a perfect hypothesis in no time!
Have a language expert improve your writing
Run a free plagiarism check in 10 minutes, generate accurate citations for free.
Knowledge Base
Methodology
How to Write a Strong Hypothesis | Steps & Examples
How to Write a Strong Hypothesis | Steps & Examples
Published on May 6, 2022 by Shona McCombes . Revised on December 2, 2022.
A hypothesis is a statement that can be tested by scientific research. If you want to test a relationship between two or more variables, you need to write hypotheses before you start your experiment or data collection .
Example: Hypothesis
Daily apple consumption leads to fewer doctor's visits.
Table of contents
What is a hypothesis, developing a hypothesis (with example), hypothesis examples, frequently asked questions about writing hypotheses.
A hypothesis states your predictions about what your research will find. It is a tentative answer to your research question that has not yet been tested. For some research projects, you might have to write several hypotheses that address different aspects of your research question.
A hypothesis is not just a guess – it should be based on existing theories and knowledge. It also has to be testable, which means you can support or refute it through scientific research methods (such as experiments, observations and statistical analysis of data).
Variables in hypotheses
Hypotheses propose a relationship between two or more types of variables .
An independent variable is something the researcher changes or controls.
A dependent variable is something the researcher observes and measures.
If there are any control variables , extraneous variables , or confounding variables , be sure to jot those down as you go to minimize the chances that research bias  will affect your results.
In this example, the independent variable is exposure to the sun – the assumed cause . The dependent variable is the level of happiness – the assumed effect .
Step 1. Ask a question
Writing a hypothesis begins with a research question that you want to answer. The question should be focused, specific, and researchable within the constraints of your project.
Step 2. Do some preliminary research
Your initial answer to the question should be based on what is already known about the topic. Look for theories and previous studies to help you form educated assumptions about what your research will find.
At this stage, you might construct a conceptual framework to ensure that you're embarking on a relevant topic . This can also help you identify which variables you will study and what you think the relationships are between them. Sometimes, you'll have to operationalize more complex constructs.
Step 3. Formulate your hypothesis
Now you should have some idea of what you expect to find. Write your initial answer to the question in a clear, concise sentence.
4. Refine your hypothesis
You need to make sure your hypothesis is specific and testable. There are various ways of phrasing a hypothesis, but all the terms you use should have clear definitions, and the hypothesis should contain:
The relevant variables
The specific group being studied
The predicted outcome of the experiment or analysis
5. Phrase your hypothesis in three ways
To identify the variables, you can write a simple prediction in  if…then form. The first part of the sentence states the independent variable and the second part states the dependent variable.
In academic research, hypotheses are more commonly phrased in terms of correlations or effects, where you directly state the predicted relationship between variables.
If you are comparing two groups, the hypothesis can state what difference you expect to find between them.
6. Write a null hypothesis
If your research involves statistical hypothesis testing , you will also have to write a null hypothesis . The null hypothesis is the default position that there is no association between the variables. The null hypothesis is written as H 0 , while the alternative hypothesis is H 1 or H a .
H 0 : The number of lectures attended by first-year students has no effect on their final exam scores.
H 1 : The number of lectures attended by first-year students has a positive effect on their final exam scores.
Receive feedback on language, structure, and formatting
Professional editors proofread and edit your paper by focusing on:
Academic style
Vague sentences
Style consistency
See an example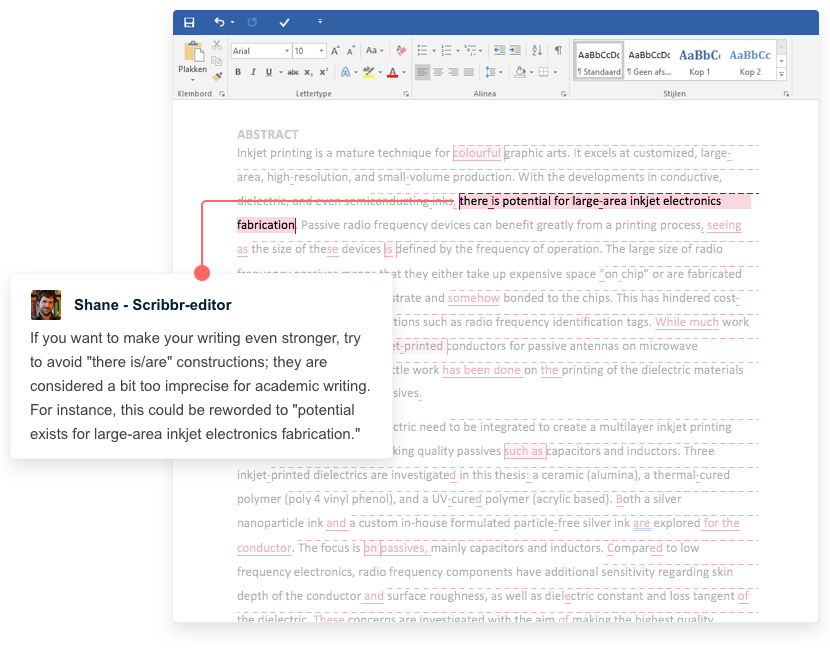 A hypothesis is not just a guess — it should be based on existing theories and knowledge. It also has to be testable, which means you can support or refute it through scientific research methods (such as experiments, observations and statistical analysis of data).
Null and alternative hypotheses are used in statistical hypothesis testing . The null hypothesis of a test always predicts no effect or no relationship between variables, while the alternative hypothesis states your research prediction of an effect or relationship.
Hypothesis testing is a formal procedure for investigating our ideas about the world using statistics. It is used by scientists to test specific predictions, called hypotheses , by calculating how likely it is that a pattern or relationship between variables could have arisen by chance.
Cite this Scribbr article
If you want to cite this source, you can copy and paste the citation or click the "Cite this Scribbr article" button to automatically add the citation to our free Citation Generator.
McCombes, S. (2022, December 02). How to Write a Strong Hypothesis | Steps & Examples. Scribbr. Retrieved February 28, 2023, from https://www.scribbr.com/methodology/hypothesis/
Is this article helpful?
Shona McCombes
Other students also liked, construct validity | definition, types, & examples, what is a conceptual framework | tips & examples, operationalization | a guide with examples, pros & cons, what is your plagiarism score.
Research Hypothesis Generator
️🔎 How to Use the Tool?
️🕵 What Is a Research Hypothesis?
️⚗️ Scientific Method
️🔗 References
🔎 How to Use the Research Hypothesis Generator?
Whenever you conduct research, whether a 5-paragraph essay or a more complex assignment, you need to create a hypothesis for this study.
Clueless about how to create a good hypothesis?
No need to waste time and energy on this small portion of your writing process! You can always use our hypothesis creator to get a researchable assumption in no time.
To get a ready-made hypothesis idea, you need to:
State the object of your study
Specify what the object does
Lay out the outcome of that activity
Indicate the comparison group
Once all data is inserted into the fields, you can press the "Generate now" button and get the result from our hypothesis generator for research paper or any other academic task.
🕵 What Is a Research Hypothesis?
A hypothesis is your assumption based on existing academic knowledge and observations of the surrounding natural world.

It also involves a healthy portion of intuition because you should arrive at an interesting, commonsense question about the phenomena or processes you observe.
The traditional formula for hypothesis generation is an "if…then" statement, reflecting its falsifiability and testability.
What do these terms mean?
Testability means you can formulate a scientific guess and test it with data and analysis.
Falsifiability is a related feature, allowing you to refute the hypothesis with data and show that your guess has no tangible support in real-world data.
For example, you might want to hypothesize the following:
If children are given enough free play time, their intelligence scores rise quicker.
You can test this assumption by observing and measuring two groups – children involved in much free play and those who don't get free play time. Once the study period ends, you can measure the intelligence scores in both groups to see the difference, thus proving or disproving your hypothesis, which will be testing your hypothesis. If you find tangible differences between the two groups, your hypothesis will be proven, and if there is no difference, the hypothesis will prove false.
Null & Alternative Hypotheses
As a rule, hypotheses are presented in pairs in academic studies, as your scientific guess may be refuted or proved. Thus, you should formulate two hypotheses – a null and alternative variant of the same guess – to see which one is proved with your experiment.

The alternative hypothesis is formulated in an affirmative form, assuming a specific relationship between variables. In other words, you hypothesize that the predetermined outcome will be observed if one condition is met.
Watching films before sleep reduces the quality of sleep.
The null hypothesis is formulated in a negative form, suggesting that there is no association between the variables of your interest. For example:
Watching films before sleep doesn't affect the quality of sleep.
⚗️ Scientific Method: The Key Steps
The development and testing of multiple hypotheses are the basis of the scientific method .
Without such inquiries, academic knowledge would never progress, and humanity would remain with a limited understanding of the natural world.
How can you contribute to the existing academic base with well-developed and rigorously planned scientific studies ? Here is an introduction to the empirical method of scientific inquiry.
Step #1: Observe the World Around You
Look around you to see what's taking place in your academic area. If you're a biology researcher, look into the untapped biological processes or intriguing facts that nobody has managed to explain before you.
What's surprising or unusual in your observations? How can you approach this area of interest?
That's the starting point of an academic journey to new knowledge.
Step #2: Ask Questions
Now that you've found a subject of interest, it's time to generate scientific research questions .
A question can be called scientific if it is well-defined, focuses on measurable dimensions, and is largely testable.
Some hints for a scientific question are:
What effect does X produce on Y?
What happens if the intensity of X's impact reduces or rises?
What is the primary cause of X?
How is X related to Y in this group of people?
How effective is X in the field of C?
As you can see, X is the independent variable , and Y is the dependent variable.
This principle of hypothesis formulation is vital for cases when you want to illustrate or measure the strength of one variable's effect on the other.
Step #3: Generate a Research Hypothesis
After asking the scientific question, you can hypothesize what your answer to it can be.
You don't have any data yet to answer the question confidently, but you can assume what effect you will observe during an empirical investigation.
For example, suppose your background research shows that protein consumption boosts muscle growth.
In that case, you can hypothesize that a sample group consuming much protein after physical training will exhibit better muscle growth dynamics compared to those who don't eat protein. This way, you're making a scientific guess based on your prior knowledge of the subject and your intuition.
Step #4: Hold an Experiment
With a hypothesis at hand, you can proceed to the empirical study for its testing. As a rule, you should have a clearly formulated methodology for proving or disproving your hypothesis before you create it. Otherwise, how can you know that it is testable? An effective hypothesis usually contains all data about the research context and the population of interest.
For example:
Marijuana consumption among U. S. college students reduces their motivation and academic achievement.
The study sample here is college students.
The dependent variable is motivation and academic achievement, which you can measure with any validated scale (e.g., Intrinsic Motivation Inventory).
The inclusion criterion for the study's experimental group is marijuana use.
The control group might be a group of marijuana non-users from the same population.
A viable research methodology is to ask both groups to fill out the survey and compare the results.
Step #5: Analyze Your Findings
Once the study is over and you have the collected dataset, it's time to analyze the findings.
The methodology should also delineate the criteria for proving or disproving the hypothesis.
Using the previous section's example, your hypothesis is proven if the experimental group reveals lower motivational scores and has a lower GPA . If both groups' motivation and GPA scores aren't statistically different, your hypothesis is false.
Step #6: Formulate Your Conclusion
Using your study's hypothesis and outcomes, you can now generate a conclusion . If the alternative hypothesis is proven, you can conclude that marijuana use hinders students' achievement and motivation. If the null hypothesis is validated, you should report no identified relationship between low academic achievement and weed use.
Thank you for reading this article! Note that if you need to conduct a business analysis, you can try our free tools: SWOT , VRIO , SOAR , PESTEL , and Porter's Five Forces .
❓ Research Hypothesis Generator FAQ
❓ what is a research hypothesis.
A hypothesis is a guess or assumption you make by looking at the available data from the natural world. You assume a specific relationship between variables or phenomena and formulate that supposition for further testing with experimentation and analysis.
❓ How to write a hypothesis?
To compose an effective hypothesis, you need to look at your research question and formulate a couple of ways to answer it. The available scientific data can guide you to assume your study's outcome. Thus, the hypothesis is a guess of how your research question will be answered by the end of your research.
❓ What is the difference between prediction and hypothesis?
A prediction is your forecast about the outcome of some activities or experimentation. It is a guess of what will happen if you perform some actions with a specific object or person. A hypothesis is a more in-depth inquiry into the way things are related. It is more about explaining specific mechanisms and relationships.
❓ What makes a good hypothesis?
A strong hypothesis should indicate the dependent and independent variables, specifying the relationship you assume between them. You can also strengthen your hypothesis by indicating a specific population group, an intervention period, and the context in which you'll hold the study.
🔗 References
What is and How to Write a Good Hypothesis in Research?
Research questions, hypotheses and objectives - PMC - NCBI
Developing the research hypothesis - PubMed
Alternative Hypothesis - SAGE Research Methods
Alternative Hypothesis Guide: Definition, Types and Examples
Online Hypothesis Generator
Add the required information into the fields below to build a list of well-formulated hypotheses.
If patients follow medical prescriptions, then their condition will improve.
If patients follow medical prescriptions, then their condition will show better results.
If patients follow medical prescriptions, then their condition will show better results than those who do not follow medical prescriptions.
H0 (null hypothesis) - Attending most lectures by first-year students has no effect on their exam scores.
H1 (alternative hypothesis) - Attending most lectures by first-year students has a positive effect on their exam scores.
* Hint - choose either null or alternative hypothesis
🤔 What Is a Hypothesis?
👣 Steps to Generating a Hypothesis
🔍 References
🔎 Hypothesis Generator: How to Use It?
The generation of a workable hypothesis is not an easy task for many students. You need to research widely, understand the gaps in your study area, and comprehend the method of hypothesis formulation to the dot. Lucky for you, we have a handy hypothesis generator that takes hours of tedious work out of your study process.
To use our hypothesis generator, you'll need to do the following:
Indicate your experimental group (people, phenomena, event)
Stipulate what it does
Add the effect that the subject's activities produce
Specify the comparison group
Once you put all this data into our online hypothesis generator, click on the "Generate hypothesis" tab and enjoy instant results. The tool will come up with a well-formulated hypothesis in seconds.
A hypothesis is a claim or statement you make about the assumed relationship between the dependent and independent variables you're planning to test. It is formulated at the beginning of your study to show the direction you will take in the analysis of your subject of interest.
The hypothesis works in tandem with your research purpose and research question , delineating your entire perspective.
For example, if you focus on the quality of palliative care in the USA , your perspective may be as follows.
This way, your hypothesis serves as a tentative answer to your research question, which you aim to prove or disprove with scientific data, statistics, and analysis.
Hypothesis Types
In most scholarly studies, you'll be required to write hypotheses in pairs – as a null and alternative hypothesis :
The alternative hypothesis assumes a statistically significant relationship between the identified variables. Thus, if you find that relationship in the analysis process, you can consider the alternative hypothesis proven.
A null hypothesis is the opposite; it assumes that there is no relationship between the variables. Thus, if you find no statistically significant association, the null hypothesis is considered proven.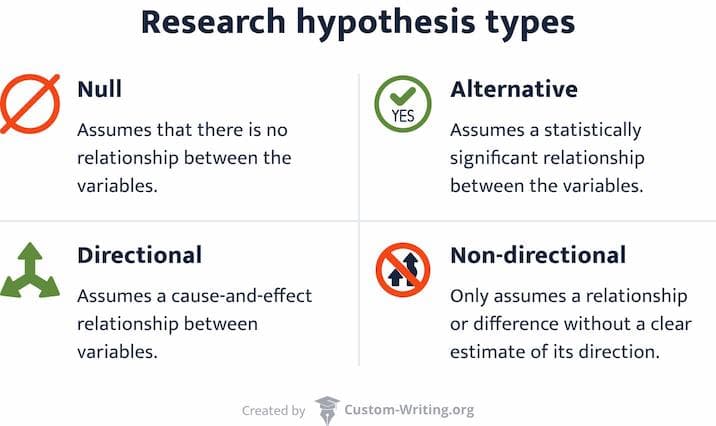 A handy example is as follows:
You are researching the impact of sugar intake on child obesity . So, based on your data, you can either find that the number of sugar spoons a day directly impacts obesity or that the sugar intake is not associated with obesity in your sample. The hypotheses for this study would be as follows:
ALTERNATIVE
There is a relationship between the number of sugar spoons consumed daily and obesity in U.S. preschoolers.
There is no relationship between the number of sugar spoons consumed daily and obesity in U.S. preschoolers.
Besides, hypotheses can be directional and non-directional by type:
A directional hypothesis assumes a cause-and-effect relationship between variables, clearly designating the assumed difference in study groups or parameters.
A non-directional hypothesis , in turn, only assumes a relationship or difference without a clear estimate of its direction.
NON-DIRECTIONAL
Students in high school and college perform differently on critical thinking tests.
DIRECTIONAL
College students perform better on critical thinking tests that high-school students.
👣 Steps to Generating a Hypothesis in Research
Now let's cover the algorithm of hypothesis generation to make this process simple and manageable for you.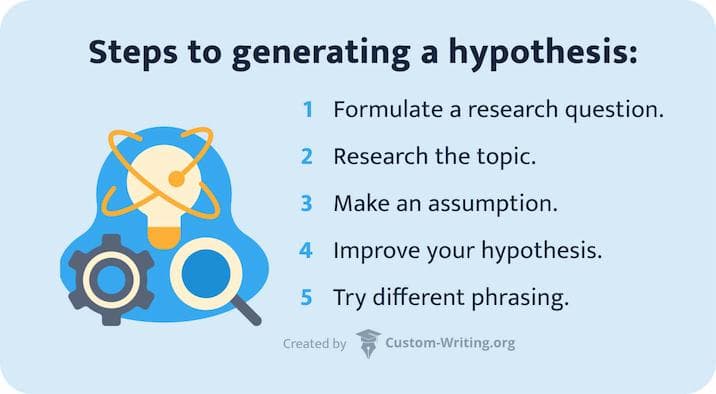 Step #1: Formulate Your Research Question
The first step is to create a research question . Study the topic of interest and clarify what aspect you're fascinated about, wishing to learn more about the hidden connections, effects, and relationships.
Step #2: Research the Topic
Next, you should conduct some research to test your assumption and see whether there's enough published evidence to back up your point. You should find credible sources that discuss the concepts you've singled out for the study and delineate a relationship between them. Once you identify a reasonable body of research, it's time to go on.
Step #3: Make an Assumption
With some scholarly data, you should now be better positioned to make a researchable assumption.
For instance, if you find out that many scholars associate heavy social media use with a feeling of loneliness, you can hypothesize that the hours spent on social networks will directly correlate with perceived loneliness intensity.
Step #4: Improve Your Hypothesis
Now that you have a hypothesis, it's time to refine it by adding context and population specifics. Who will you study? What social network will you focus on? In this example, you can focus on the student sample's use of Instagram .
Step #5: Try Different Phrasing
The final step is the proper presentation of your hypothesis. You can try several variants, focusing on the variables, correlations , or groups you compare.
For instance, you can say that students spending 3+ hours on Instagram every day are lonelier than their peers. Otherwise, you can hypothesize that heavy social media use leads to elevated feelings of loneliness.
👀 Hypothesis Examples
If you're unsure about how to generate great hypotheses, get some inspiration from the list of examples formulated by our writing pros.
Thank you for reading this article! If you're planning to analyze business issues, try our free templates: PEST , PESTEL , SWOT , SOAR , VRIO , and Five Forces .
❓ Hypothesis Generator FAQ
❓ what does hypothesis mean.
A hypothesis in an essay or a larger research assignment is your claim or prediction of the relationship you assume between the identified dependent and independent variables. You share an assumption that you're going to test with research and data analysis in the later sections of your paper.
❓ How to create a hypothesis?
The first step to formulating a good hypothesis is to ask a question about your subject of interest and understand what effects it may experience from external sources or how it changes over time. You can identify differences between groups and inquire into the nature of those distinctions. In any way, you need to voice some assumption that you'll further test with data; that assumption will be your hypothesis for a study.
❓ What is a null and alternative hypothesis?
You need to formulate a null and alternative hypothesis if you plan to test some relationship between variables with statistical instruments. For example, you might compare a group of students on an emotional intelligence scale to determine whether first-year students are less emotionally competent than graduates. In this case, your alternative hypothesis would state that they are, and a null hypothesis would say that there is no difference between student groups.
❓ What does it mean to reject the null hypothesis?
A null hypothesis assumes that there is no difference between groups or that the dependent variables don't have any sizable impact on the independent variable. If your null hypothesis gets rejected, it means that your alternative hypothesis has been proved, showing that there is a tangible difference or relationship between your variables.
🔗 References
How to Write a Hypothesis in 6 Steps - Grammarly
The Hypothesis in Science Writing
Hypothesis Definition & Examples - Simply Psychology
Hypothesis Examples: Different Types in Science and Research
Forming a Good Hypothesis for Scientific Research
Use Our Free A/B Testing Hypothesis Generator . Never Miss Key Elements From Your Hypotheses. Get Big Conversion Lifts.
Observation, inadvertent impact.
Streamline Your Hypothesis Generation Research with Custom Templates the Pros Use.
Have questions about a/b testing hypotheses, what is a hypothesis.
Many people define a hypothesis as an "educated guess".
To be more precise, a properly constructed hypothesis predicts a possible outcome to an experiment or a test where one variable (the independent one ) is tweaked and/or modified and the impact is measured by the change in behavior of another variable (generally the dependent one).
A hypothesis should be specific (it should clearly define what is being altered and what is the expected impact), data-driven (the changes being made to the independent variable should be based on historic data or theories that have been proven in the past), and testable (it should be possible to conduct the proposed test in a controlled environment to establish the relationship between the variables involved, and disprove the hypothesis - should it be untrue.)
What is the Cost of a Hastily Assembled Hypothesis?
According to an analysis of over 28,000 tests run using the Convert Experiences platform, only 1 in 5 tests proves to be statistically significant.
While more and more debate is opening up around sticking to the concept of 95% statistical significance, it is still a valid rule of thumb for optimizers who do not want to get into the fray with peeking vs. no peeking, and custom stopping rules for experiments.
There might be a multitude of reasons why a test does not reach statistical significance. But framing a tenable hypothesis that already proves itself logistically feasible on paper is a better starting point than a hastily assembled assumption.
Moreover, the aim of an A/B test may be to extract a learning, but some learnings come with heavy costs. 26% decrease in conversion rates to be specific.
A robust hypothesis may not be the answer to all testing woes, but it does help prioritisation of possible solutions and leads testing teams to pick low hanging fruits.
How is an A/B Testing Hypothesis Different?
An A/B test should be treated with the same rigour as tests conducted in laboratories. That is an easy way to guarantee better hypotheses, more relevant experiments, and ultimately more profitable optimization programs.
The focus of an A/B test should be on first extracting a learning , and then monetizing it in the form of increased registration completions, better cart conversions and more revenue.
If that is true, then an A/B test hypothesis is not very different from a regular scientific hypothesis. With a couple of interesting points to note:
Most scientific hypotheses proceed with one independent variable and one dependent variable, for the sake of simplicity. But in A/B tests, there might be changes made to several independent variables at the same time. Under such circumstances it is good to explore the relationship between the independent variables to make sure that they do not inadvertently impact one another. For example changing both the value proposition and button copy of a landing page to determine improvement in click through or completion rates is tricky. Reaching a point where the browser is compelled to click the button could easily have been impacted by the value proposition (as in a strong hook and heading). So what caused the improvement in the dependent variable? Was it the change to the first element or the second one?
The concept of Operational Definition is non-negotiable in most laboratory experiments. And comes baked with the question of ethics or morality. Operation Definition is the specific process that will be used to quantify the change in the value/behavior of the independent variable in the test. As an example, if a test wishes to measure the level of frustration that subjects experience when they are exposed to certain stimuli, researchers must be careful to define exactly how they will measure the output or frustration. Should they allow the test subjects to act out, in which case they may hurt or harm other individuals. Or should they use a non-invasive technique like an fMRI scan to monitor brain activity and collect the needed data. In A/B tests however, since data is collected through relatively inanimate channels like analytics dashboards, generally little thought is spared to Operational Definition and the impact of A/B testing on the human subjects (site traffic in this case).
The 5 Essential Parts of an A/B Testing Hypothesis
A robust A/B testing hypothesis should be assembled in 5 key parts:
1. OBSERVATION
This includes a clear outline of the problem (the unexplained phenomenon) observed and what it entails. This section should be completely free of conjecture and rely solely on good quality data - either qualitative and/or quantitative - to bring a potential area of improvement to light. It also includes a mention of the way in which the data is collected.
Proper observation ensures a credible hypothesis that is easy to "defend" later down the line.
2. EXECUTION
This is the where, what, and the who of the A/B test. It specifies the change(s) you will be making to site element(s) in an attempt to solve the problem that has been outlined under "OBSERVATION". It serves to also clearly define the segment of site traffic that will be exposed to the experiment.
Proper execution guidelines set the rhythm for the A/B test. They define how easy or difficult it will be to deploy the test and thus aid hypothesis prioritization .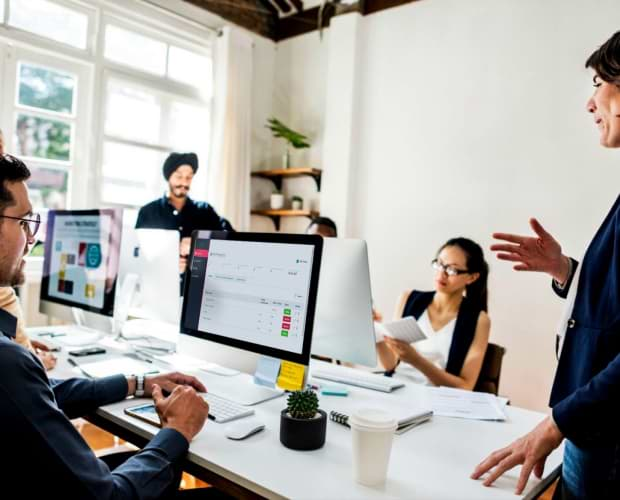 This is where you make your educated guess or informed prediction. Based on a diligently identified OBSERVATION and EXECUTION guidelines that are possible to deploy, your OUTCOME should clearly mention two things:
The change (increase or decrease) you expect to see to the problem or the symptoms of the problem identified under OBSERVATION.
The Key Performance Indicators (KPIs) you will be monitoring to gauge whether your prediction has panned out, or not.
In general most A/B tests have one primary KPI and a couple of secondary KPIs or ways to measure impact. This is to ensure that external influences do not skew A/B test results and even if the primary KPI is compromised in some way, the secondary KPIs do a good job of indicating that the change is indeed due to the implementation of the EXECUTION guidelines, and not the result of unmonitored external factors.
4. LOGISTICS
An important part of hypothesis formulation, LOGISTICS talk about what it will take to collect enough clean data from which a reliable conclusion can be drawn. How many unique tested visitors, what is the statistical significance desired, how many conversions is enough and what is the duration for which the A/B test should run? Each question on its own merits a blog or a lesson. But for the sake of convenience, Convert has created a Free Sample Size & A/B/N Test Duration Calculator .
Set the right logistical expectations so that you can prioritise your hypotheses for maximum impact and minimum effort .
5. INADVERTENT IMPACT
This is a nod in the direction of ethics in A/B testing and marketing, because experiments involve humans and optimizers should be aware of the possible impact on their behavior.
Often a thorough analysis at this stage can modify the way impact is measured or an experiment is conducted. Or Convert certainly hopes that this will be the case in future. Here's why ethics do matter in testing.
Now Organize, Prioritise & Learn from Your Hypotheses.
Try convert experiences in free trial & access compass beta - our hypothesis management platform., always working to improve outcomes..
Start 15 -Day Free Trial With Us.
You've Unlocked Your Free Trial.
Check your inbox for the password to Convert's trial account.
Log in using the link provided in that email.
This sign up flow is built for maximum security. You're worth it!
PS: Gifts await you once you join us.