Research and Writing Guides
Writing a paper? Don't get lost.
How long are thesis statements?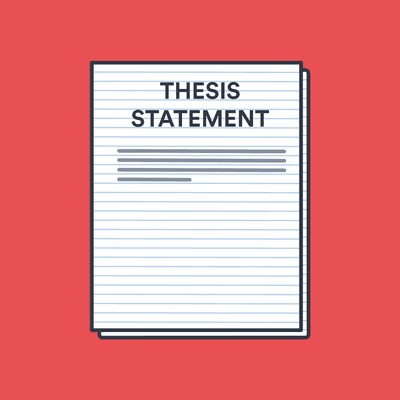 If you don't know already what a thesis statement is exactly, take a look at our guide What is a thesis statement?
💡 In short, a thesis statement is a concise description of your work's aim.
If you find yourself in the process of writing a thesis statement but you don't know how long it should be, you've come to right place. In the next paragraphs you will learn about the most efficient way to write a thesis statement and how long it should be.
What is the proper length of a thesis statement?
Short answer: one or two sentences. The long and more i n-depth answer: as one's professional writing evolves, good arguments become more established, and are therefore longer than 2 short sentences. So a thesis statement can even have three or four long sentences.
The point is to write one well-formed statement that truly reflects your knowledge. You can have a short thesis statement with 2 sentences, but make sure it's not trivial or obvious. Or you can have 3 long sentences with plenty meta-discourse, but make sure there isn't too much exposition.
Examples of thesis statements
Joe Haley, a former Expository Writing Instructor at Johns Hopkins University exemplified in this forum post the different sizes a thesis statement can take. From Jane Austen's Pride and Prejudice ,  someone could come up with these two theses:
In Jane Austen's  Pride and Prejudice , gossip is an important but morally ambiguous tool for shaping characters' opinions of each other.
As the aforementioned critics have noted, the prevalence of gossip in Jane Austen's  oeuvre  does indeed reflect the growing prominence of an explicitly-delineated private sphere in nineteenth-century British society. However, in contrast with these critics' general conclusions about Austen and class, which tend to identify her authorial voice directly with the bourgeois mores shaping her appropriation of the  bildungsroman,  the ambiguity of this communicative mode in  Pride and Prejudice  suggests that when writing at the height of her authorial powers, at least, Austen is capable of skepticism and even self-critique. For what is the narrator of her most celebrated novel if not its arch-gossip  par excellence ?
Both statements are equally round. In the end, the length will depend on the scope of your work.
Frequently Asked Questions about the length of thesis statements
There is no exact word count for a thesis statement, as the length depends on your level of knowledge and expertise. It usually has two sentences, so between 20-50 words.
Your level of knowledge and insight of a topic will determine how long your thesis statement is. A concise one is between 20-50 words. A paragraph is also acceptable for a thesis statement, lets say that anything over one paragraph is already too long.
Here is a list of Thesis Statement Examples that will help you understand better how long they can be.
As a high school student you are not expected to have an extremely elaborated thesis statement. So a couple of clear sentences indicating the aim of your essay will be more than enough.
Here is a YouTube tutorial that will help you write a thesis statement: How To Write An Essay: Thesis Statements by Ariel Bisset.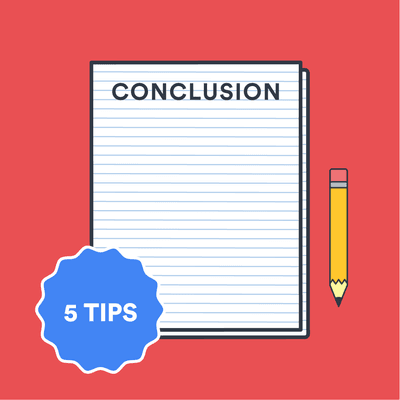 Developing a Thesis Statement
Many papers you write require developing a thesis statement. In this section you'll learn what a thesis statement is and how to write one.
Keep in mind that not all papers require thesis statements . If in doubt, please consult your instructor for assistance.
What is a thesis statement?
A thesis statement . . .
Makes an argumentative assertion about a topic; it states the conclusions that you have reached about your topic.
Makes a promise to the reader about the scope, purpose, and direction of your paper.
Is focused and specific enough to be "proven" within the boundaries of your paper.
Is generally located near the end of the introduction ; sometimes, in a long paper, the thesis will be expressed in several sentences or in an entire paragraph.
Identifies the relationships between the pieces of evidence that you are using to support your argument.
Not all papers require thesis statements! Ask your instructor if you're in doubt whether you need one.
Identify a topic
Your topic is the subject about which you will write. Your assignment may suggest several ways of looking at a topic; or it may name a fairly general concept that you will explore or analyze in your paper.
Consider what your assignment asks you to do
Inform yourself about your topic, focus on one aspect of your topic, ask yourself whether your topic is worthy of your efforts, generate a topic from an assignment.
Below are some possible topics based on sample assignments.
Sample assignment 1
Analyze Spain's neutrality in World War II.
Identified topic
Franco's role in the diplomatic relationships between the Allies and the Axis
This topic avoids generalities such as "Spain" and "World War II," addressing instead on Franco's role (a specific aspect of "Spain") and the diplomatic relations between the Allies and Axis (a specific aspect of World War II).
Sample assignment 2
Analyze one of Homer's epic similes in the Iliad.
The relationship between the portrayal of warfare and the epic simile about Simoisius at 4.547-64.
This topic focuses on a single simile and relates it to a single aspect of the Iliad ( warfare being a major theme in that work).
Developing a Thesis Statement–Additional information
Your assignment may suggest several ways of looking at a topic, or it may name a fairly general concept that you will explore or analyze in your paper. You'll want to read your assignment carefully, looking for key terms that you can use to focus your topic.
Sample assignment: Analyze Spain's neutrality in World War II Key terms: analyze, Spain's neutrality, World War II
After you've identified the key words in your topic, the next step is to read about them in several sources, or generate as much information as possible through an analysis of your topic. Obviously, the more material or knowledge you have, the more possibilities will be available for a strong argument. For the sample assignment above, you'll want to look at books and articles on World War II in general, and Spain's neutrality in particular.
As you consider your options, you must decide to focus on one aspect of your topic. This means that you cannot include everything you've learned about your topic, nor should you go off in several directions. If you end up covering too many different aspects of a topic, your paper will sprawl and be unconvincing in its argument, and it most likely will not fulfull the assignment requirements.
For the sample assignment above, both Spain's neutrality and World War II are topics far too broad to explore in a paper. You may instead decide to focus on Franco's role in the diplomatic relationships between the Allies and the Axis , which narrows down what aspects of Spain's neutrality and World War II you want to discuss, as well as establishes a specific link between those two aspects.
Before you go too far, however, ask yourself whether your topic is worthy of your efforts. Try to avoid topics that already have too much written about them (i.e., "eating disorders and body image among adolescent women") or that simply are not important (i.e. "why I like ice cream"). These topics may lead to a thesis that is either dry fact or a weird claim that cannot be supported. A good thesis falls somewhere between the two extremes. To arrive at this point, ask yourself what is new, interesting, contestable, or controversial about your topic.
As you work on your thesis, remember to keep the rest of your paper in mind at all times . Sometimes your thesis needs to evolve as you develop new insights, find new evidence, or take a different approach to your topic.
Derive a main point from topic
Once you have a topic, you will have to decide what the main point of your paper will be. This point, the "controlling idea," becomes the core of your argument (thesis statement) and it is the unifying idea to which you will relate all your sub-theses. You can then turn this "controlling idea" into a purpose statement about what you intend to do in your paper.
Look for patterns in your evidence
Compose a purpose statement.
Consult the examples below for suggestions on how to look for patterns in your evidence and construct a purpose statement.
Franco first tried to negotiate with the Axis
Franco turned to the Allies when he couldn't get some concessions that he wanted from the Axis
Possible conclusion:
Spain's neutrality in WWII occurred for an entirely personal reason: Franco's desire to preserve his own (and Spain's) power.
Purpose statement
This paper will analyze Franco's diplomacy during World War II to see how it contributed to Spain's neutrality.
The simile compares Simoisius to a tree, which is a peaceful, natural image.
The tree in the simile is chopped down to make wheels for a chariot, which is an object used in warfare.
At first, the simile seems to take the reader away from the world of warfare, but we end up back in that world by the end.
This paper will analyze the way the simile about Simoisius at 4.547-64 moves in and out of the world of warfare.
Derive purpose statement from topic
To find out what your "controlling idea" is, you have to examine and evaluate your evidence . As you consider your evidence, you may notice patterns emerging, data repeated in more than one source, or facts that favor one view more than another. These patterns or data may then lead you to some conclusions about your topic and suggest that you can successfully argue for one idea better than another.
For instance, you might find out that Franco first tried to negotiate with the Axis, but when he couldn't get some concessions that he wanted from them, he turned to the Allies. As you read more about Franco's decisions, you may conclude that Spain's neutrality in WWII occurred for an entirely personal reason: his desire to preserve his own (and Spain's) power. Based on this conclusion, you can then write a trial thesis statement to help you decide what material belongs in your paper.
Sometimes you won't be able to find a focus or identify your "spin" or specific argument immediately. Like some writers, you might begin with a purpose statement just to get yourself going. A purpose statement is one or more sentences that announce your topic and indicate the structure of the paper but do not state the conclusions you have drawn . Thus, you might begin with something like this:
This paper will look at modern language to see if it reflects male dominance or female oppression.
I plan to analyze anger and derision in offensive language to see if they represent a challenge of society's authority.
At some point, you can turn a purpose statement into a thesis statement. As you think and write about your topic, you can restrict, clarify, and refine your argument, crafting your thesis statement to reflect your thinking.
As you work on your thesis, remember to keep the rest of your paper in mind at all times. Sometimes your thesis needs to evolve as you develop new insights, find new evidence, or take a different approach to your topic.
Compose a draft thesis statement
If you are writing a paper that will have an argumentative thesis and are having trouble getting started, the techniques in the table below may help you develop a temporary or "working" thesis statement.
Begin with a purpose statement that you will later turn into a thesis statement.
Assignment: Discuss the history of the Reform Party and explain its influence on the 1990 presidential and Congressional election.
Purpose Statement: This paper briefly sketches the history of the grassroots, conservative, Perot-led Reform Party and analyzes how it influenced the economic and social ideologies of the two mainstream parties.
Question-to-Assertion
If your assignment asks a specific question(s), turn the question(s) into an assertion and give reasons why it is true or reasons for your opinion.
Assignment : What do Aylmer and Rappaccini have to be proud of? Why aren't they satisfied with these things? How does pride, as demonstrated in "The Birthmark" and "Rappaccini's Daughter," lead to unexpected problems?
Beginning thesis statement: Alymer and Rappaccinni are proud of their great knowledge; however, they are also very greedy and are driven to use their knowledge to alter some aspect of nature as a test of their ability. Evil results when they try to "play God."
Write a sentence that summarizes the main idea of the essay you plan to write.
Main idea: The reason some toys succeed in the market is that they appeal to the consumers' sense of the ridiculous and their basic desire to laugh at themselves.
Make a list of the ideas that you want to include; consider the ideas and try to group them.
nature = peaceful
war matériel = violent (competes with 1?)
need for time and space to mourn the dead
war is inescapable (competes with 3?)
Use a formula to arrive at a working thesis statement (you will revise this later).
although most readers of _______ have argued that _______, closer examination shows that _______.
_______ uses _______ and _____ to prove that ________.
phenomenon x is a result of the combination of __________, __________, and _________.
What to keep in mind as you draft an initial thesis statement
Beginning statements obtained through the methods illustrated above can serve as a framework for planning or drafting your paper, but remember they're not yet the specific, argumentative thesis you want for the final version of your paper. In fact, in its first stages, a thesis statement usually is ill-formed or rough and serves only as a planning tool.
As you write, you may discover evidence that does not fit your temporary or "working" thesis. Or you may reach deeper insights about your topic as you do more research, and you will find that your thesis statement has to be more complicated to match the evidence that you want to use.
You must be willing to reject or omit some evidence in order to keep your paper cohesive and your reader focused. Or you may have to revise your thesis to match the evidence and insights that you want to discuss. Read your draft carefully, noting the conclusions you have drawn and the major ideas which support or prove those conclusions. These will be the elements of your final thesis statement.
Sometimes you will not be able to identify these elements in your early drafts, but as you consider how your argument is developing and how your evidence supports your main idea, ask yourself, " What is the main point that I want to prove/discuss? " and " How will I convince the reader that this is true? " When you can answer these questions, then you can begin to refine the thesis statement.
Refine and polish the thesis statement
To get to your final thesis, you'll need to refine your draft thesis so that it's specific and arguable.
Ask if your draft thesis addresses the assignment
Question each part of your draft thesis
Clarify vague phrases and assertions
Investigate alternatives to your draft thesis
Consult the example below for suggestions on how to refine your draft thesis statement.
Sample Assignment
Choose an activity and define it as a symbol of American culture. Your essay should cause the reader to think critically about the society which produces and enjoys that activity.
Ask The phenomenon of drive-in facilities is an interesting symbol of american culture, and these facilities demonstrate significant characteristics of our society.This statement does not fulfill the assignment because it does not require the reader to think critically about society.
Drive-ins are an interesting symbol of American culture because they represent Americans' significant creativity and business ingenuity.
Among the types of drive-in facilities familiar during the twentieth century, drive-in movie theaters best represent American creativity, not merely because they were the forerunner of later drive-ins and drive-throughs, but because of their impact on our culture: they changed our relationship to the automobile, changed the way people experienced movies, and changed movie-going into a family activity.
While drive-in facilities such as those at fast-food establishments, banks, pharmacies, and dry cleaners symbolize America's economic ingenuity, they also have affected our personal standards.
While drive-in facilities such as those at fast- food restaurants, banks, pharmacies, and dry cleaners symbolize (1) Americans' business ingenuity, they also have contributed (2) to an increasing homogenization of our culture, (3) a willingness to depersonalize relationships with others, and (4) a tendency to sacrifice quality for convenience.
This statement is now specific and fulfills all parts of the assignment. This version, like any good thesis, is not self-evident; its points, 1-4, will have to be proven with evidence in the body of the paper. The numbers in this statement indicate the order in which the points will be presented. Depending on the length of the paper, there could be one paragraph for each numbered item or there could be blocks of paragraph for even pages for each one.
Complete the final thesis statement
The bottom line.
As you move through the process of crafting a thesis, you'll need to remember four things:
Context matters! Think about your course materials and lectures. Try to relate your thesis to the ideas your instructor is discussing.
As you go through the process described in this section, always keep your assignment in mind . You will be more successful when your thesis (and paper) responds to the assignment than if it argues a semi-related idea.
Your thesis statement should be precise, focused, and contestable ; it should predict the sub-theses or blocks of information that you will use to prove your argument.
Make sure that you keep the rest of your paper in mind at all times. Change your thesis as your paper evolves, because you do not want your thesis to promise more than your paper actually delivers.
In the beginning, the thesis statement was a tool to help you sharpen your focus, limit material and establish the paper's purpose. When your paper is finished, however, the thesis statement becomes a tool for your reader. It tells the reader what you have learned about your topic and what evidence led you to your conclusion. It keeps the reader on track–well able to understand and appreciate your argument.
Writing Process and Structure
This is an accordion element with a series of buttons that open and close related content panels.
Getting Started with Your Paper
Interpreting Writing Assignments from Your Courses
Generating Ideas for
Creating an Argument
Thesis vs. Purpose Statements
Architecture of Arguments
Working with Sources
Quoting and Paraphrasing Sources
Using Literary Quotations
Citing Sources in Your Paper
Drafting Your Paper
Generating Ideas for Your Paper
Introductions
Paragraphing
Developing Strategic Transitions
Conclusions
Revising Your Paper
Peer Reviews
Reverse Outlines
Revising an Argumentative Paper
Revision Strategies for Longer Projects
Finishing Your Paper
Twelve Common Errors: An Editing Checklist
How to Proofread your Paper
Writing Collaboratively
Collaborative and Group Writing
Thesis Statements
What this handout is about.
This handout describes what a thesis statement is, how thesis statements work in your writing, and how you can craft or refine one for your draft.
Introduction
Writing in college often takes the form of persuasion—convincing others that you have an interesting, logical point of view on the subject you are studying. Persuasion is a skill you practice regularly in your daily life. You persuade your roommate to clean up, your parents to let you borrow the car, your friend to vote for your favorite candidate or policy. In college, course assignments often ask you to make a persuasive case in writing. You are asked to convince your reader of your point of view. This form of persuasion, often called academic argument, follows a predictable pattern in writing. After a brief introduction of your topic, you state your point of view on the topic directly and often in one sentence. This sentence is the thesis statement, and it serves as a summary of the argument you'll make in the rest of your paper.
What is a thesis statement?
A thesis statement:
tells the reader how you will interpret the significance of the subject matter under discussion.
is a road map for the paper; in other words, it tells the reader what to expect from the rest of the paper.
directly answers the question asked of you. A thesis is an interpretation of a question or subject, not the subject itself. The subject, or topic, of an essay might be World War II or Moby Dick; a thesis must then offer a way to understand the war or the novel.
makes a claim that others might dispute.
is usually a single sentence near the beginning of your paper (most often, at the end of the first paragraph) that presents your argument to the reader. The rest of the paper, the body of the essay, gathers and organizes evidence that will persuade the reader of the logic of your interpretation.
If your assignment asks you to take a position or develop a claim about a subject, you may need to convey that position or claim in a thesis statement near the beginning of your draft. The assignment may not explicitly state that you need a thesis statement because your instructor may assume you will include one. When in doubt, ask your instructor if the assignment requires a thesis statement. When an assignment asks you to analyze, to interpret, to compare and contrast, to demonstrate cause and effect, or to take a stand on an issue, it is likely that you are being asked to develop a thesis and to support it persuasively. (Check out our handout on understanding assignments for more information.)
How do I create a thesis?
A thesis is the result of a lengthy thinking process. Formulating a thesis is not the first thing you do after reading an essay assignment. Before you develop an argument on any topic, you have to collect and organize evidence, look for possible relationships between known facts (such as surprising contrasts or similarities), and think about the significance of these relationships. Once you do this thinking, you will probably have a "working thesis" that presents a basic or main idea and an argument that you think you can support with evidence. Both the argument and your thesis are likely to need adjustment along the way.
Writers use all kinds of techniques to stimulate their thinking and to help them clarify relationships or comprehend the broader significance of a topic and arrive at a thesis statement. For more ideas on how to get started, see our handout on brainstorming .
How do I know if my thesis is strong?
If there's time, run it by your instructor or make an appointment at the Writing Center to get some feedback. Even if you do not have time to get advice elsewhere, you can do some thesis evaluation of your own. When reviewing your first draft and its working thesis, ask yourself the following :
Do I answer the question? Re-reading the question prompt after constructing a working thesis can help you fix an argument that misses the focus of the question. If the prompt isn't phrased as a question, try to rephrase it. For example, "Discuss the effect of X on Y" can be rephrased as "What is the effect of X on Y?"
Have I taken a position that others might challenge or oppose? If your thesis simply states facts that no one would, or even could, disagree with, it's possible that you are simply providing a summary, rather than making an argument.
Is my thesis statement specific enough? Thesis statements that are too vague often do not have a strong argument. If your thesis contains words like "good" or "successful," see if you could be more specific: why is something "good"; what specifically makes something "successful"?
Does my thesis pass the "So what?" test? If a reader's first response is likely to  be "So what?" then you need to clarify, to forge a relationship, or to connect to a larger issue.
Does my essay support my thesis specifically and without wandering? If your thesis and the body of your essay do not seem to go together, one of them has to change. It's okay to change your working thesis to reflect things you have figured out in the course of writing your paper. Remember, always reassess and revise your writing as necessary.
Does my thesis pass the "how and why?" test? If a reader's first response is "how?" or "why?" your thesis may be too open-ended and lack guidance for the reader. See what you can add to give the reader a better take on your position right from the beginning.
Suppose you are taking a course on contemporary communication, and the instructor hands out the following essay assignment: "Discuss the impact of social media on public awareness." Looking back at your notes, you might start with this working thesis:
Social media impacts public awareness in both positive and negative ways.
You can use the questions above to help you revise this general statement into a stronger thesis.
Do I answer the question? You can analyze this if you rephrase "discuss the impact" as "what is the impact?" This way, you can see that you've answered the question only very generally with the vague "positive and negative ways."
Have I taken a position that others might challenge or oppose? Not likely. Only people who maintain that social media has a solely positive or solely negative impact could disagree.
Is my thesis statement specific enough? No. What are the positive effects? What are the negative effects?
Does my thesis pass the "how and why?" test? No. Why are they positive? How are they positive? What are their causes? Why are they negative? How are they negative? What are their causes?
Does my thesis pass the "So what?" test? No. Why should anyone care about the positive and/or negative impact of social media?
After thinking about your answers to these questions, you decide to focus on the one impact you feel strongly about and have strong evidence for:
Because not every voice on social media is reliable, people have become much more critical consumers of information, and thus, more informed voters.
This version is a much stronger thesis! It answers the question, takes a specific position that others can challenge, and it gives a sense of why it matters.
Let's try another. Suppose your literature professor hands out the following assignment in a class on the American novel: Write an analysis of some aspect of Mark Twain's novel Huckleberry Finn. "This will be easy," you think. "I loved Huckleberry Finn!" You grab a pad of paper and write:
Mark Twain's Huckleberry Finn is a great American novel.
You begin to analyze your thesis:
Do I answer the question? No. The prompt asks you to analyze some aspect of the novel. Your working thesis is a statement of general appreciation for the entire novel.
Think about aspects of the novel that are important to its structure or meaning—for example, the role of storytelling, the contrasting scenes between the shore and the river, or the relationships between adults and children. Now you write:
In Huckleberry Finn, Mark Twain develops a contrast between life on the river and life on the shore.
Do I answer the question? Yes!
Have I taken a position that others might challenge or oppose? Not really. This contrast is well-known and accepted.
Is my thesis statement specific enough? It's getting there–you have highlighted an important aspect of the novel for investigation. However, it's still not clear what your analysis will reveal.
Does my thesis pass the "how and why?" test? Not yet. Compare scenes from the book and see what you discover. Free write, make lists, jot down Huck's actions and reactions and anything else that seems interesting.
Does my thesis pass the "So what?" test? What's the point of this contrast? What does it signify?"
After examining the evidence and considering your own insights, you write:
Through its contrasting river and shore scenes, Twain's Huckleberry Finn suggests that to find the true expression of American democratic ideals, one must leave "civilized" society and go back to nature.
This final thesis statement presents an interpretation of a literary work based on an analysis of its content. Of course, for the essay itself to be successful, you must now present evidence from the novel that will convince the reader of your interpretation.
Works consulted
We consulted these works while writing this handout. This is not a comprehensive list of resources on the handout's topic, and we encourage you to do your own research to find additional publications. Please do not use this list as a model for the format of your own reference list, as it may not match the citation style you are using. For guidance on formatting citations, please see the UNC Libraries citation tutorial . We revise these tips periodically and welcome feedback.
Anson, Chris M., and Robert A. Schwegler. 2010. The Longman Handbook for Writers and Readers , 6th ed. New York: Longman.
Lunsford, Andrea A. 2015. The St. Martin's Handbook , 8th ed. Boston: Bedford/St Martin's.
Ramage, John D., John C. Bean, and June Johnson. 2018. The Allyn & Bacon Guide to Writing , 8th ed. New York: Pearson.
Ruszkiewicz, John J., Christy Friend, Daniel Seward, and Maxine Hairston. 2010. The Scott, Foresman Handbook for Writers , 9th ed. Boston: Pearson Education.
Make a Gift
Home / Guides / Writing Guides / Parts of a Paper / How to Write a Strong Thesis Statement
How to Write a Strong Thesis Statement
A thesis can be found in many places—a debate speech, a lawyer's closing argument, even an advertisement. But the most common place for a thesis statement (and probably why you're reading this article) is in an essay.
Whether you're writing an argumentative paper, an informative essay, or a compare/contrast statement, you need a thesis. Without a thesis, your argument falls flat and your information is unfocused. Since a thesis is so important, it's probably a good idea to look at some tips on how to put together a strong one.
Guide Overview
What is a "thesis statement" anyway.
2 categories of thesis statements: informative and persuasive
2 styles of thesis statements
Formula for a strong argumentative thesis
The qualities of a solid thesis statement (video)
You may have heard of something called a "thesis." It's what seniors commonly refer to as their final paper before graduation. That's not what we're talking about here. That type of thesis is a long, well-written paper that takes years to piece together.
Instead, we're talking about a single sentence that ties together the main idea of any argument . In the context of student essays, it's a statement that summarizes your topic and declares your position on it. This sentence can tell a reader whether your essay is something they want to read.
2 Categories of Thesis Statements: Informative and Persuasive
Just as there are different types of essays, there are different types of thesis statements. The thesis should match the essay.
For example, with an informative essay, you should compose an informative thesis (rather than argumentative). You want to declare your intentions in this essay and guide the reader to the conclusion that you reach.
To make a peanut butter and jelly sandwich, you must procure the ingredients, find a knife, and spread the condiments.
This thesis showed the reader the topic (a type of sandwich) and the direction the essay will take (describing how the sandwich is made).
Most other types of essays, whether compare/contrast, argumentative, or narrative, have thesis statements that take a position and argue it. In other words, unless your purpose is simply to inform, your thesis is considered persuasive. A persuasive thesis usually contains an opinion and the reason why your opinion is true.
Peanut butter and jelly sandwiches are the best type of sandwich because they are versatile, easy to make, and taste good.
In this persuasive thesis statement, you see that I state my opinion (the best type of sandwich), which means I have chosen a stance. Next, I explain that my opinion is correct with several key reasons. This persuasive type of thesis can be used in any essay that contains the writer's opinion, including, as I mentioned above, compare/contrast essays, narrative essays, and so on.
2 Styles of Thesis Statements
Just as there are two different types of thesis statements (informative and persuasive), there are two basic styles you can use.
The first style uses a list of two or more points . This style of thesis is perfect for a brief essay that contains only two or three body paragraphs. This basic five-paragraph essay is typical of middle and high school assignments.
C.S. Lewis's Chronicles of Narnia series is one of the richest works of the 20th century because it offers an escape from reality, teaches readers to have faith even when they don't understand, and contains a host of vibrant characters.
In the above persuasive thesis, you can see my opinion about Narnia followed by three clear reasons. This thesis is perfect for setting up a tidy five-paragraph essay.
In college, five paragraph essays become few and far between as essay length gets longer. Can you imagine having only five paragraphs in a six-page paper? For a longer essay, you need a thesis statement that is more versatile. Instead of listing two or three distinct points, a thesis can list one overarching point that all body paragraphs tie into.
Good vs. evil is the main theme of Lewis's Narnia series, as is made clear through the struggles the main characters face in each book.
In this thesis, I have made a claim about the theme in Narnia followed by my reasoning. The broader scope of this thesis allows me to write about each of the series' seven novels. I am no longer limited in how many body paragraphs I can logically use.
Formula for a Strong Argumentative Thesis
One thing I find that is helpful for students is having a clear template. While students rarely end up with a thesis that follows this exact wording, the following template creates a good starting point:
___________ is true because of ___________, ___________, and ___________.
Conversely, the formula for a thesis with only one point might follow this template:
___________________ is true because of _____________________.
Students usually end up using different terminology than simply "because," but having a template is always helpful to get the creative juices flowing.
The Qualities of a Solid Thesis Statement
When composing a thesis, you must consider not only the format, but other qualities like length, position in the essay, and how strong the argument is.
Length: A thesis statement can be short or long, depending on how many points it mentions. Typically, however, it is only one concise sentence. It does contain at least two clauses, usually an independent clause (the opinion) and a dependent clause (the reasons). You probably should aim for a single sentence that is at least two lines, or about 30 to 40 words long.
Position: A thesis statement always belongs at the beginning of an essay. This is because it is a sentence that tells the reader what the writer is going to discuss. Teachers will have different preferences for the precise location of the thesis, but a good rule of thumb is in the introduction paragraph, within the last two or three sentences.
Strength: Finally, for a persuasive thesis to be strong, it needs to be arguable. This means that the statement is not obvious, and it is not something that everyone agrees is true.
Example of weak thesis:
Peanut butter and jelly sandwiches are easy to make because it just takes three ingredients.
Most people would agree that PB&J is one of the easiest sandwiches in the American lunch repertoire.
Example of a stronger thesis:
Peanut butter and jelly sandwiches are fun to eat because they always slide around.
This is more arguable because there are plenty of folks who might think a PB&J is messy or slimy rather than fun.
Composing a thesis statement does take a bit more thought than many other parts of an essay. However, because a thesis statement can contain an entire argument in just a few words, it is worth taking the extra time to compose this sentence. It can direct your research and your argument so that your essay is tight, focused, and makes readers think.
EasyBib Writing Resources
Writing a paper.
Academic Essay
Argumentative Essay
College Admissions Essay
Expository Essay
Persuasive Essay
Research Paper
Thesis Statement
Writing a Conclusion
Writing an Introduction
Writing an Outline
Writing a Summary
EasyBib Plus Features
Citation Generator
Essay Checker
Expert Check Proofreader
Grammar Checker
Paraphrasing Tools
Plagiarism Checker
How useful was this post?
Click on a star to rate it!
We are sorry that this post was not useful for you!
Let us improve this post!
Tell us how we can improve this post?
Grammar and Plagiarism Checkers
Grammar Basics
Plagiarism Basics
Writing Basics
Upload a paper to check for plagiarism against billions of sources and get advanced writing suggestions for clarity and style.
Get Started
Write my thesis
Thesis writers
Buy thesis papers
Bachelor thesis
Master's thesis
Thesis editing services
Thesis proofreading services
Buy a thesis online
Write my dissertation
Dissertation proposal help
Pay for dissertation
Custom dissertation
Dissertation help online
Buy dissertation online
Cheap dissertation
Dissertation editing services
Write my research paper
Buy research paper online
Pay for research paper
Research paper help
Order research paper
Custom research paper
Cheap research paper
Research papers for sale
Thesis subjects
How It Works
How Long Should a Thesis Statement Be?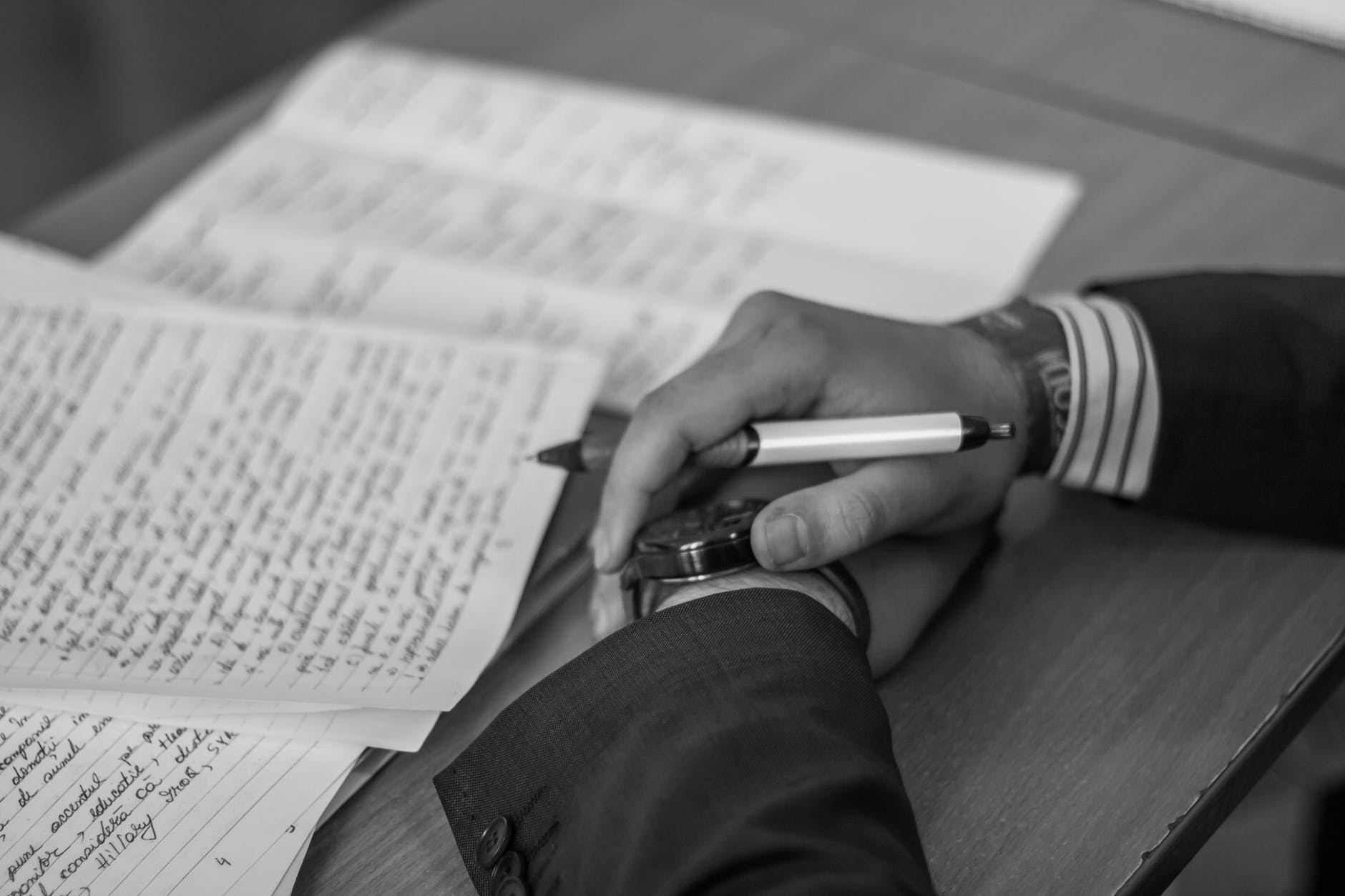 Students often ask how long should a thesis statement be when given a paper to write. This article addresses frequently asked questions concerning thesis statements and other relevant issues. We will answer several questions, including how many words in a thesis and how long should a thesis statement be.
How Long is a Thesis Statement, and Where Should it Be?
How long can a thesis statement be and not be, how long should a thesis statement be for a high school student, how many sentences are in a thesis statement, how long should a thesis paper be, how long is a thesis supposed to be for high school essay, how long are thesis statements for college essays, what is the length of a typical thesis statement for professional research papers, how long does a thesis paper have to be.
How long is a thesis paper that determines many things and has brought about several questions like how many words should a thesis statement be? It should not be too long, thirty to forty words at the most. As a rule, your thesis statement should reflect your knowledge and the scope of the essay you are writing. Whether you are writing an analytical research paper or an essay, the thesis statement should be in the introduction part. Your thesis should be at the beginning of the paper, preferably in the first paragraph.
A too-short thesis statement won't give the sufficient information an audience needs, while one too long will be offering too much. This is something to keep in mind when researching; how long should a thesis statement be? Regardless of how long your essay or research paper is, your thesis statement should explain your position in short sentences. That means it should be convincing enough to get your audience interested in your point of view. Your thesis statement should not exceed one paragraph, whether you're writing a school essay or an in-depth research paper.
If you're writing a paper in high school, your thesis shouldn't be more than two sentences long. Your teacher doesn't expect you to have an extremely elaborate thesis statement as a high school student. So, one or two short sentences indicating your essay's aim should be more than enough. Knowing how many sentences are in a thesis statement helps ensure you don't overdo it.
How many sentences should a thesis statement depend on what type of paper you are writing? A thesis statement should normally be no more than two sentences long unless you are writing a very long paper. Your thesis statement should be short and straight to the point, declaring your specific position on the topic you're writing on.
A good thesis will strike the right balance between not having a flat thesis and not giving too much information. How many sentences are in a thesis determines how many should be in a thesis statement?
A thesis paper is usually forty pages long, but it varies significantly from project to project and from one expertise level to another. This number includes texts, figures, and a list of references, but it doesn't include appendices. Also, don't take these generalizations on how long should a thesis be too seriously, especially if you're working on a labor-intensive project.
How Many Words is a Thesis?
How long a thesis is usually around eighty to a hundred thousand words long, depending on the topic's depth. At the master's or college level, a thesis fluctuates between fifteen and twenty thousand words. However, research journals ask for articles no more than three to five thousand words. After knowing how long is a thesis, the next question is, how long should your thesis statement be?
Your thesis in high school should be short, depending on what topic you are working on. It is better to contain one concise sentence, clearly stating your thoughts on the topic. It is this thought you'll expound on later in the essay. Always ask your teacher or instructor for clarity on how long is a thesis statement.
A college thesis statement's length depends on how many sentences is a thesis and how many points a writer mentions. It should contain at least two clauses, an independent clause, your opinion, and a dependent clause, the reasons. It would help if you aimed for a single sentence at least two lines long, or at most forty words long.
A typical thesis statement for professional research papers is usually no more than fifty words long. However, thesis statements don't exactly have an exact word count, but most experts advise staying within that range. Once you know how long are thesis papers, you'll have an idea of how long a thesis statement should be.
A single sentence clearly stating your position is great, but it may be hard to compress all your thoughts into one sentence. Thus, if you can't do one sentence, you can keep it to two, four at the most, lines in a paragraph.
Your thesis paper has to be as long as the instructions say; there is no one-rule-fits-all answer to this question. If you're writing a thesis paper in college, it wouldn't be as long as writing a Ph.D. thesis paper . A thesis length is at least three thousand words and at most a hundred thousand. How long should a thesis be in an essay is a common question for people new to writing professional research papers.
Your thesis statement may be short or long, depending on your academic level. While there is no one rule on how long is a thesis statement supposed to be, experts advise 20-50 words. Long or short, your thesis should clearly state your paper's aim in one to four lines; leave out irrelevant words. If you need professional help writing your thesis, you can contact our expert team to give you the best services.
Leave a Reply Cancel reply
As Putin continues killing civilians, bombing kindergartens, and threatening WWIII, Ukraine fights for the world's peaceful future.
Ukraine Live Updates
  

[email protected]

Phone Number   844.684.0456   (Hours)
Shapiro Library
SNHU Library Frequently Asked Questions
FAQ: How long should my thesis statement be?
42 Access/Remote Access
6 Accessibility
11 Building/Facilities
8 Career/Job Information
30 Catalog/Print Books
33 Circulation
118 Citing Sources
20 Copyright/Plagiarism
333 Databases
26 Directions/Location
11 Faculty Resources/Needs
23 Global Campus Specific
12 Hours/Contacts
19 Innovation Lab & Makerspace/3D Printing
23 Interlibrary Loan
63 IT/Computer/Printing Support
3 Library Instruction
1 Mobile Services
11 Multimedia
23 Periodicals
22 Policies
2 RefWorks/Citation Managers
8 Research Guides (LibGuides)
203 Research Help
4 Social Media
24 University Services
3 Workshops/Events
60 Writing & Presentation Help
Answered By: Jennifer Harris Last Updated: Oct 23, 2020     Views: 25611
Thesis statements are often one sentence, however, in some cases (e.g. a very in-depth or detailed paper) it may be appropriate to include a longer thesis statement.
You should ask your professor for their advice if you think you need to use a thesis statement that is longer than one sentence.
Remember that depending on the type of paper you are writing, thesis statements should either be a description of the subject of your paper (i.e. an "explanatory" thesis) or should be an argument or claim (i.e. an "argumentative" thesis). Keep thesis statements concise, without extra words or extraneous information; if you are having trouble keeping your thesis statement to once sentence, consider whether your thesis is specific enough, directly supports your paper, and accurately describes or argues the purpose or claim in your paper.
Further Help
This information is intended to be a guideline, not expert advice. Please be sure to speak to your professor about the appropriate way length of a thesis statement in your class assignments and projects.
Campus Students
To access academic support, visit your Brightspace course and select "Tutoring and Mentoring" from the Academic Support pulldown menu.
Online Students
To access help with citation and more, visit Academic Support via modules in Brightspace:
The Complete Guide to Using Academic Support via Brightspace This link opens in a new window
Accessing Writing STEM Help This link opens in a new window
Share on Facebook
Was this helpful? Yes 23 No 44
Frequently Asked Questions (FAQs) are a self-serve option for users to search and find answers to their questions.
Use the search box above to type your question to search for an answer or browse existing FAQs by group, topic, etc.
Tell Me More
Link to Question Form
Submit a Question
Related FAQs
How long is a Thesis Statement: write good thesis sentences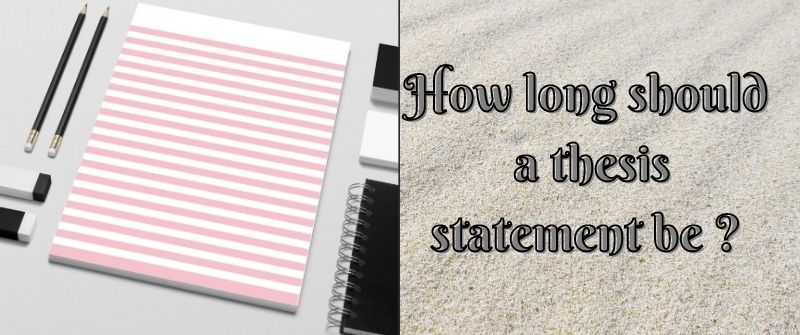 A thesis statement identifies the discussion topic by including the points being discussed in your paper. You will place your thesis statement in the introduction. We use the thesis statement to draw the attention of the reader to continue to explore the topic.
A thesis statement can limit what you want to write about. It is a platform where you will be informing your reader what you intend to cover in the paragraph body.
How long is a Thesis Statement?
In the case of more extended essays, you will have to write a longer thesis statement.
As such, you should express using words concisely. You should try to keep the thesis statement short as you capture the main ideas well.
How to Write a Good Thesis Statement
Writing a thesis statement will require proof and not a statement of facts. The author must support the thesis statement with clear evidence to motivate the audience to continue reading it. 
When you are handing a persuasive thesis, it usually contains an opinion and offers the reason why the opinion is valid. Use the following variable when writing a good thesis statement: 
1. Know the Topic
2. begin with a question.
For example, when you are writing an argumentative essay, the question may prompt you to take sides, as given in the below example.
3. Write Your Initial Answer
The gaming app has a more positive impact on kids than negatives.
4. Limit Your Topic
5. state the main idea, 6. develop an answer.
At this stage, you need to convince your reader to believe that this is your answer. You should give a detailed answer as you read more about the topic and write.
7. Acknowledge any Opposing Viewpoint
How Long Should a Thesis Be
How Long Should a Thesis Be? Tips for Creating a Perfect Paper
Thesis Outline Part 1 – Abstract, Contents, and Introduction
Thesis outline part 2 – methods, results, discussion, thesis outline part 3 – conclusions, recommendations, and references.
In academic writing, a thesis is related to complex papers. Usually, it is called a Master's or a Doctoral thesis and can be compared to a dissertation. The main differences between them are size and width of uncovered topic. How long should a thesis be? 
Undeniably, it takes months to complete a well-researched work and it's easier to delegate this difficult task to professionals who will help write a thesis quickly and with quality in mind.
Students place abstract on 2 pages
An introduction should be placed on 3-5 pages
The Methods section can be up to 10 pages long
Results take 10 pages
Discussion can be placed on 15 pages
The conclusion takes 2-3 pages
Appendix and other auxiliary parts of work can take up to 30 pages
Complete paper contains 60-70 pages
If we take the article length, a dissertation should be at least three articles long. Read our guide to identify how long is a dissertation . Thesis takes space of one article. When university students choose a thesis to work on instead of a bibliographic essay, they do it for leaving a possibility to evaluate a research in the future.
There are more questions related to thesis writing appearing. What to include into a good text? If people make theses longer, will they become better? This article is a universal answer to all specific questions concerning proper writing.
Every academic paper begins with title page. Its structure depends on the chosen formatting style. An abstract follows it. This is an important part that describes thesis utility. It must be short and take 1-2 paragraphs, about 400 words and contain short summary of results, methods, etc. Here are questions to answer in this part:
What was the reason to write this paper?
What thesis statement to prove or disprove?
What were your instruments? (describe main methods of research)
What did you find out?
Why are the results important?
Avoid citations, try to use more numbers. An abstract for dissertation or thesis should be qualitative. After it, the table of contents follows. Group all headings and subheadings into one complex list. If figures and tables are used, enlist their names, point page number of each one.
The first big part is the introduction for thesis . It may seem similar to an abstract. It pursues different goals – reader hooking, providing background information and logical transition to your own research. Here is what you need to disclose in this chapter:
Enough background information about previous researches should be presented to make readers understand place of text in science system.
Give an explanation concerning contents – what will be included into thesis.
Provide readers with verbal 'road maps'.
Cite previous works. The citations must be related to text's goals. Do not list everything you have read about subject.
These sections must take three pages of paper, excluding contents and table lists.
These are essential parts. They contain information concerning your own research. Answering main question of our post (how long should a thesis be?), these parts must take at least 30-40 pages. Let's find out what Ph.D or Master's thesis paper shoud present in these chapters.
The methods section is text's explanatory part. There you have to provide readers with clear information and details that allow repeating the research and experiments. Traditionally, methods section is divided into three parts – materials, participants, ways of analysis. Materials imply full description of all instruments and quntitative and qualitative methods used for making research.
Participants part, just like a research paper discussion , describes people or subjects analyzed, including regulations of choice. Ways of analysis present all research approaches used to get results. This part describes area and circumstances of your experiments and helps to identify if they were legitimate and relevant.
Results part contains relevant statements of observations with statistical data, graphs, tables, etc. The section is divided into paragraphs, where key results are arranged into sentences at beginning. Do not forget about negative results, if possible. The main goal of section is data structuring to be helpful for readers to make own conclusions. Mention the nature of data found.
Discussion part is where you interpret results and adjust them to a thesis statement and goals. Disclose patterns and relationships between the observations found, find possible exceptions and discuss if the results correlate with previous researches. Each interpretation you make should be supplied with sufficient evidence. Define if materials are working for the future researches as well. This chapter is the richest in referencing to background material and other parts of your paper.
Here you make the strongest statement concerning observations. Highlight the information you want readers to remember. Explain how the results correlate with the problems you have indicated in the introduction. Describe all new things that are significant in finding a solution and provide limitations examples .
The recommendations part is for giving advice and indicating other actions that will help to solve particular problems. Sound your own opinion about the direction of future research. Most of the time you have to write it. Just like a research proposal . 
Acknowledgment for thesis  is a paragraph where you mention everyone who helped you with composition. Place all cited and used information resources into one list or form an annotated bibliography if needed.
All kinds of data used in writing, not cited and used resources directly go to the appendices part. This section is last. Along with conclusions they may take up to 10 pages.
What is the direct answer to our question? How long should a thesis be? Experts from a writing site assume, it takes about 60-70 pages. It depends on your research and subject. The length does not matter, actually. The most important thing you need to do is make a complete and complex paper. Provide everything from A to Z - no one will recall the thesis length.
Have you started doing a Ph.D. yet? And now you wonder what it takes to write a dissertation. How long is it supposed to be? How much time will you need to complete it? What is the best way to approach a dissertation? Let us try to answer the most common questions associated with academic research o...
College puts every student through an obstacle course. Whether labs or essays or researches, every type of assignment requires scrupulous work. It means a student is expected to be switched on all the time. Is it possible to meet all the requirements? A better question is, do you need it? From study...
Writing a master's thesis requires a lot of patience. It's not something you can create in a few days. It's a large scale project, so you'll have to make a strict schedule and write a little piece every day. Do you feel it's a difficult job for you and you need thesis help? Instead of devoting your ...
70 Examples of Excellent Thesis Statements for Essays in All Subjects
Looking at examples of thesis statements can be helpful when you're crafting a thesis statement to guide your essay.
We've already looked at how to write a thesis statement and the thesis statement formula . In this article, we'll present a ton of examples of thesis statements for a range of different subjects.
When you read through them, you should start to see a pattern emerge in terms of how they typically adhere to the following set of rules:
A single sentence located at the end of your introduction.
Tells the reader what your opinion is and what you are going to explore within your essay introduction .
Directs your reader to the main arguments you will present.
A good dissertation editor will be able to help you ensure your thesis statement is strong and is structured properly.
Can a Thesis Statement Include More Than One Question?
A thesis statement does not need to be a single sentence. The length of your thesis statement will vary according to the complexity of the subject you are exploring.
In some cases, a single sentence may suffice. However, in other cases, you may use two, or even three, sentences
Your overall aim should be to ensure the statement is as short and direct as possible, as this will help you to appear confident. This is particularly important in argumentative essays .
Let's remind ourselves of the basics of a good thesis statement.
70 Strong Thesis Statement Examples for Research Papers and Dissertations
Now we've covered the basis, let's take a look at some really great examples of thesis statements.
15 Example Thesis Statements on the Social Sciences
Climate change is a pressing global issue that requires immediate action, as it threatens to undermine the stability of entire ecosystems, disrupt economies, and jeopardize the health and well-being of future generations.
The role of technology in education cannot be underestimated because it has the potential to transform the learning experience, enhance the quality of education, and provide students with access to information and resources that were previously unavailable.
The use of renewable energy sources such as solar, wind, and hydropower is crucial to achieving a sustainable future, as it reduces dependence on finite resources, minimizes greenhouse gas emissions, and protects the environment.
The widespread prevalence of fake news and misinformation on social media is a growing concern, as it undermines the credibility of journalism, public trust in information, and the democratic process.
The rise of automation and artificial intelligence in the workplace is transforming the way people work, leading to increased productivity and efficiency; however, it is also linked with job displacement and the need for workers to acquire new skills.
The intersection of race, gender, and class has a significant impact on a person's life opportunities and experiences, and it is crucial to understand these intersections in order to address systemic inequalities and promote social justice.
The growing demand for food and the increasing use of industrial agriculture are putting a strain on the environment, leading to soil degradation, deforestation, and increased greenhouse gas emissions.
The phenomenon of gentrification is transforming cities, leading to the displacement of low-income communities, the loss of cultural diversity, and the commodification of urban spaces.
The impact of mass migration on countries and communities is complex and far-reaching, leading to both cultural enrichment and increased social and political tensions.
The growing concern about income inequality and wealth disparity has important implications for social and economic mobility, as well as for the stability of democracies and the legitimacy of political systems.
The rise of nationalism and populism around the world is challenging the stability of global institutions and the foundations of democratic systems. It raises important questions about the role of the nation-state in the 21st century.
Elon Musk, the billionaire entrepreneur and innovator, has made a significant impact on the tech industry and the world as a whole through his numerous ventures and ambitious projects, making him a visionary leader and a symbol of technological progress. However, his actions and public statements have also generated controversy and criticism, calling into question the ethical and social implications of his vision for the future.
Bitcoin, the decentralized digital currency, has revolutionized the financial industry and challenged traditional financial systems. However, the growing popularity and acceptance of Bitcoin has also brought to light important issues regarding security, regulation, and the potential for negative impacts on the economy and society as a whole.
Quantum computing, a rapidly evolving field that harnesses the principles of quantum mechanics to perform calculations, has the potential to revolutionize the computing industry and solve complex problems that are beyond the capabilities of traditional computers; however, quantum computing poses a significant threat to contemporary society that should not be overlooked.
Electric cars have emerged as a promising alternative to traditional gasoline-powered vehicles, holding great promise for reducing humanity's dependence on fossil fuels. However, this technology is not sustainable or viable on a long-term basis
15 Sample Thesis Statements for Literary Analysis Essays
The political and social developments of the 18th century had a significant impact on the development of the English novel, which reflected both the ideals and the realities of the time.
The Romantic movement in English literature constituted a notable divergence from the Enlightenment ideas of reason and order by emphasizing emotion, imagination, and individualism.
Although Jane Austen is well known for her wit and social satire, her writings also serve as a commentary on the discrimination that women encountered in early 19th-century England.
The manner in which authors of the Victorian era portrayed non-European cultures and peoples is one way to show how colonialism and imperialism had an impact on English literature.
The literature of the Victorian era reflects the position of women in English society at the time, with female characters frequently acting as icons of moral and cultural values.
The use of symbolism within English literature serves as a potent instrument for examining complicated themes and ideas, from the profound to the ridiculous.
When writers like James Joyce and Virginia Woolf introduced the stream-of-consciousness narrative approach, the English novel underwent a revolution that allowed for a new degree of depth and reflection in storytelling.
The writings of English Romantic poets, like William Wordsworth and Samuel Taylor Coleridge, marked a turning point in the development of English literature by ushering in a novel kind of writing that praised the natural world, human emotion, and unique experiences.
From Beowulf to Paradise Lost, the evolution of the English epic poem reflects the shifting morals and ideologies of English society over time, as well as its changing perception of who we are and where we belong in the world.
The three Bronte sisters—Charlotte, Emily, and Anne—used literature to question the restrictions and standards that were imposed on women in 19th-century England, setting a new precedent for female emancipation.
With its rigid structure and rhyme schemes, the English sonnet tradition has been a well-liked and enduring manner to convey one's thoughts on both the political and personal levels as well as the human condition.
With its emphasis on experimentation, fragmentation, and psychological depth, the Modernist movement in English literature marked a significant shift from the realism and naturalism of older literary traditions.
The evolution of English literature in the 20th century was greatly influenced by the writings of T.S. Eliot and W.B. Yeats, which capture the period's intellectual and cultural upheaval as well as the significant changes evident in European society.
The expansion of the English empire and its influence over the world had a significant impact on the literature of the nation, influencing new kinds of storytelling as well as the themes, writing techniques, and perspectives of its authors.
From the biblical account of the Fall to the Greek myth of Orpheus and Eurydice, the use of allegory and myth in English literature has been a potent means of examining difficult concepts and universal truths.
10 Sample Thesis Statements on History
Beginning in 1789, the French Revolution marked a significant turning point in European history that eventually resulted in the collapse of the monarchy and the foundation of a democratic republic.
The American Civil War, which took place between 1861 and 1865, was a pivotal event in the history of the nation, influencing its political structure, identity, and values for a number of years.
An important turning point in world economic and social history, the Industrial Revolution, which started in England in the late 18th century, fundamentally changed how products were created and consumed, leading to significant changes in the lives of people all over the world.
One of the biggest and most influential empires in history, the Roman Empire, which ruled from 27 BC to 476 AD, had an impact on the growth of art, architecture, law, and language throughout the Mediterranean region.
The Enlightenment, an intellectual and cultural movement that began in Europe in the 18th century, represented an important turning point in the history of ideas and gave rise to new ways of thinking about politics, religion, and society.
One of the deadliest and most significant conflicts in modern history, the First World War, which raged from 1914 to 1918, drastically altered the political, social, and economic climate of Europe and other parts of the world.
The Cold War, which lasted from 1945 to 1991, marked a pivotal period in the history of the 20th century, impacting the advancement of science, technology, and culture as well as the political and military landscape of the world.
The 1754–1763 French and Indian War was a pivotal period in the history of the American colonies, paving the way for the ultimate independence of the United States and determining the course of the nation's future.
Capitalism, which first appeared in Europe in the 16th and 17th centuries, marked a significant turning point in the development of modern market economies and the lives of millions of people.
An important turning point in the history of the American colonies was the American Revolution, which took place between 1775 and 1783 and ultimately resulted in the independence of the United States and the development of a new system of government.
10 Example Thesis Statements on Art
The Italian Renaissance, which started in the 14th century and lasted until the 17th, was a time of great artistic and cultural revival. The painting, sculpture, and architectural expressions that emerged during this time had a significant influence on Western art and culture.
A time of great artistic and cultural diversity, the Baroque period was characterized by the emergence of new forms of artistic expression, such as painting, sculpture, and music, that reflected the religious, political, and cultural values of the day.
The late 19th-century French Impressionist style was a ground-breaking trend in painting that aimed to represent the fleeting, transient effects of light and color in the natural world.
Mid-20th-century modern art movement known as Abstract Expressionism, which emphasized spontaneous, expressive brushwork and explored the emotional and psychological components of the creative process, was a prominent force in the world of contemporary art.
Pop Art, a modern art movement that began in the middle of the 20th century in response to the Abstract Expressionist movement, was distinguished by its use of common objects, commercial imagery, and vibrant colors to produce a fresh kind of art that was approachable and pertinent to popular culture.
Surrealism, a modern art movement that began in the 1920s, used methods like automatic drawing and dream-like images to produce a new kind of work that was both strange and enticing while prompting an investigation of the subconscious mind.
The 1920s and 1930s saw the emergence of the Art Deco movement, which aspired to create a new genre of modern art that was elegant, sophisticated, and representative of the contemporary world. It was distinguished by its use of geometric shapes, brilliant colors, and metallic finishes.
Gothic Art, a key influence on Medieval art that first appeared in the 12th century, is known for its concentration on lofty cathedrals, exquisite stained glass, and ornate sculptures that capture the period's religious and cultural values.
The Romanesque period was a time of great artistic and cultural rebirth. Painting, sculpture, and architectural styles all emerged during this time, and they had a significant influence on Western art and culture.
The 19th-century art movement known as realism tried to portray the world as it actually was by employing precise, lifelike depictions of people, places, and things to produce a new kind of art that was both realistic and compelling on an emotional level.
15 Examples of English Language Thesis Statements
Due to historical, cultural, and social influences on the development of the English language, numerous dialects and variations have emerged all over the world. For individuals, groups, and cultures, the emergence of English as a world language has yielded both benefits and challenges and had a profound impact on global language education and language policy.
Understanding the structure, purposes, and meanings of English allows us to better comprehend how language both influences and is influenced by human cognition, perception, and interaction.
The widespread use of English in digital communication and social media has given rise to new linguistic elements and conventions, like emoticons, acronyms, and hashtags, which have significantly changed how our ability to express ourselves and interact with others.
The English language has taken on a greater significance in higher education because it is frequently the language of instruction and research in many academic subjects and is necessary for worldwide communication and collaboration.
Studying English as a second or foreign language requires not only learning linguistic abilities but also gaining intercultural competence and the capacity to deal with diversity and cultural differences.
The influence of the English language on other languages has led to phenomena such as word borrowing, grammar borrowing, and punctuation changes. This has led to a fundamental change in language boundaries and the emergence of hybrid forms of language.
English usage in the workplace has become crucial for successful communication and career advancement, especially in multinational organizations and international industries. This has resulted in the growth of specialized linguistic abilities and discourse patterns.
Language diversity and linguistic justice have become ethical and political hot topics as a result of how English has affected the identities and cultural practices of speakers of other languages, led to the extinction of indigenous languages, and initiated negotiations over language rights and language maintenance.
Understanding the cultural, historical, and social circumstances in which literary works were created helps us to examine and interpret the literary works' artistic and aesthetic qualities as well as its larger relevance and societal effects.
The widespread use of English in popular culture, such as music, film, and television, has significantly influenced the language's acceptance around the world and sparked the development of new genres, styles, and modes of expression.
By studying English as a discourse community and examining its norms, practices, and communication techniques, it is possible to get insight into the power structures and social hierarchies that influence how people use language and formulate language ideologies.
English's use in the tourism sector as a universal language and a vehicle for cross-cultural engagement has had economic and social repercussions for both host communities and guests, sparking discussions about how globalization is affecting regional cultures and identities.
English should be taught to all children since it not only fosters language proficiency but also creativity, social responsibility, and critical thinking.
The impact of English on the linguistic landscape of cities and communities, including the use of English in media, ads, and public signs, reflects language interaction dynamics and the negotiation of linguistic identities and rights.
The impact of English on the linguistic landscape of cities and communities, including the use of English in public signs, advertisements, and media, reflects the dynamics of language contact and the negotiation of linguistic identities and rights.
As you will see from all the example thesis statements shared above, a good thesis statement follows a general formula.
How to Write a Thesis Statement: Complete Writing Guide
To avoid this problem and work with coherent structure, one must know how to write a good thesis statement. This post will break down the statements purpose as well as fundamental elements necessary to create an effective thesis. Let's go deeper with custom essay service .
What Is a Thesis Statement?
One of the main reasons students struggle with their thesis statements is a lack of technical understanding. It can be hard to grasp the fact that the thesis is, single-handedly, the most important sentence in the entire text. The rest of the paper is made up of supporting points to support the thesis statement.
"What is a thesis statement?" – A thesis statement is the main argument or point that is set out to be proven using tools like logical and/or emotional reasoning. It is the root from where the rest of your paper grows. The goal of a thesis-based paper is to make a claim about the relevant topic of discussion and defend this claim with logic, analysis, and third-party validation (external sources).
Need a Perfect Thesis Statement?
We only need your requirements to create an original paper with proper essay format .
You should not confuse your thesis statement with an introduction—as most students asking about how to start an essay do! An essay's thesis is mostly used to close your introduction rather than substitute it. So when writing an introduction, you should first hook the readers, introduce your topic, and only then state a thesis.
Another question is: "What is a good thesis statement?" In order to have a good thesis statement, the author must be well-informed about the topic at hand. He/she should have factual confirmation from other parties (experts, and primary & secondary sources) before developing the main statement. This is why it is important to do research and have accurate comprehension of the topic before brainstorming ideas.
Why It Is so Important
Essentially, a thesis statement is the best way to organize your thoughts and narrow down the focus of the paper. If you know exactly what you aim to prove, you will have an easy time making valid points, defending your logic, etc. This statement should be the first thing an author creates when starting to work on the paper.
A good thesis statement can help make your paper more logical and focused, and even simplify the writing process for you. When you understand the main idea of your paper, you can express it in a clear and intelligible manner throughout the paper.
Another reason why the thesis statement is so important is that you are not likely to get an A for an essay which doesn't include a thesis statement. It is one of the first things a Professor evaluates in an academic paper and one of the main factors for your grade.
Can a Thesis Statement Be a Question?
Another common question to pop up is, "Can a thesis statement be a question?" The short answer would be "No". The goal of the thesis is to explain what the paper will cover. It is impossible to fulfil this mission with a question. According to the definition, this part of the academic paper presents the argument a writer has to support using credible sources in the rest of the text. A claim can never be a question. The conclusion should pose no new questions, and the thesis can even be considered the overarching conclusion.
Get essays help - leave us a message 'help me with essay' and we'll give you a hand.
Length Requirements: How Long Should a Thesis Statement Be?
The length of a thesis statement should not be too long. As a thesis statement is a concise summary of a main claim, it should consist of a single, complete sentence. Some circumstances may require two to three sentences, depending on the length of the entire paper. Example: a five-paragraph essay should only have a single-sentence thesis. The writer should summarize the idea of the paper. If one is writing a twenty-page research paper, the statement will likely require several sentences as there will be more information to cover.
Elements of a Thesis Statement
An essay's thesis consists of the following elements:
The main idea of your paper expressed in a simple sentence.
The reason(s) why you support and choose this idea.
A counterargument to your claim. This is a valid piece of information which can, in turn, support your position. Use it only in case you have one.
So after you have determined these points, you should organize them in one or two coherent sentences. Here is an example of a good thesis statement that includes all of the necessary elements mentioned above:
Example:Though uniforms can improve unity in schools, schools should not make students wear them.
This statement is based on the idea that uniforms can limit students' freedom, which is, in a way, a violation of basic human rights.
Points to check to see that your statement is strong:
It's brief and carries valuable information.
It gives a clear argument which shows your opinion.
It has a logical basis and is backed by basic logic or facts.
The thesis statement should highlight the topic, the claim, and the major points which you are going to use in your academic paper to support the claim.
Another example of a thesis statement:
Example: Stress in the fast-food workplace can lead to serious physical, psychological, and emotional problems for employees. Topic: stress Claim: can lead to serious problems Major points: physical, psychological and emotional problems.
In your thesis you should provide an interpretation of a subject, not the subject itself.
Here are examples of good and bad thesis statements:
Example 1: A: The death penalty should not be abolished because people who commit violent crimes should be punished. B: Although many argue that human life is sacred, the death penalty should remain for people that commit brutal crimes and offer no positive value to their society.
Which one is the good option? That's right, thesis B is better because the author gave a more descriptive and narrowed version for their beliefs. This makes it easier for them to prove their point overall.
Example 2: A: Owning a college degree should not be a requirement for professional positions in the workforce. B: If a candidate has work experience, reasonable competency in the field, and shows a strong work ethic, they should not be disqualified from competing for a position due to the lack of having a college degree.
Option B provides three distinct subpoints it will use to prove its main statement, while the first sentence just makes a general claim.
Example 3: A: Gun laws should be more strict and demand more requirements because of the increased amount of nationwide shootings. B: A strict gun regulations policy will not reduce nationwide violence since guns are still obtainable illegally, and humans, not weapons, are the catalysts of brutality.
Option B goes more in-depth about why it's claim is correct and presents reasoning that can be justified from many external sources.
How to Write a Thesis Statement
Pick a primary question to answer and come up with a clear, concise response to it in a thesis statement. All essays should have a thesis statement because it is the basic element of nearly any type of paper—apart from perhaps creative writing.
Students commonly spend a lot of time formulating rough ideas without knowing what a thesis statement should include. When writing any type of academic paper, it is important to have an organized system to complete the task promptly.
Here are some tips for formulating a good thesis statement:
Brainstorming is a must! Work along with your peers, family members, or tutors to come up with a list of brilliant ideas and choose a topic based on them. This will help to create a claim. After selecting the topic, try narrowing down the idea to develop a catchy, concise, and clear statement.
Formulate a research question. Here you will need to come up with a research question that you will answer. For example: What are the main factors that lead people to depression and how can it be avoided?
Find an answer and take a position. After you have asked the question, you need to answer it and show your opinion. For example, The main factors that lead to depression are emotional and physical distress, and depression.
Narrow and focus. We can't stress this enough: a well-written paper should not be filled with general information. A writer's goal is to prove a unique point about their topic. Make sure it is reflected in the thesis.
Support your answer with reasoning and evidence. It will help you discover more evidence and sources which can, in turn, help you with further steps for writing your essay.
Use bold language. Avoid passive voice to sound more confident. Apps like Hemingwayapp will help to avoid wordiness and other things that make reading difficult.
Trump the counterargument. Not everyone is going to agree with the points that you make or your argument as a whole. To combat this effectively, find the strongest opposing points to your thesis; then, challenge the counterargument head-on in a body paragraph and present why your point is indeed better.
Check if it fits! Writers will commonly decide to create their body paragraphs before phrasing their thesis statement. A writer may set out to prove one thing to end up proving an alteration of the initial idea. That's why it is important to go back and ensure that the thesis fits with the points you've made. If you have proved something different from the initial claim, fix the main argument when revising it.
Significance matters. This criterion is important to understand the value and overall significance of your thesis. Will the idea you're presenting be interesting and captivating to read, and will the audience want to know what you have to say? The best thesis statements are ones that captivate the reader and leave them thinking about the idea even after reading the final words.
You can also use our rewrite essay service if you need to rewrite an essay.
Video Guide
Thesis statement examples & templates.
For many students, the best way to learn is to see some realistic examples. So here we will see how a thesis statement depends on the aim of the paper:
Argumentative Thesis Statement
Make a claim about a chosen topic/question and try to justify this main argument by using reasons and credible evidence. Decide which type of thesis you plan to use. The main argument could be an opinion, analysis, or proposal. The writer should offer something some people can disagree with. Persuade the audience of your truth throughout the paper.
Example:The Brexit referendum result was caused by working-class frustration with the political elite and by austere policies that have eroded public services and fragmented communities; the referendum offered an alternative to the status quo.
Analytical Thesis Statement
You do not have to introduce a strong argument, you rather need to analyze, interpret, and evaluate different aspects of the same topic. It should introduce the key points of your analysis.
Example:An assessment of a barn owl's flight technique depicts a couple of flight patterns: the ones connected with hunting prey and those related to courtship.
Here is an analytical essay example , read about it.
Expository Thesis Statement
The main aim of an expository thesis statement is to explain and discuss the facts of a topic.
Example:Gerbils are believed to be a perfect pet for kids as they are low-maintenance and cheap.
Compare and Contrast Thesis Statement
In a compare and contrast thesis statement your goal should be to compare, review, and juxtapose the two points.
Example:While Judaism and Christianity are Abrahamic religions sprung from the same cultural hearth, they are different by their implementation of traditions, their realizations of religious cannons, and their perceptions of Jesus Christ.
Cause and Effect Thesis Statement
In a cause and effect thesis statement you need to explain the reason for some event or happening.
Example:The primary reason why high school bullying takes place is the fact that modern teens watch violent videos and play violent video games.
In-Text Examples
Download PDF examples of essays with a thesis statement. The statements are highlighted.
Cricket, in the South of Asia between 1880-2005, played a political role in not only easing tensions and restrictions of caste members, but allowing Pakistan and India to release some political tensions from a religious aspect.
In Jean Rhys' Wide Sargasso Sea, the setting is the hot and colorful West Indies in the post-colonial days. In Charlotte Bronte's Jane Eyre the setting is murky gray England: the heart of the empire and Mr. Rochester's home. Thornfield in Wide Sargasso Sea is depicted as dark and ancient, while Antoinette's surroundings in Jane Eyre are often green and dream-like. The contrasting climates and settings in the two novels showcase how different Antoinette's concept of home is from Jane's, yet they also add parallel qualities to the two novels
If you need, our admission essay writing service will pair you with an experienced academic writer that has written hundreds of excellent thesis statements before and knows all of the ingredients for a successful one.
Still Can't Come Up With a Thesis Statement?
Writing a good thesis statement is never easy. It is the most important piece of an entire essay. Is it possible to create one with minimal effort? If you're thinking about ' pay someone to write my paper ' click down below and fill out the help request form to get in touch with a member of our service. Education doesn't have to be stressful!
Related Articles

The Plagiarism Checker Online For Your Academic Work
Start Plagiarism Check
Editing & Proofreading for Your Research Paper
Get it proofread now
Online Printing & Binding with Free Express Delivery
Configure binding now
Academic essay
Academic writing
APA examples
Bachelor degree
Chicago style
Citing sources
College essay
Dissertation
Graduate school
Harvard referencing
Language rules
Master degree
Methodology
Printing production
Research paper
Research process
Working with sources
Your Step to Success
Printing & Binding with 3D Live Preview
Thesis Statement Example – Importance Of A Good Thesis Statement
How do you like this article.
Inhaltsverzeichnis
1 Definition
3 Writing a Thesis Statement
4 Examples for Research Papers
5 Thesis Statement Examples
6 In a Nutshell
A thesis statement is defined as a sentence or paragraph that expresses the key idea or central message of a research paper. A thesis statement is the foundation of an essay, research paper, or any other piece of academic writing. Thesis statement examples are samples that might help you to find your thesis statement. It comes after the background of information, at the end of the introduction of your research paper. Thesis statements should not be mistaken for research paper introductions. While an introduction is used as a gateway to your research paper to capture the reader's attention, the thesis statement example is a highlight of the paper's main idea.
Thesis statements are fundamental elements in academic writing, particularly research papers and essay writing. When writing a research paper, your argument reflects the article's main idea or central message, which is referred to a thesis statement.
This article highlights everything that you should know about writing a thesis statement and gives you some thesis statement examples that might inspire you.
What is a thesis statement example?
A thesis statement refers to the sentence or set of sentences used in academic writing to offer a way to understand and interpret the thesis topic . It gives a summary of points regarding what will be addressed throughout the research paper or essay. The thesis statement example is a sample for you which can help and inspire you to find your thesis statement.
Can a thesis statement be a question?
The answer is no. A thesis statement cannot be a question. This is because a thesis statement points out a claim or idea that will be supported by the rest of the paper. A question does not give the direction the research paper takes, which is what a thesis statement is about. What you may be thinking about is the research question . The research question forms the basis of your thesis statement.
What are the two types of thesis statements?
There are two types of thesis statements , including argumentative and analytical thesis statements. An analytical thesis statement provides an analysis of the different parts of the main idea of a research paper through a broken-down discussion. The parts are then evaluated and presented in the order of the analysis. An argumentative thesis statement, on the other hand, is the format where the author makes a claim about the topic of discussion then presents their opinion in support of their claim.
How many sentences should a thesis statement have?
The thesis statement should be 1-2 sentences. It presents the thesis topic to the reader as well as the author's stance on this topic and the tone of the paper. In rare cases, the thesis statement can be longer if you're writing a very long and detailed paper, however, it's best to always check with your supervisor or professor.
Tip: For optimal thesis formatting , the thesis statement should always be placed towards the end of the introduction- regardless of the length of the thesis statement.
What is a bad example of a thesis statement?
Bad: Despite an increase in the consumption of dieting products, obesity is on the rise.
Good: Despite an increase in the consumption of dieting products, obesity is on the rise as many dieting products lack proper scientific research regarding the nutritional effects that they have on the body.
The first thesis statement example is vague and unclear. If there are more people on diets, why is obesity still rising? The second thesis statement example is better as it provides evidence to support the claim that is made. You can find more thesis examples at our blog post 'How to Write a Thesis Statement' . These thesis statements were created to serve as examples and as such, no research was conducted on the above topics.
Writing a Thesis Statement
Whether you are writing a dissertation or a simple essay, formulating a thesis statement example can be challenging. Here is a step by step guide on how to write a good thesis statement example.
Make Your Thesis an Answer to Your Research Question
Your thesis statement example must respond to questions arising from any opinion, suggestion, or claim to be made throughout the research paper. This does not mean formulating your thesis statement into a question. It means supporting your paper's main idea by answering questions that the reader may have. You might want to do some research on the topic of discussion before drafting your thesis statement example.
Identify the Right Type of Thesis Statement Example
Some research papers are meant to persuade, while others educate or shed light on specific issues. This is why you need to identify whether your thesis statement example should be analytical, argumentative, or even expository. When choosing the type of thesis statement to use, you might want to have the end in mind by considering the goal of the research paper or essay.
Make a Claim
You should take a firm stance on the topic and address it in detail. This is to ensure that every point made in the thesis statement example is well supported in the body of your essay or research paper. Ensure that your points are clearly addressed. Do not mince your words on your stance.
Your Thesis Statement Must Be Supported with Proof
It is said that a thesis statement example is the punchline of any research. It is in the thesis statement that the paper's body holds together. You must, therefore, ensure that everything said can be backed up with some evidence.
Watch the Length of Your Thesis Statement Example
A thesis statement example should be concise and direct to the point. This is to enable the reader to easily identify and grasp the topic and the direction of your research paper. You might want to limit the length of your thesis statement to about one to two sentences.
Position Your Thesis Statement Appropriately
Due to the significant role that a thesis statement plays, it is essential to find the right place to position it in your research paper. Thesis statements are ideally positioned towards the end of the article's introduction or at the end of the first paragraph. This is where you give the reader a glimpse of what to expect from your research work.
Examples for Research Papers
A thesis statement is an essential component of every piece of academic writing, including a research paper. Depending on the type of academic paper you are writing, a thesis statement example may differ in application. However, that does not exclude your academic work from the guiding principles of writing a thesis statement example. If you are wondering why it is necessary to formulate a thesis statement, here are some reasons why you must consider having one:
• Argument Development
You want your research work to be persuasive and convincing. You must, therefore, have your ideas organized and developed in a comprehensible and academic framework. This is where a thesis statement comes in handy. It enables you to give the reader a glimpse of your claim or stance before engaging the entire research work.
• A Guide to Your Research Work
Most readers want to know what to expect before they can read an article, essay, dissertation, or research paper. This is why you should formulate a thesis statement example. The statement acts as a guide to the argument captured in the rest of the article.
Thesis Statement Examples
Here are some examples of thesis statements:
Thesis printing & binding
You are already done writing your thesis and need a high quality printing & binding service? Then you are right to choose BachelorPrint! Check out our 24-hour online printing service. For more information click the button below :
In a Nutshell
A thesis statement example is a fundamental element in the drafting of any academic work, including essays and research papers.
A thesis statement is a sentence or paragraph that expresses the key idea or main message of a research paper.
There are two types of thesis statements, including argumentative and analytical thesis statements.
Since it points out a claim or idea that will be supported by the rest of the paper, a thesis statement example cannot be used as a question.
A thesis statement example is significant in research paper writing as it is used to develop the author's argument and offer a guide to the entire research work.
Discover more useful articles:
What is works cited? We will give you some information:
In this article we give you information about term paper example:
This article is about how to write a dissertation introduction:
You need some abstract examples? This article might help you:
We use cookies on our website. Some of them are essential, while others help us to improve this website and your experience.
Individual Privacy Preferences
Cookie Details Privacy Policy Imprint
Here you will find an overview of all cookies used. You can give your consent to whole categories or display further information and select certain cookies.
Accept all Save
Essential cookies enable basic functions and are necessary for the proper function of the website.
Show Cookie Information Hide Cookie Information
Statistics cookies collect information anonymously. This information helps us to understand how our visitors use our website.
Marketing cookies are used by third-party advertisers or publishers to display personalized ads. They do this by tracking visitors across websites.
Content from video platforms and social media platforms is blocked by default. If External Media cookies are accepted, access to those contents no longer requires manual consent.
Privacy Policy Imprint
Essay Writing Guide
Thesis Statement Examples

Good Thesis Statement Examples For Your Help
Published on: Oct 18, 2017
Last updated on: Jan 23, 2023
On This Page On This Page
A thesis statement aims to make a claim that will guide the reader throughout the paper. Coming up with a solid thesis statement is the first step in the essay writing process after deciding on the topic.
Understanding the key elements of a solid thesis statement is important for writing impressive research papers.
If you are the kind of person who looks at examples before starting writing, then explore our list of effective thesis statement examples below to start writing your own.
Keep reading the blog until the end and know what it takes to develop a strong thesis statement.
Thesis Statement Examples for Different Types of Essays
A thesis statement is a one-sentence statement that aims to express the essay's main idea to the reader. It makes a claim that directly answers the question.
The following are some great thesis statement examples for essays that will help you better understand the different types of essays they apply in.
Refer to the following section and learn how to write a great thesis statement example from experts.
Please note that the below examples for different types of essays are only written to help you understand the concept better. You should not use these examples as it is for your research paper. However, you can take help and implement your ideas into it that you find interesting.
Thesis Statement Examples for Argumentative Essay
Below are some interesting argumentative thesis statement examples for your help.
Though uniforms are meant to enhance unity and spirit, educational institutes should not force students to wear them. This idea is completely based on the fact that uniforms restrict the student's freedom of expression and it is specifically supported by the fact that restricting the freedom of expression is actually a violation of human rights.
High school graduate students should take a year off to participate in community service projects in order to increase maturity and awareness before entering college.
Thesis Statement Examples for Informative Essay
Refer to the following informative thesis statement examples to get a clear idea.
Feminism was supposed to be used as a weapon for supporting equal rights and not for proving that women were superior to men. In a literal sense, feminism is all about snatching equal rights, not about proving gender imbalance.
Homework pressure can take childhood rights from the kids. Therefore, they should be given less homework to bring out their playfulness.
Thesis Statement Examples for Compare and Contrast Essay
The following compare and contrast thesis statement examples will help you understand how to create a perfect thesis statement.
Although Vaughana Feary and Edmund Wall both consider harassment an unbidden statement, their ideas are not similar in several other points, which makes the scholars view cases of sexual harassment differently.
While bears and bats appear to have not been common at first glance, they are notably similar in their hibernation habits and species classifications.
Thesis Statement Examples for Persuasive Essay
These persuasive essay thesis statement examples can help you understand how to present your essay's main idea.
Baseball is a more exciting, revitalizing, and captivating sport played between two opposing teams.
Jelly and bean sandwiches are the best type of sandwiches because they are easy to make, handle, and taste good.
Narrative Essay Thesis Statement Examples
Refer to these personal narrative thesis statement examples if you are stuck at the start of your essay.
Though the idea of studying abroad seems a costly option, the experience of interacting with other cultures and different learning approaches is worth it.
There is nothing wrong with who chooses not to have children, and society has to understand that. It is not about others' beliefs but her time and life that are at stake.
Thesis Statement Examples for Expository Essay
Here are some excellent expository essay thesis statement examples for your help.
The life of a typical high school student is distinguished by time studying, attending classes, and participating in other peer activities.
The US spends more time on its military budget than all the other industrialized countries combined.
Thesis Statement Examples for Literary Analysis Essay
It will be easier for you to write your excellent literary analysis essay with these thesis statement examples.
In 'Paul's Case' written by Willa Cather, a portrayal of suicidal behaviors among adults is a possible factor that might have been identified and remedied.
The details of 'The Story of an Hour' point out how language, institution, and appearance can suppress the natural desire and ambitions of women.
Cause and Effect Essay Thesis Statement Examples
Learn more about ending the introductory paragraph with these cause and effect thesis statement examples.
The increasing rates of divorces result from poor communication, changing social values, and unrealistic expectations.
Coal miners whose jobs are vanishing should be retrained in other fields such as technology and renewable energy. This will improve local economies and lead to lower unemployment rates.
Thesis Statement Examples for Rhetorical Analysis Essay
Look at these rhetorical analysis thesis statement examples to learn how to represent the final element of your essay introduction.
The author has successfully developed an argument in favor of gun carry but focused on emotional appeal with no factual information that has weakened his argument.
Although Alex includes several convincing, logical arguments using facts, readers may not agree with the presented analysis because of his sarcastic tone.
Strong Thesis Statement Examples
To develop a good thesis statement, you should get help from professionally written examples.
Below are some examples that our expert writers write, and you can easily get an idea from them for your thesis statement.
Thesis Statement Examples History
Here are some history thesis statement examples for your better understanding.
There are many causes for world war 1; the main factor was the new definition of nationalism and a slight upward trend in technology development.
The US clash with the Soviets was an important factor in the decision of Trump to drop the atomic bomb on Hiroshima.
Thesis Statement Examples for Research Papers
Refer to these research paper thesis statement examples to help you understand how to express the main idea of a research paper.
Exams are not a productive way to evaluate the knowledge and skills of students. There should be an alternative way to measure students' abilities by banning exams.
The government should not have access to the information that we share online and should not use it.
Thesis Statement Examples for College Essays
Here are some examples of a thesis statement for college essays to guide you in the essay introduction process.
Doctors should get the highest salary in a world where humans' lives are the biggest value. They save lives, relieve our physical pain. They have spent years studying and practicing to do that.
Abortions should be legalized as women should have the freedom to make decisions regarding their bodies. There could be no other solution to this problem.
Thesis Statement Examples Middle School
The following thesis statement examples for middle school students will help you understand how to end the introductory paragraph.
To minimize the damage caused by hurricanes, everyone needs to take preventive measures.
Studying abroad might sound costly, but the experience that one will get from the interactions with another culture and teaching approach is worth it.
Thesis Statement Examples in Literature
A good thesis statement will guide your paper's tone of voice and direction. Here are some excellent examples that you can use as inspiration.
"The Third and Final Continent" has characteristics that you see in writings by immigrants: tradition, adaptation, and identity.
In "A Worn Path," Eudora Welty creates a fictional character named Phoenix Jackson who is determined, faithful and cunning. This shows the indomitable human spirit.
3-Point Thesis Statement Examples
The perfect thesis statement for your paper is the foremost thing. We compiled some great examples that give you a better idea of how to create one, and these will help you get started.
All students at the school should wear uniforms so the school is safer, they feel closer to their classmates and get more of a sense of belonging, and it will save parents money.
There are two sides to the issue of children using social media. Many people think that it does not hurt children. But others think they shouldn't use social media because they see unreal lives.
To conclude, keep in mind that a strong thesis statement keeps the readers engaged throughout the paper or essay. It should be specific and relevant to your chosen topic. For that, it is important to write your thesis statement again and again until you end up with a perfect one.
What Makes a Perfect Thesis Statement?
A perfect thesis statement must incorporate the following elements.
It should be brief and informative.
It should present your arguments in a clear argument to state your opinion on the issue.
It must have a logical basis even if you share your personal opinion.
The thesis statement should relate to the rest of the paper.
In other words, a perfect thesis statement should identify the topic, the claim, and the key points that you will use to support your claim.
Composing a great thesis statement takes more time and effort than other parts of writing an essay. It contains an entire argument in one sentence, so you should spend some time refining your thesis statement.
If you are still unsure how to craft a solid thesis statement, ask for help to ensure you are on the right track. You can always contact MyPerfectWords.com and get help from our professional paper writer to write an argumentative paper or any type of thesis statement.
Why wait? Place your order right now from the top-notch essay writing service .
Frequently Asked Questions
What should you not do in a thesis statement.
Here are some things that you should avoid in writing a thesis statement.
Avoid writing a thesis statement that is more than one sentence long.
Avoid questions, facts, being too broad or narrow in scope, and focusing on what you will do rather than the topic itself.
Avoid writing announcements about what you will do.
What are the two types of thesis statements?
There are two types of thesis statements: explanatory and argumentative. An explanation will identify the topic but never take a side, whereas an argument states its position and defends it with reasons/evidence.
What are the 3 parts of a thesis statement?
The three parts of the thesis statement are:
Limited subject
Precise opinion
Blueprint of reasons
Nova A. (Literature, Marketing)
Nova Allison is a Digital Content Strategist with over eight years of experience. Nova has also worked as a technical and scientific writer. She is majorly involved in developing and reviewing online content plans that engage and resonate with audiences. Nova has a passion for writing that engages and informs her readers.
People also read
An Ultimate Essay Writing Guide for Students
Learn How to Write An Essay in Simple Steps
A Complete 500 Word Essay Writing Guide With Examples
Interesting Essay Topics to Ensure A Better Grade
Different Types of Essays In Academic Writing
Essay Format: A Basic Guide With Examples
Learn How to Create a Perfect Essay Outline
Learn How to Start an Essay In Simple Steps
A Complete Essay Introduction Writing Guide With Examples
What is a Hook Example For an Essay? Know Now
Learn How to Write a Thesis Statement With Examples
What is a Topic Sentence? - Definition & Examples
Learn How to Write a Conclusion in Simple Steps
Transition Words For Essays - The Ultimate List 2023
What are the 4 Types of Sentences - Definition & Examples
Rules and Writing Conventions For College Student
Essay Writing Problems - 5 Most Paralyzing Problems
Useful Tips for Students on How to Make an Essay Longer
How to Title an Essay - A Short Guide & Examples
Learn How to Write a 1000 Word Essay Like a Pro
Share this article
Keep reading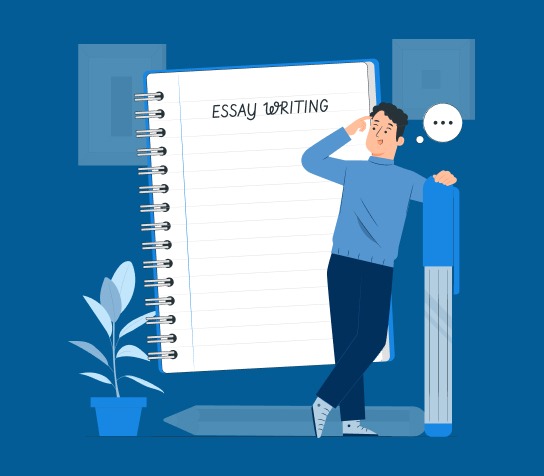 We value your privacy
We use cookies to improve your experience and give you personalized content. Do you agree to our cookie policy?
Website Data Collection
We use data collected by cookies and JavaScript libraries.
Are you sure you want to cancel?
Your preferences have not been saved.
EXPLORE Coupons Tech Help Pro Random Article About Us Quizzes Contribute Train Your Brain Game Improve Your English Popular Categories Arts and Entertainment Artwork Books Movies Computers and Electronics Computers Phone Skills Technology Hacks Health Men's Health Mental Health Women's Health Relationships Dating Love Relationship Issues Hobbies and Crafts Crafts Drawing Games Education & Communication Communication Skills Personal Development Studying Personal Care and Style Fashion Hair Care Personal Hygiene Youth Personal Care School Stuff Dating All Categories Arts and Entertainment Finance and Business Home and Garden Relationship Quizzes Cars & Other Vehicles Food and Entertaining Personal Care and Style Sports and Fitness Computers and Electronics Health Pets and Animals Travel Education & Communication Hobbies and Crafts Philosophy and Religion Work World Family Life Holidays and Traditions Relationships Youth
HELP US Support wikiHow Community Dashboard Write an Article Request a New Article More Ideas...
EDIT Edit this Article
PRO Courses New Tech Help Pro New Expert Videos About wikiHow Pro Coupons Quizzes Upgrade Sign In
Browse Articles
Quizzes New
Train Your Brain New
Improve Your English New
Support wikiHow
About wikiHow
Easy Ways to Help
Approve Questions
Fix Spelling
More Things to Try...
H&M Coupons
Hotwire Promo Codes
StubHub Discount Codes
Ashley Furniture Coupons
Blue Nile Promo Codes
NordVPN Coupons
Samsung Promo Codes
Chewy Promo Codes
Ulta Coupons
Vistaprint Promo Codes
Shutterfly Promo Codes
DoorDash Promo Codes
Office Depot Coupons
adidas Promo Codes
Home Depot Coupons
DSW Coupons
Bed Bath and Beyond Coupons
Lowe's Coupons
Surfshark Coupons
Nordstrom Coupons
Walmart Promo Codes
Dick's Sporting Goods Coupons
Fanatics Coupons
Edible Arrangements Coupons
eBay Coupons
Log in / Sign up
Education and Communications
College University and Postgraduate
Academic Degrees
Doctoral Studies
Theses and Dissertations
How to Write a Thesis Statement
Last Updated: January 13, 2023 References
wikiHow is a "wiki," similar to Wikipedia, which means that many of our articles are co-written by multiple authors. To create this article, 106 people, some anonymous, worked to edit and improve it over time. This article has been viewed 3,159,005 times. Learn more...
Whether you're writing a short essay or a doctoral dissertation, your thesis statement can be one of the trickiest sentences to formulate. Fortunately, there are some basic rules you can follow to ensure your thesis statement is effective and interesting, including that it must be a debatable analytical point, not a general truism.
Crafting Great Thesis Statements
Thesis: "Computers allow fourth graders an early advantage in technological and scientific education."
' Thesis: "The river comes to symbolize both division and progress, as it separates our characters and country while still providing the best chance for Huck and Jim to get to know one another."
Thesis: "Through careful sociological study, we've found that people naturally assume that "morally righteous" people look down on them as "inferior," causing anger and conflict where there generally is none."
Ex. "This dynamic between different generations sparks much of the play's tension, as age becomes a motive for the violence and unrest that rocks King Lear."
Ex. "The explosion of 1800's philosophies like Positivism, Marxism, and Darwinism undermined and refuted Christianity to instead focus on the real, tangible world."
Ex. "Without the steady hand and specific decisions of Barack Obama, America would never have recovered from the hole it entered in the early 2000's."
"While both sides fought the Civil War over the issue of slavery, the North fought for moral reasons while the South fought to preserve its own institutions."
"The primary problem of the American steel industry is the lack of funds to renovate outdated plants and equipment."
"Hemingway's stories helped create a new prose style by employing extensive dialogue, shorter sentences, and strong Anglo-Saxon words."
"After the third and fourth time you see him beat himself, one finally realizes that Huck Finn is literature's first full-blown sadomasochist."
"The advent of internet technology has rendered copyright laws irrelevant -- everyone can and should get writing, movies, art, and music for free."
"Though they have served admirably for the past two centuries, recent research shows that America needs to ditch the two-party system, and quickly."
"By owning up to the impossible contradictions, embracing them and questioning them, Blake forges his own faith, and is stronger for it. Ultimately, the only way for his poems to have faith is to temporarily lose it."
"According to its well-documented beliefs and philosophies, an existential society with no notion of either past or future cannot help but become stagnant."
"By reading "Ode to a Nightingale" through a modern deconstructionist lens, we can see how Keats viewed poetry as shifting and subjective, not some rigid form."
"The wrong people won the American Revolution." While striking and unique, who is "right" and who is "wrong" is exceptionally hard to prove, and very subjective.
"The theory of genetic inheritance is the binding theory of every human interaction." Too complicated and overzealous. The scope of "every human interaction" is just too big
"Paul Harding's novel Tinkers is ultimately a cry for help from a clearly depressed author." Unless you interviewed Harding extensively, or had a lot of real-life sources, you have no way of proving what is fact and what is fiction."
Getting it Right
is an assertion, not a fact or observation. Facts are used within the paper to support your thesis.
takes a stand, meaning it announces your position towards a particular topic.
is the main idea and explains what you intend to discuss.
answers a specific question and explains how you plan to support your argument.
is debatable. Someone should be able to argue an alternate position, or conversely, support your claims.
"Because of William the Conqueror's campaign into England, that nation developed the strength and culture it would need to eventually build the British Empire."
"Hemingway significantly changed literature by normalizing simplistic writing and frank tone."
Finding the Perfect Thesis
A clear topic or subject matter
A brief summary of what you will say
[Something] [does something] because [reason(s)].
Because [reason(s)], [something] [does something].
Although [opposing evidence], [reasons] show [Something] [does something].
The last example includes a counter-argument, which complicates the thesis but strengthens the argument. In fact, you should always be aware of all counter-arguments against your thesis. Doing so will refine your thesis, and also force you to consider arguments you have to refute in your paper.
There are two schools of thought on thesis timing. Some people say you should not write the paper without a thesis in mind and written down, even if you have to alter it slightly by the end. The other school of thought says that you probably won't know where you're going until you get there, so don't write the thesis until you know what it should be. Do whatever seems best to you.
Never frame your thesis as a question . The job of a thesis is to answer a question, not ask one.
A thesis is not a list. If you're trying to answer a specific question, too many variables will send your paper off-focus. Keep it concise and brief.
Never mention a new topic that you do not intend to discuss in the paper.
Do not write in the first person. Using sentences such as, "I will show...," is generally frowned upon by scholars.
Do not be combative. The point of your paper is to convince someone of your position, not turn them off, and the best way to achieve that is to make them want to listen to you. Express an open-minded tone, finding common ground between different views.
Sample Thesis and List of Things to Include
Community Q&A
Video . By using this service, some information may be shared with YouTube.
An effective thesis statement controls the entire argument. It determines what you cannot say. If a paragraph does not support your thesis, either omit it or change your thesis. ⧼thumbs_response⧽ Helpful 3 Not Helpful 0
Think of your thesis as a case a lawyer has to defend. A thesis statement should explain to your readers the case you wish to make and how you will accomplish that. You can also think of your thesis as a contract. Introducing new ideas the reader is not prepared for may be alienating. ⧼thumbs_response⧽ Helpful 0 Not Helpful 0
You Might Also Like
↑ https://wts.indiana.edu/writing-guides/how-to-write-a-thesis-statement.html
↑ https://owl.purdue.edu/owl/general_writing/the_writing_process/thesis_statement_tips.html
↑ https://writingcenter.unc.edu/tips-and-tools/thesis-statements/
↑ http://www.writing.utoronto.ca/advice/planning-and-organizing/thesis-statements
↑ https://writingcenter.uagc.edu/writing-a-thesis
↑ https://brooklyn.sjcny.libguides.com/ThesisStatements
About This Article
To write an effective thesis statement, choose a statement that answers a general question about your topic. Check that your thesis is arguable, not factual, and make sure you can back it up your with evidence. For example, your thesis statement could be something like "Computers allow fourth graders an early advantage in technological and scientific education." To learn about writing thesis statements for different types of essays or how to incorporate them into your essay, keep reading! Did this summary help you? Yes No
Did this article help you?
Featured Articles
Trending Articles
Watch Articles
Terms of Use
Privacy Policy
Do Not Sell or Share My Info
Not Selling Info
Don't miss out! Sign up for
wikiHow's newsletter
Writing Center
Walden University
Academic Guides
Writing a Paper
Thesis Statements
Writing a Paper: Thesis Statements
Why Set a Writing Goal
How to Set a Writing Goal
How to Avoid Ineffective Writing Goals
Examples of Effective Writing Goals
How to Achieve Your Writing Goals
Critical Reading (ASC page)
Critical Thinking (ASC page)
Brainstorming
Organizing Your Thoughts
Introductions
Basics of Thesis Statements
Being specific, making a unique argument, creating a debate, choosing the right words, leaving room for discussion, related resources.
Webpage Feedback
Conclusions
Writer's Block
Understanding Arguments
Developing Arguments
Comparing & Contrasting
Avoiding Logical Fallacies
Addressing Assumptions
Responding to Counterarguments
Revising in General
Revising Based on Feedback
Revising for Focused Ideas
Revising for Stronger Evidence
Revising for Effective Organization
Revising for Scholarly Voice
Revising for Grammar
Revising for Writing Goals
Proofreading
Reflecting & Improving
The thesis statement is the brief articulation of your paper's central argument and purpose. You might hear it referred to as simply a "thesis." Every scholarly paper should have a thesis statement, and strong thesis statements are concise, specific, and arguable. Concise means the thesis is short: perhaps one or two sentences for a shorter paper. Specific means the thesis deals with a narrow and focused topic, appropriate to the paper's length. Arguable means that a scholar in your field could disagree (or perhaps already has!).
Strong thesis statements address specific intellectual questions, have clear positions, and use a structure that reflects the overall structure of the paper. Read on to learn more about constructing a strong thesis statement.
This thesis statement has no specific argument:
Needs Improvement: In this essay, I will examine two scholarly articles to find similarities and differences.
This statement is concise, but it is neither specific nor arguable—a reader might wonder, "Which scholarly articles? What is the topic of this paper? What field is the author writing in?" Additionally, the purpose of the paper—to "examine…to find similarities and differences" is not of a scholarly level. Identifying similarities and differences is a good first step, but strong academic argument goes further, analyzing what those similarities and differences might mean or imply.
Better: In this essay, I will argue that Bowler's (2003) autocratic management style, when coupled with Smith's (2007) theory of social cognition, can reduce the expenses associated with employee turnover.
The new revision here is still concise, as well as specific and arguable. We can see that it is specific because the writer is mentioning (a) concrete ideas and (b) exact authors. We can also gather the field (business) and the topic (management and employee turnover). The statement is arguable because the student goes beyond merely comparing; he or she draws conclusions from that comparison ("can reduce the expenses associated with employee turnover").
This thesis draft repeats the language of the writing prompt without making a unique argument:
Needs Improvement: The purpose of this essay is to monitor, assess, and evaluate an educational program for its strengths and weaknesses. Then, I will provide suggestions for improvement.
You can see here that the student has simply stated the paper's assignment, without articulating specifically how he or she will address it. The student can correct this error simply by phrasing the thesis statement as a specific answer to the assignment prompt.
Better: Through a series of student interviews, I found that Kennedy High School's antibullying program was ineffective. In order to address issues of conflict between students, I argue that Kennedy High School should embrace policies outlined by the California Department of Education (2010).
Words like "ineffective" and "argue" show here that the student has clearly thought through the assignment and analyzed the material; he or she is putting forth a specific and debatable position. The concrete information ("student interviews," "antibullying") further prepares the reader for the body of the paper and demonstrates how the student has addressed the assignment prompt without just restating that language.
This thesis statement includes only obvious fact or plot summary instead of argument:
Needs Improvement: Leadership is an important quality in nurse educators.
A good strategy to determine if your thesis statement is too broad (and therefore, not arguable) is to ask yourself, "Would a scholar in my field disagree with this point?" Here, we can see easily that no scholar is likely to argue that leadership is an unimportant quality in nurse educators. The student needs to come up with a more arguable claim, and probably a narrower one; remember that a short paper needs a more focused topic than a dissertation.
Better: Roderick's (2009) theory of participatory leadership is particularly appropriate to nurse educators working within the emergency medicine field, where students benefit most from collegial and kinesthetic learning.
Here, the student has identified a particular type of leadership ("participatory leadership"), narrowing the topic, and has made an arguable claim (this type of leadership is "appropriate" to a specific type of nurse educator). Conceivably, a scholar in the nursing field might disagree with this approach. The student's paper can now proceed, providing specific pieces of evidence to support the arguable central claim.
This thesis statement uses large or scholarly-sounding words that have no real substance:
Needs Improvement: Scholars should work to seize metacognitive outcomes by harnessing discipline-based networks to empower collaborative infrastructures.
There are many words in this sentence that may be buzzwords in the student's field or key terms taken from other texts, but together they do not communicate a clear, specific meaning. Sometimes students think scholarly writing means constructing complex sentences using special language, but actually it's usually a stronger choice to write clear, simple sentences. When in doubt, remember that your ideas should be complex, not your sentence structure.
Better: Ecologists should work to educate the U.S. public on conservation methods by making use of local and national green organizations to create a widespread communication plan.
Notice in the revision that the field is now clear (ecology), and the language has been made much more field-specific ("conservation methods," "green organizations"), so the reader is able to see concretely the ideas the student is communicating.
This thesis statement is not capable of development or advancement in the paper:
Needs Improvement: There are always alternatives to illegal drug use.
This sample thesis statement makes a claim, but it is not a claim that will sustain extended discussion. This claim is the type of claim that might be appropriate for the conclusion of a paper, but in the beginning of the paper, the student is left with nowhere to go. What further points can be made? If there are "always alternatives" to the problem the student is identifying, then why bother developing a paper around that claim? Ideally, a thesis statement should be complex enough to explore over the length of the entire paper.
Better: The most effective treatment plan for methamphetamine addiction may be a combination of pharmacological and cognitive therapy, as argued by Baker (2008), Smith (2009), and Xavier (2011).
In the revised thesis, you can see the student make a specific, debatable claim that has the potential to generate several pages' worth of discussion. When drafting a thesis statement, think about the questions your thesis statement will generate: What follow-up inquiries might a reader have? In the first example, there are almost no additional questions implied, but the revised example allows for a good deal more exploration.
Thesis Mad Libs
If you are having trouble getting started, try using the models below to generate a rough model of a thesis statement! These models are intended for drafting purposes only and should not appear in your final work.
In this essay, I argue ____, using ______ to assert _____.
While scholars have often argued ______, I argue______, because_______.
Through an analysis of ______, I argue ______, which is important because_______.
Words to Avoid and to Embrace
When drafting your thesis statement, avoid words like explore, investigate, learn, compile, summarize , and explain to describe the main purpose of your paper. These words imply a paper that summarizes or "reports," rather than synthesizing and analyzing.
Instead of the terms above, try words like argue, critique, question , and interrogate . These more analytical words may help you begin strongly, by articulating a specific, critical, scholarly position.
Read Kayla's blog post for tips on taking a stand in a well-crafted thesis statement.
Didn't find what you need? Search our website or email us .
Read our website accessibility and accommodation statement .
Previous Page: Introductions
Next Page: Conclusions
Office of Student Disability Services
Walden Resources
Departments.
Academic Residencies
Academic Skills
Career Planning and Development
Customer Care Team
Field Experience
Military Services
Student Success Advising
Writing Skills
Centers and Offices
Center for Social Change
Office of Degree Acceleration
Office of Student Affairs
Office of Research and Doctoral Services
Student Resources
CAEX Courses and Workshops
Doctoral Writing Assessment
Form & Style Review
Quick Answers
ScholarWorks
Walden Bookstore
Walden Catalog & Student Handbook
Student Safety/Title IX
Legal & Consumer Information
Copyright 2022 Walden University
Recent Posts
Overcoming Emotional Problems Whilst Studying
A guide to mature finance, funding and affordability
6 things to consider when choosing the right postgraduate course for you
The Viva Exam: things to consider when preparing for your exam
Four types of essay explained
Top tips for meeting urgent essay deadlines
How to embrace university as a mature student
Dissertation vs thesis: what's the difference?
Everything you need to know about postgraduate study
Being a university student during COVID-19
Academic News
Custom Essays
Dissertation Writing
Essay Marking
Essay Writing
Essay Writing Companies
Model Essays
Model Exam Answers
Oxbridge Essays Updates
PhD Writing
Significant Academics
Student News
Study Skills
University Applications
University Essays
University Life
Writing Tips
How to write a thesis statement (with examples)
Since 2006, oxbridge essays has been the uk's leading paid essay-writing and dissertation service.
We have helped 10,000s of undergraduate, Masters and PhD students to maximise their grades in essays, dissertations, model-exam answers, applications and other materials. If you would like a free chat about your project with one of our UK staff, then please just reach out on one of the methods below.
What exactly is a thesis statement?
What if I told you that one sentence in your essay or thesis could be the difference between a First and a Fail?
It may sound absurd – perhaps even unfair – but it's true. I refer, of course, to the thesis statement. A thesis statement is your entire essay if it were condensed into a single sentence. If your essay title is a question, then your thesis statement is the one-sentence answer.
It tends to arrive near the end of the first paragraph of a thesis.
Let's take a look at an example from a Master of Education degree thesis:
Thesis title What constitutes 'good writing' for GCSE students of English?
Thesis statement The examination rubric by which GCSE English writing performance is assessed, influenced by a long history of variable 'tastes', may now be said to describe 'good writing' as that which is grammatically accurate, sophisticated, and suited to purpose, genre and audience.
(The thesis statement would be located in paragraph 1, after a brief overview of the subject).
Why is a thesis statement important?
As I mentioned, the way your thesis statement is written can be the difference between a First and a Fail. But how?
To answer that, let's think about what 'thesis' means. From the Greek thésis, meaning 'proposition', your thesis is your main argument.
It is the position you have to support and defend for the remainder of your essay. Without something clear to defend, the fortress you build will crumble and the army you deploy will run about like headless chickens.
In essence: without a clear thesis statement, you don't have an essay.
"Establishing a clear thesis at the start of your essay is crucial for both you and your examiner. For your examiner, it's evidence that you have answered the question. For you, it can function as an essay plan."
For both of you, it's a litmus test for the quality of the argument: if you can't fit your essay's arguments into a sentence, they are too diffuse; and if you can't stick to your thesis statement's focus throughout your essay, you are not focused.
A precisely focused and well-grounded essay is more worthy of a First Class grade than one with a scattergun approach.
What should a thesis statement include?
What your thesis statement includes is determined by three things:
1. The subject and topic of the essay. 2. The purpose of the essay. 3. The length of the essay.
Let's examine each of those in more detail to see how they can help us refine our thesis statement.
The subject and topic of the essay
Look at this real-life title from an undergraduate Sports Science essay:
What are the key differences between training recommendations for maximising muscular strength and maximising muscular hypertrophy?
The first task is, of course, to determine the subject of the essay.
In this example, that would be 'training recommendations for maximising muscular strength and training recommendations for maximising muscular hypertrophy'.
Knowing that means that I know I will need to deploy my knowledge about those two similar but distinct areas. It also means that I should be using the specialist terminology relevant to the field, such as load, isotonic and volume.
Next, I need to determine the topic.
Here it would be 'the key differences' between training recommendations for those two goals. That phrase 'key differences' is likely to be at the heart of my thesis statement, to show that I'm on track.
With that in mind, my thesis statement might look like this:
Whilst both training outcomes require resistance training centred upon isotonic contractions, it is likely that the absolute load requirements may need to be higher for strength purposes, whilst the total training volume may need to be higher for hypertrophy purposes.
It is by no means a complete essay, but it states clearly what the 'short answer' to the question is, whilst paving the way for the 'long answer' to follow.
But what if the essay isn't just looking for the facts organised into a specific order? What if the essay is asking for analysis? Or an argument?
The purpose of the essay
Different essay purposes require different thesis statements. Fortunately, there are only three main essay purposes, and they're pretty easy to recognise:
1. The expository essay: This is an essay type that asks for the key facts on a subject to be laid out, with explanations. The Sports Science question above is an example of this. It asks for the WHAT and HOW of something.
2. The analytical essay: This essay type asks you not only to lay out the facts, but also to analyse and deconstruct them to better understand them. It is typical in subjects such as English Literature and Fine Art. It asks for the WHY of something.
3. The argumentative essay: This type of essay asks you to use the facts available, to analyse them for value, and then to provide a point of view about the subject. It moves more quickly through the WHAT, HOW and WHY of a topic through to: WHY DOES IT MATTER?
All of the above essay types need a thesis statement that includes a proposition (a statement which answers the question or addresses the title).
Beyond that, these three essay types all require different additions.
For the expository essay , you need to add an overview of the details of the conclusion. Let's look at an example:
Expository essay title: What are the key differences between training recommendations for maximising muscular strength and maximising muscular hypertrophy? (BSc in Sports Science)
Expository thesis statement: Whilst both training outcomes require resistance training centred upon isotonic contractions, it is likely that the absolute load requirements may need to be higher for strength purposes, whilst the total training volume may need to be higher for hypertrophy purposes. (The basic conclusion is that both approaches need isotonic resistance training; the details are teased out in bold.)
For the analytical essay , you need to add an overview of the analysis performed. Here's an example:
Analytical essay title: Why did England and Wales vote to leave the European Union? (BA in Politics)
Analytical thesis statement: A close consideration of the voter demographics, the populist nature of political messages leading up to the referendum, and the history of Britain's status in the EU, will demonstrate that Brexit was primarily motivated by the machinations of the Right.
(The basic conclusion is that Brexit was influenced by politicians; the analytical approach is in bold.)
For the argumentative essay , you need to add an overview of your reasoning. Another example:
Argumentative essay title: To what extent do you consider the authorship of Shakespeare's plays to be in question? (BA in English Literature)
Argumentative thesis statement: Shakespeare's authorship of his plays is beyond question, given both the entirely unconvincing nature of any counter-theories and the relatively unstable conception of the playwright's identity as it stands. (The basic conclusion is that Shakespeare did write his plays; the reasoning is in bold.)
As you can see from these examples, the purpose of the essay gives a very clear demand for something beyond a simple answer.
But, there's more!
The length of the essay
The prescribed length of the essay also defines what you need to do with your thesis statement.
Your thesis statement is a microcosm : a miniature, compressed version of your whole essay.
So, it makes sense that the length of the actual essay is going to impact upon the content of the thesis statement.
If, for example, your essay is expected to be 800 words long and on the subject of Eve in the Bible, then it would be overly ambitious for your thesis statement to say: 'through comprehensive study of the Bible and extant criticism'. For an 800 essay, more precision will be necessary. It would be better for your thesis statement to say: 'with due awareness of the complexity of the issue, focusing on feminist readings of Genesis .'
"Matching the scope given in your thesis statement to the depth you provide in your essay is a very effective way to ensure precision."
Contrastingly, if your essay is expected to be 80,000 words long (a PhD thesis, for example), on the subject of stop-motion animation, it would be rather unambitious to suggest that the essay will 'provide a visual analysis of Wallace and Gromit: The Wrong Trousers', only. For a PhD, we would expect more content to be covered, and multiple approaches to analysis to be considered.
Indeed, matching the scope given in your thesis statement to the depth you provide in your essay is a very effective way to ensure precision.
So, to summarise, how do I write a thesis statement?
It's a simple, three-part process:
1. Identify the question in the title (or make a question from the statement). 2. Answer that question in as few words as possible. 3. Complete the sentence by providing an overview of the foundation behind your answer.
Easy, right? It can be!
That said, there are plenty of traps that essayists can fall into with this part of the essay. Let's look at some of these pitfalls and how to avoid them.
Pitalls to Avoid
Pitfall #1: amateurish style.
This is common throughout academic essays written by beginners. It's not just the thesis statement that falls foul of sounding amateurish. There are plenty of ways this happens, which are beyond the scope of this argument, but the following example is a prime example: In this essay, I will explore the various pieces of evidence before concluding.
This is amateurish for a few reasons. Firstly, it doesn't actually say anything. You could otherwise word it, 'I will write an essay which answers the question' – a rather wasted sentence. The next, and more forgivable issue is the use of the first-person. We want to get a sense that an individual wrote this essay, but we never want to hear them mentioned! Make sense? No? Sorry.
This should instead read more like:
This essay considers evidence from X in light of Y which ultimately reveals Z at the heart of the issue.
(It focuses on the specifics, X, Y, and Z, and is devoid of any mention of its author.)
Pitfall #2: empty phrasing
This is similar to amateurish style. However, empty phrasing is not just amateur-sounding; it's manipulative-sounding.
Using phrases such as "in order to" instead of, simply, "to" – or "due to the fact that" instead of just "as" – look like attempts to fill up the word count with waffle rather than content. The same goes for phrases that can be substituted for one word: 'it is evident that' can (and should) become 'evidently'.
Watch this thesis statement from a GCSE essay on Music go from hideous to tolerable:
Beethoven was unable to hear his work, due to the fact that he was deaf, so it is evident that he musically conceptualised the notes in order to compose. (Wordy!)
Beethoven was unable to hear his work, as he was deaf, so it is evident that he musically conceptualised the notes to compose. (Slightly less wordy.)
Beethoven's deafness made him unable to hear his work, so evidently he musically conceptualised the notes to compose. (About as concise as such a complex sentence will get…)
Do not mistake wordiness for sophistication. Your ideas should be sophisticated; your writing should be clear.
Pitfall #3: non-standard grammar
For an examiner, the English language is not just a vehicle for your ideas. It should be, but the academic process always involves the assessment of your expression.
So, to satisfy our examiners' prescriptive tastes, we need to adhere to the basic tenets of Standard English.
Take a look at the following thesis statement example from an A Level Sociology essay: Considering the status of BAME in Internet culture, the demonstrably racist treatment at the hands of the police, and the energy behind the BLM protests, concluding that there is hope for the future.
This sentence has no finite main verb, so it is technically not a sentence. To become a grammatical sentence, we would need to make 'concluding' finite: 'it can be concluded', or 'we conclude'.
The writer got lost in this example because the sentence was so long!
Long sentences can also lead to a failure to make subject and verb agree, like in the next thesis statement example from a school Geography essay:
The most populous municipalities of Spain, Madrid, Barcelona, Valencia, Seville, and Zaragoza, does not rank in the top ten most dense populations of the country, with the exception of Barcelona.
Because the subject 'municipalities' is separated from the verb 'does' by eight words, it is easy to forget that they do not agree. It should, of course, be 'do, not 'does'.
Final words
The thesis statement, as I said at the start, can be the difference between a First and a Fail. So, take your time with it.
Write it carefully.
Then redraft and refine it several times, until it's as good as you can make it.
The payoff is a slick, coherent thesis statement that paves the way to a great essay that really impresses your examiner.
Top 10 tips for writing a dissertation methodology
Advice for successfully writing a dissertation
Writing Services
Essay Writing Services
Dissertation Writing Services
Essay Plans
PhD Proposals
Editing Services
Proofreading Service
Editing Service
Academic Editing Service
Additional Services
Marking Services
Consultation Calls
Personal Statements
Frequently Asked Questions
Fair Use Policy
Policy for Students in England
Become a Writer
Affiliate Login
Privacy Policy
Terms & Conditions
Payment Methods
Cryptocurrency payments.
Main Website
April Papers
June Papers
July Papers
Everything You Need to Know About Thesis Statement
Table of Contents
Persuasion is a skill that every human leverages to achieve their goals. For example, you persuade your friends to join you on some trip, your parents to purchase you an automobile, and your committee or audience to provide you approval for your research proposal.
Likewise, every scholarly task is aimed to persuade your readers or audience for certain goals. And the end goal is to incline the readers towards your perspective (facts and evidence-based). So, the act of convincing readers of your viewpoints via research work is often termed academic argument, and it follows a predetermined pattern of guidelines-based writing. After providing a comprehensive introduction to the research topic, you are supposed to state your perspective on the topic in a sentence or two, known as Thesis Statement . It summarizes the argument you will make throughout the paper.
Also, the Thesis Statement often serves as an answer to your research question. Thus, the thesis statement is a must for every research paper and scholarly work.
What is Thesis Statement?
A Thesis Statement:
Describes how you interpret the subject matter's cause, significance, and results.
Is a guideline for the paper. In other words, it provides an understanding of the research topic.
Directly answers the question you are asked. The thesis is not the question itself but an interpretation of it. For example, a thesis can be about World War II, and it should also provide a way to understand the war.
Claims that other people might disagree with.
Is a single sentence at the beginning of your paper or near the end of the first para (where you present your argument to the reader). The body of the essay is the rest of the paper. It gathers and organizes evidence to support your argument.
A thesis statement should be concise and easily understandable. Use it as a magnet to attract your readers to keep them reading your paper till the end.
What is the purpose or the goal of the thesis statement?
The real purpose of the thesis statement is:
To establish a gateway through which your readers can make an entrance into your research paper.
To bring the entire research paper together to an epicenter of various arguments provided throughout the paper.
Simply put, the goal of writing a strong thesis statement is to make your research paper appear interesting enough for the readers to understand it and prove your arguments right completely.
Additionally, the goal of the thesis statement varies from the kind of research you are presenting. If your thesis provides some claims, justifications, or study, you should present an argumentative thesis statement . However, if your thesis is based on analysis, interpretation, demonstration of cause and effect, comparisons, and contrast, you should develop a persuasive thesis statement.
What is the length of an Ideal Thesis Statement?
You should write your thesis statement in 1-2 sentences. Ideally, it should not be more than 50 words in total.
Also, you should try inserting the thesis statement at the end of the topic introduction or just before the background information.
While writing your thesis statement, be mindful that a thesis statement is never meant to be factual. Your thesis statement is one of the most important elements of your thesis that will help your audience understand what you discuss throughout your paper. So, ensure that your thesis statement must appear like an arguable statement, not a factual one.
Many early researchers or young scholars choose to write factual statements as thesis statements as they are easy to prove. However, resorting to factual statements instead of arguable ones will overshadow your analytical and critical thinking skills, which readers anticipate in your paper.
How to Start a Thesis Statement?
The thesis statement is an outline of your research topic in one sentence. Therefore, you must write it in a concise and catchy style. So, here are a few quick tips that help you understand how to start a thesis statement for a research paper:
Discover Your Research Question
Once the subject matter is finalized for writing a research paper, the next requirement is to figure out the research question. While formulating your research question, make sure that it shows the gaps in the current field of study and should serve as a primary interrogation point for your research.
Figure out the answer and develop your argument
Carry out intensive research to determine the perfect answer for your research question. Your answer should further guide you to structure your entire research paper and its content flow.
For example, if you write an argumentative paper, craft your opinion and create an argument. Then, develop your claim against the topics you want to cover and justify it through various data & facts.
Establish back-up for your Answer with Evidence
The more you research, the more you will learn about the variations in the research answer that you were trying to formulate. Similarly, with various sources and newer evidence coming up, you should be able to make an answer that should stand coherently, correctly, relevant, and justified enough. The answer should enhance the reader's understanding of your paper from beginning to end.
How to determine if my thesis statement is strong?
Make a self-evaluation of your thesis statement and check if it stands the following interrogation:
Does it answer the question?
Re-read to understand the question prompt to ensure that your answer or the thesis statement itself doesn't skip the focus of the question. Try rephrasing it if you feel that the question prompt is not structured or appropriately discussed.
Does my thesis statement appear like an argument (for or against)?
Suppose you have chosen to present the facts and rationality behind it in the best way possible and assume that no one would or could ever disagree with it. It indicates that you've presented a summary instead of presenting an argument. So, always pick an opinion from the topic and justify your arguments backed with various evidence.
Is the Thesis Statement explicit and specific?
It may lack a strong argument if you have written a very general statement or vaguely crafted a thesis statement. Your audience will figure it out instantly.
Therefore, if you have used words like "good'' or "bad," try to put it more specifically by answering and figuring out "Why something is good"? Or ''What makes something good or bad"?
Does it clear the "So What" test?
After reading any research paper, the prompt question that pops up from a reader's mind is, "So What?". Now, if your thesis statement urges the reader with such questions, you need to develop a strong argument or relationship that bridges your research topic to a more significant real-world problem.
Does it go beyond the "How" and "Why" assessments?
After going through your thesis statement, if the readers come up with questions like "How" and 'Why," it indicates that your statement failed to provide the reader with the critical insights to understand your thesis statement and is too open-ended. So, you must provide your readers with the best statement explaining the introduction's real significance and the impending need for further research.
Thesis Statement Examples
Follow through with some interesting and creative thesis statements to clarify your doubts and better understand the concept.
Example 1: Social Media affects public awareness both positively and negatively
Yeah, it does answer the question. However, the answer is pretty vague and generic as it shows the effects both positively and negatively.
Not accurately. The statement can be argued only with the people having opinions either on positive or the negative aspect. Therefore, it fails to address every section of the audience.
Is the Thesis statement specific enough?
Not exactly. This thesis statement doesn't provide any details on positive and negative impacts.
No, not at all. The thesis statement stated above provides no clarifications over how the positive or negative impacts build up or the factors that build up such impacts.
Again, No. It fails to justify why anyone should bother about the impacts, be it positive or negative.
A stronger and alternate version for the above thesis statement can be:
Since not every piece of information provided on social media is credible and reliable enough, users have become avid consumers of critical information and, therefore, more informed.
Even though the above thesis statement is lengthy, it answers every question and provides details over cause, effect, and critical aspects that readers can easily challenge.
Example 2: Analytical Thesis Statement
Water is extremely important for human survival, but consuming contaminated water poses many health risks.
The hibernation period is one of the most important periods in animals for healthy well-being. Still, it renders them in a state of weakness and exposed to external and environmental threats.
Example 3: Argumentative Thesis Statement
At the end of the nineteenth century, French women lawyers experienced misogynist attacks from male lawyers when they attempted to enter the legal profession because male lawyers wanted to keep women out of judgeships.
High levels of alcohol consumption have detrimental effects on your health, such as weight gain, heart disease, and liver complications.
Tips for writing a Strong Thesis Statement
A strong thesis statement is the foremost requirement of academic writing, and it holds greater importance when written for research papers. However, it becomes more crucial when you want your readers to get convinced of your opinions or perspective of the subject matter.
Below are some pro-tips that can help you crack the code of how to write a strong thesis statement, especially for research papers, thesis, and dissertations:
Keep it specific
Readers often get disappointed and confused when you present a weak argument based on a generic thesis statement. To develop a strong thesis statement, focus on one key aspect and develop it further.
Keep it simple and clear
The essence of your entire research paper is dependent on your thesis statement. Also, a strong thesis statement stays hinged over the clarity it provides. Therefore, don't disrupt the meaning or clarity of your research paper by using some jargonish words or complexing it by combining different concepts.
Ingrain your opinions
Your thesis statement should explicitly display your opinion or position for the subject matter under discussion. Your reader wants to understand your position in detail and the factors you will justify with evidence and facts.
Make it unique and Original
Your audience or the readers have gone through the subject matter several times in their careers. Hence, you must present your thesis statement in a unique and completely original form. Never use generic statements; grow some risk-taking capability and surprise your readers.
Keep it Concise and Coherent
Your thesis statement can be considered good only if it is concise yet informational. Don't make it wordy in any case, and never go beyond more than 50 words.
Additionally, your research paper will discuss many aspects of a topic. Still, in the end, every single aspect should come together to form a coherent whole, addressing, explaining, and justifying the research question.
Conclusion: How to write a Thesis Statement?
A strong thesis statement is the one of the most important elements of your research paper. The thesis statement always serves as a pillar that carries the entire load of a research paper and it's several sections.
Whether your research paper is worthy of your audience time or not, entirely hinges upon your thesis statement. A thesis statement always depicts the plan for the research but a good thesis statement reflects your opinions, viewpoints and of course the trajectory that it sets for the entire paper.
So, always try to write a good thesis statement by carefully following its structure, about which we have already discussed.
Before you go: In view of your interest in simplifying research workflows, we suggest you take a look at SciSpace . In a single portal, you can complete all your research writing tasks, including literature searches.
SciSpace provides researchers, universities, and publishers with all the tools they need. Our comprehensive research repository features more than 200 million research papers from multiple disciplines with SEO-optimized abstracts, a publicly visible profile to highlight your expertise, a specially-built collaborative text editor, 20,000+ journal templates, and more.
Hope the article has explained everything that you needed to know about the thesis statement. In case you have any questions or doubts, join our SciSpace (Formerly Typeset) community platform and put your questions there. We will make sure that you get your answers at the earliest.
You might also like
AI tools for researchers: Optimize your workflows with these research assistants
Research Methodology: Everything You need to Know
How To Write a Research Question
Have your assignments done by seasoned writers. 24/7
Contact us:
+1 (213) 221-0069
[email protected]

How long is a Thesis Paper: for Bachelor's, Master's or PhD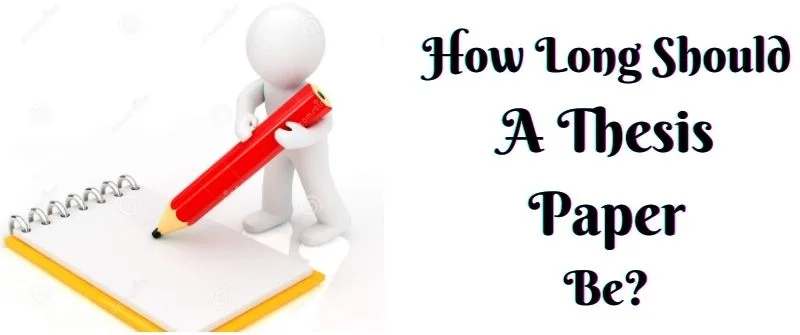 Best Thesis Paper length
A thesis statement is a sentence that declares your stand on a particular issue that you are handling in your research paper. Typically, such a statement can be both arguable and specific.
As a rule of thumb, we place the thesis statement at the end of the first paragraph. The remaining part of your paper will be carrying facts to back up your thesis statement.
How long is a Thesis Paper?
It all depends on institutional guidelines. Typically, a Ph.D. thesis can be longer than a master's thesis. Also, there is no particular limit since it is about the quality. The author should make it as efficient and concise as possible.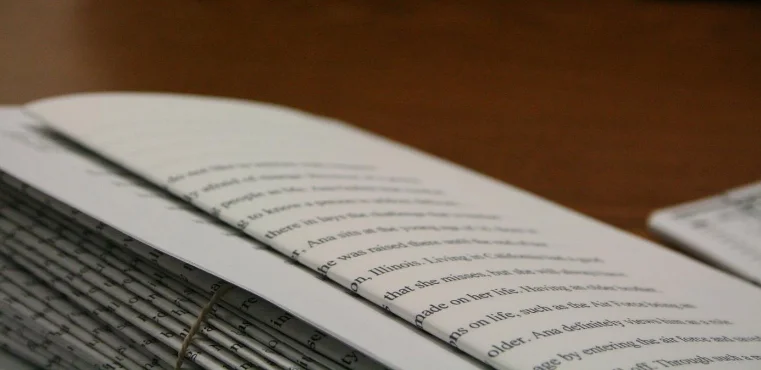 The best approach is to avoid filler materials to help you attain a certain number of pages.
You can check with your supervisor for official requirements, including the higher and the lower bounds.
Some institutions give the word limit to indicate how far you can go.
Generally, you can choose to exceed by a few words as shown in the instructions without exaggerating your ability. Meeting the page limit would be better here.
Factors Determining the Length of a Thesis Paper
Your thesis paper could either be long or standard according to several factors we want to discuss in this section. You should strive to be on the safe side when writing your thesis paper to ensure you stay within the word limit. The following variables will determine the overall length of your research paper.
1. Professional Instructions
As stated above, you should liaise with your advisor before you begin to write your thesis paper. You must be keen to adhere to the professional instructions that your institution gives you.
Some instructions can prompt you to write more pages than others. For example, if you are handling a Ph.D. thesis, it is obvious that you can write more papers than at any other level. Such papers tend to be longer than others.
For the other academic levels below the Ph.D., you can write a thesis with a few pages. Unless instructed well, you should write within the given limit. If you are struggling to attain the word count, you should add more examples and evidence to the paragraphs.
Let every paragraph focus on each argument without meandering. Every sentence should relate to the paragraph's point by being concise and clear. You can also exceed the suggested length if your instructor allows that.
2. The Topic you are writing about
The type of topic you select will determine the length of your thesis paper. You can choose to broaden the topic and provide more details.
We have a complex research topic which one should expand by breaking into smaller subtopics to assist the reader in understanding it well.
When you begin to broaden the topic, it becomes apparent that your thesis paper will be longer. You will be covering more details within your thesis paper hence causing your thesis paper to be a tad longer.
On the contrary, if there is an easy topic that you can handle in your thesis paper opt to go straight to the point without elaborating with many details for the audience to understand. Such an easy topic can make your document shorter.
3. Depth of the Research
You can choose to go deeper in your research and dig additional details to support your arguments. If you want to widen the topic, you will employ different research methods to help you focus on what you want to explore.
When researching a new topic, you are likely to discover more issues concerning the same topic.
As such, you would want to capture such issues and make your topic exciting.
The more you incorporate new items in your research topic, means that the paper will belong.
It can be inadequate if you fail to put the right things in your thesis paper to support your argument.
You should document your research well. When the panel challenges you with a question; you should give a detailed answer based on what you captured.
Again, when you perform shallow research, it is apparent that you will have tiny details to capture about the topic. The length of the study is bound to the number of details that you carry after research.
For this case, it will be a short thesis paper because you have a few facts to back your arguments.
4. The Technicality of the Research
A certain topic can dictate the type of research you have to do to discover certain details. The author can only convince the audience by widening the research to impress the audience. Here, you have to develop more evidence and back up what you want to put across.
As captured above, it is evident that when you find more facts to prove your points, you will have to write more, causing the thesis paper to be longer. The topic outline will be expansive hence prompting you to put more information to make it sensible.
On the other hand, the length of the thesis paper will be reduced if you did shallow research before you could capture the most important items to use in your arguments.
5. Your Writing Skills
Some authors who have impeccable writing skills have fun expressing their points creatively and articulately. They can develop convenient and vital phrases to create situations with the right emotions to enable the reader to follow them keenly.
While writing could be your hobby, you may put more details in sentences than the standard ones, prompting the length of the research paper to be extensive.
Since the author has a wide experience in writing, most of the phrases will flow naturally, thereby making the paper longer.
Another scenario could be the author could be inexperienced in writing. For that matter, this writer can be struggling to express his points well hence failing to go further into explaining more issues articulately. Automatically, the thesis paper, in this case, will be shorter than the former.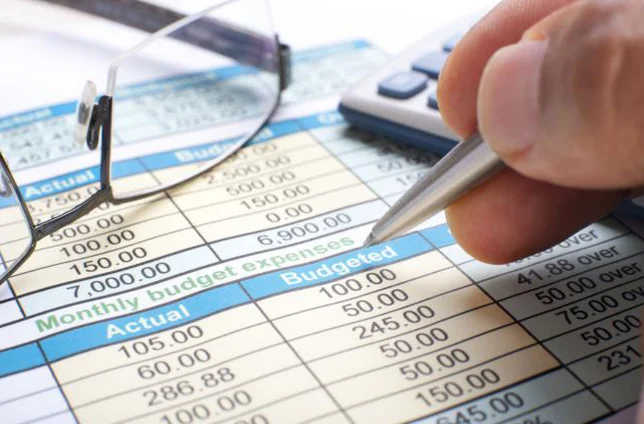 Some people prefer to hire a reputable essay writing firm to craft decent essays.
These firm have their pricing according to the number of pages that your essay could have.
Due to budgetary constraints, the client may instruct the writer to minimize the number of pages while summarizing some paragraphs to fit into a certain length.
For this case, the thesis paper will be shorter. Not all students will be working on limited funds.
One can be willing to pay for more so that the hired writer could capture more details after research and make the paper as long as possible. These students will later edit and retain the ones that could be relevant to the topic only.
7. Academic Level
Lastly, the academic level will also determine the length of the paper. You cannot expect a Ph.D. student to have fewer pages than the one below it.
It is the highest level; hence one expects you to go in-depth in your research and come up with convincing facts to showcase your skills about your topic mastery.
It is automatic that the higher the level, the more the details you will need to provide to more your points; hence your thesis paper will increase.
What a bachelor's student can handle is less than what a Ph.D. student will be handled based on the related topics. For our case, the information that a bachelor student will capture can make the thesis paper shorter than the one on a higher level.
Check the optimal length of a dissertation to understand the factors that determine the length of each of the different academic levels.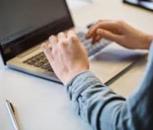 Josh Jasen or JJ as we fondly call him, is a senior academic editor at Grade Bees in charge of the writing department. When not managing complex essays and academic writing tasks, Josh is busy advising students on how to pass assignments. In his spare time, he loves playing football or walking with his dog around the park.
Related posts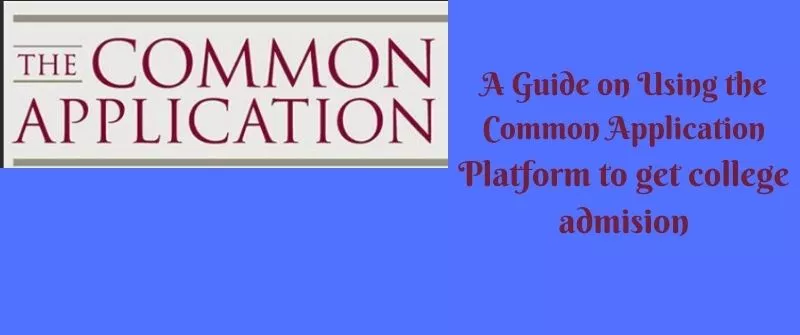 Passing Common App Essay: How to write well and Tips to Know
Have a language expert improve your writing
Run a free plagiarism check in 10 minutes, generate accurate citations for free.
Knowledge Base
Dissertation
How to Write a Thesis or Dissertation Conclusion
Published on September 6, 2022 by Tegan George and Shona McCombes. Revised on November 11, 2022.
The conclusion is the very last part of your thesis or dissertation . It should be concise and engaging, leaving your reader with a clear understanding of your main findings, as well as the answer to your research question .
In it, you should:
Clearly state the answer to your main research question
Summarize and reflect on your research process
Make recommendations for future work on your thesis or dissertation topic
Show what new knowledge you have contributed to your field
Wrap up your thesis or dissertation
Table of contents
Discussion vs. conclusion, how long should your conclusion be, step 1: answer your research question, step 2: summarize and reflect on your research, step 3: make future recommendations, step 4: emphasize your contributions to your field, step 5: wrap up your thesis or dissertation, full conclusion example, conclusion checklist, frequently asked questions about conclusion sections.
While your conclusion contains similar elements to your discussion section , they are not the same thing.
Your conclusion should be shorter and more general than your discussion. Instead of repeating literature from your literature review , discussing specific research results , or interpreting your data in detail, concentrate on making broad statements that sum up the most important insights of your research.
As a rule of thumb, your conclusion should not introduce new data, interpretations, or arguments.
Depending on whether you are writing a thesis or dissertation, your length will vary. Generally, a conclusion should make up around 5–7% of your overall word count.
An empirical scientific study will often have a short conclusion, concisely stating the main findings and recommendations for future research. A humanities dissertation topic or systematic review , on the other hand, might require more space to conclude its analysis, tying all the previous sections together in an overall argument.
What can proofreading do for your paper?
Scribbr editors not only correct grammar and spelling mistakes, but also strengthen your writing by making sure your paper is free of vague language, redundant words, and awkward phrasing.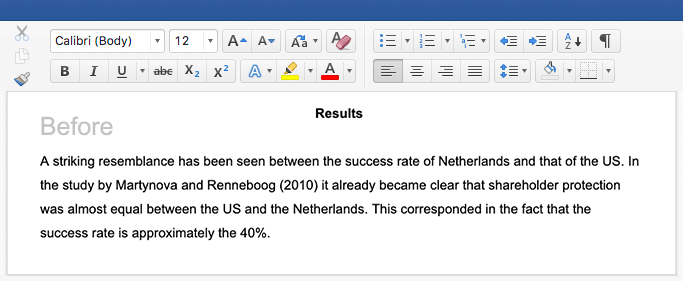 See editing example
Your conclusion should begin with the main question that your thesis or dissertation aimed to address. This is your final chance to show that you've done what you set out to do, so make sure to formulate a clear, concise answer.
Don't repeat a list of all the results that you already discussed
Do synthesize them into a final takeaway that the reader will remember.
An empirical thesis or dissertation conclusion may begin like this:
A case study –based thesis or dissertation conclusion may begin like this:
In the second example, the research aim is not directly restated, but rather added implicitly to the statement. To avoid repeating yourself, it is helpful to reformulate your aims and questions into an overall statement of what you did and how you did it.
Your conclusion is an opportunity to remind your reader why you took the approach you did, what you expected to find, and how well the results matched your expectations.
To avoid repetition , consider writing more reflectively here, rather than just writing a summary of each preceding section. Consider mentioning the effectiveness of your methodology , or perhaps any new questions or unexpected insights that arose in the process.
You can also mention any limitations of your research, but only if you haven't already included these in the discussion. Don't dwell on them at length, though—focus on the positives of your work.
While x limits the generalizability of the results, this approach provides new insight into y .
This research clearly illustrates x , but it also raises the question of y .
You may already have made a few recommendations for future research in your discussion section, but the conclusion is a good place to elaborate and look ahead, considering the implications of your findings in both theoretical and practical terms.
Based on these conclusions, practitioners should consider …
To better understand the implications of these results, future studies could address …
Further research is needed to determine the causes of/effects of/relationship between …
When making recommendations for further research, be sure not to undermine your own work. Relatedly, while future studies might confirm, build on, or enrich your conclusions, they shouldn't be required for your argument to feel complete. Your work should stand alone on its own merits.
Just as you should avoid too much self-criticism, you should also avoid exaggerating the applicability of your research. If you're making recommendations for policy, business, or other practical implementations, it's generally best to frame them as "shoulds" rather than "musts." All in all, the purpose of academic research is to inform, explain, and explore—not to demand.
Make sure your reader is left with a strong impression of what your research has contributed to the state of your field.
Some strategies to achieve this include:
Returning to your problem statement to explain how your research helps solve the problem
Referring back to the literature review and showing how you have addressed a gap in knowledge
Discussing how your findings confirm or challenge an existing theory or assumption
Again, avoid simply repeating what you've already covered in the discussion in your conclusion. Instead, pick out the most important points and sum them up succinctly, situating your project in a broader context.
The end is near! Once you've finished writing your conclusion, it's time to wrap up your thesis or dissertation with a few final steps:
It's a good idea to write your abstract next, while the research is still fresh in your mind.
Next, make sure your reference list is complete and correctly formatted. To speed up the process, you can use our free APA citation generator .
Once you've added any appendices , you can create a table of contents and title page .
Finally, read through the whole document again to make sure your thesis is clearly written and free from language errors. You can proofread it yourself , ask a friend, or consider Scribbr's proofreading and editing service .
Here is an example of how you can write your conclusion section. Notice how it includes everything mentioned above:
V. Conclusion
The current research aimed to identify acoustic speech characteristics which mark the beginning of an exacerbation in COPD patients.
The central questions for this research were as follows: 1. Which acoustic measures extracted from read speech differ between COPD speakers in stable condition and healthy speakers? 2. In what ways does the speech of COPD patients during an exacerbation differ from speech of COPD patients during stable periods?
All recordings were aligned using a script. Subsequently, they were manually annotated to indicate respiratory actions such as inhaling and exhaling. The recordings of 9 stable COPD patients reading aloud were then compared with the recordings of 5 healthy control subjects reading aloud. The results showed a significant effect of condition on the number of in- and exhalations per syllable, the number of non-linguistic in- and exhalations per syllable, and the ratio of voiced and silence intervals. The number of in- and exhalations per syllable and the number of non-linguistic in- and exhalations per syllable were higher for COPD patients than for healthy controls, which confirmed both hypotheses.
However, the higher ratio of voiced and silence intervals for COPD patients compared to healthy controls was not in line with the hypotheses. This unpredicted result might have been caused by the different reading materials or recording procedures for both groups, or by a difference in reading skills. Moreover, there was a trend regarding the effect of condition on the number of syllables per breath group. The number of syllables per breath group was higher for healthy controls than for COPD patients, which was in line with the hypothesis. There was no effect of condition on pitch, intensity, center of gravity, pitch variability, speaking rate, or articulation rate.
This research has shown that the speech of COPD patients in exacerbation differs from the speech of COPD patients in stable condition. This might have potential for the detection of exacerbations. However, sustained vowels rarely occur in spontaneous speech. Therefore, the last two outcome measures might have greater potential for the detection of beginning exacerbations, but further research on the different outcome measures and their potential for the detection of exacerbations is needed due to the limitations of the current study.
Checklist: Conclusion
I have clearly and concisely answered the main research question .
I have summarized my overall argument or key takeaways.
I have mentioned any important limitations of the research.
I have given relevant recommendations .
I have clearly explained what my research has contributed to my field.
I have  not introduced any new data or arguments.
You've written a great conclusion! Use the other checklists to further improve your dissertation.
In a thesis or dissertation, the discussion is an in-depth exploration of the results, going into detail about the meaning of your findings and citing relevant sources to put them in context.
The conclusion is more shorter and more general: it concisely answers your main research question and makes recommendations based on your overall findings.
While it may be tempting to present new arguments or evidence in your thesis or disseration conclusion , especially if you have a particularly striking argument you'd like to finish your analysis with, you shouldn't. Theses and dissertations follow a more formal structure than this.
All your findings and arguments should be presented in the body of the text (more specifically in the discussion section and results section .) The conclusion is meant to summarize and reflect on the evidence and arguments you have already presented, not introduce new ones.
For a stronger dissertation conclusion , avoid including:
Important evidence or analysis that wasn't mentioned in the discussion section and results section
Generic concluding phrases (e.g. "In conclusion …")
Weak statements that undermine your argument (e.g., "There are good points on both sides of this issue.")
Your conclusion should leave the reader with a strong, decisive impression of your work.
The conclusion of your thesis or dissertation shouldn't take up more than 5–7% of your overall word count.
The conclusion of your thesis or dissertation should include the following:
A restatement of your research question
A summary of your key arguments and/or results
A short discussion of the implications of your research
Cite this Scribbr article
If you want to cite this source, you can copy and paste the citation or click the "Cite this Scribbr article" button to automatically add the citation to our free Citation Generator.
George, T. & McCombes, S. (2022, November 11). How to Write a Thesis or Dissertation Conclusion. Scribbr. Retrieved February 28, 2023, from https://www.scribbr.com/dissertation/write-conclusion/
Is this article helpful?
Tegan George
Other students also liked, how to write a discussion section | tips & examples, how to write an abstract | steps & examples, how to write a thesis or dissertation introduction, what is your plagiarism score.
- Will you write my paper for me? - Yes, we will.
What we offer:, let's write a paper for you in no time, follow these 4 simple steps and solve you problem at once.
Provide details such as your topic, the number of pages, and extra requirements, and we'll do a paper for you in no time!
Log in to your personal account to know the current status of your paper(s). You can also turn to our support team for the same purpose. Enjoy your life while we're working on your order.
As soon as we write the paper(s) for you, check it for correctness, and if everything is good to go, just download it and enjoy the results.
Our customers' feedback
Still hesitant just look: others have already used our services and were pleased with the results.
Thank you guys for the amazing work! I got an A, and my professor was impressed. You have done the impossible, and I will never forget your help! The best service ever!
I ordered my paper two weeks ago and received it on time. The quality is very good, much better than other companies provide. My support agent is a pro, fast and simple explanations. Thanks!
I am firmly convinced that you will never disappoint me because you haven't done it before. Amazing approaches and solutions at perfect prices! Please continue working the way you do!
I've been using WritePaperFor.me for about five months, and I have nothing to complain about. Excellent quality, perfect grammar, delivery on time, nice support team, pleasant prices, amazing results.
This service helped me focus on my job, and I will never forget the support I received. I've got a promotion in the end! Thanks a lot for everything you do for people like me!
I have to admit that searching for a reliable and professional service was a tough quest. Nevertheless, I am happy that I managed to find writepaperforme! Everything is much better than I expected!
The best bargain is just a few clicks away!
Get an original paper that doesn't cost a fortune!
450 orders completed daily
86 disciplines of expertise
820+ professionals on our team
4.88/5 is the average order rating
​​Still have questions?
Contact our support agents and let them help you!
Is it time to write a paper for you? Contact us and relish the highest academic performance! 
Our professionals will do their best!
You'll write my paper for me, won't you? We certainly will!
So tired of writing papers that you're starting to think of your professor's demise? Relax, we're only joking! However, even a joke is woven with the thread of truth, and the truth is that endless assignments are constantly nagging at you and keeping you up all night long.
'Writing my papers is unbearable!' you may think But you're not alone… What if we told you that we know a magical place where professionals can write your essays so perfectly that even professors' most sophisticated requirements will be met? You've probably already guessed that we're talking about WritePaperFor.me — the most delightful, facilitating, and destressing custom paper-writing service!
We are not going to be shy about our wish to see you as our steady customer. As a result, we aren't twiddling our thumbs but permanently improving our services; we carefully select writers who always bone up on their subjects and disciplines, and we won't rest unless you've gotten your ideal paper(s). All your wishes become our unshakable rules!
Why would I ask you to write paper for me?
Despite the obvious and even natural resistance to the idea of paper writing in principle that may occur with any student, you may also ask yourself, 'Why would I need you to help me write my paper?' The answer to this question lies in the spectrum of your routine actions. It's not surprising that studying becomes part of our lives, but sometimes we've just got too much going on!
When you write an essay or academic paper, you just do one of the numerous things you face daily or weekly. This part of your life consumes lots of energy and time, so how can you possibly get around to doing other things like having fun, working, playing sports, helping relatives, and spending time with friends?
People are social creatures, and it's only natural of us to request help from experts.. That's why we ask doctors, electricians, or plumbers to help us! They're all specialists. Who writes essays for you better than you do? Right, people who write numerous essays every day. We are experts in academic writing, aimed at satisfying all your needs related to education.
You just hire a professional to get a paper written, like you normally do in other situations. Our team of writers know everything about writing your paper and can cope with assignments of any complexity and academic level. Well-researched and expertly-written papers are what we do for our customers, and we always do our work professionally so that you could kick back and enjoy your life to the fullest.
The undeniable benefits of our custom paper-writing service
Apart from a paper written in accordance with the highest standards, we provide a wide range of contributory advantages to make your life easier. Let's take a closer look at them.
Round-the-Clock Support. Our paper-writing service works day and night to help you with all current issues. Our friendly support team is available whenever you need them, even if it's the middle of the night. They will gladly guide you and answer all your questions on how to order customized papers or consult you about the matters at hand. Feel free to share your questions or concerns with them and get comprehensible answers.
High-Class Quality. 'Will you write a paper for me that meets all requirements?' This question is frequently asked by many students, and we always answer in the affirmative. Our main goal is to deliver a perfectly written paper the meets the highest possible writing standards. We don't rest unless you are satisfied with our work. If you hire a paper writer online, we guarantee you that you get 100% original and plagiarism-free assignments of high quality.
Complete Anonymity. We value your privacy and use modern encryption systems to protect you online. We don't collect any personal or payment details and provide all our customers with 100% anonymity. 'Can you write a paper for me and let me stay anonymous?' Of course, we can! We are here to help you, not to cause problems.
Fast Delivery. We completely understand how strict deadlines may be when it comes to writing your paper. Even if your paper is due tomorrow morning, you can always rely on us. Our writers meet all set deadlines unequivocally. This rule is ironclad! The offered range is wide and starts from 6 hours to 2 weeks. Which one to choose is totally up to you. On our part, we guarantee that our writers will deliver your order on time.
Free Revisions. Our mission is to hone your paper to perfection. That's why we offer you free revisions to make everything ideal and according to your needs. Feel free to ask for revisions if there is something you would like to be changed. That's how our paper writing service works.
Money-Back Guarantee. You can get up to a 100% refund if you are dissatisfied with our work. Nevertheless, we are completely sure of our writers' professionalism and credibility that offer you hard-core loyalty to our guarantees.
Comprehensible Explanations. 'Can someone write my paper for me and provide clarifications?' This question arises from time to time. Naturally, we want you to be totally prepared for the upcoming battle with your professor. If you need to fill the gaps in your knowledge, you can always ask for clarifications related to your paper. Moreover, when you order 'write my paper for me' service, you can always turn to our support agents for assistance. They will be glad to provide you with the necessary information and comprehensible explanations.
Fast and Customer-Focused Solutions. 'Is it possible to do my paper for me so that I don't worry about it at all?' It certainly is! We offer all-encompassing solutions to all your academic problems by defining issues, determining their causes, selecting proper alternatives, and ultimately solving them. You are free to do your favorite activities while we are taking care of ongoing matters. You can always rely on us when it comes to essay-writing online and taking an individual approach to every case.
Who will write my paper when I order it?
Another crucial advantage of our service is our writers. You may have asked yourself, 'I'd like to pay someone to write a paper for me, but who exactly will that person be?' Once you order a paper, our managers will choose the best writer based on your requirements. You'll get a writer who is a true expert in the relevant subject, and a perfect fit is certain to be found due to our thorough procedure of selecting.
Every applicant passes a complex procedure of tests to become one of our permanent writers. First of all, they should provide their credentials.  We need to make sure that any prospective writers we hire have the proper experience.. The next step resides in passing a series of tests related to grammar, in addition to subject and/or discipline. Every paper-writer must pass them to prove their competency and their selected field of expertise.
One more step includes writing a sample to prove the ability to research and write consistently. Moreover, we always set our heart on hiring only devoted writers. When you ask us to write your essay or other academic works, you can be sure that they always do their best to provide you with well-structured and properly-written papers of high quality.
The final chord is related to special aspects of academic paper-writing. It means that every writer is prepared to cite properly, use different styles, and so on, so you don't have to be worried about formatting at all.
'So, can they write an ideal paper for me?' We answer in the affirmative because we select only the best writers for our customers. Approximately 11% of all applicants can pass the whole set of tests and are ready to help you. All writers are fully compensated for their work and are highly motivated to provide you with the best results.
We are online 24/7 so that you could monitor the process of paper-writing and contact us whenever necessary. Don't forget that your satisfaction is our priority. Our writers fully focus on your order when it comes to the 'write my paper' procedure. Our managers will immediately send all the information to your writer if any corrections are required.
It's time to write my paper! What should I do?
'I am ready to pay to have a paper written! Where do I start?' Our team hears these words every day. We really believe that every student should be happy. That's why we offer you to look at the simple steps to make the process even more convenient.
Fill in the comprehensible order form located on the main page of our website. If you need some help with it, feel free to contact our support team.
Provide the necessary details, such as the topic, subject or discipline, paper format, your academic level, etc.
Select the deadline, and we will strictly follow it.
Pay the total price. Submit a preferred payment method. The full sum will be deposited into your account on our website. The money will be transferred to your writer in case you approve the paper.
If you have additional materials provided by your professor or may simply assist in writing your paper, please attach them too. They will help the assigned writer meet your professor's expectations.
Every paper we can write for you is expertly-researched, well-structured, and consistent. Take a look at some types of papers we can help you with:
Dissertations
Research papers
Case studies
Term papers
Business plans, etc.
Questions like 'I would like you to write a paper for me without destroying my reputation. Can you promise to do so?' or 'Can you write my paper for me cheap and fast?' often arise, and we take pride that these options are included in the list. Your safety and anonymity are parts of our common priority, which is to make you fully satisfied with all offered services.
Moreover, our pricing policy is flexible and allows you to select the options that totally suit your needs at affordable prices. You will be pleased with the results and the amount of money spent on your order. Our managers and writers will do the rest according to the highest standards.
Don't hesitate and hire a writer to work on your paper now!
We believe that students know what is best for them, and if you suppose that it is time to 'write my paper right now,' we will help you handle it. 'Will you do my paper without any hesitation?' Of course, we will. Our service has all the necessary prerequisites to complete assignments regardless of their difficulty, academic level, or the number of pages. We choose a writer who has vast experience and a breadth of knowledge related to your topic.
Our 'write my paper for me' service offers a wide range of extra features to make the ordering process even more pleasant and convenient. Unlike lots of other services, we provide formatting, bibliography, amendments, and a title page for free.
'When you write my paper for me? Can I monitor the process?' Naturally, you can. We understand that you may want to ensure that everything is going well. Furthermore, there may be situations when some corrections are needed. We believe that a tool like this can come in handy. The assigned writer will strictly follow your and your professor's requirements to make sure that your paper is perfect.
'Is it possible to write my essay from scratch?' We don't do just proofreading or editing. Our goal is to fully carry your burden of writing. When this or similar questions appear, we always assure our customers that our writers can do whatever they need. Apart from writing from scratch or editing and proofreading, our experts can effortlessly cope with problem-solving of all kinds;even sophisticated software assignments!
Our 'write my paper for me' service is good for everyone who wants to delegate paper-writing to professionals and save precious time that can be spent differently and in a more practical way. We want you to be happy by offering the great opportunity to forget about endless and boring assignments once and forever. You won't miss anything if your papers become the concern of our professional writers.
Don't waste your precious time browsing other services. We provide you with everything you need while you are enjoying yourself by doing things you really enjoy. 'Write my paper then! Do my paper for me right now!' If you are ready to exclaim these words with delight, we welcome you to our haven, a place where students spend their time serenely and never worry about papers! It's your turn to have fun, whereas our mission is to provide you with the best papers delivered on time!
Questions our customers ask
Can someone write my paper for me.
Yes, we can. We have writers ready to cope with papers of any complexity. Just contact our specialists and let us help you.
Who can I pay to write a paper for me?
We will help you select a writer according to your needs. As soon as you hire our specialist, you'll see a significant improvement in your grades.
Can I pay someone to write a paper for me?
Yes, you can. We have lots of professionals to choose from. We employ only well-qualified experts with vast experience in academic paper writing.
What website will write a paper for me?
WritePaperFor.me is the website you need. We offer a wide range of services to cover all your needs. Just place an order and provide instructions, and we will write a perfect paper for you.
Is it safe to use your paper writing service?
Our service is completely safe and anonymous. We don't keep your personal and payment details and use the latest encryption systems to protect you.
What are you waiting for?
You are a couple of clicks away from tranquility at an affordable price!
Yahoo Finance
Thesis Gold Drills 7.00 Metres of 11.69 g/t Au at the Bonanza-Ridge Zone
Oops! Something went wrong. Please try again later. More content below
Vancouver, British Columbia--(Newsfile Corp. - February 28, 2023) - Thesis Gold Inc. (TSXV: TAU) (WKN: A2QQ0Y) (OTCQX: THSGF) (" Thesis " or the " Company ") is pleased to announce assay results from the Bonanza-Ridge Zone at the Ranch Gold Project in British Columbia's Toodoggone mining district.
Ridge hole 22RDGDD047 returned 7.00 metres (m) core length of 11.69 grams per tonne (g/t) gold (Au), 5.32 g/t silver (Ag) or 11.76 g/t AuEq ** (Table 1), including 2.00 m of 36.43 g/t Au, 11.88 g/t Ag or 36.57 g/t AuEq** (Figures 1).
This is the most southerly hole drilled at the Ridge zone and deepest on that section, demonstrating excellent downdip continuity across numerous drill holes.
The zone remains open down plunge and along strike (Figure 1).
Bonanza hole 22BNZDD018 intercepted over 80.00 m of pervasive alteration from surface that includes 3 separate zones of mineralization (figure 1 & 2);
10.26 m of 2.07 g/t AuEq**
24.00 m of 1.69 g/t AuEq**
5.00 m of 1.83 g/t AuEq**
This hole is in the very sparsely drilled Bonanza-Ridge connector zone.
A deeper interval in 22BNZDD018 intersected the Bonanza Zone;
30.00 m of 2.00 g/t AuEq**, incl. 12.00 m of 2.82 g/t AuEq**, and 7.08 m of 2.61 g/t AuEq**
Strong gold mineralization over wide intercepts at the Bonanza-Ridge Zone further extended mineralization (Figure 1 and Table 1).
22RDGDD029: 10.00 m of 2.28 g/t AuEq**
22BNZDD016: 25.00 m of 1.04 g/t AuEq**
Bonanza-Ridge mineralization extends over 700 m along strike.
Mineralization associated with northwest and northeast-oriented structures continues to demonstrate good continuity and remains open along strike.
Ewan Webster, President, and CEO, commented, "Drilling activities at the Bonanza-Ridge Zone have produced noteworthy gold and silver intercepts from surface and maintained consistency in grade and continuity at depth. The persistently favorable outcomes thus far demonstrate the immense potential for the resource and highlight the significance of this rapidly expanding area, which will remain a principal area of focus for our upcoming 2023 drill program."
Drill holes 22BNZDD016-19 intercepted significant intervals of strong mineralization at or near surface in an area with considerable opportunity to expand on the mineralized footprint (Figure 1). The mineralized leached, vuggy-silica-altered rocks intersected near surface in these holes are similar in character to the broad zones of mineralization encountered in hole 22BNZDD008 and 22BNZDD009 (Figure 1; see news release from Nov. 7 th , 2022 ) along the northeast extension of the Bonanza Trend. 2023 drilling will continue to test for near-surface mineralization in this very prospective zone between these two well defined trends.
Table 1: Drill core assay results from the Bonanza-Ridge Zone.
* True width of the intervals has not yet been established by drilling. **AuEq calculated on 1:80 gold-to-silver.
Figure 1. Overview of the Bonanza-Ridge Zone with drill collars and interpretation. To view an enhanced version of this graphic, please visit: https://images.newsfilecorp.com/files/2191/156428_4b61e153a428b80e_001full.jpg
Figure 2. Cross section showing drill hole 22BNZDD018 & 22BNZDD017. To view an enhanced version of this graphic, please visit: https://images.newsfilecorp.com/files/2191/156428_4b61e153a428b80e_002full.jpg
Quality Assurance and Control Results from samples were analyzed at ALS Global Laboratories (Geochemistry Division) in Vancouver, Canada (an ISO/IEC 17025:2017 accredited facility). The sampling program was undertaken by Company personnel under the direction of Rob L'Heureux, P.Geol. A secure chain of custody is maintained in transporting and storing of all samples. Gold was assayed using a fire assay with atomic emission spectrometry and gravimetric finish when required (+10 g/t Au). Drill intervals with visible gold were assayed using metallic screening. Rock chip samples from outcrop/bedrock are selective by nature and may not be representative of the mineralization hosted on the project.
The technical content of this news release has been reviewed and approved by Michael Dufresne, M.Sc, P.Geol., P.Geo., a qualified person as defined by National Instrument 43-101.
On behalf of the Board of Directors Thesis Gold Inc.
"Ewan Webster"
Ewan Webster Ph.D., P.Geo. President, CEO, and Director
About Thesis Gold Inc.
Thesis Gold is a mineral exploration company focused on proving and developing the resource potential of the 17,832-hectare Ranch Gold Project located in the "Golden Horseshoe" area of northern British Columbia, approximately 300 km north of Smithers, B.C. For further details about the Ranch Gold Project and the 2021 and 2022 drill programs, please click here and watch the videos on the project.
For further information or investor relations inquiries, please contact:
Dave Burwell Vice President The Howard Group Inc. Email: [email protected] Tel: 403-410-7907 Toll Free: 1-888-221-0915
Nick Stajduhar Director Thesis Gold Email: [email protected]
Neither the TSX Venture Exchange nor its Regulation Services Provider (as that term is defined in the policies of the TSX Venture Exchange) accepts responsibility for the adequacy or accuracy of this press release.
Cautionary Statement Regarding Forward-Looking Information This press release contains "forward-looking information" within the meaning of applicable Canadian securities legislation. Forward-looking information includes, without limitation, statements regarding the use of proceeds from the Company's recently completed financings and the future plans or prospects of the Company. Generally, forward-looking information can be identified by the use of forward-looking terminology such as "plans", "expects" or "does not expect", "is expected", "budget", "scheduled", "estimates", "forecasts", "intends", "anticipates" or "does not anticipate", or "believes", or variations of such words and phrases or state that certain actions, events or results "may", "could", "would", "might" or "will be taken", "occur" or "be achieved". Forward-looking statements are necessarily based upon a number of assumptions that, while considered reasonable by management, are inherently subject to business, market, and economic risks, uncertainties, and contingencies that may cause actual results, performance, or achievements to be materially different from those expressed or implied by forward-looking statements. Although the Company has attempted to identify important factors that could cause actual results to differ materially from those contained in forward-looking information, there may be other factors that cause results not to be as anticipated, estimated, or intended. There can be no assurance that such information will prove to be accurate, as actual results and future events could differ materially from those anticipated in such statements. Accordingly, readers should not place undue reliance on forward-looking information. Other factors which could materially affect such forward-looking information are described in the risk factors in the Company's most recent annual management's discussion and analysis, which is available on the Company's profile on SEDAR at www.sedar.com . The Company does not undertake to update any forward-looking information, except in accordance with applicable securities laws.
To view the source version of this press release, please visit https://www.newsfilecorp.com/release/156428