Home > HFA > Department of Architecture > Architecture Masters Theses Collection
Architecture Masters Theses Collection
Theses from 2022 2022.
Equitable Housing Generation Through Cellular Automata , Molly R. Clark, Architecture
Beneficial Invasive: A Rhizomatic Approach to Utilizing Local Bamboo for COVID Responsive Educational Spaces , Megan Futscher, Architecture
Architectural Activism Through Hip-Hop , Micaela Goodrich, Architecture
Addressing Trauma Through Architecture: Cultivating Well-being For Youth Who Have Experienced Trauma , Megan Itzkowitz, Architecture
Buildings Integrated into Landscape & Making People Care for Them: Exploring Integrated Land-Building Ecosystems and the Lifestyles Needed to Support It , Sara Mallio, Architecture
Reimagining Black Architecture , Esosa Osayamen, Architecture
Prefabricated Homes: Delivery At Your Doorsteps , Obed K. Otabil, Architecture
Memory and Resistance , Cami Quinteros, Architecture
Mycelium: The Building Blocks of Nature and the Nature of Architecture , Carly Regalado, Architecture
IN-BETWEEN SPACES: ATMOSPHERES, MOVEMENT AND NEW NARRATIVES FOR THE CITY , Paul Alexander Stoicheff, Architecture
Theses from 2021 2021
Creating New Cultural Hubs in American Cities: The Syrian Diaspora of Worcester, Massachusetts , Aleesa Asfoura, Architecture
Firesafe: Designing for Fire-Resilient Communities in the American West , Brenden Baitch, Architecture
The Beige Conundrum , Alma Crawford-Mendoza, Architecture
Cultivating Food Justice: Exploring Public Interest Design Process through a Food Security & Sustainability Hub , Madison J. DeHaven, Architecture
Physical to Virtual: A Model for Future Virtual Classroom Environments , Stephen J. Fink, Architecture
Detroit: Revitalizing Urban Communities , David N. Fite, Architecture
The Homestead Helper Handbook , Courtney A. Jurzynski, Architecture
An Architecture of a New Story , Nathan Y. Lumen, Architecture
Border Town: Preserving a 'Living' Cultural Landscape in Harlingen, Texas , Shelby Parrish, Architecture
Housing for Adults with Autism Spectrum Disorder (ASD): Creating an Integrated Living Community in Salem, MA , Tara Pearce, Architecture
From Sanctuary to Home in the Post-Interstate City , Morgan B. Sawyer, Architecture
Exploring the Use of Grid-Scale Compressed Air Energy Storage in the Urban Landscape , Connor S. Slover, Architecture
Bridging the Gaps in Public Conversation by Fostering Spaces of Activism , Karitikeya Sonker, Architecture
Re-envisioning the American Dream , Elain Tang, Architecture
Tall Timber in Denver: An Exploration of New Forms in Large Scale Timber Architecture , Andrew P. Weuling, Architecture
Theses from 2020 2020
Urban Inter-Space: Convergence of Human Interaction and Form , Clayton Beaudoin, Architecture
The Hues of Hadley Massachusetts: Pioneering Places for Preservation and Growth , Elisha M. Bettencourt, Architecture
Reinvigorating Englewood, Chicago Through New Public Spaces and Mixed-Income Housing , Givan Carrero, Architecture
Architectural Agency Through Real Estate Development , Hitali Gondaliya, Architecture
Multimodal Transit and a New Civic Architecture , Samuel Bruce Hill, Architecture
Rethinking The Suburban Center , Andrew Jones, Architecture
Resilient Urbanism: Bridging Natural Elements & Sustainable Structures in a Post-Industrial Urban Environment , Nicholas McGee, Architecture
Adaptive Airport Architecture , Yash Mehta, Architecture
Rethinking School Design to Promote Safety and Positivity , Emily Moreau, Architecture
The Built Environment and Well-Being: Designing for Well-Being in Post-Industrial Communities During the Age of Urbanization , Tyler O'Neil, Architecture
Brutalism and the Public University: Integrating Conservation into Comprehensive Campus Planning , Shelby Schrank, Architecture
Spatial Design for Behavioral Education , Madeline Szczypinski, Architecture
Theses from 2019 2019
THERAPEUTIC COMMUNITY: FOR REFUGEES , Raghad Alrashidi, Architecture
From Archaic To contemporary : Energy Efficient Adaptive Reuse of Historic Building , Nisha Borgohain, Architecture
(RE)Developing Place: The Power of Narrative , Kinsey Diomedi, Architecture
Rethinking Ambulatory Care Delivery , Senada Dushaj, Architecture
Photosynthesizing the Workplace: A Study in Healthy and Holistic Production Spaces , Kaeli Howard, Architecture
Museum Design As A Tool For A City , Cunbei Jiang, Architecture
Architecture and Wilderness: An Exchange of Order , Ashley Lepre, Architecture
Cross-Species Architecture: Developing an Architecture for Rehabilitative Learning Through the Human-Canine Relationship , Jake Porter, Architecture
Intermodal Transit Terminal: Integrating the Future of Transit into the Urban Fabric , Guy Vigneau, Architecture
Theses from 2018 2018
Bangladeshi Cultural Center: for the Bangladeshi Population Living in New York City , Sabrina Afrin, Architecture
THE ENHANCEMENT OF LEARNING THROUGH THE DESIGN PROCCESS: RENOVATING THE FORT RIVER ELEMENTARY SCHOOL IN AMHERST, MA , Reyhaneh Bassamtabar, Architecture
LEARNING SPACES: DISCOVERING THE SPACES FOR THE FUTURE OF LEARNING , Michael Choudhary, Architecture
ARCHITECTURAL SYNERGY: A FACILITY FOR LIFELONG LEARNING IN ACADEMIA AND PRACTICE , Ryan Rendano, Architecture
Resilient Architecture: Adaptive Community Living in Coastal Locations , Erica Shannon, Architecture
Theses from 2017 2017
New York City 2050: Climate Change and Future of New York | Design for Resilience , Abhinav Bhargava, Architecture
The Performance of Light: Exploring the Impact of Natural Lighting in the New UMass School of Performance , Dylan Brown, Architecture
Regional Expression In The Renovation Of Remote Historic Villages , Jie chen, Architecture
An Incremental Intervention In Jakarta: An Empowering Infrastructural Approach For Upgrading Informal Settlements , Christopher H. Counihan, Architecture
UMASS Dining Hall. A Path to Resiliency , Lukasz Czarniecki, Architecture
LIVING CORE OF THE FUTURE: PROPOSING NEW APPROACH FOR THE FUTURE OF RESIDENTIAL COMPLEX IN METROPOLITAN AREAS , Mahsa G. Zadeh, Architecture
HUMANITY IN A CHILDREN'S CANCER HOSPITAL , Sara Jandaghi Jafari, Architecture
Designing Symbiosis for the New Church Community , Evan Janes, Architecture
A Visible History: A Synthesis of Past, Present and Future Through the Evocation of Memory Within Historic Contexts , Nicholas Jeffway, Architecture
Creating A Community A New Ecological, Economical, and Social Path to Uniting a Community , Andrew Stadnicki, Architecture
Z-Cube: Mobile Living for Feminist Nomads , Zi Ye, Architecture
Theses from 2016 2016
Music and Architecture: An Interpresence , Rachel J. Beesen, Architecture
Intervening in the Lives of Internally Displaced People in Colombia , Amy L. Carbone, Architecture
Designing Waste Creating Space: A Critical Examination Into Waste Reduction Through Building Techniques, Architectural Design, and Systems , Courtney M. Carrier, Architecture
Umass September 11 Intervention , Mohamad Farzinmoghadam, Architecture
Merging Social Science and Neuroscience in Architecture: Creating a Framework to Functionally Re-integrate Ex-Convicts , Kylie A. Landrey, Architecture
From Shelters to Long Living Communities , Yakun Liang, Architecture
Building Hope: A Community + Water Initiative, La Villa de San Francisco, Honduras , Christopher D. Mansfield, Architecture
THE SPATIALITY IN STORYTELLING , Xiang Yu, Architecture
Innovation of the Residential Buildings and Community in the Emerging City Rongcheng , Xing Yu, Architecture
Art and Life - Make invisible visible in Cao changdi village, Beijing, China , peng zhang, Architecture
Theses from 2015 2015
The Dialogue of Craft and Architecture , Thomas J. Forker, Architecture
MOSQUE IN THE VALLEY: A SPACE FOR SPIRITUAL GATHERING & CULTURAL LEARNING , Nabila Iqbal, Architecture
EXPLORATION OF CONNECTIVITY BETWEEN URBAN PLAZA AND MIXED USE BUILDINGS , Youngduk Kim, Architecture
Design Of A Housing For Urban Artisan-Living Work , Fahim Mahmud, Architecture
Membranes and Matrices: Architecture as an Interface , Nayef Mudawar, Architecture
Building for the Future: Revitalization through Architecture , Rebecca N. Perry, Architecture
Developing Maker Economies in Post-Industrial Cities: Applying Commons Based Peer Production to Mycelium Biomaterials , Grant R. Rocco, Architecture
Design of Children's Event and Cutural Center in Osu, Accra, Ghana , Rudi Somuah, Architecture
Sustainable Design of Student Centers Retrofitting and Adaptive Reuse of UMass Student Union , Tianye Song, Architecture
Design/Build in Architectural Education: studying community-focused curriculum , Matthew K. Sutter, Architecture
Landform Architecture As Reconnecting Presence For Campus Complex Design , Yi Wang, Architecture
Architecture for Housing: Multi-Function Transitional Space of Housing in China , zhaoqing zhang, Architecture
Theses from 2014 2014
New as Renewal: A Framework for Adaptive Reuse in the Sustainable Paradigm , Luke A. Beck, Architecture
Reconnecting Mill Communities: An Architectural Intervention in Fitchburg, Massachusetts , Ronald Bujold, Architecture
Greening Greenpoint: Investigating Technology and Environment-based Design , Adam Castelli, Architecture
Sustaining Community: A New Social, Economic, and Environmental Path for Ware, MA , Aviva J. Galaski, Architecture
Reconsidering the Community Center - Restorative Strategies Within Existing Frameworks , John Gilbert III, Architecture
From Vacant to Vibrant: Proposing a New Approach to the Anchor Store Typology , Samantha L. Greenberg, Architecture
The Under Wing Home , David Harrington, Architecture
Bridging the Gap: Community-Oriented Transit Development , Matthew C. Jones, Architecture
The Community Cohesion Trail of Brattleboro, Vermont , Patrick C. Kitzmiller, Architecture
Parametric Tools in the Design Process , Robert B. Marcalow, Architecture
Architecture for Science: Space as an Incubator to Nurture Research , Maryam Mohammad Shafiee, Architecture
ARCHITECTURE FOR THE REVITALIZATION OF COMMUNITY , Erin Riley, Architecture
Community Development in Emerging Cities: A Case for Lagos,Nigeria , Olaoluwa Olakunle Silva, Architecture
Utopia In The Apocalypse: Creating A Framework Of Survival Systems , Bryan E. Toepfer, Architecture
Mount Tom Self-Transformation Retreat: Designing Experiential Architecture to Provoke Stimulatory, Expressive and Sensory Self-Exploration , Kyle B. Young, Architecture
Investigation of Historical Area in Xi'an, China , Zhaoxiong Yu, Architecture
Advanced Search
Notify me via email or RSS
Collections
Disciplines
Author Corner
Login for Faculty Authors
Faculty Author Gallery
Expert Gallery
University Libraries
Architecture Website
UMass Amherst
This page is sponsored by the University Libraries.
© 2009 University of Massachusetts Amherst • Site Policies
Privacy Copyright
Harvard University Graduate School of Design
Selected architecture thesis projects: fall 2020.
Clockwise from top left: "Citing the Native Genius" by Taylor Cook, "Pair of Dice, Para-Dice, Paradise: A Counter-Memorial to Victims of Police Brutality" by Calvin Boyd, "The Magic Carpet" by Goli Jalali, "Stacked Daydreams: Ceiling-Scape for the Neglected" by Zai Xi Jeffrey Wong, and "Up from the Past: Housing as Reparations on Chicago's South Side" by Isabel Strauss
Five films showcase a selection of Fall 2020 thesis projects from the Department of Architecture.
Pair of Dice, Para-Dice, Paradise: A Counter-Memorial to Victims of Police Brutality
This thesis is a proposal for a counter-memorial to victims of police brutality. The counter-memorial addresses scale by being both local and national, addresses materiality by privileging black aesthetics over politeness, addresses presence/absence by being more transient than permanent, and lastly, addresses site by being collective rather than singular. The result is an architecture that plays itself out over 18,000 police stations across America and the Washington Monument at the National Mall, two sites that are intrinsically linked through the architecture itself: negative "voids" at police stations whose positive counterparts aggregate at the Mall.
The critical question here is whether or not the system in which police brutality takes place can be reformed from within, or if people of color need to seek their utopia outside of these too-ironclad structures. This counter-memorial, when understood as an instrument of accountability (and therefore a real-time beacon that measures America's capacity to either change or otherwise repeat the same violent patterns), ultimately provides us with an eventual answer.
Author: Calvin Boyd, MArch I 2020 Advisor: Jon Lott , Assistant Professor of Architecture Duration: 11 min, 2 sec
Thesis Helpers: Shaina Yang (MArch I 2021), Rachel Coulomb (MArch I 2022)
The Magic Carpet
The Persian Carpet and the Persian Miniature painting have served as representation tools for the Persian Gar­den and the idea of paradise in Persian culture since antiquity. The word paradise derives from the Persian word pari-daeza meaning "walled enclosure." The garden is always walled and stands in opposition to its landscape. This thesis investigates the idea of a contemporary image of paradise in the Iranian imagination by using carpets and miniature paintings as a tool for designing architecture. The garden, with its profound associations, provided a world of metaphor for the classical mystic poets. One of the manuscripts describing the Persian garden is called Haft Paykar – known as the Seven Domes – written by the 12th century Persian poet called Nizami. These types of manuscripts were made for Persian kings and contain within them miniature paintings and poetry describing battles, romances, tragedies, and triumphs that compromise Iran's mythical and pre-Islamic history. The carpet is the repeating object in the minia­ture paintings of the manuscript. This thesis deconstructs the carpet in seven ways in order to digitally reconstruct the miniature paintings of the Seven Domes and the image of paradise with new techniques.
Author: Goli Jalali, MArch I 2021 Advisor: Jennifer Bonner , Associate Professor of Architecture Duration: 8min, 28 sec
Up from the Past: Housing as Reparations on Chicago's South Side
Do people know what the Illinois Institute of Technology and the South Side Planning Board and the city of Chicago and the state of Illinois and the United States government did to the Black Metropolis? If they know, do they care? Is it too hard to hold these entities accountable? If we held them accountable, could we find justice for those that were displaced? What would justice look like? What comes after Mecca? What types of spaces come after Mecca? Are they different than what was there before? Are they already there? What defines them? Can Reparations be housing? How many people are already doing this work? How many people are doing this work in academia? On the ground? Is the word "Reparations" dead? What do we draw from? Who is this for? Do white men own the legacy of the architecture that defined the Black Metropolis? How personal should this work be? How anecdotal? How quantitative? Does the design need to be inherently spatial? Or atmospheric? What should it feel like? How do I draw a feeling in Rhino? What are radical ways of looking? How do we reclaim racialized architecture? Do we? Should we even talk about these things?
Author: Isabel Strauss, MArch I 2021 Advisor: Oana Stanescu , Design Critic in Architecture Duration: 4 min, 4 sec
Soundtrack Created By: Edward Davis (@DJ Eway) Production Support: Adam Maserow , Evan Orf , Glen Marquardt Collaborators: Rekha Auguste Nelson , Farnoosh Rafaie , Zena Mariem Mengesha , Edward Davis (DJ Eway) Special Thanks: Caleb Negash , Tara Oluwafemi , Maggie Janik , Ann Whiteside , Dana McKinney Guidance: Stephen Gray , John Peterson , Chris Herbert , Cecilia Conrad , Lawrence J. Vale , Ilan Strauss , Mark Lee , Iman Fayyad , Jennifer Bonner , Mindy Pugh , Peter Martinez Collage Credits: Adler and Sullivan , Bisa Butler , Carrie Mae Weems , Dawoud Bey , Deborah Roberts , Ebony G Patterson , Ellen Gallagher , Frank Lloyd Wright , Howardena Pindell , Jordan Casteel , Kerry James Marshall , Latoya Ruby Frazier , Lelaine Foster , Lorna Simpson , Mark Bradford , Mickalene Thomas , Mies van der Rohe , Nick Cave , Njideka Akunyili Crosby , Romare Bearden , Sadie Barnette More Information: architectureofreparations.cargo.site
Stacked Daydreams: Ceiling‐Scape for the Neglected
Elderly Care Adaptive Reuse of Hong Kong's Vertical Factory
This thesis operates at the intersection of three domains of neglect:
In the realm of building elements, the ceiling is often considered as an afterthought in the design process.
Across building types, the vertical factory sits abandoned and anachronistic to its surroundings. It spiraled into disuse due to Hong Kong's shifting economic focus.
In society, the elderly are often subjected to social neglect, seen as a financial burden, and forced toward the fringes of society.
These parts experience obsolescence that led to indifference, and subsequently to boredom. I intend to draw the parallel of deterioration between the body of the elderly and the body of the vertical factory. Using a set of ceiling parts in the manner of prosthetics to reactivate the spaces into elderly care facilities, revert boredom to daydreams, and reimagine the concept of elderhood as an experimental second stage of life.
Author: Zai Xi Jeffrey Wong, MArch I AP 2021 Advisor: Eric Höweler , Associate Professor of Architecture & Architecture Thesis Coordinator Duration: 4 min, 53 sec
Citing the Native Genius
Reconstructing vernacular architecture in Hawai'i
For over 120 years, Americanization has tried to demean and erase Hawaiian language, culture, and architecture. In contemporary discourse, the vernacular architecture of Hawai'i is mostly referred to as ancient and vague. As with many Indigenous cultures, Western perspectives tend to fetishize or patronize the Hawaiian design aesthetic. Within this hierarchy of knowledge is a systemic assumption that Hawaiian vernacular architecture cannot effectively serve as a precedent resource for contemporary architects. Those who do reference the original vernacular will often classify it as utilitarian or resourceful. Regardless of intent, this narrative takes design agency away from the people involved. As a corrective, a respectful use of vernacular domestic form would benefit designers that are struggling to connect with Hawai'i's cultural and architectural traditions.
Mining the European gaze and influence out of revivalist publications, archeological surveys and historic images reveal unique characteristics of Hawaiian domestic space. Geometric quotation and symbolic referencing are the foundational instruments in applying the discrete components, form, and organizational logic of the vernacular. The result is a design process that creates an amalgamation of decolonized form and contemporary technique. This residential project intends to revive Hawai'i's erased domestic experience by revisiting the precolonial vernacular form and plan.
Author: Taylor Cook, MArch I 2021 Advisor: Jeffry Burchard , Assistant Professor in Practice of Architecture Duration: 5 min, 13 sec
Special Thanks: Jeffry Burchard, Cameron Wu, Kanoa Chung, Nik Butterbaugh, Carly Yong, Vernacular Pacific LLC More Information: www.vernacularhawaii.com
During the COVID-19 pandemic, the galleries in Gund Hall have been turned 'inside out,' with exhibitions shown through a series of exterior projections on the building's facade. View some images from the screening of these films below:
Explore Thesis projects from the Class of 2021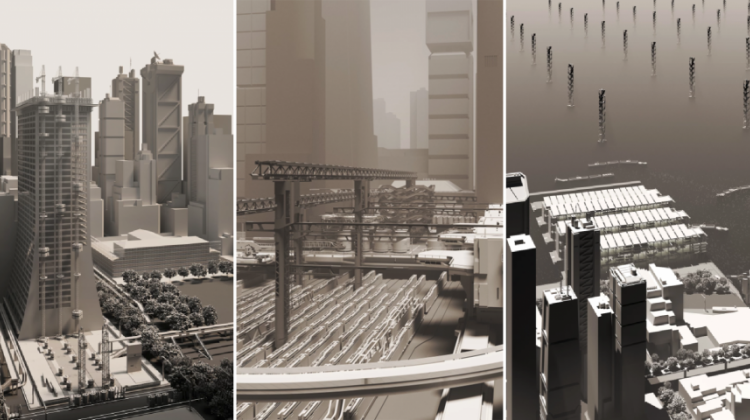 Review Book:  https://issuu.com/mitarchitecture/docs/20-01-05_marchthesisbookletsqsinglep  
Master of Architecture (M.Arch) Website:  https://www.mitmarchthesis.com/theses
Post -arium Arditha Auriyane Advisor: Mariana Ibanez
Priced Out of Paradise :  Reconsidering cooperatives in response to climate gentrification in Miami's communities of color Adiel Alexis Benitez Advisor: Miho Mazereeuw
To Know is to Empower :  Chagos Institute of Environmental Humanities Chen Chu Advisor: Miho Mazereew
Reclaiming the Estranged :  Reimagining the Architecture of the Excess Sydney Cinalli Advisor: Brandon Clifford, Deborah Garcia
Ferrous Futures :  Scenario Planning for Global Steel Charlotte D'Acierno, Clarence Lee, Jaehun Woo Advisor: Mariana Ibanez
Seven Ways of Reading The House of the Seven Gables Isadora Dannin Advisor: Mark Jarzombek
Gardens of Resistance Nynika Jhaveri Advisor: Azra Aksamija
After Aura :  Authorship, Automation, Authenticity Kailin J. Jones Advisor: Azra Aksamija
The Factory of Coexistence Melika Konjicanin Advisor: Cristina Parreño Alonso
Screen Time Jeffrey Landman Advisor: Rania Ghosn
Architecture for Revision Emma Pfeiffer Advisor: Rosalyne Shieh
Thorough David Allen White Advisor: Mark Jarzombek
Spring 2021
Review Book:  https://issuu.com/mitarchitecture/docs/21-05-21_allthesisbookletpages
Master of Architecture (M.Arch) Website:  https://mit-march-sp21.com/
The Houseful(l)ness of Public Space Xio Alvarez (M.Arch & MCP) Advisor: Miho Mazereeuw, Larry Vale
Still Standing :  Cooperative strategies for the renovation of Soviet mass housing Ben Hoyle, Eytan Levi (M.Arch & MSRED) Advisor: Ana Miljački
Concetividad Alegal :  Remaking and Resilience in the bay of Havana        Lucas Igarzabal, Marissa Concetta Waddle Advisor: Hans Tursack
M.I.celium mexicanus :  Rejecting Modernity through Zapotec Futurism Lynced Torres Advisor: Sheila Kennedy View project site here!
Heirlooms :  In Search of the Fifth Ecology Erin Wong Advisor: Sheila Kennedy
Building / Unbuilding   Andrew Younker Advisor: Azra Akšamija
Space of Mind :  The Hidden Architecture in the Time of Pandemic Ziyu Xu Advisor: Axel Killian
Master of Science in Architecture Studies (SMArchS)
SMArchS Architecture + Urbanism
Third Landscape Dries Carmeliet Advisor: Rania Ghosn
Mediating Chana :  Seeding Synergies Between Doves and Development Eakapob Huangthanapan Advisor: Miho Mazereeuw
Mokumitsu Districts in Tokyo :  Urban Renewal by Housing Cooperatives against Disaster Risk Ryuhei Ichikura Advisor: Miho Mazereeuw
To Build Home and To Live In (U)Hygge Wuyahuang Li Advisor: Mark Jarzombek
Collecting Ideals :  Re-Envisioning Ejidos as Climate-Action Platforms Luis Alberto Meouchi Velez Advisor: Lorena Bello Gomez, Nicholas de Monchaux
Made in Rural China Siyuan Sheng Advisor: Brent Ryan
Generative Urban Design toward Thermal Synergy :  Inspire sustainable urban configuration under distributive heating & cooling schemes Qianqian Wan Advisor: Caitlin Mueller
SMArchS Architecture Design
Velvet Garage :  Narratives of an Education in Architecture Marianna Gonzalez-Cervantes Advisor: Liam O'Brien
Nightrise :  Through the Valley of Jabal 'Amil's Shadow Mohamad Nahleh Advisor: Sheila Kennedy
SMArchS Building Technology
Mass Balance :  Design Strategies for Lightweight, Thermally Massive Construction Systems Eduardo Gascón Alvarez Advisor: Caitlin Mueller
Evaluating Overheating Preventative Measures in Residential Buildings and Passive Survivability Yesufu Oladipo Advisor: Les Norford
SMArchS Computation
A Machine Learning Model for Understanding How Users Value Designs :  Applications for Designers and Consumers Jeremy Bilotti (SMArchS Computation & SM in CS) Advisor: Terry Knight
The Untold Narratives Rania Sameh Kaadan Advisor: Terry Knight
Sonic Others :  Metaphorical Sonification of Collective Events Wonki Kang Advisor: Axel Killian
Networking Knowledge and Experience :  An Instrumental System for the Personal Development of Individual Designers Bowen Lu Advisor: George Stiny
Sonic Urban Transformations :  A Computational Model to Study and Represent Temporal Changes in the Walking Experience Elina Oikonomaki Advisor: Terry Knight
Monstrous Space :  Architectural Production in an Age of Algorithms Alexandra Waller Advisor: Larry Sass
Investigating Design Intentions :  Use of Eye Tracking and Machine Leearning to Study Perception of Architecture Xiaoyun Zhang Advisor: Takehiko Nagakura
SMArchS History, Theory & Criticism
"A Great Civilizing Agent" :  Architecture at MIT, Drawing Education, and Boston's Cultural Elite, 1865-1881 Katherine Dubbs Advisor: Arindam Dutta
Surveilling Sin :  Locating Sodomy in the Early Modern Florentine Bathhouse Aidan Flynn Advisor: Kristel Smentek, Jodi Cranston
SMArchS Aga Khan Program
Fractured and Dissolved, Architecture Ablaze :  Towards an Understanding of Ayeneh-Kari in Iranian Palaces Reza Daftarian Advisor: Nasser Rabbat
Scripting Inclusion Amanda Merzaban Advisor: Renee Green
Master of Science in Building Technolgy (SMBT)
Using Urban Building Energy Modeling to Meet Carbon Emission Targets :  A Case Study of Oshkosh, Wisconsin Zachary Berzolla Advisor: Christoph Reinhart
Early Design Stage Building Lifecycle Analysis (LCA) of Cost & Carbon Impact :  A Seamless Addition to the Conceptual Design Process Jingyi Liu Advisor: Jeremy Gregory, Randy Kirchain, Les Norford
Machine Learning for Human Design :  Developing Next Generation Sketch-Based Tools Bryan Ong Wen Xi (SMBT & MEng in CEE) Advisor: Caitlin Mueller
On the Relationship Between Spatial-Temporal Outdoor Thermal Comfort Simulations and Bike Ridership Elizabeth Young Advisor: Christoph Reinhart
Bachelor of Science in Art and Design (BSAD)
Digital Narratives for Self-Therapy Rachel Seo Yeon Kwak Advisor: Lee Moreau
Digital Communities x Collaborative Storytelling Clare Liut (BSAD & SB in 2A) Advisor: Mikael Jakobsson
Concrete Alternatives for Large Scale Additive Manufacturing Chloe Nelson-Arzuaga Advisor: Skylar Tibbits
Image Credits:
01. Ferrous Futures. Courtesy of Charlotte D'Acierno, Clarence Lee and Jaehun Woo (MArch).
02. Space of Mind. Courtesy of Ziyu Xu (MArch).
03. Nightrise. Courtesy of Mohamad Nahleh (SMArchS Architecture Design)
04. Untold Narratives. Courtesy of Rania Kaadan (SMArchS Computation).
05. Mediating Chana. Courtesy of Eakapob Huangthanapan (SMArchS Urbanism).
06. To Build Home and To Live In (U)Hygge. Courtesy of Wuyahuang Li (SMArchS Urbanism).
07. Concetividad Alegal. Courtesy of Lucas Igarzabal and Marissa Concetta Waddle (MArch).
08. The Houseful(l)ness of Public Space. Courtesy of Xio Alvarez (MArch + MCP).
09. Mass Balance. Courtesy of Eduardo Gascón Alvarez (SMArchS Building Technology).
10. Early Design Stage Building Lifecycle Analysis (LCA) of Cost & Carbon Impact. Courtesy of Jingyi Liu (SMBT).
Published July 1, 2021
[email protected]
Home > Architecture > Architecture Masters Theses
Architecture Masters Theses
RISD's Master of Architecture program is one of the few in the US embedded in a college of art and design. Here, architecture is taught in a way that understands the practice of design and making as a thoughtful, reflective process that both engenders and draws from social, political, material, technological and cultural agendas. The program aims to empower students to exercise their creativity by understanding their role as cultural creators and equipping them to succeed in the client-based practice of architecture.
The degree project represents the culmination of each student's interests relative to the curriculum. A seminar in the fall of the final year helps focus these interests into a plan of action. Working in small groups of five or six under the guidance of a single professor, students pursue individual projects throughout Wintersession and spring semester. Degree projects are expected to embody the architectural values that best characterize their authors as architects and are critiqued based on the success of translating these values into tangible objects.
Graduate Program Director: Hansy Better Barraza
These works are licensed under a Creative Commons Attribution-NonCommercial-No Derivative Works 4.0 License .
Theses/Dissertations from 2022 2022
Revisionist Zinealog : a coacted countercultural device , Madaleine Ackerman
Reengineer value , Maxwell Altman
Space in sound , Gidiony Rocha Alves
Anybody home? Figural studies in architectural representation , David Auerbach
An atlas of speculating flooded futures ; water keeps rising , Victoria Barlay
Notes on institutional architecture ; towards and understanding of erasure and conversation , Liam Burke
For a moment, I was lost ; a visual reflection on the process of grief and mortality within the home , Adam Chiang-Harris
Remnants , Sarah Chriss
A thesis on the entanglement of art and design , Racquel Clarke
Community conservation & engagement through the architecture of public transportation , Liam Costello
Sacred pleasures : a patronage festival of the erotic and play , David Dávila
Caregivers as worldbuilders , Caitlin Dippo
Youkoso Tokyo : Guidebook to a new cybercity , Evelyn Ehgotz
Home: a landscape of narratives ; spaces through story telling , Tania S. Estrada
A digital surreal , Michael Garel-Martorana
Moving through time , Anca Gherghiceanu
Rising to the occasion : a resiliency strategy for Brickell, Miami , Stephanie Gottlieb
Food for an island : on the relationships between agriculture, architecture and land , Melinda Groenewegen
Towards a new immersion , Kaijie Huang
Astoria houses: a resilient community , James Juscik
Healing the Black Butterfly: reparation through resources , Danasha Kelly
Immortal/ ephemeral/ versatile , Zhenhong (Brad) Lei
Objects in transformation , Caroline Coxe Lippincott
System as a living organism , Xinyi Liu
Unnoticeable city corners , Yuchen Liu
Immaterial realities , Tyler Lovejoy
Houston, TX Walkable Circuit interventions to aid Houston's safe/acccessible walk-ability , Isabel Manahl
Reference: a field guide for new practices , Eric Mason
With water , KT McLeod
Scaffolding: medium, mediator, mediated , Mono Yingyi Mo
Solar panels , Marco Nuno Mourão
Post-standardization , Hengrong Stanley Ni
Domestic disturbance: cleaning, labor and maintenance of architecture , Valeria Portillo
Cycle of care: a study based on home-care elderly living in Beijing, China , Wenyue Remi Qiu
[daymeh] a postmemory database , Natalie Rizk
The value in intentional impermanence , Dominique Tsironis
Salt infrastructures & geographies , Jordan Voogt
Framing: embracing trauma in your "surrounding world" , Zheng Xu
Flexing boundaries : tectonic strategies for the multi-generational home , Elise Young
Unseen body, unheard voice , Chunxin Yu
Together: a transformational sequence of healing , Deborah Zhuang
Reclaiming memory through soft spaces , Wendy Zhuo
Space of ambience : learning the relationship between environment, emotion, and behavior , Xueyun Zou
Theses/Dissertations from 2021 2021
Responsive markets: structures supporting economic activity in postcolonial Mumbai , Bilal Ismail Ahmed
Whores, sluts, and bitches; the perceived limits of sexualisation and the affects on space , Chloe Jenny Bennie
Black exposure: a new typology , Teisha Bradley
Imprints of home , Sara Burashed
Architecture of aging care: a field through architectural innovation , Eve Huining Guo
Preserving modern architecture & new railway infrastructure in New Delhi , Yash Sahai Gupta
Manahatta , Nicholas Hinckfuss
A house on a street: a proposal for the multi-generational house in America , Ian Johnson Kienbaum
Play & protest , James Kloote
Breaking the mold: a journey of the brick , Sumanth Krishna
Balance the conversations , Karen Kuo
Community Healthcare Clinic - adaptation system to the pandemic and post pandemic periods , Nhu Le
City of archive: visualize and spatialize archive , Zaiheng Liang
996 & anti-996 , Jinmi Liu
Live-work autonomy system on Mars: China's collective living onto Mars , Lishunxiang Luo
An interplay: biomimetic exploration of systems in architecture , Sanjana Masurkar
In service of _____; an inclusive architectural collage practice , Blair Ramsey
Sensory bridge , Ouqiao Sun
Segments of reality: interface / space / movement , Yuan Tao
Reconstructing property, borders, and sites: nestling the built , Christina Truwit
Healing through architecture: role of architecture in promoting healing in cancer care settings , Vrindha Vijay
I think we have some connection difficulty: a review of architectural vocabulary and representation in our condition of remote communication , David Waite
Dead space: the changing discourse of death: how to design a contemporary and enduring funeral practice , Xin Wang
Design for the past , Zexi Wang
Ecotourism in vacationland: shoreline development and economic inclusion on the Southern Maine coastline , Quinn Christopher Wilcox
The bridge / the stream / the home: interactive social housing typology in Wuxi , Weiyi Xia
Water inspired places , Jiaqi Zhang
Translated architecture , Ruiqi Zhang
Vernacular Future Architecture , Yang Zhao
Theses/Dissertations from 2020 2020
Water ceremony , Adriana Alva
Vacancy never vacant , Marina Bibidakis
Change of plans: the subversive kit in the planned community , Hugo Caldwell
Revisionist histories : Parallels of monuments and absence in the present , Scott Craft
Field notes on seeing: archive of color, mirrors & light , Tori Deutch
Acoustic signatures: their study, representation, and agency in the experience of architectural spaces , Nathalie d'Hennezel
In-between through : bordering bodies ; a spatial containment , Aroly Enamorado
Tolerance : material conversations on life & architecture , Keyan Hansen
Climate resilience for a neighborhood without privilege: East Boston , Peter Niels Heller
Project fusion , Tianbao Hu
Occupying the public : humans, space & identity , Brittany Knowlton
Un-black boxing mitigation infrastructures : proposing alternative imaginaries for mono-functional and under-utilized urban backstages , Min Jin Kook
The official showreel companion to framed familiarity in 4 acts : A defamiliarization of the tropes of architectural practice, through an expanded frame of view and frame rate , Julie Kress
Two-gather / collective living : housing and recreational facilities in suburban Mumbai , Rashi Harshil Lalaji
Playgrounds : symbiosis of humans, nature, and architecture , Hannah Langmuir
Transform through architecture : a journey of discovery at the Providence Place Mall , Haoning Li
About intimacy , Jiamin Lin
Wrinkle architecture : the public relaxation pavilions for geriatric community in cities of Zhejiang after 1980's , Yi Lu
Adaptive reuse pattern book : re-evaluating historical capital , Taylor McCabe
Living together : revisiting the SRO + new forms of collectivity , Elizabeth Parker
Digital duck , Zach Schumacher
The story of Market House , Patrick Spence
Intimacy in infrastructure , Andrew Sponseller
Adapting home : residential development and domestic comfort in Vermont , Mikéla Sumner
A city's culture should include birds : to rethink of architecture with birds in mind , Pan Sun
Blueridgelivin' : environmental development and suburban sprawl , Chris Villalta
Uncanny genericism , Eamon Wagner
Possibilities in void , Fangyu Wei
All Collections
Departments
Online Exhibitions
Masters Theses
Disciplines
Advanced Search
Notify me via email or RSS
Contributor Info
Contributor FAQ
RISD Architecture MFA
Permissions
Home | About | FAQ | My Account | Accessibility Statement
Privacy Copyright
Free Site Analysis Checklist
Site analysis forms the foundation to a project's conceptual evolution …start it with confidence.
Sign up to our mailing list to receive a free Site Analysis and Site Visit Checklist.
Architecture Thesis Topics
The architecture thesis is a crucial part of your education as a student. You must develop a written paper as well as a design project that solves an issue related to architecture.
For many, choosing a topic consumes a large amount of their time, which is what has lead to the creation of this list and collection of examples of past and present thesis projects.
In constant evolution, the below topics aim to provide a series of examples and source of inspiration to help support your topic.
Thesis topics & examples
Domestic horizon by jiaheng xie, rice university, m.arch '20.
This project tackles the issue of "Growing the city, shrinking the Footprint." With cities becoming taller and more condensed, the student developed an Aerial Pedestrian Network system. In effect, it attempts to lift the domestic horizon, create a city above ground, and expand street life.
Simultaneously, Jiaheng's thesis updates the Chinese Model of Density by mixing block scale development with expanded street life.
Moreover, Guangzhou requires design tools that the government can use for new developments that encourage new living experiences, are connected to the ground level, expand urban life, and preserve the sense of neighborhood.
Have Confidence in Your Design.
Discover the core components, principles, and processes to form the foundations of award winning work .
Equivocal Elevations by Anna Kaertner, Harvard Graduate School of Design, M.Arch '21  
Leipzig's different names throughout history are indicators for the city's changes in identity. After the bombing of Leipzig in 1943, political regimes and architects have used these histories to guide construction.
Meanwhile, the city's identity is filled with unraveling, overlapping, and competing projections of the past and future. Ultimately, building elevations have been the main registration of each attempt to resolve the city's identity crisis.
Equivocal Elevations proposes a Super Civic Service Center, which builds on the Bürgerzentrum, a city-government institution that addresses the converging individual identity, city bureaucracy, and civic identity.
The new center is founded from the elevations of the site, which come from studying the Leipzig archives. Therefore, Anna's thesis aims to continue the uncertainty to the city's identity while referring to its distinct various histories.
Bunker Reclamation by Demosthenes Sfakianakis, Syracuse University, B.Arch '20
This thesis explores the extreme conditions under the Communist regime in Albania. For example, the government manipulated citizens through punishing nonconformist architecture and enforcing acceptable color palettes and subjects in art.
The research also looks at the prison/labor camp system under Hoxha's rule.
Additionally, this thesis proposes a collection of graphics that showcase the harsh conditions under Communist authority and the idea for bunkers to be reinterpreted from symbols of oppression to modes of collective healing.
ReThinking Home Waste by Elena Echarri Myers, Syracuse University, B.Arch '20
ReThinking Home Waste investigates the history of consumption around the world. Particularly, the shift from a society that locally consumes basic necessities to one that shops for pleasure and for items that are globally mass-produced with short lifespans.
As a solution, the thesis proposes a model to manage the abundance of waste in New York City. The project is a multi-family residential complex that incorporates less wasteful living, education of proper waste discharge practices, and sorting hubs for materials with an economic incentive.
Reshaping Reality: From Disneyland to Dismaland by Lina Wang, Syracuse University, M.Arch '18
Disneyland is a key example of a hyperreality, as the imaginary is presented as more realistic than reality itself. Moreover, the theme park draws in visitors by making the problems of the real world less relatable.
Evidently, society is more focused on entertainment than current political and social issues. Banksy's Dismaland is a visual depiction that critiques this attitude.
In response, this thesis proposes to use the frame of Disneyland in New York City to showcase the opposite and dark issues like politics, climate, sustainability/energy, education, global environment.
Returning to Earth by Daniel Morely, Iowa State University, M.S. '20
For the past century, life and death have been perceived as opposites. Due to the common ignoring of the subject of death, the Western burial practices from the 19th and 20th centuries have been unquestioned.
In recent decades, however, Westerners have begun to realize that many of their burial practices are unsustainable.
As a result, Returning to Earth proposes a new form of burial that is concentrated in the Ouroboros, the eternal cycle of life and death, and humans place within that cycle.
Harnessing social networks in Khartoum's informal tea places: The case of Mayo internally displaced persons camp by Rami Mannan, Iowa State University, M.S. '21
This thesis project looks at the social qualities of informal tea places in Khartoum, Sudan. Tea places are examined because they are good indicators of the social, political, economic, and environmental effects of the rapid population as a result of forced displacement in the region.
Additionally, they produce strengthened social networks, which are explored as a means of community development and in Iowa.
Work-Homes by Satya Charan Ganesuni, Iowa State University, M.Arch '18
While work homes have been utilized since ancient times, they have become more popularized because of their technological advantages, time savings, and budget savings.
In the past, researchers have defined the characteristics of integrated spaces. However, this thesis aims to use the advancements of technology and work-home principles to create a set of design elements that can make workspaces more efficient.
Between Land and Lake: Environments of Learning in Tonle Sap Lake by Julie Chau, University of California, Berkeley, M.Arch '14
The Tonle Sap River in Cambodia is a developing region that experiences flood pulse. In response, Julie's thesis aims to provide an infrastructure for places of learning for children.
In doing so, she investigates the distinct features surrounding the lake, existing learning environments, and design solutions around the world.
This thesis proposes to use a redesign of the learning environments to teach children about the ecological conditions and reclaim local ownership and responsibility for the lake.
Robinhood Gardens 2.0 by Stathis Gerostathopoulos, University of California, Berkeley, M.Arch '14
As city buildings develop higher from the ground, architects and urban designers are tasked with recreating the ground as a space with activity between, through, and above buildings.
In a series of unfinished projects, architects Peter and Alison Smithson popularized the term "streets in the sky" and commissioned the Robin Hood Gardens housing estate in East London.
However, after State neglect and vandalism, it was set to be demolished in 2014. In response, Stathis proposes a mixed-use development with a new design approach to replace the Robin Hood Gardens.
The Beige Conundrum by Alma Crawford-Mendoza, University of Massachusetts Amherst, M.Arch '21
While color is part of everyday life, it is often not given much thought. For example, a person may decide to wear a pair of blue jeans and a white t-shirt. However, what compelled the person to wear those colors?
Similarly, you can ask questions about the factors that influence the exterior color selection of homes. To address this inquiry, the thesis aims to examine the reasoning behind the common beige color of homes in Massachusetts and color's greater potential role in the built environment.
Housing for Adults with Autism Spectrum Disorder (ASD): Creating an Integrated Living Community in Salem, MA by Tara Pearce, University of Massachusetts Amherst, M.Arch '21
While some adults with autism spectrum disorder (ASD) are high functioning and able to lead successful and independent lives, many still experience obstacles in locating and securing sufficient housing.
Not to mention, the increasing price for buying or renting an apartment makes many adults with autism have to live with their aging parents. Meanwhile, government funding and group homes for adults with ASD are limited.
In response, this thesis proposes a model living community in Salem Massachusetts for adults with ASD.
Through analyzing recent literature on autism-friendly design and interviewing professionals in the field and parents of adult children with ASD, Tara seeks to improve their living conditions and access to resources.
Adaptive Airport Architecture by Yash Mehta, University of Massachusetts Amherst, M.Arch '20
The main factors for determining the spatial requirements for an airport depend on its projected life span, security restrictions, and other socio-political influences.
Additionally, the initial stages of the design for any existing or new airport come from the 'Master planning report,' which includes airport layouts, environmental studies, analysis of runway orientation, land use plans, activity forecasts, capacity analysis, estimates of facilities, and more.
However, technological and infrastructural changes are key problems with airports. This thesis aims to analyze the different factors that prevent airport terminals from going along with these changes.
Moreover, the project proposes a re-design of the Bradley airport at Hartford that attempts to increase the efficiency and life span of airport terminals.
Humanity in Children's Cancer Hospital by Sara Jandaghi Jafari, University of Massachusetts Amherst, M.Arch '17
Children sense their physical space and respond to it more directly than adults. Therefore, visiting hospitals can be emotionally challenging for children while they are stressed from being ill and experiencing painful medical procedures.
The research aims to identify what makes a supportive pediatric setting in the views of children and adolescents and explores how architecture can make hospital stays more pleasant.
Additionally, Jandaghi develops a vision for the sustainable hospital movement and showcases the importance of participatory research for healthcare design.
Changing Landscapes: Redefining Preservation for Legacy Neighborhoods by Kaitlyn Levesque, University of Pennsylvania, '19
Kaitlyn's thesis focuses on traditional preservation policies and practices, which usually prioritized the physical form and fabric of heritage places over other values.
This issue disproportionately favors dominant cultures in historic narratives, leaving urban areas suffering from divestment.
Moreover, the project proposes a more equitable preservation process, which is applied to the North Philadelphia neighborhood of Strawberry Mansion.
Free Trade Zone in Transit by Andrew Lam, Cooper Union, B.Arch '14
The Panama Canal is a significant trading route that connects the Atlantic and the Pacific oceans. After a history of conflict over control of the waterway, it was finally given to the Republic of Panama.
However, the growth of the global economic demand has led to an increase in container ships. Consequently, this has redefined the canal as a space that belongs to the world.
This thesis attempts to solve the issue by developing a community based on trade and interaction between the vessels and boats in the waterway. Additionally, this proposal aims to urbanize areas in the region that experience little activity.
A Deep Breath of Art by Sara Alkhatib, Virginia Tech, M.Arch '20
The busyness of meeting deadlines and completing daily tasks can keep artists away from their inner creativity. As a result, this research explores the role of architecture in producing more artistic experiences.
Sara proposes an artists retreat in the U.S. National Arboretum that holds an area for privacy for artists to self-reflect and a community space for artists to socialize and exchange knowledge.
Common Ground by Daniel Kuehn, Rice University, M.Arch '17
This thesis investigates the environment and the city as contemporary issues and how they merge to rethink the rhetoric of sustainability.
Specifically, the project involves a flexible urban framework located on Treasure Island, San Francisco, that tests the feasibility of augmenting coastal cities. This includes supporting the social, cultural, and environmental ecology from the immediate effects of climate change.
Moreover, Common Ground is a temporary community for first-world climate refugees that will change over time to accommodate the greater measures taken in San Francisco for combating sea-level rise and climate change.
Hang in there by Evio Isaac, Rice University, M.Arch '18
The reflected ceiling plan is a drawing used by architects to communicate the position of fixtures, mechanical penetrations, lighting, and finishes to the construction team.
However, it is typically a secondary drawing. Hang in there investigates the potential of using the reflected ceiling plan as a primary drawing, which challenges the absoluteness of the architectural plan.
Head Space: An Exploration into Design Code by Gaylon Lerch, Kennesaw State University, B.Arch '21
In response to the idea that today's coding standards do not address the needs of occupants of the built environment, this thesis explores the field of medical research. Such as information from the fields of psychology, physical medicine, and architecture.
The effects of light, sound, and overall spatial quality on people using a space are observed to understand the criteria for healthy human function.
As a result, the research compares these findings to current building codes and establishes new guidelines for architects to follow.
Ultimately, the architecture field is about 20 years behind the knowledge of psychology and physical medicine on occupant behavior in residential spaces.
Overall, there are many topics to decide from for your architecture thesis. These examples can be used as inspiration or a starting point to understand what a thesis looks like.
Remember to choose one that you are passionate about and has a large amount of supporting research.
Remove The Stress From Designing.
Find confidence in your design approach , and learn the processes that create unique and meaningful conceptual approaches.
Leave a Reply Cancel reply
Save my name, email, and website in this browser for the next time I comment.
As seen on:
The Portfolio Kit
Featured Posts:
AutoCAD vs Revit: Which should you use?
Most architects around the world are faced with two main options, AutoCAD and Revit…
Can architects work from home? How remote work is changing the industry
With the rise of technology and the increasing demand for flexible work arrangements, the question arises: can architects work from home?
Types of Architect: Unraveling the various roles and responsibilities
The type of architect you are or want to be is generally a personal chose and one that…
Subscribe To Our Weekly Newsletter
No spam, just notifications about our new articles, products and updates.
The Concept Kit

Providing a general introduction and overview into the subject, and life as a student and professional.
Study aid for both students and young architects, offering tutorials, tips, guides and resources.
Information and resources addressing the professional architectural environment and industry.
Concept Design Skills
Portfolio Creation
Meet The Team