Thesis time management
How to wrestle your dissertation to the mat
The idea of time management is drilled into most students through their undergraduate years, but the focus on this skill seems to drop off in grad school. The irony is that most students need time management skills even more when they are looking at working on a thesis or dissertation.
Writing a thesis requires both short-term and long-term time management skills, because it is a lengthy project that does without external deadlines. "You see students who are excellent but they just never finish their thesis," said Dr. Eviatar Zerubavel, author of The Clockwork Muse: a practical guide to writing theses, dissertations and books and director of graduate programs in sociology at Rutgers University.
Seeing students fail to complete was one of the things that led Dr. Zerubavel to write his book. In it, he uses the metaphor of the tortoise and the hare. "Hares get success early in their careers, but then they die," he says. "There are a lot of different reasons students don't finish, but managing time better would help." Time management is about taking control of the writing process. More than that, it's about recognizing that not all of your time should be taken up with your work and that how you allocate your time is important for your life, as well as your thesis.
Procrastination and Perfectionism
One of the major blocks to good time management is procrastination, and one of the major contributors to procrastination is perfectionism. While the two may seem like polar opposites, they are closely related."People struggle with their feelings of success. They feel ambivalent and the part of them that feels uneasy about it tries to sabotage it by not meeting deadlines," explained Zerubavel about the connection.
Maryann Kope, coordinator of learning services at the University of Guelph agrees. "People who are performance perfectionists, a lot of their self esteem is wrapped up in their academic performance," she says. "There's a fear of failure or of not excelling. By procrastinating they give themselves an emotional out. They can say, 'I would have done better if I'd put more time into it.'"
Perfectionism can also be crippling in that students stop themselves from writing or from continuing to write by trying to achieve the perfect first draft. "I see so many students crippled by guilt or embarrassment who don't permit themselves to write," says Dr. Jane Freeman, director of the office of English language and writing support in the school of graduate studies at the University of Toronto. Freeman recommends students allow themselves to write a crummy first draft. This not only gets the writing going, it also gives you something to edit later and, says Dr. Freeman, "It's way easier to edit than to produce."
The Writing Life
Perhaps what is most daunting about writing a thesis is realizing that if you want to be an academic, this is a good introduction to the rest of your career. Writing proposals, grant applications, journal articles and books will be a significant part of your life from here on. Gaining the skills to be a productive and prolific writer is key to success as an academic. That means making writing part of everyday life. "To maintain productivity as an academic, you need to make the writing process more mundane," says Dr. Freeman. "You need to discover how you are the most productive. Look at your own productivity. Really note what time of day and in what environment you work best ."
Once you know when you are most productive, and for how long, set yourself a schedule that makes us of that. If you write best in the morning, don't sleep in – get up and write. If you write best at night, then don't go out for dinner with friends – stay home and write. This doesn't mean depriving yourself of sleep or a social life; it means setting your schedule to maximize your productivity.
But many students are hesitant to start writing until they've done more research, until they've done more thinking about the topic. Both Drs. Freeman and Zerubavel see this not only as a form of procrastination, but also as a misunderstanding of the writing process. "There's an artificial separation between thinking and writing. The thinking happens when you write," says Dr. Zerubavel. Dr. Freeman agrees. "Write before you're 'ready' and the writing will help you get traction."
But first, write an outline. Creating a detailed outline of your work will help you write a first draft that doesn't need too much re-structuring. Stephen Sims, associate dean in the faculty of graduate studies at the University of Western Ontario, requires all of his students to write three outlines of their entire thesis. "Until we get to the third outline we don't write a single sentence, it's all point form. By the time you get to the third one, you've got the thesis mapped out. Then you have to do the hard work and write the sentences."
Write-life balance
Time management is not just about getting your thesis finished; it's about not destroying your life in the process. While you could give up all social contacts, stop sleeping regularly and let all your other obligations drop to complete your thesis, this is hardly a recipe for success in life. Managing your time well means making thoughtful choices about how you want to allocate your days. "This is not just about work, it's about living," says Zerubavel "You have to ask yourself how much time you want to allocate to this as opposed to other things in your life."
Making choices and deciding how you want to spend your time is ultimately what time management is about. "Students need to think about intelligent procrastination, so that it's an intentional decision to set work aside," says Ms. Kope. These intentional decisions not only keep you on track and make sure that neither your thesis nor your life go off the rails, they also help you stop those potentially crippling feelings of guilt about either area getting ignored.
Productivity Management vs. Time Management
As great as time management sounds, it can also be a bit of a misnomer.
"It evokes efficiency and time and motion studies, which I abhor," says Dr. Zerubavel. "The common way of thinking about time management is about speed, but the irony is that you can produce more if you're going slow."
While many experts recommend setting time goals for working on your thesis, both Drs. Zerubavel and Freeman suggest setting goals based on productivity instead.
When she was writing her own dissertation, Dr. Freeman had a three-pages-a-day rule for herself. While this number may seem unreasonably low, if you write each day it adds up quickly.
"I could not do anything but eat or go to the bathroom until I'd written three pages, and then I could do anything else. That rhythm allowed me to do a lot of other things. At the end of the month, when I had 60 pages, it was fairly painless to look at them and edit some out. So writing three pages a day helped me to be productive, to have a goal, to get over guilt and to have a better editing process. And it helped me to blast through my writer's block."
Productivity goals are also more tangible and ultimately more closely related to the task.
Another way of measuring productivity is to break the thesis into publishable chunks. Setting realistic, measurable goals is key, but so is learning from the times that you don't meet those goals. "It's not enough to beat yourself up or feel guilty when they don't meet a goal. We suggest students examine and assess what happened. Life happens. But what you do want is to learn," says Ms. Kope.
Learning to not let your thesis beat you up is also something you want and one of the easiest ways to do it is to manage your time, and your productivity, effectively.
Cancel reply
Your email address will not be published. Required fields are marked *
Save my name, email, and website in this browser for the next time I comment.
For me perfectionism and procrastination are the hardest parts of finishing anything. I think the procrastination sort of falls in line because of trying to make everything perfect. It really doesn't help anything but it's also a very hard thing to overcome and even realize you're doing. But if you can do that then it's good to find a happy medium.
Also great points on the productivity management vs. time management. I've never though of it that way but it's true. I've kind of always thought of them as synonymous in my own personal definition though. But anyways, I HAVE to make a to-do list every day or else I will float around to different tasks and not get anything actually done. That's a bit because of my ADD though. 🙂
Thumbs up if you came here while procrastinating 😀 Nevertheless, I find these advice helpful and I'll also try to use them tomorrow.
Have a language expert improve your writing
Run a free plagiarism check in 10 minutes, generate accurate citations for free.
Knowledge Base
How to Write a Thesis Statement | 4 Steps & Examples
How to Write a Thesis Statement | 4 Steps & Examples
Published on January 11, 2019 by Shona McCombes . Revised on September 14, 2022 by Eoghan Ryan.
A thesis statement is a sentence that sums up the central point of your paper or essay . It usually comes near the end of your introduction .
Your thesis will look a bit different depending on the type of essay you're writing. But the thesis statement should always clearly state the main idea you want to get across. Everything else in your essay should relate back to this idea.
You can write your thesis statement by following four simple steps:
Start with a question
Write your initial answer
Develop your answer
Refine your thesis statement
Table of contents
What is a thesis statement, placement of the thesis statement, step 1: start with a question, step 2: write your initial answer, step 3: develop your answer, step 4: refine your thesis statement, types of thesis statements, frequently asked questions about thesis statements.
A thesis statement summarizes the central points of your essay. It is a signpost telling the reader what the essay will argue and why.
The best thesis statements are:
Concise: A good thesis statement is short and sweet—don't use more words than necessary. State your point clearly and directly in one or two sentences.
Contentious: Your thesis shouldn't be a simple statement of fact that everyone already knows. A good thesis statement is a claim that requires further evidence or analysis to back it up.
Coherent: Everything mentioned in your thesis statement must be supported and explained in the rest of your paper.
The thesis statement generally appears at the end of your essay introduction or research paper introduction .
The spread of the internet has had a world-changing effect, not least on the world of education. The use of the internet in academic contexts and among young people more generally is hotly debated. For many who did not grow up with this technology, its effects seem alarming and potentially harmful. This concern, while understandable, is misguided. The negatives of internet use are outweighed by its many benefits for education: the internet facilitates easier access to information, exposure to different perspectives, and a flexible learning environment for both students and teachers.
What can proofreading do for your paper?
Scribbr editors not only correct grammar and spelling mistakes, but also strengthen your writing by making sure your paper is free of vague language, redundant words, and awkward phrasing.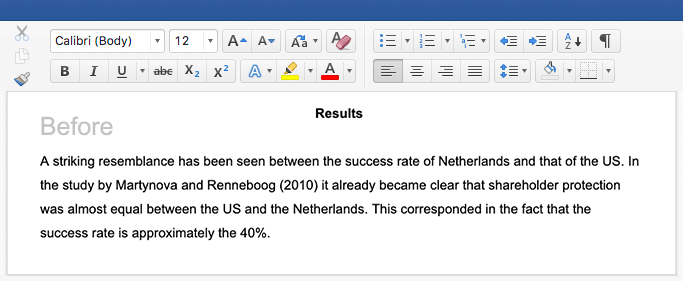 See editing example
You should come up with an initial thesis, sometimes called a working thesis , early in the writing process . As soon as you've decided on your essay topic , you need to work out what you want to say about it—a clear thesis will give your essay direction and structure.
You might already have a question in your assignment, but if not, try to come up with your own. What would you like to find out or decide about your topic?
For example, you might ask:
After some initial research, you can formulate a tentative answer to this question. At this stage it can be simple, and it should guide the research process and writing process .
Now you need to consider why this is your answer and how you will convince your reader to agree with you. As you read more about your topic and begin writing, your answer should get more detailed.
In your essay about the internet and education, the thesis states your position and sketches out the key arguments you'll use to support it.
The negatives of internet use are outweighed by its many benefits for education because it facilitates easier access to information.
In your essay about braille, the thesis statement summarizes the key historical development that you'll explain.
The invention of braille in the 19th century transformed the lives of blind people, allowing them to participate more actively in public life.
A strong thesis statement should tell the reader:
Why you hold this position
What they'll learn from your essay
The key points of your argument or narrative
The final thesis statement doesn't just state your position, but summarizes your overall argument or the entire topic you're going to explain. To strengthen a weak thesis statement, it can help to consider the broader context of your topic.
These examples are more specific and show that you'll explore your topic in depth.
Your thesis statement should match the goals of your essay, which vary depending on the type of essay you're writing:
In an argumentative essay , your thesis statement should take a strong position. Your aim in the essay is to convince your reader of this thesis based on evidence and logical reasoning.
In an expository essay , you'll aim to explain the facts of a topic or process. Your thesis statement doesn't have to include a strong opinion in this case, but it should clearly state the central point you want to make, and mention the key elements you'll explain.
A thesis statement is a sentence that sums up the central point of your paper or essay . Everything else you write should relate to this key idea.
The thesis statement is essential in any academic essay or research paper for two main reasons:
It gives your writing direction and focus.
It gives the reader a concise summary of your main point.
Without a clear thesis statement, an essay can end up rambling and unfocused, leaving your reader unsure of exactly what you want to say.
Follow these four steps to come up with a thesis statement :
Ask a question about your topic .
Write your initial answer.
Develop your answer by including reasons.
Refine your answer, adding more detail and nuance.
The thesis statement should be placed at the end of your essay introduction .
Cite this Scribbr article
If you want to cite this source, you can copy and paste the citation or click the "Cite this Scribbr article" button to automatically add the citation to our free Citation Generator.
McCombes, S. (2022, September 14). How to Write a Thesis Statement | 4 Steps & Examples. Scribbr. Retrieved March 3, 2023, from https://www.scribbr.com/academic-essay/thesis-statement/
Is this article helpful?
Shona McCombes
Other students also liked, how to write an essay introduction | 4 steps & examples, how to write topic sentences | 4 steps, examples & purpose, academic paragraph structure | step-by-step guide & examples, what is your plagiarism score.
We use cookies to enhance our website for you. Proceed if you agree to this policy or learn more about it.
Essay Database >
Essays Samples >
Essay Types >
Thesis Example
Time Management Theses Samples For Students
62 samples of this type
If you're looking for a possible method to simplify writing a Thesis about Time Management, WowEssays.com paper writing service just might be able to help you out.
For starters, you should skim our vast database of free samples that cover most diverse Time Management Thesis topics and showcase the best academic writing practices. Once you feel that you've studied the key principles of content structuring and taken away actionable insights from these expertly written Thesis samples, developing your own academic work should go much smoother.
However, you might still find yourself in a situation when even using top-notch Time Management Theses doesn't let you get the job accomplished on time. In that case, you can contact our writers and ask them to craft a unique Time Management paper according to your custom specifications. Buy college research paper or essay now!
Example Of Thesis On The Integration Of Natural User Interfaces (Nui) For Illiterate People
Introduction.
This project is undertaken to find out how natural user interfaces can enhance the use of devices for illiterate people. This is given the fact that the rate of illiteracy is an issue of concern in South Africa and the world over. This chapter will focus on previous research which have been carried out and the gap that is lacking in this field. It is important to understand the work that has been carried in order to research on what is still lacking in this field.
What is Natural user interfaces?
Succession planning and public agencies theses example, california lutheran university.
Rayan Azhari Chapter I
Introduction
Succession planning and public agencies thesis example.
Don't waste your time searching for a sample.
Get your thesis done by professional writers!
Just from $10/page
Free Thesis On Succession Planning And Public Agencies
Good thesis on succession planning and public agencies.
Chapter IV: Results - How do the Ventura Health Agency and the Ventura Library plan for leadership changes? - What are the challenges of succession planning in the Ventura Health Agency and the Ventura County Library?
Findings Organized by Questions
Example of thesis on solar collectors, thesis on a study into how culture and living standards influence healthy lifestyle zoning.
Santa Monica is a beachfront city found in Los Angeles, California. According to the 2010 census, Santa Monica is home to approximately 89,736 people. The inhabitants include Hollywood celebrities, students, professional surfers and affluent single-families. Santa Monica has a long-term general plan, which takes into consideration land use, housing, conservation and safety among other key attributes. In the last few years, city planners have been concerned that the existing zoning plans do not match the demands of the inhabitants, especially with regards to healthy lifestyles.
Literature Review
Organizational Change To A Project Management Culture In An Organization Thesis
Free thesis on risk management at hamburg mannheimer, master of business administration, motivating employees thesis sample, sudans adaptation strategies thesis sample, effects of empowerment on police officers in the singapore police force thesis examples, acknowledgments.
I am especially grateful for the support and guidance of my dissertation advisor, Dr. A. P., provided all through the progression and development on this research study.
My thanks also go to the men and women in blue of Singapore Police Force whom had provided their valuable time to participate in the survey and their willingness to share. I also would like to thank DSP (NS) Azrin Abdul Rahim and SSI Selamat Bustaman for their valuable guidance and insights towards this study.
Free Speaking Through Pictures: Thesis Sample
Picture exchange communication system (pecs).
Abstract 3 Introduction .. 4
Purpose . 6
Literature Review . 7 Synthesis .. 15 Method .. 15 Overview of Design .. 15
Results and Discussion 16
Conclusion 27 References .. 31
Background Of Samsung Electronics Theses Examples
Capstone project – oral presentation.
The capstone project is a consultative report for Samsung Electronics which focuses on areas including management, time management, quality management, cost management, and risk management. In addition, the consultative report will consider how effectively the target organization performs in cross cultural settings with the aim of making improvements in domestics and international markets. This is important given the multinational nature of the target organization.
Best Practices In Brand Image Perception Management For Travel Education Using Social Theses Examples
A review of the health and safety culture and practices in offshore oil and gas thesis example, a case study of the british petroleum (bp) oil spill in the gulf of mexico, the underlying analysis chapter has been developed in following sections thesis example.
ANALYSIS INTRODUCTION The underlying chapter develops the analysis of the data collected and assessed for the study entitled in "Organizational Change to a Project Management Culture in an Organization". Analysis of the data is critical and is among most important segments of the study for the fact that analysis provides inference from the data providing direction to the conclusion and level of achievement of research objectives.
Free Thesis About Non-Governmental Organization Management
Differences between national and international ngos -.
A Case Study of the US, Bahrain and India (Author name) (Supervisor name)
Role Of Smes In Developing Economies Thesis
Executive summary.
China is a very attractive gaming destination in the Asia Pacific region. This city attracts a large number of tourists and international visitors. It has also seen a rapid growth in the establishment of large gaming companies, ever since liberalization for gaming operators in 2002. This must have actually spurred economic growth, and boosted SMEs, which are the economic growth power engines. This paper explores the role of SMEs in an emerging economies, the role of manpower in SMEs, as well as understanding the key success factors of the SMEs in China.
Good Example Of Reforming Workers Compensation Thesis
An exploratory analysis of senate bill 863.
Requirements for the Masters in Public Policy and Administration Degree The thesis of is approved by __________________________________
Chairperson
Why has cigarette smoking become so prominent within the american culture thesis samples, abstract and introduction 3.
Significance of the Study 5 Definition of Terms 7 Review of Literatures 7 IV. Research Methodology 17 V. Limitation/Delimitation 21 VI Data Analysis: 21 VII Data Verification: 24 VIII Summary and Conclusions: 25
Recommendations 26
Appendices 27 Research Questionnaire 27
References 34
Photovoltaic modules effect of tilt angle on soiling thesis.
Photovoltaic (PV) systems are one of the next generation's renewable energy sources for our world energy demand. PV modules are highly reliable. However, in polluted environments, over time, they will collect grime and dust. There are also limited field data studies about soiling losses on PV modules. The study showed how important it is to investigate the effect of tilt angle on soiling.
Good Example Of Thesis On Front-End Process
Patient access, good example of thesis on canadas economy, example of investigation into methods of dispute resolution in jct 2011 thesis.
B.ENG 3 (HONS) FT CIVIL ENG.
Waste Management Strategies In UK And EU Thesis Example
Free thesis on finance project, introduction to coca-cola company, free leadership in energy and environmental design thesis sample, 1.0 introduction, quality improvement paper falls prevention in hospital and mental health unit thesis samples, psychological operations during war thesis example, diversity in the us thesis, free consumer behavior on purchasing hybrid cars in india thesis sample, free the five cs of credit model thesis sample, chapter two: real estate lending decision in kuwaiti banks, recruitment methodologies an overview thesis, executive summary.
When attempting to fill a position in any business, the recruitment process is integral. In order to find the best person for the job, you have to find someone who is qualified, educated, and possesses the necessary job skills and temperament to survive in that environment. Recruitment methodologies are the means by which companies and businesses perform this recruitment process, and can mean the difference between getting the right or wrong person for the job. In this paper, various recruitment methodologies are overviewed, and their effectiveness in sourcing a qualified job candidate is evaluated.
EVALUATING THE ROLE OF RECRUITMENT
Free thesis on sexual harassment in the workplace, free thesis on evaluation design of a new modification to the curriculum on, citizenship for elementary school.
Applied Research Project (Proposal Defense)
Free Academic Thesis On Fracking Regulation And Agenda Setting
An analysis of the formulation of california senate bill 4, singapore police force empowerment thesis example, introduction and background, credit report theses example, good example of a bright star declined thesis, abstract: a bright star declined, declaration thesis sample.
I hereby certify that this material, which I now submit for assessment on the program of study leading to the award of BACHELOR OF ENGINEERING HONOURS (MANUFACTURING AND DESIGN ENGINEERING) is entirely my own work and has not been submitted for assessment for any academic purpose other than in partial fulfillment for that stated above.
Domestic Violence: Discussions Theses Example
(Institute)
Domestic Violence
Free developing a model of brand personality in the sport industry thesis sample, developing a model of brand personality in sport industry, good thesis about online learning: anywhere anytime education for specialist nursing, good guiding consumers academic thesis example, free thesis about the history of proposition 209 is briefly outlined below, free thesis on critical reflective inquiry.
[Institution Title]
Free Thesis About Geothermal Energy
Supervised Asst. Prof. Fusun Tut Haklidir
Energy Systems Enginering
Istanbul Bilgi University 2014
LIST OF FIGURES
LIST OF TABLES LIST OF SYMBOLS/ABBREVIATIONS 1. Introduction 3 1.1. Goal of the Study 3 1.2. Renewable Energy Sources 3 1.3. Geothermal Energy 3 1.3.1. What is Geothermal Energy? 3 1.3.2 Geothermal Reservoirs 4 1.3.3 Present Status of Geothermal Energy 7 1.4 Geothermal Applications around the World 7 1.4.1Geothermal Applications in Turkey 8
Flash steam power plants 10
Good how can the rfid technology be applied to the waste electrical and electronic equipment thesis example, good reforming workers compensation thesis example, an exploratory analysis of senate bill 863.
Finished Chapters 1, 2, 3 ABSTRACT TOC TABLES FOR FIGURES AND TABLES ACRONYMS AND ABBREVIATIONS AB Assembly Bill CA California CCHSWC California Commission on Health and Safety and Workers' Compensation DIR Department of Industrial Relations DIV Division of Workers' Compensation
DWC Division of Workers' Compensation
ER Emergency Room FEHA Fair Employment and Housing Act MMI Maximum Medical Improvement
MPN Medical Provider Networks
Details theses example, candidate: ian keith sinnott.
Degree: E900‐Doctor Of Philosophy CRICOS code: 006244J Campus: Geelong Waurn Ponds Campus Finish Date: 25/032016 Enrolment Category:Off‐Campus / Full‐Time Associate Supervisor(s): Dr. Rod Nielsen and Dr Alex Kostogriz Thesis Title: Evaluating the impact of Instruction of English through the use of the iPad on the English Foundations Studies Program at Abu Dhabi Men's College [ADMC], Higher Colleges of Technology, United Arab Emirates.
Colloquia: First year confirmation
Negative effects thesis examples, example of thesis on mobile healthcare in the us, human resource and retention strategies for diversity thesis examples, research methodology thesis examples.
The research methodology chapter provides scientifically developed guideline for research process. Research methodology systematically defines postulates to be followed in order to successfully account important areas of the research within available resource. Under development research methodology is a guideline for the research entitled "Organizational Change to a Project Management Culture in an Organization". Underlying developed research methodology provides theoretical assumption considered for developing the research. Moreover, I have also shed light upon the limitations applicable to the research due to set of methods and approaches employed (Beiske, 2007).
CONCEPTUAL FRAMEWORK
Economics 5900 thesis example.
Drowning in Debt: How Does the U.S. Solve its Debt Crisis?
Getting Into China Thesis
Thesis on net effect of globalization, example of finance thesis, funds transfer pricing in commercial banks: a simple model: chapter 5, example of value thesis.
Value is defined in the oxford dictionary as something that is held dear, important, something of worth or of usefulness. Value can be relative and in monetary terms it can be compared in terms of the price of something. Economic value is just but one of the many possible forms in which we can define and give the measure of value. There are may be other types of value but economic value are very useful when economic choices are to be made.
Password recovery email has been sent to [email protected]
Use your new password to log in
You are not register!
Short on a deadline?
Don't waste time. Get help with 11% off using code - GETWOWED
No, thanks! I'm fine with missing my deadline
Contact Sales
Productivity |
29 time management templates and exampl ...
29 time management templates and examples to enhance efficiency

From daily to-dos to monthly editorial calendars, we've rounded up 29 time management templates and examples to get you started managing your time efficiently. Find out how each template can help you complete your to-do list.
Take a look at 29 time management template options and examples to find the one that fits your busy schedule. From daily agendas to monthly goals, these templates cover just about any situation. 
Ready to get started? Here are the 29 most helpful time management worksheets. 
Personal schedules and lists
Stay on top of your daily and weekly tasks with these time-management strategies.
1. Daily to-do list example
Best for: Daily goal-setting and prioritizing micro-tasks.
Daily to-dos are action items that you write down in a notebook or check via your to-do list software tool at the beginning of each day. Tracking your to-dos can help you ensure you're getting all of your important work done for the day and that nothing is falling through the cracks.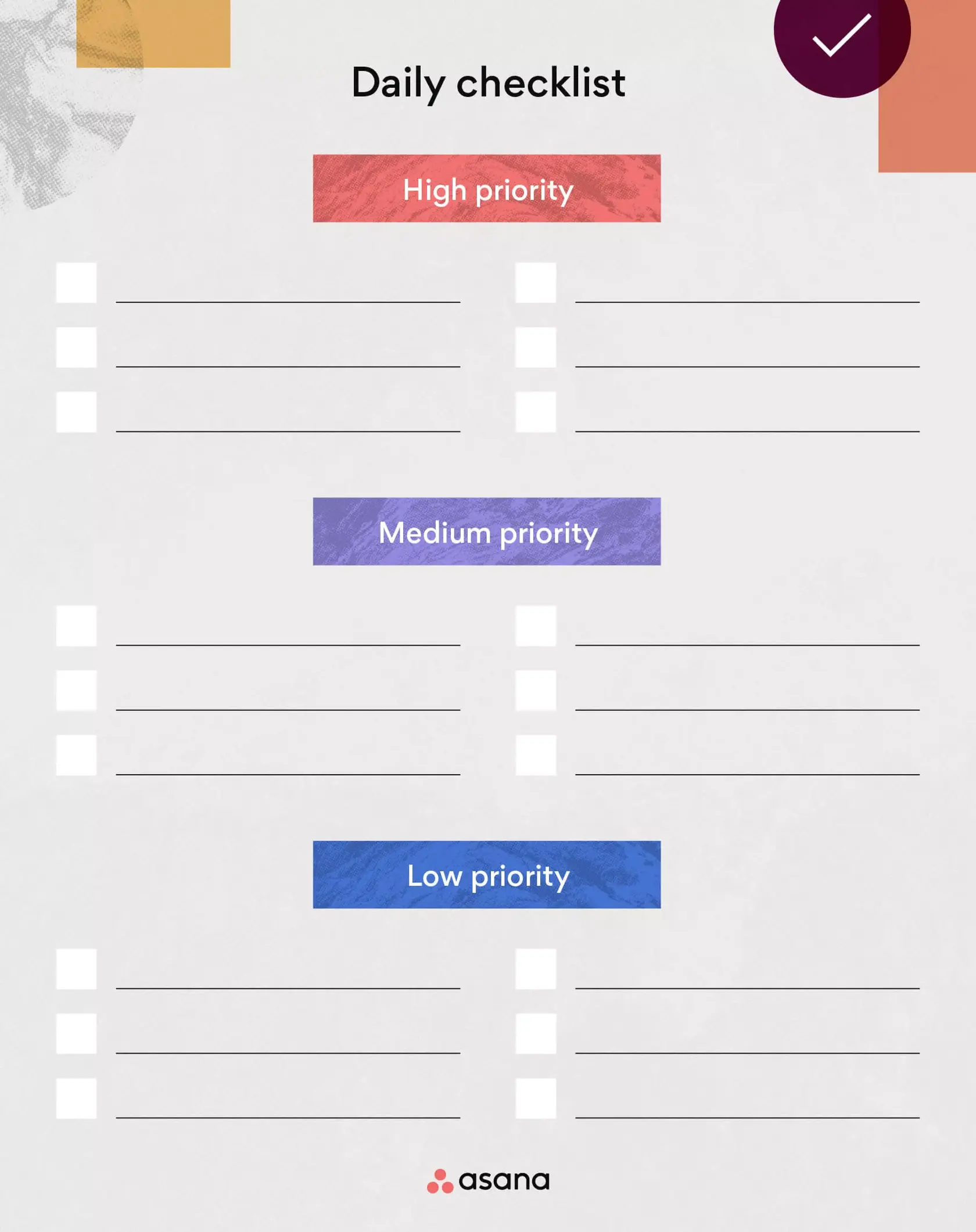 The act of writing down your daily deliverables helps you visualize the work you need to complete. Because everything is written down, you can easily understand each task's priority and see which tasks you need to complete when.  At the end of the day, check your to-dos for tomorrow so you can start the day with your best foot forward. 
2. Checklist example
Best for: Ordering daily deliverables in sequential order. 
The way you organize your to-do list can impact how and when you complete tasks. By creating a checklist, you can ensure your deliverables are clearly defined and in sequential order by priority.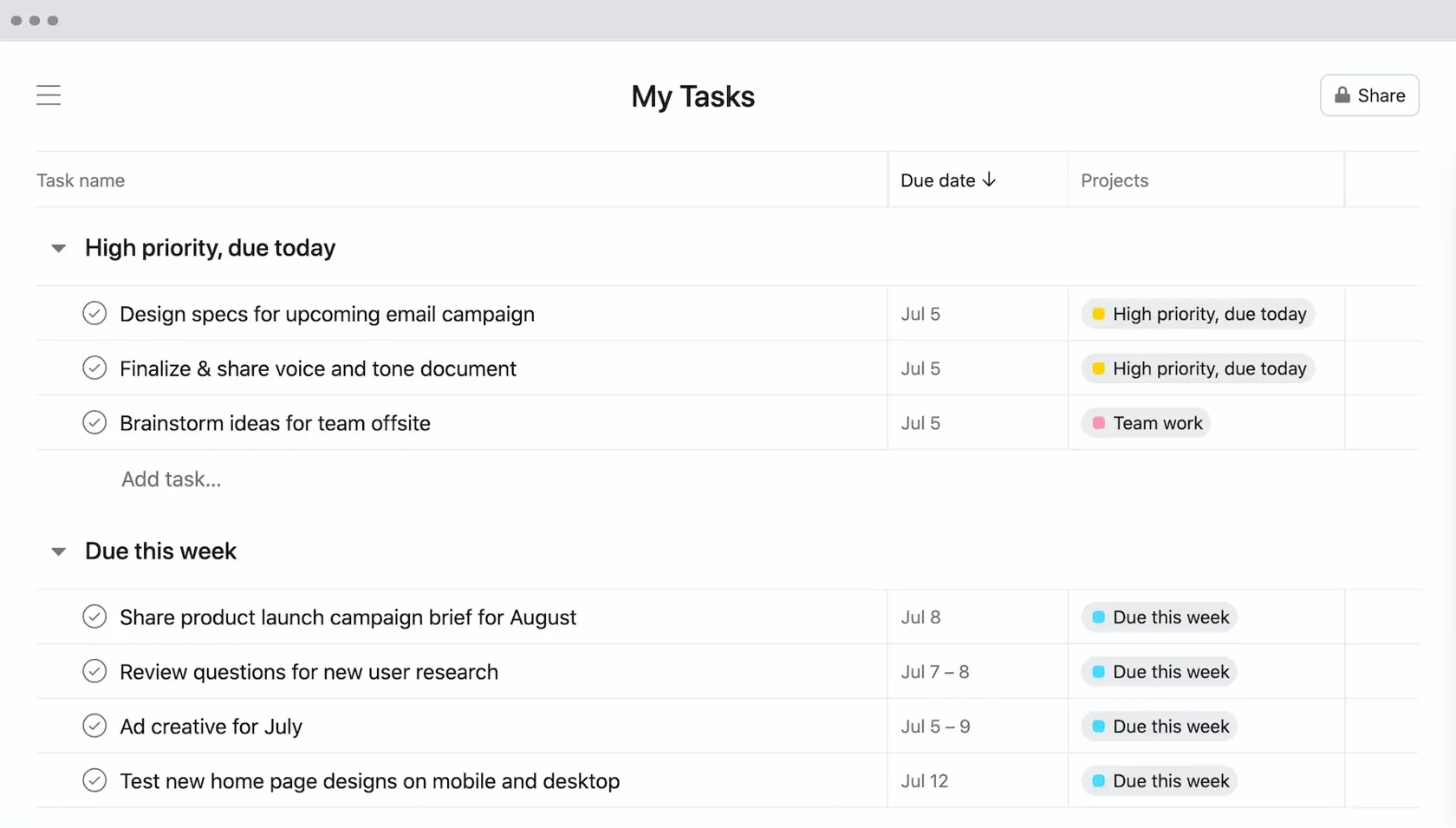 A checklist time management template can be categorized from most important to least important, so you can ensure your highest-priority tasks are completed first. Plus, the act of checking off each to-do can bring relief knowing that one less task is on your to do list.
3. Daily planner example
Best for: Planning daily activities to prevent unfulfilled goals. 
A daily planner is great if you frequently get overwhelmed by your daily to-dos and like to have a plan of action for your day. A daily or weekly planner is different from a to-do list because it accounts for more than just deliverables. It includes all moving parts of your day, including meetings, breaks, deliverables, and anything else that consumes your workday.
A study done in 2011 found that creating a plan can help offload the mental burden of unfulfilled goals. By planning your day around meetings, tasks, and project deliverables, you can have a daily roadmap that helps you time block and accomplish your action items.
4. Weekly schedule example
Best for: Planning your workload a week in advance to hit deadlines.
Beyond daily to-dos, it can be helpful to plan your work for the week ahead. This involves making a schedule of tight deadlines like daily tasks, open-ended deadlines like larger projects, and everything in between. 
You'll then want to prioritize these tasks based on deadlines and importance as it pertains to team objectives. This way you can align goals to the work needed to complete them.
5. Simple example
Best for: Staying on track with micro-tasks.
When it comes to time management, simple is often better. If you already have a strategy in place but need a little more structure to the chaos a simple time management worksheet might be the solution for you.
A simple template might include a brief overview of weekly task lists and deadlines to hit. A checklist format would suffice for this option, but for those who prefer to visualize their work you can use a whiteboard calendar to make it fun. The difference is that a simple template only includes the next few tasks on your agenda, which keeps the layout straightforward.
Time tracking tools
Before you can manage your time, you need to understand how you're spending it. With these strategies, you can reclaim each minute of your day.
6. Time log example
Best for: Tracking task duration and workload allocation.
Logging your time is one of the most difficult parts about managing a structured plan. Between working on important tasks and responding to teammates in real time, where does the time go? 
Keeping a time log template can help you track how long it takes to complete work and allows you to analyze your daily, weekly, and monthly time allocations. Time log templates are useful for tracking how much time you've spent on past work, but they also help with future planning as well. Once you have a sense of how long each task takes, you can plan for future projects based on the estimated time it takes for each task to be completed.
7. Activity log example
Best for: Teams who work on multiple projects at the same time.
In a perfect world, your time would be spent only on completing your assigned tasks. Unfortunately, that's not always the world we live in and many teams suffer from busywork which impedes on their overall efficiency. In fact, the average knowledge worker spends 60% of their time on work about work—things like searching for documents, chasing approvals, or attending status meetings.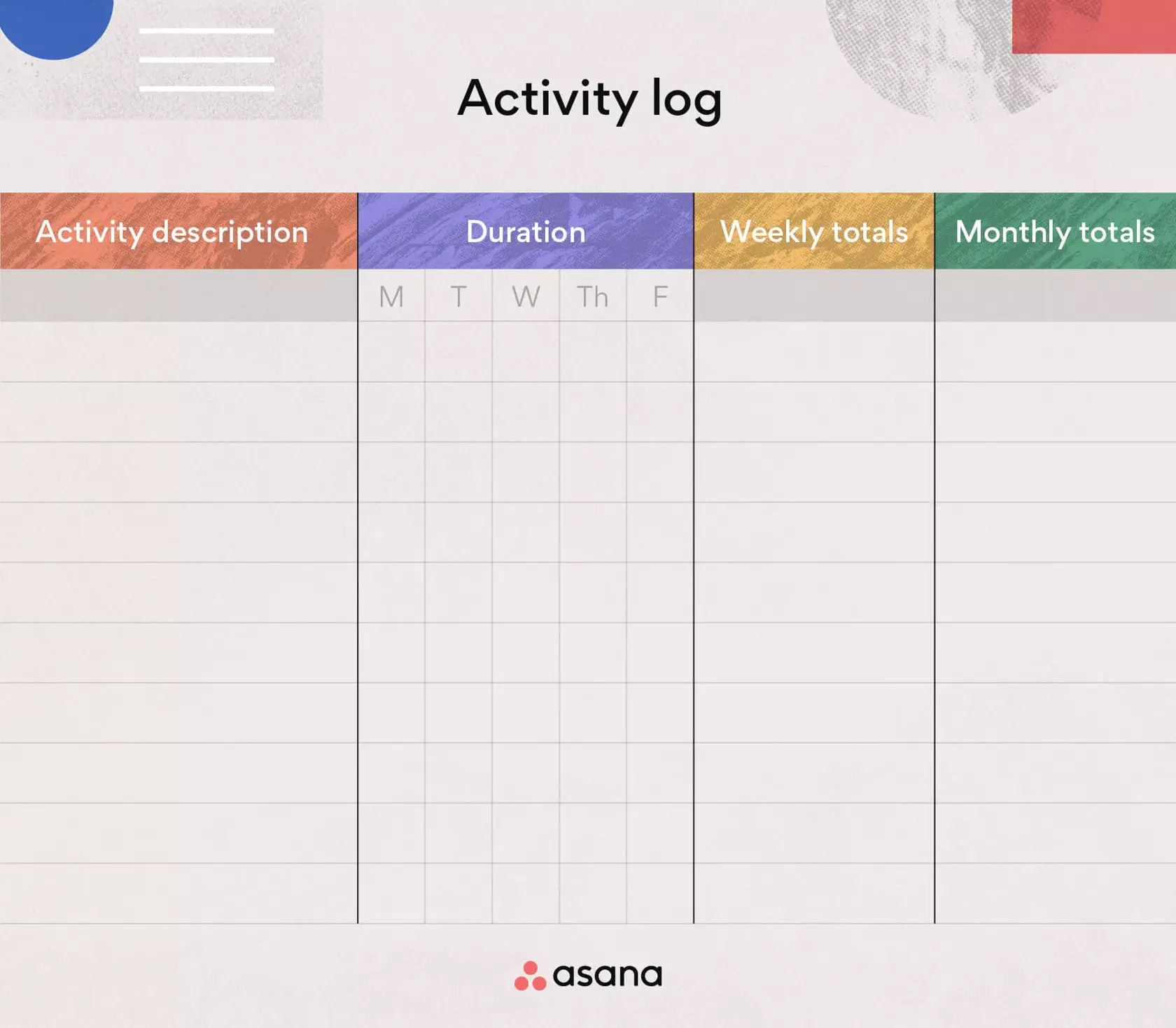 An activity template helps you track all activities you do in a day so you can identify and reduce work about work. For example, while you may only have two tasks to complete that day, you may also have two meetings to attend, a fire to put out with a past project, or miscommunication that needs to be cleared up with a teammate. Logging these activities can give you a clearer picture of where your time is being spent and present opportunities to improve your current processes.
8. Time budget example
Best for: Analyzing time allocations and budget details.  
You may be familiar with the saying "Time is money," but how exactly can you ensure your time is being utilized efficiently? While there isn't a one-size-fits-all approach, tracking your time in correlation with your budget can help put your time allocation in perspective. 
You can do this by first tracking the time it takes you to complete each task within a project. Then assign a budget number to each entry by taking the project budget and dividing it by the time it took you to complete each task. While it may not be 100% accurate every time, you can get a rough idea of where your time is going and share it with stakeholders to increase visibility. 
9. Pomodoro technique example
Best for: Individuals that struggle with procrastination and are easily distracted.
If creating a daily or weekly to-do list makes you feel overwhelmed, you may want to try using the Pomodoro technique . This technique involves pairing focused work sessions with frequent short breaks, with the objective of boosting your productivity and reducing mental fatigue.
A common working time ratio is 25 minutes of working to 5 minutes of break. You can begin using this technique by scheduling your daily tasks around these 25-minute working blocks to have peace of mind that your to-do list will be complete at the end of the day.
Task prioritization techniques
When it comes to productivity, prioritization is key. Here are some tools to help you decide which tasks are urgent, and which ones can wait.
10. Priority example
Best for: Categorizing tasks based on importance for efficiency needs.
When you have a long to-do list ahead of you and back-to-back meetings, it can sometimes seem impossible to manage your time effectively while completing your tasks. That's where priority planning comes in. 
A priority template can help you rank each task on your list by importance, ensuring your most important tasks are completed first. This can help organize your to-do list on even the busiest days. Try ranking each project on a scale of one to three, or color coding based on highest priority. 
11. Procrastination example
Best for: Teams that struggle with procrastination and efficiency issues.
We've all been there before—you have a long list of to-dos but find yourself putting them off until the last minute. Procrastination is something many of us struggle with, but there is a way to combat the negative effects. 
Creating a procrastination template can help you prioritize the top tasks needed to get done one day at a time. This will keep you from becoming overwhelmed by the longer weekly to-dos. You may also want to try a time management strategy like the Pomodoro technique where you work for short intervals of time and take frequent breaks to alleviate stress. The key is to try different methods and find the right one for you. Start by prioritizing the most important tasks, and move on to taking short breaks if you're still struggling.
12. Someday example
Best for: Planning future projects that are lower in priority but still important.
We're all guilty of keeping our focus on short-term tasks at least some of the time—after all, there are deadlines to be met. But it can be helpful to spend time considering long-term tasks you'd like to tackle some day. 
You can use a someday time management template to make a list of future projects you'd like to take on—either as a team or as an individual. That way, the next time you have a little extra free time you can work on your someday tasks. You can start by listing out project descriptions and then assigning teams that would be involved to get the ball rolling.
13. Free time example
Best for: Proactively prioritizing long-term projects. 
If you're ever in a situation where your workload is light and you want to work on proactive action items, try using a free time template by listing out tasks on your someday list. You can start by breaking your someday tasks into their own work breakdown structure , where you'll begin planning out smaller deliverables. 
These tasks can be larger business wants like an improved process or team wants like organizing a team bonding activity . Save these free time tasks for the end of the week when your priority tasks are finished and use it to catch up on projects you've been wanting to tackle. 
Team planning templates
Managing a team requires organization. With these templates, you can keep your team members aligned and make the most of everyone's time.
14. Team goals template
Best for: Aligning smaller tasks to larger project goals.
One of the biggest challenges when it comes to time management is connecting tasks to larger project goals. This is especially true for teams that typically work in silos and don't have a connected platform for time management tracking. 
A way to combat this is by using team goal templates so all stakeholders understand the necessary project objectives and how their work connects to the larger picture. 
15. SMART goals example
Best for: Proactive goal-setting and task roadmapping.
If setting goals and tracking progress helps your productivity, then using a SMART goals template might be for you. SMART is an acronym that stands for S pecific, M easurable, A chievable, R ealistic, and T ime-bound. SMART goals help you hit ambitious goals with clear communication and alignment.
Communicating your goals ensures that you have transparency when it comes to aligning tasks and objectives. Plus, you can start each day with a clear roadmap and trackable metrics.
16. Action items example
Best for: Organizing daily or weekly action items by priority.
Another way to organize your workload is to highlight the most important action items of your day and accomplish those tasks first. This is called an action items template.
Scheduling your day around action items will ensure your priority tasks are accomplished by the end of the day. This will also allow you to work on important tasks for the rest of the week. 
17. Team brainstorm template
Best for: Creative teams that need help ideating effectively. 
Team brainstorming is a creative way to ideate new business opportunities. That said, without the right time management skills, your brainstorming meeting could end up being unproductive . That's where a team brainstorm template comes in.
With a plan in place, everyone can add their ideas collaboratively in one shared document. Then, you can get together to talk through the top ideas and key action items. You can also try out different brainstorming techniques to find the meeting activity that best fits your team dynamic. 
18. Workflow example
Best for: Refining internal processes and procedures.
A workflow is an end-to-end process that connects the right people to the right data at the right time. Workflows are incredibly valuable, but they take time and effort to build.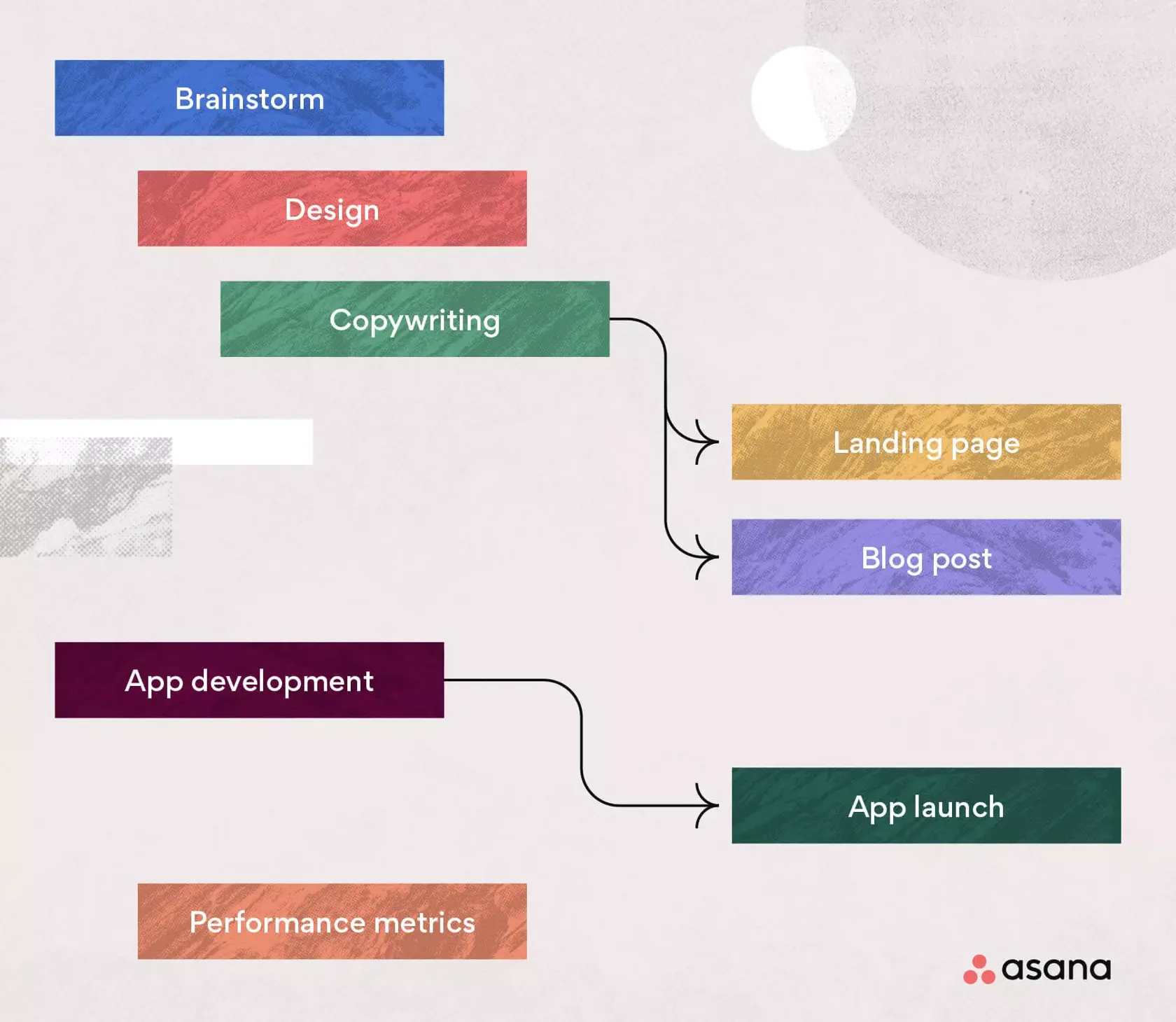 Even with the right workflow management software , it may take some time to gain effective time management skills since it can be a challenging endeavor. But with the right template, you can plan, customize, and track the success of your workflows with ease. 
19. Employee onboarding template
Best for: Organizing new hire documents and training materials.
The hiring process is a crucial element in establishing group norms , setting company culture , and optimizing internal efficiency. But it can be a time-consuming task with new team members being onboarded continuously. Without the proper procedure, your new team members could be left without the resources needed to do their jobs effectively. 
An employee onboarding template standardizes your processes, aligns stakeholders, and creates an inclusive community from day one. By supporting your HR team and hiring managers, you can ensure your team has everything they need for the new hire's first day of work . Then, pair the employee onboarding template with a 30-60-90 day plan and an actionable new hire checklist to streamline the process.
20. Meeting agenda template
Best for: Teams who struggle running efficient meetings.
Most of us have experienced a meeting in our professional careers that didn't have an agenda. Without a proper meeting agenda, team members could be stuck wondering about the objective, and ultimately, it could end up as wasted time. 
With a meeting agenda template , you can keep your meetings focused and on track with clear objectives, action items, and post-meeting tasks. 
21. Sprint planning template
Best for: Development and product teams that work on tight deadlines.
Sprint planning is a project management methodology for product and engineering teams that breaks work down into smaller chunks. This helps prioritize work and plan for team capacity needs.
In order to effectively plan your sprints, you should use a sprint planning template which can help you better manage Agile projects by creating structure, assigning task owners, and planning sprint meetings.
Project planning templates
Projects contain lots of moving pieces. These templates and examples can help you stay on top of who's doing what, when.
22. Gantt chart example
Best for: Tracking project progress and task milestones. 
Gantt charts are horizontal bar charts used to illustrate a timeline of a project, program, or task. They provide a better way to track task progress, dependencies, and milestones . 
A Gantt chart template can significantly decrease the amount of time spent on daily task planning. By visualizing all of your work on a timeline, you get a clear sense of what's coming up and how long each task will take. Think of a Gantt chart as an interactive approach to time management. 
23. Event planning template
Best for: Visualizing event deadlines and managing communication.
Event planning can be a stressful endeavor. You likely have dozens of deadlines and details to track at any given moment leading up to the event. This can wreak havoc on your usual time management strategy.
Using an event planning template can help you budget, visualize, communicate, and manage vendor requests all in one place. This can help you reach goals and turn emails into actionable tasks.
24. Design plan template
Best for: Connecting design deliverables to larger project milestones.
Designers may have a variety of tools to help them design, but what about a tool that helps plan the actual work? From initial concept to cross-team communication and ultimate approval, there are many moving parts.
With a design plan template , you can keep tasks organized and on time all while receiving approvals in one organized place. This helps you hit deadlines and keep creative milestones on track.
25. Editorial calendar template
Best for: Teams that have a robust content schedule and struggle with miscommunication.
Whether you're creating blogs or press releases , if you work on a creative team, you have an editorial calendar to plan for upcoming content. This could be a literal calendar view or an organized list separated by weeks or months.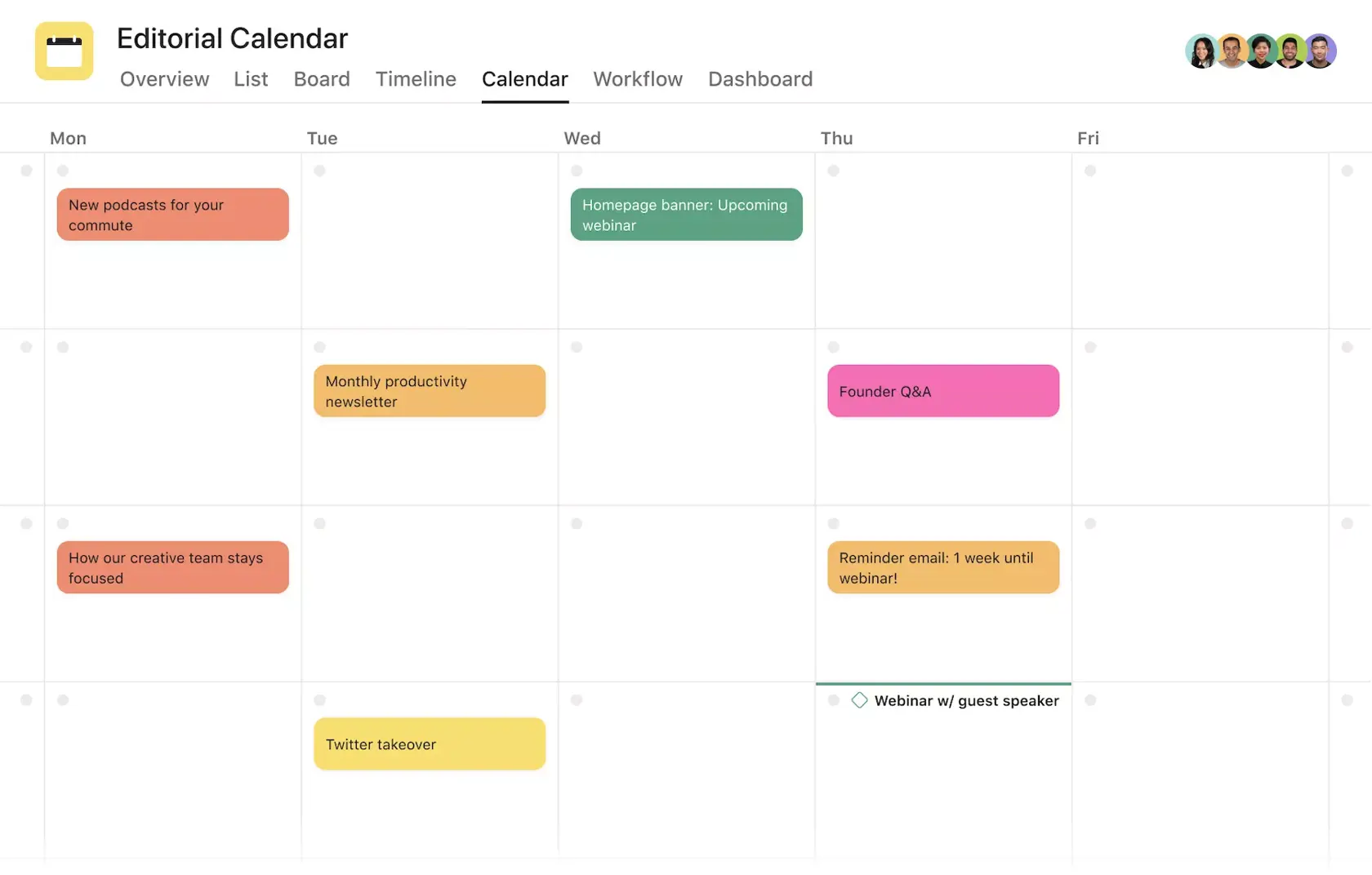 Visualizing your upcoming work in an editorial calendar is a great way to get a bird's-eye view of what's going live when. Not only does it give you a chance to plan ahead, but it also allows you to schedule your editorial needs around important company events or seasonal changes. 
26. Social media template
Best for: Organizing your social content around events and trends.
Social media can be complex to plan. From managing multiple profiles to staying up-to-date with new trends, having a strategic plan is key. A social media content calendar is a combination of your editorial plan and your upcoming social posts—all in an easy to visualize way that your cross-functional stakeholders can quickly access.
Using a social media template can make it easy to manage your publication schedule, schedule posts, and communicate with team members in a shared space. This prevents miscommunication and allows your team to stay on the same page.
27. Product launch template
Best for: Product teams that need help juggling multiple launches.
Successful product launches take careful planning and diligence. From creating goals to messaging and implementation, a lot can go wrong. Luckily, a product launch template can keep you organized and help expand your product portfolio.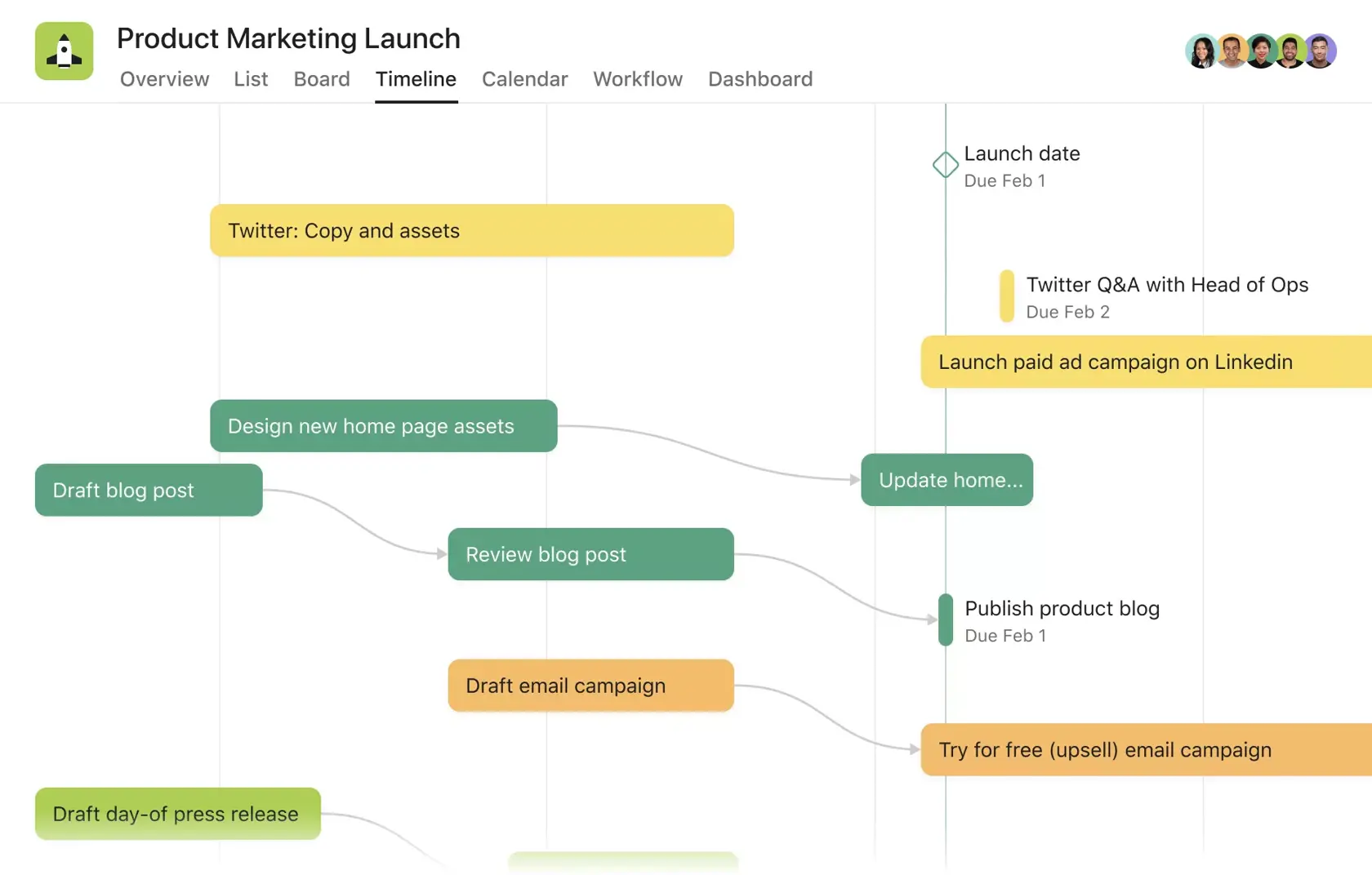 Whether you're juggling a new product development process or need clearer directions, a product launch template can help you visualize your timeline, share goals, and keep communication all in one place. 
Business planning templates
When it comes to business planning, organization is key. Check out these templates to plan ahead and maximize efficiency.
28. Business strategy template
Best for: Connecting individuals to business goals and preventing silos.
A business plan is a roadmap that tells the story of who and what your business is. It's often shared with executives, team members, and even investors. That's why it's so important to have a professional-looking document that helps communicate your strategy in as little time as possible.
There are many different elements you can choose to include in your business strategy template , such as processes, expenses, and overarching programs—all of which can be time-consuming to refine without the proper template. To jump-start the process, look for a strong business strategy template to help your team ideate and present your business strategy with your best foot forward. 
29. Sales pipeline template
Best for: Organizing sales opportunities and sharing them across teams.
Managing your sales pipeline is a tricky task that involves maintaining and tracking potential sales team opportunities. While this sounds simple enough, there are many moving parts that go into tracking your sales pipeline including opportunities, lead status, priority, stage, and estimated value, and more. 
With a sales pipeline template , your sales team can easily track account data and action items while prioritizing opportunities and sharing your pipeline with other team members. Plus, you can zero in on new leads, top accounts, and at-risk opportunities to build your pipeline.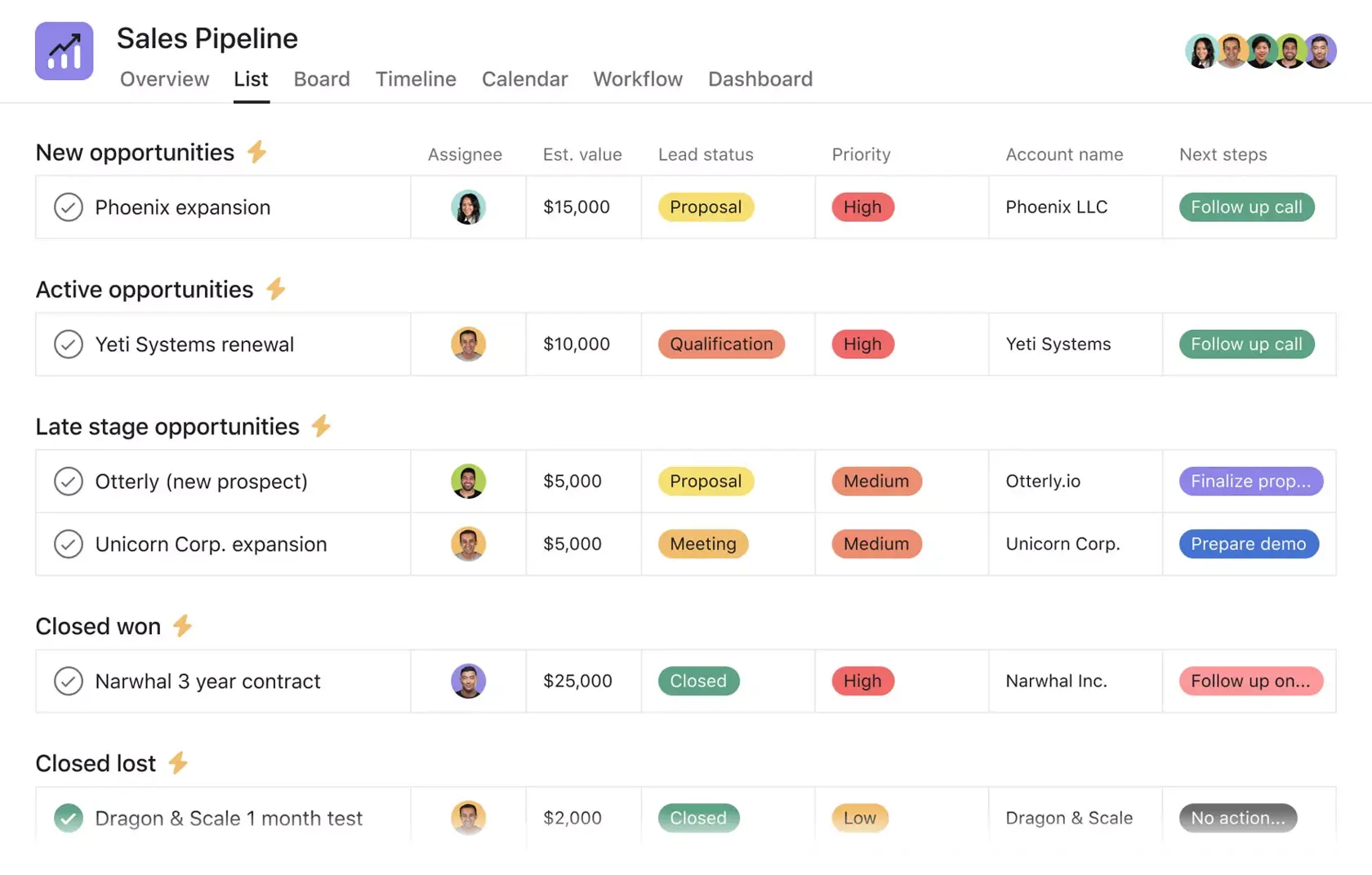 Manage your time with templates
Managing your time can be a complex task, but with the right time management template you can better organize your daily, weekly, and monthly goals. 
If you're looking to implement better time management for your entire team, consider trying task management software to track tasks in one shared place.
Related resources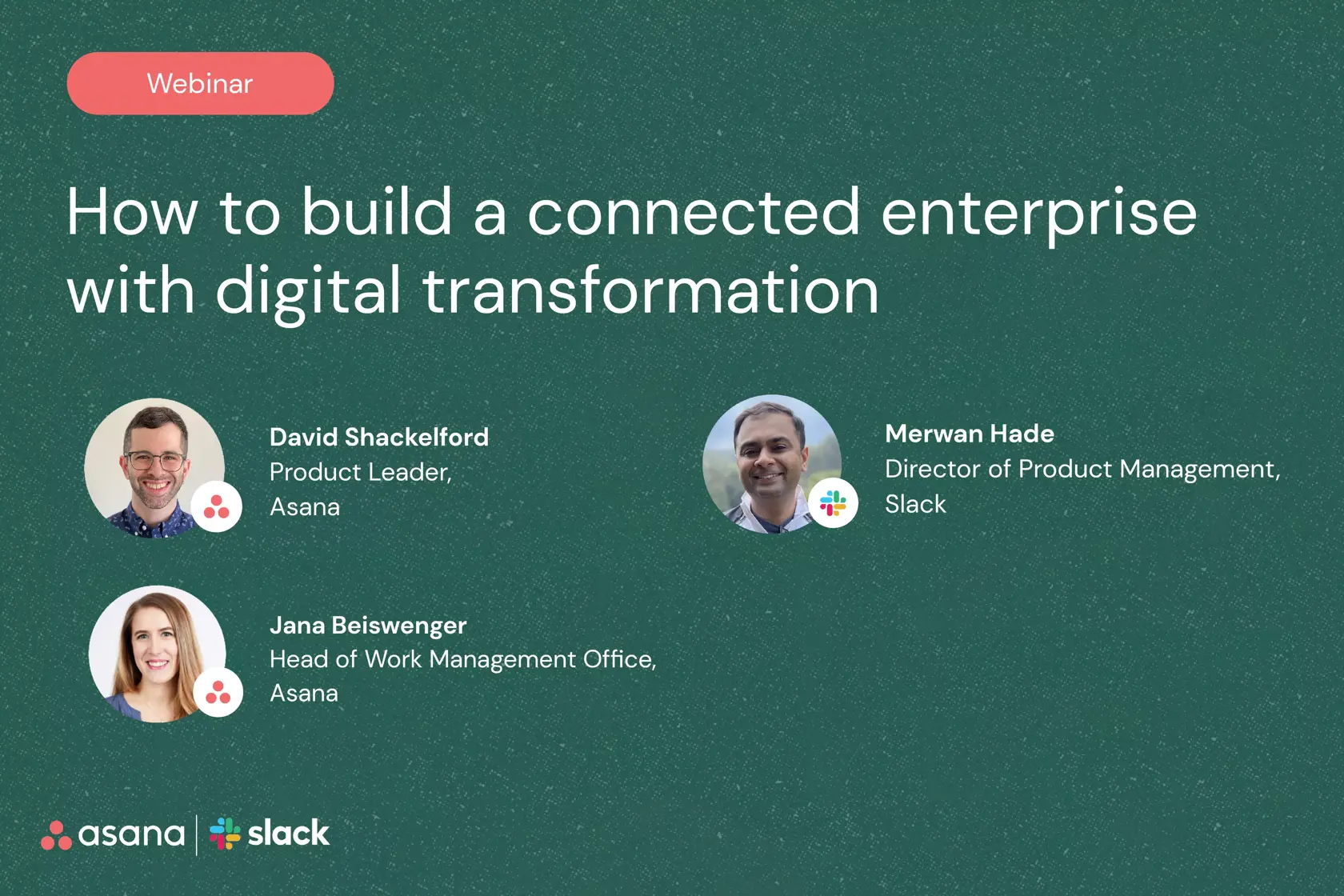 How to build a connected enterprise with digital transformation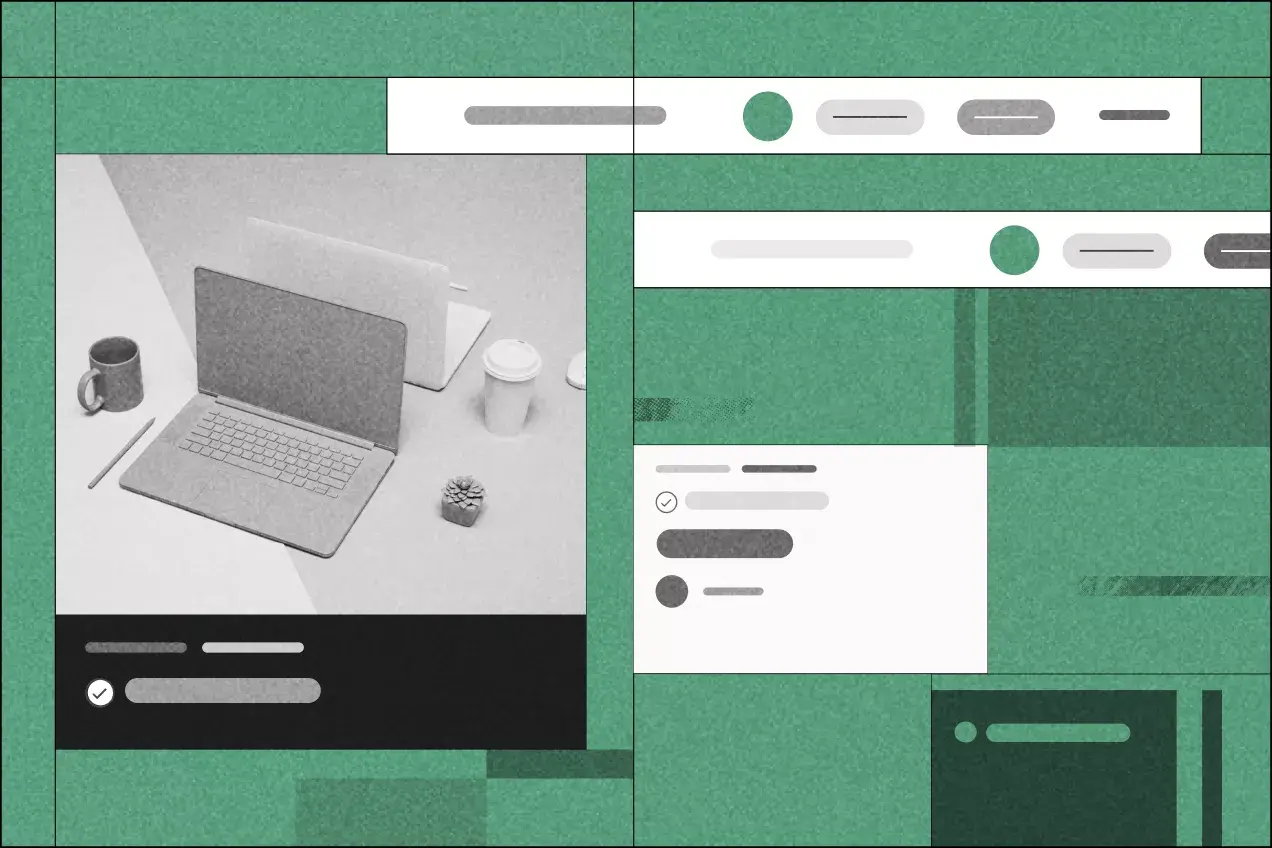 20-day productivity challenge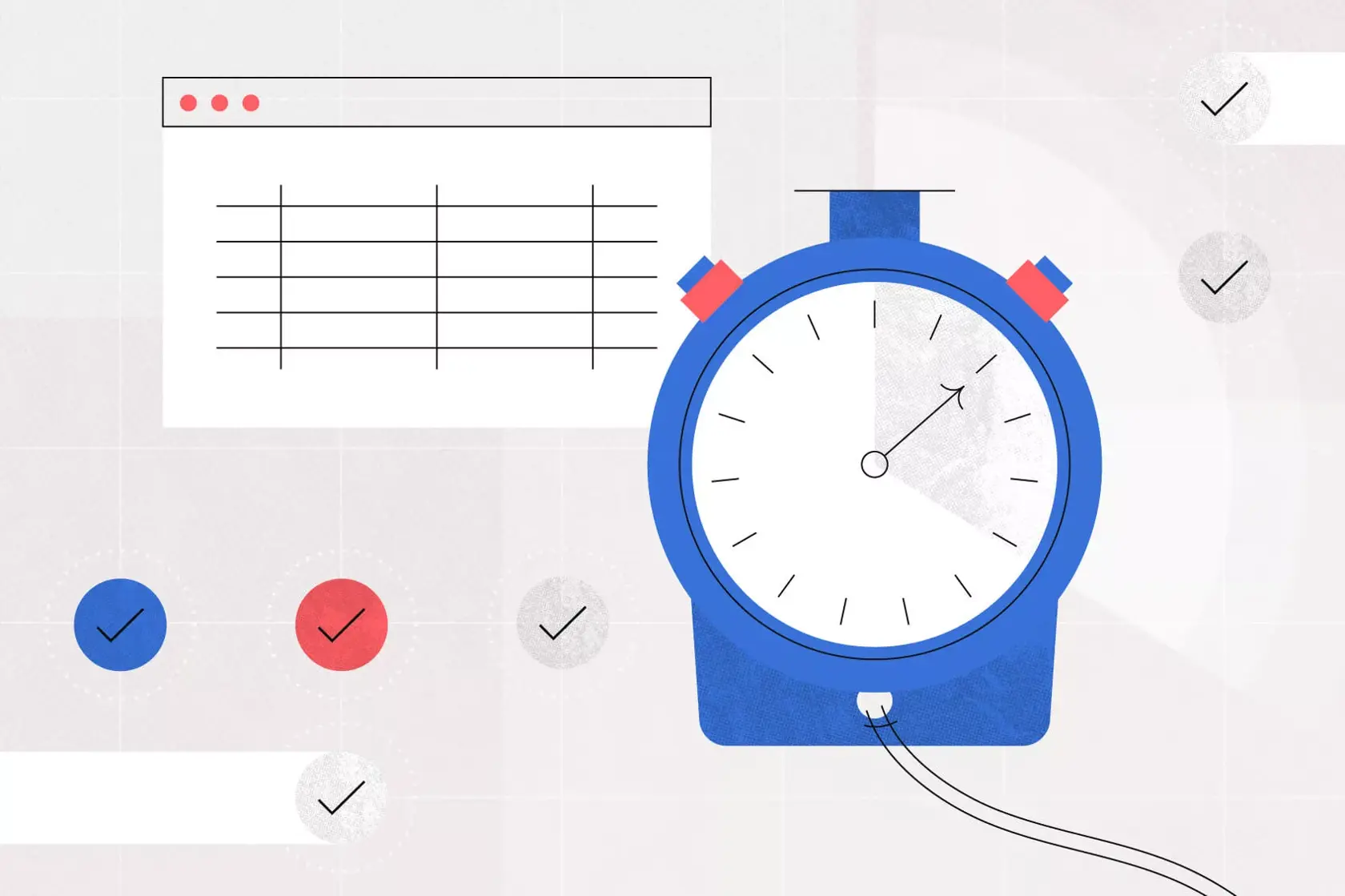 Timesheet templates: How to track team progress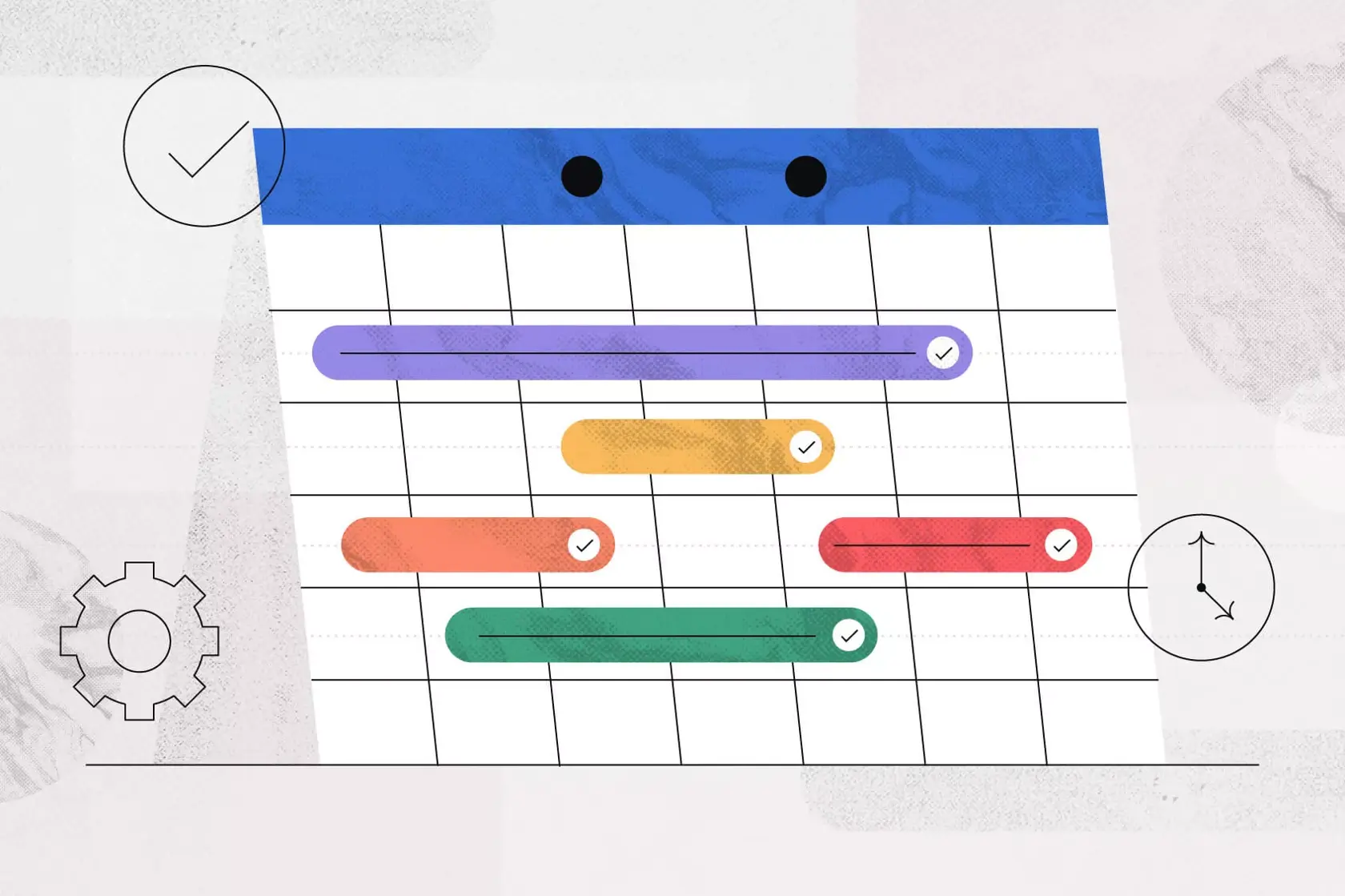 How to align your team with a work schedule template
(THESIS HS) Efficiency of The Time Management
Uploaded by, document information, original title, available formats, share this document, share or embed document, sharing options.
Share on Facebook, opens a new window Facebook
Share on Twitter, opens a new window Twitter
Share on LinkedIn, opens a new window LinkedIn
Share with Email, opens mail client Email
Copy Link Copy Link
Did you find this document useful?
Is this content inappropriate, original title:, reward your curiosity.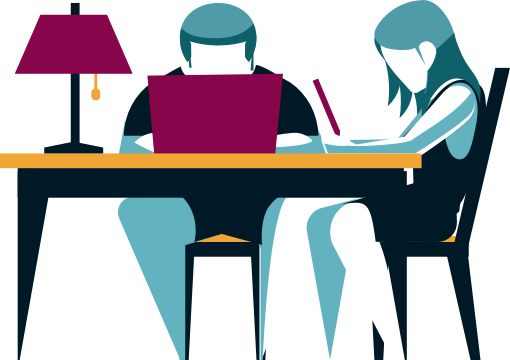 Share on Facebook, opens a new window
Share on Twitter, opens a new window
Share on LinkedIn, opens a new window
Share with Email, opens mail client