What Is a Thesis?
Writing a thesis is often required in US university degree programs. But what exactly is a thesis? Do you know the difference between a thesis statement and a thesis project? Read on to learn more.
If you are considering studying in the US, you may have come across the term "thesis" in your research. Writing a thesis is an important part of completing your degree. Read our guide to find out what a thesis is in the US, the benefits of writing a thesis, and why colleges in the US value them.
What Is a Thesis?  
In the US, students may use the term "thesis" to describe two distinct academic requirements:
Thesis statement—the focus of an academic paper. Papers with a clear thesis statement are typically required in liberal arts classes, such as literature or history, and can vary in length and citation style.
Final thesis—a longer academic paper required to complete a degree program. These often require months (or even years) of research and may be defended in front of a university committee.
Let us take a closer look at both meanings. 
What Is a Thesis Statement?
A thesis statement is one to three sentences in the introduction of an academic essay outlining what the reader can expect. It is an argument, or claim, that will be defended through your research. A strong thesis statement identifies the topic to be discussed, summarizes the main arguments, and persuades your audience to continue reading.
Typically, a good thesis statement consists of two components:
Topic—tells the reader what your essay is about.
Argument about the topic—explains your logical claims and ideas about the topic.
What Are the Different Types of Thesis Statements?
The thesis statement you write may vary depending on the type of academic paper you are writing.
Argumentative—presents a topic which is debatable and reasons supporting the topic.
Analytical—presents a claim and explains how it is supported.
Expository—presents a topic and explains what the reader will learn in your paper.
How to Write a Good Thesis
When looking at how to write a thesis statement, it is important to understand the meaning of a thesis. A thesis identifies a question on a topic that relates to your degree program, which you then have to answer with a sensible argument, using credible research and findings. 
Here are some tips you can use when you are writing a thesis:
Research and identify your thesis topic —To write a good thesis, consider what your thesis is going to be about. Are there any areas in your field that you would like to explore further?   Research is an important foundation to your thesis. Give yourself enough time to conduct enough research to support your central argument. (Professors and advisors can help you with time management and making a research plan.) Collecting evidence to support your claims and reading a wide range of sources on the topic can help you build a sound foundation for your thesis.
Work on a strong thesis statement —A good thesis needs a strong opening statement. Your thesis statement gives those who are reading and grading your work a summary of what will be discussed, why your claim is important, and persuades them to read more.  Consider the following scenario: If someone asked, "what is a thesis statement?" and you showed them your paper, would they be able to identify the thesis right away? You always want to be as clear and convincing as possible when putting together your central argument.  
Put all your information together —Once you have built a strong thesis statement, organize all your research and supporting information. Analyze your data and identify whether it is relevant to your research topic. A thesis should be persuasive. Acknowledge that there could be multiple sides to your argument, while also keeping your thesis specific, comprehensive, and decisive. 
Build a solid structure —It is important that the flow of your thesis is logical and straightforward. Make an outline to organize your ideas and provide a roadmap before you start writing. 
Review and take your time to edit —Take time to edit your thesis. As you revise, reevaluate your points, see where you can strengthen your arguments, and fill in any gaps.
Include citations —Citing your sources provides credibility – and also ensures you won't plagiarize another scholar's work.
Don't hesitate to ask for help —You can speak to your professor, an advisor, or a classmate for guidance on how to write a thesis statement, the structure of your thesis, or any other sections you want to clarify. They can provide valuable feedback to improve your project.
Some important questions to ask yourself during the thesis writing process are:
What is a thesis and why am I writing it?
Will the reader understand my thesis statement meaning and intention?
Have I answered the question my thesis is based on?
Do I have a strong thesis statement? 
Does my thesis add value to my field?
Remember: Your professors and advisors want you to succeed. Speak to your Shorelight advisor if you're struggling with writing a thesis paper or final thesis – our academic counselors are here to help!
Which Subjects Require a Thesis Statement in Academic Papers?
Many college professors assign academic papers for students to explore subject topics further — this information can be found on your course syllabus , giving you plenty of time to prepare! In almost every undergraduate-level subject you study, you may be required to develop thesis statements for your academic papers. Writing a thesis statement paper helps improve your critical thinking skills, as it requires you to identify and analyze multiple sources of information to form strong arguments — a useful skill in both the classroom and the workplace. 
How Is a Thesis Statement Graded?
Your thesis statement will be evaluated based on how well you have used research to support your argument, and how effectively you have communicated your ideas (e.g., whether your paper is well written, clear, and specific). How your thesis statement is evaluated will vary depending on your subject area and the university, but your course syllabus should include detailed grading requirements. 
What Is a Final Thesis or Dissertation?
A final thesis, sometimes known as a dissertation, is a compilation of research on a specific topic. Typically, a thesis or dissertation is required to complete a master's degree in the US. While it is not common, you may be expected to write a thesis to complete your bachelor's degree. For example, in some liberal arts colleges, writing a thesis is a degree requirement, a way to showcase what you have learned over your program of study, and may even add to the body of research in your specialization. A final thesis or dissertation is significantly longer than a thesis statement, and may take months or even years to complete.
What Are the Main Components of a Final Thesis or Dissertation?
Generally, a final thesis consists of five major sections.
Introduction —The introduction of your thesis explains the topic and central argument to the reader at a high level. The introduction should go over why you chose the topic, and act as a summary of what you will be covering in the pages to follow.
Literature Review —This section includes research papers, studies, and articles related to your topic area. You also are expected to identify gaps and weaknesses in existing research, which helps you build counterarguments and develop a strong claim.
Methodology —This section explains the methods and data used to conduct your research.
Results —The results section presents the findings of your study.
Discussion and Conclusion —This section summarizes why and how you conducted your research, the results of your research, and presents conclusions based on the results.
What Is a Citation in a Thesis?
When writing either a shorter academic paper with a thesis statement or a final thesis, you are required to include your research sources. Throughout your work, when you directly quote another text or paraphrase ideas, you must cite the source. There are two types of citations:
In-text citation —this reference is included in the text at the point of mention, such as an on-page footnote or parenthetical citation.
End-of-paper citation —also known as endnotes, these are references included at the end of your paper or dissertation.
How Long Does it Take to Complete a Thesis?
A final thesis to earn a master's degree requires you to be familiar with previous work in the field and demonstrate your capability of carrying out independent research. From conducting in-depth research to listening to feedback from professors, completing a thesis can be a major commitment.
Many universities in the US may require you to dedicate a semester or longer to complete your research. You will have to work with a faculty committee member to ensure your research and writing is on track. As you compare different graduate programs, you can get a better sense of each program's dissertation requirements (looking at time, research, and more) and which best align with your academic and professional plans .  
How Is a Thesis Graded?
Generally, a master's thesis or dissertation in the US is not graded, but you will have to defend it, or present your research and findings before a university committee. For example, at American University , a thesis is evaluated based on how students demonstrate their capacity to conduct independent research. However, the evaluation of your thesis may vary depending on the university and your subject area. 
So, once you have completed your thesis, the next important step is to prepare well for your thesis defense.  
What Is a Thesis Defense? 
If you are pursuing a master's degree, you are required to meet with a thesis committee upon completion of your thesis to defend what you worked on. At this stage, you will have already worked closely with faculty advisors and received ongoing evaluations. A thesis defense can take many forms, from presenting in front of a panel and taking questions and answers to a more informal discussion with select faculty and advisors. Your individual program will have a clear and established process regarding this important final task required for your degree. 
Are a Thesis and a Dissertation the Same? 
The terms thesis and dissertation may be used interchangeably. While they are similar in terms of the structure, in the US, there are differences between a thesis and a dissertation.
Type of degree
Generally required to complete a master's degree
Dissertation
Required at the doctoral level
Will vary by program, but expect at least 60–80 pages plus the bibliography
At least double the length of a thesis or more
Proves how well you understood what you learned during your graduate program
Contribution of a new study or knowledge to your field
Is Writing a Thesis Mandatory?
Whether writing a thesis is required or not depends upon the program you choose to study. For example, if you are pursuing a liberal arts degree consisting of a wide variety of majors, including literature, history, and philosophy, writing a thesis can help you make connections across subjects. 
Some universities and colleges in the US may offer both a thesis and a non-thesis option. For example, if you are a student who is interested in taking more classes to learn about your subject, you could choose the non-thesis option. So, instead of writing a thesis, you could either work on a research project or complete supervised fieldwork.
Whether you are writing a shorter paper with a thesis statement for a single class or working on a longer final thesis for your degree, making an argument and supporting that argument with established research gives you a skillset that is versatile and applicable to many fields. While conducting research for the thesis, you will refer to multiple sources, analyze information, and learn how to form strong arguments that will set you up for success wherever you go.
Discover how Shorelight can help you find your ideal US university >
Services that set you up for success
Research & resources.
― Talk to an education advisor
― Verified tuition, rankings & stats
― Helpful articles & tips
Application Assistance
― Dedicated enrollment counselor

― Streamlined application process
― Choosing a major
Student Visa Support
― Visa application & interview help

― Prep webinars & checklists
― Help with required college forms
Campus Transition
― Packing lists & campus tour
― Student & parent orientation
― Cultural group outings
Academic Support
― Classes for your academic level
― English-language help
― Tutoring & mentoring
Career Development
― On-campus and virtual programs
― Internship & job search
― Resume, interview prep & more
Do All College Students Write a Thesis?
What is a College Thesis?
Final Research or Capstone Project
College Thesis vs Field Experience
How to pick the right one, a few thesis paper topic ideas.
Before graduating from school, some students wonder if everyone must do a college thesis. You might hear various things, but the truth is a thesis is not always required from graduate students to complete their school programs. Of course, it depends on many things, including the type of study. Some schools offer two ways that include thesis writing  and a non-thesis variant where students have to take more classes without creating a thesis. In our short article, you can learn about some alternatives to a thesis. It will help you to decide which option to choose or if you should simply ask thesis writing service for help. We will provide you with full information about a college thesis and thesis writing services that can help avoid struggling with this paper. Of course, the final decision is yours! 
A college thesis is quite complex work students have to create within their last year before graduating a school. In general, students are required to select a topic they studied and make research around the chosen subject. The topic must be related to the students' part experience. After selecting a subject, students have to submit it with an advisor. They can start their research and writing after the meeting with an advisor. Later, when their paper is completed, college professors read it and decide if the document meets all the needed requirements and instructions for graduating from school. 
Final Research or Capstone Project 
If you've heard that some graduate students are not required to create a thesis, you should know that in some schools, students have to finish a capstone project instead of a thesis. This is a kind of final research on the chosen topic. It's a better choice for those students who don't like to work in a classroom and prefer things connected to the experience. For example, a student who studies computer science can make new software or a new program for a computer instead of creating a huge work about innovations in computer science and technology.   
Some students in a school who have completed their field experience can not be required to create a school thesis. For some people, it may seem like a simpler variant. If you're thinking about selecting this option, you have to know that your school may require completing around 300 or more hours of fieldwork under your supervisor's control. Needless to say, this work should be done after finishing the studies. It means that it may take about 3 or more years to get your degree. If compared with students who choose thesis writing, they can get a degree within 2 years or even less. Are you one of them? Pay attention to all thesis parts and their detailed descriptions from the beginning. Of course, the choice is yours. Keep in mind that if you will choose fieldwork, you may be required to provide detailed logs of your work and show these logs to the department before you get a degree.  
Of course, you have to decide what variant is more acceptable for you. Some people don't want to create a thesis because they don't like long research. We believe you understand how long is a thesis and how much time you should spend with books in the library. In this case, a non-thesis variant is a good option. It's suitable for those students who want to get more experience in the selected field and avoid a lot of paperwork. The option of writing a research project will fit those students who want to make a project without detailed research, and fieldwork will appeal to those people who agree to work extra time before graduating from a school.   
Some professors would want you to come up with thesis paper topics on your own, without giving you advice at all. Sure, it is quite a challenging task for the majority of students. Here we have compiled ideas for thesis  that we believe are worth consideration to expedite your creativity. Feel free to check this list to get a better understanding as to how good thesis topics should look like:
Promotion of violence in popular culture.
The culture of family development: the political aspect of the problem.
Why is skin on a face more sensitive to breakouts and touch than on any other part of the body?
The role of relatives in overcoming severe chronic health conditions.
Food insecurity in urban states: factors to bring the issue about and possible mechanisms of management.
What are some pros and cons related to plastic surgery?
The role of a father in the prevention of early childhood obesity.
The role of the school in the sexual education of children.
Forced child marriage as a factor influencing life quality.
Doctor-patient communication as a significant factor in preventing infectious diseases.
Language learning as a factor in preventing intellectual disorders of seniors.
Are there hobbies you can do in your own country but not when you travel abroad? Why?
What stereotypes are related to people from your country, and is there any truth to those?
Frequent change of place of residence as a factor preventing depressive states.
The role of stresses in the natural psychological development of individuals.
The role of age in the effectiveness of coping with alcohol abuse diseases.
The influence of intensity of medical care upon the development of cancer-related depressive states.
Does beauty, in general, determine how much a person will be successful in life?
How to be better at communicating with friends, family, work colleagues, and strangers?
The correlation between suicidal attempts and video games abuse in adolescents.
Gender differences in the effectiveness of language learning: myth or reality.
Employment as a factor to overcome PTSD in military veterans.
Marital satisfaction and job satisfaction: does an interconnection exist?
The relation between formula feeding and obesity in infants.
Can amusement parks have an educational purpose apart from an entertaining one?
What other common sayings such as "an apple a day keeps the doctor away" exist in your language?
Domestic violence as a factor of destruction for the reproductive health of women in developing countries.
Are the virtual world and video games, causing more violence or more antisocial people?
Why should more expensive sports like rowing and tennis be more accessible to social and ethnic minorities?
Domestic violence and the quality of breastfeeding. Detecting the triggers and foreseeing the results to avoid.
If you have decided to write a thesis, but feel like it's too difficult for you to complete this task, don't be upset! You still have a chance to make a proper document and get a degree without problems. Just ask our professional team to assist in making your thesis, and we will finish this paper on time. Our talented specialists are here to work on your college thesis!
If you want to deliver a senior thesis and start a professional career quickly, then you need not only to research a topic well but also to find all the necessary information for the final work and know how to properly format and structure a thesis. Thus, having a clear plan and understanding what s...
Are you about to write a bachelor thesis? Congratulations - you are on the home straight and need to take the very last but important step to earn a bachelor's degree. You have successfully handled all academic assignments; however, it doesn't make bachelor thesis writing any easier. Writing a thesi...
Writing a master's thesis requires a lot of patience. It's not something you can create in a few days. It's a large scale project, so you'll have to make a strict schedule and write a little piece every day. Do you feel it's a difficult job for you and you need thesis help? Instead of devoting your ...
How to Write a Thesis Paper for College

A college thesis (also known as a dissertation) is the crowning achievement of a student's hard work. For many, a thesis is the culmination of many years of study within a particular major or field, such as literature, history, or business. 
Here's a tip: Want to make sure your writing shines? Grammarly can check your spelling and save you from grammar and punctuation mistakes. It even proofreads your text, so your work is extra polished wherever you write.
Your writing, at its best Grammarly helps you communicate confidently Write with Grammarly
In a student's final year, the thesis can be seen as the final component of one's candidacy for a degree; in other words, it is the last opportunity a student has to show off what they've learned and internalized.
Generally speaking, a thesis should challenge an intellectual question in a persuasive manner, inciting thought-provoking discussion or argument in readers. College theses are mostly just extended  academic essays , though it is important to include all of the elements that are expected in a well-developed college thesis. 
The following guide will help you write a strong, impactful thesis that enlightens readers and enriches your field of study.
Drafting a thesis statement
Most research for a college thesis begins with a question. Think about the topics and theories that you've studied over the course of your degree. Is there a question that hasn't been answered adequately in your field? Is there a topic that's sustained your intrigue and is worth exploring further? 
As you keep this question in mind, read everything you can about the topic. Ask one of the college librarians for assistance—they will know exactly what you're looking for and what materials will best support your research. In addition to searching for information online, perusing academic databases, journals, and books can be very helpful. 
In this initial drafting phase, the more information you gather, the easier it will be to form your argument. Your thesis statement should answer this one simple question: what is your paper about? Being able to clearly articulate your argument or assertion in your thesis statement is key, as your readers will be able to quickly identify what you're trying to prove.
Organizing an outline 
With so many ideas and tidbits from your initial research floating around, creating an outline is essential for organization. Even if your professor hasn't asked for one, outlines are still incredibly helpful tools for structuring your thesis—which will probably be the longest and most involved paper you've ever written. 
All academic essays have an introduction and a conclusion . (Typically, your thesis statement will come at the end of your introduction.) The paragraphs in between will make up your supporting arguments, but it is important that your argument flows smoothly. 
As you organize your outline, plan out the subject for each paragraph or subsection. You'll want to make sure that each subject supports your thesis statement and furthers your argument. Know that your outline is merely a starting point; as you conduct research and start writing, the structure is apt to change.
>>READ MORE: 7 Helpful Essay Tips
Gathering supporting evidence and research
After defining the outline and thesis statement, you are ready to start the process of developing your supporting evidence. For your dissertation to be successful, you need to effectively argue your claims, and the best way to do so is by relying on hard facts.  
Spend time rigorously researching your topic. Gathering between 15-20 primary and secondary sources is a good rule of thumb at this stage. As you research, you can link up supporting evidence with certain sections of your paper based on your outline. The more evidence you compile, the better equipped you will be to root your claims in fact-based logic—which will fortify your overall argument. 
Start writing
At this point, it's finally time to start writing. Don't think too deeply about finding the perfect words for every sentence; get the bulk of the argument down and worry about editing later. Being a perfectionist while writing will only impede your progress. 
It's important to remember that an effective thesis has a definable, arguable claim. Your sentences should be concise, authoritative, and specific. By focusing on structure and the way your points flow together, your thesis will gain persuasive strength.   
While writing, keep in mind that a solid argument not only revolves around a strong thesis but also acknowledges opposing points of view. Anticipating the counterarguments will help you refine your thesis. After all, every argument has a counterargument. If yours doesn't, your paper might be an opinion, but not a valid argument.  
Formatting special sections like appendices 
Once you've written, tweaked, and finished your thesis, you can turn your attention to the "special" sections of your paper, like its appendix or bibliography. Depending on the instructions you've received, your bibliography may need to follow a specific style and format, such as  APA ,  MLA , or  Chicago Style . Remember that each formatting style has specific guidelines for citing different types of sources, including  books ,  PDFs ,  TV shows , and speeches . Use Grammarly's free Citation Generator for more help in citing your sources. 
After all the hard work you've done, you don't want to lose points because your table of contents was ill-defined or you forgot to add page numbers. Getting a second pair of eyes to look over your formatting and using a writing assistant are two handy ways to double-check your paper before submitting it.
There is no greater feeling than turning in an assignment that you've spent months—if not years—working to complete. By following these useful steps, you can feel confident that your thesis paper presents an interesting and irrefutable argument that showcases all you've learned.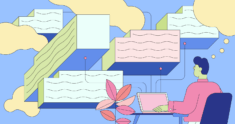 Have a language expert improve your writing
Run a free plagiarism check in 10 minutes, generate accurate citations for free.
Knowledge Base
Dissertation
What Is a Thesis? | Ultimate Guide & Examples
What Is a Thesis? | Ultimate Guide & Examples
Published on September 14, 2022 by Tegan George . Revised on December 7, 2022.
A thesis is a type of research paper based on your original research. It is usually submitted as the final step of a master's program or a capstone to a bachelor's degree.
Writing a thesis can be a daunting experience. Other than a dissertation , it is one of the longest pieces of writing students typically complete. It relies on your ability to conduct research from start to finish: choosing a relevant topic , crafting a proposal , designing your research , collecting data , developing a robust analysis, drawing strong conclusions , and writing concisely .
Thesis template
You can also download our full thesis template in the format of your choice below. Our template includes a ready-made table of contents , as well as guidance for what each chapter should include. It's easy to make it your own, and can help you get started.
Download Word template Download Google Docs template
Table of contents
Thesis vs. thesis statement, how to structure a thesis, acknowledgements or preface, list of figures and tables, list of abbreviations, introduction, literature review, methodology, reference list, proofreading and editing, defending your thesis, frequently asked questions about theses.
You may have heard the word thesis as a standalone term or as a component of academic writing called a thesis statement . Keep in mind that these are two very different things.
A thesis statement is a very common component of an essay, particularly in the humanities. It usually comprises 1 or 2 sentences in the introduction of your essay , and should clearly and concisely summarize the central points of your academic essay .
A thesis is a long-form piece of academic writing, often taking more than a full semester to complete. It is generally a degree requirement for Master's programs, and is also sometimes required to complete a bachelor's degree in liberal arts colleges.
In the US, a dissertation is generally written as a final step toward obtaining a PhD.
In other countries (particularly the UK), a dissertation is generally written at the bachelor's or master's level.
The final structure of your thesis depends on a variety of components, such as:
Your discipline
Your theoretical approach
Humanities theses are often structured more like a longer-form essay . Just like in an essay, you build an argument to support a central thesis.
In both hard and social sciences, theses typically include an introduction , literature review , methodology section ,  results section , discussion section , and conclusion section . These are each presented in their own dedicated section or chapter. In some cases, you might want to add an appendix .
Thesis examples
We've compiled a list of thesis examples to help you get started.
Example thesis #1:   "Abolition, Africans, and Abstraction: the Influence of the 'Noble Savage' on British and French Antislavery Thought, 1787-1807" by Suchait Kahlon.
Example thesis #2: "'A Starving Man Helping Another Starving Man': UNRRA, India, and the Genesis of Global Relief, 1943-1947″ by Julian Saint Reiman.
Example thesis #3:  "An Introduction to Higher-Order Frames in Communication: How Controversial Organizations Maintain Legitimacy Over Time" by Kees Smeets
Receive feedback on language, structure, and formatting
Professional editors proofread and edit your paper by focusing on:
Academic style
Vague sentences
Style consistency
See an example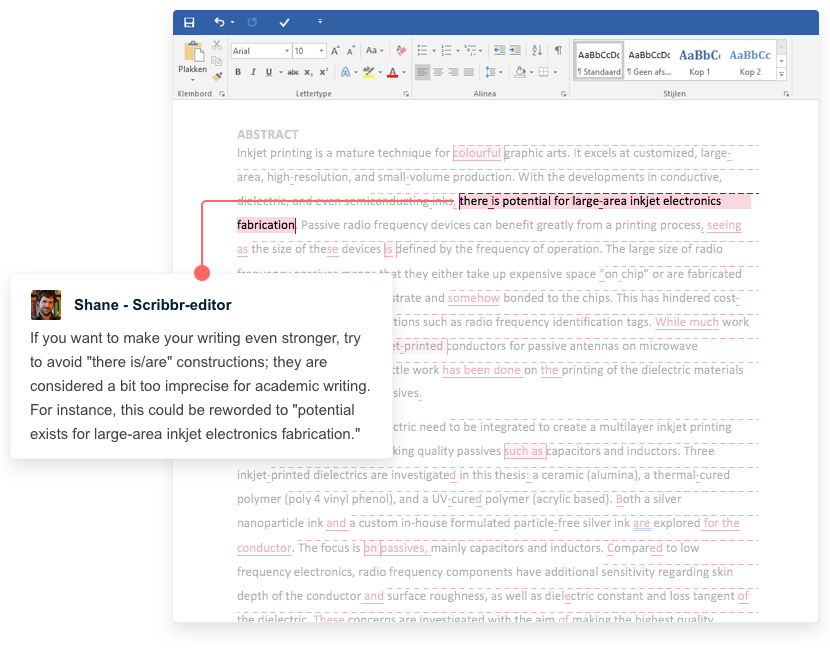 The very first page of your thesis contains all necessary identifying information, including:
Your full title
Your full name
Your department
Your institution and degree program
Your submission date.
Sometimes the title page also includes your student ID, the name of your supervisor, or the university's logo. Check out your university's guidelines if you're not sure.
Read more about title pages
The acknowledgements section is usually optional. Its main point is to allow you to thank everyone who helped you in your thesis journey, such as supervisors, friends, or family. You can also choose to write a preface , but it's typically one or the other, not both.
Read more about acknowledgements Read more about prefaces
An abstract is a short summary of your thesis. Usually a maximum of 300 words long, it's should include brief descriptions of your research objectives , methods, results, and conclusions. Though it may seem short, it introduces your work to your audience, serving as a first impression of your thesis.
Read more about abstracts
A table of contents lists all of your sections, plus their corresponding page numbers and subheadings if you have them. This helps your reader seamlessly navigate your document.
Your table of contents should include all the major parts of your thesis. In particular, don't forget the the appendices. If you used heading styles, it's easy to generate an automatic table Microsoft Word.
Read more about tables of contents
While not mandatory, if you used a lot of tables and/or figures, it's nice to include a list of them to help guide your reader. It's also easy to generate one of these in Word: just use the "Insert Caption" feature.
Read more about lists of figures and tables
If you have used a lot of industry- or field-specific abbreviations in your thesis, you should include them in an alphabetized list of abbreviations . This way, your readers can easily look up any meanings they aren't familiar with.
Read more about lists of abbreviations
Relatedly, if you find yourself using a lot of very specialized or field-specific terms that may not be familiar to your reader, consider including a glossary . Alphabetize the terms you want to include with a brief definition.
Read more about glossaries
An introduction sets up the topic, purpose, and relevance of your thesis, as well as expectations for your reader. This should:
Ground your research topic , sharing any background information your reader may need
Define the scope of your work
Introduce any existing research on your topic, situating your work within a broader problem or debate
State your research question(s)
Outline (briefly) how the remainder of your work will proceed
In other words, your introduction should clearly and concisely show your reader the "what, why, and how" of your research.
Read more about introductions
A literature review helps you gain a robust understanding of any extant academic work on your topic, encompassing:
Selecting relevant sources
Determining the credibility of your sources
Critically evaluating each of your sources
Drawing connections between sources, including any themes, patterns, conflicts, or gaps
A literature review is not merely a summary of existing work. Rather, your literature review should ultimately lead to a clear justification for your own research, perhaps via:
Addressing a gap in the literature
Building on existing knowledge to draw new conclusions
Exploring a new theoretical or methodological approach
Introducing a new solution to an unresolved problem
Definitively advocating for one side of a theoretical debate
Read more about literature reviews
Theoretical framework
Your literature review can often form the basis for your theoretical framework, but these are not the same thing. A theoretical framework defines and analyzes the concepts and theories that your research hinges on.
Read more about theoretical frameworks
Your methodology chapter shows your reader how you conducted your research. It should be written clearly and methodically, easily allowing your reader to critically assess the credibility of your argument. Furthermore, your methods section should convince your reader that your method was the best way to answer your research question.
A methodology section should generally include:
Your overall approach ( quantitative vs. qualitative )
Your research methods (e.g., a longitudinal study )
Your data collection methods (e.g., interviews or a controlled experiment
Any tools or materials you used (e.g., computer software)
The data analysis methods you chose (e.g., statistical analysis , discourse analysis )
A strong, but not defensive justification of your methods
Read more about methodology sections
Your results section should highlight what your methodology discovered. These two sections work in tandem, but shouldn't repeat each other. While your results section can include hypotheses or themes, don't include any speculation or new arguments here.
Your results section should:
State each (relevant) result with any (relevant) descriptive statistics (e.g., mean , standard deviation ) and inferential statistics (e.g., test statistics , p values )
Explain how each result relates to the research question
Determine whether the hypothesis was supported
Additional data (like raw numbers or interview transcripts ) can be included as an appendix . You can include tables and figures, but only if they help the reader better understand your results.
Read more about results sections
Your discussion section is where you can interpret your results in detail. Did they meet your expectations? How well do they fit within the framework that you built? You can refer back to any relevant source material to situate your results within your field, but leave most of that analysis in your literature review.
For any unexpected results, offer explanations or alternative interpretations of your data.
Read more about discussion sections
Your thesis conclusion should concisely answer your main research question. It should leave your reader with an ultra-clear understanding of your central argument, and emphasize what your research specifically has contributed to your field.
Why does your research matter? What recommendations for future research do you have? Lastly, wrap up your work with any concluding remarks.
Read more about conclusions
In order to avoid plagiarism , don't forget to include a full reference list at the end of your thesis, citing the sources that you used. Choose one citation style and follow it consistently throughout your thesis, taking note of the formatting requirements of each style.
Which style you choose is often set by your department or your field, but common styles include MLA , Chicago , and APA.
Create APA citations Create MLA citations
In order to stay clear and concise, your thesis should include the most essential information needed to answer your research question. However, chances are you have many contributing documents, like interview transcripts or survey questions . These can be added as appendices , to save space in the main body.
Read more about appendices
Once you're done writing, the next part of your editing process begins. Leave plenty of time for proofreading and editing prior to submission. Nothing looks worse than grammar mistakes or sloppy spelling errors!
Consider using a professional thesis editing service to make sure your final project is perfect.
Once you've submitted your final product, it's common practice to have a thesis defense, an oral component of your finished work. This is scheduled by your advisor or committee, and usually entails a presentation and Q&A session.
After your defense , your committee will meet to determine if you deserve any departmental honors or accolades. However, keep in mind that defenses are usually just a formality. If there are any serious issues with your work, these should be resolved with your advisor way before a defense.
The conclusion of your thesis or dissertation shouldn't take up more than 5–7% of your overall word count.
If you only used a few abbreviations in your thesis or dissertation , you don't necessarily need to include a list of abbreviations .
If your abbreviations are numerous, or if you think they won't be known to your audience, it's never a bad idea to add one. They can also improve readability, minimizing confusion about abbreviations unfamiliar to your reader.
When you mention different chapters within your text, it's considered best to use Roman numerals for most citation styles. However, the most important thing here is to remain consistent whenever using numbers in your dissertation .
A thesis or dissertation outline is one of the most critical first steps in your writing process. It helps you to lay out and organize your ideas and can provide you with a roadmap for deciding what kind of research you'd like to undertake.
Generally, an outline contains information on the different sections included in your thesis or dissertation , such as:
Your anticipated title
Your abstract
Your chapters (sometimes subdivided into further topics like literature review , research methods , avenues for future research, etc.)
A thesis is typically written by students finishing up a bachelor's or Master's degree. Some educational institutions, particularly in the liberal arts, have mandatory theses, but they are often not mandatory to graduate from bachelor's degrees. It is more common for a thesis to be a graduation requirement from a Master's degree.
Even if not mandatory, you may want to consider writing a thesis if you:
Plan to attend graduate school soon
Have a particular topic you'd like to study more in-depth
Are considering a career in research
Would like a capstone experience to tie up your academic experience
Cite this Scribbr article
If you want to cite this source, you can copy and paste the citation or click the "Cite this Scribbr article" button to automatically add the citation to our free Citation Generator.
George, T. (2022, December 07). What Is a Thesis? | Ultimate Guide & Examples. Scribbr. Retrieved March 6, 2023, from https://www.scribbr.com/dissertation/thesis/
Is this article helpful?
Tegan George
Other students also liked, dissertation & thesis outline | example & free templates, writing strong research questions | criteria & examples, 10 research question examples to guide your research project, what is your plagiarism score.
What Is a Senior Thesis?
 Daniel Ingold/Cultura/Getty Images
Writing Research Papers
Writing Essays
English Grammar
M.Ed., Education Administration, University of Georgia
B.A., History, Armstrong State University
A senior thesis is a large, independent research project that students take on during their senior year of high school or college to fulfill their graduation requirement. It is the culminating work of their studies at a particular institution, and it represents their ability to conduct research and write effectively. For some students, a senior thesis is a requirement for graduating with honors.
Students typically work closely with an advisor and choose a question or topic to explore before carrying out an extensive research plan.
Style Manuals and the Paper's Organization
The structure of your research paper will depend, in part, on the style manual that is required by your instructor. Different disciplines, such as history, science, or education, have different rules to abide by when it comes to research paper construction, organization, and modes of citation. The styles for different types of assignment include:
Modern Language Association (MLA): The disciplines that tend to prefer the MLA style guide include literature, arts, and the humanities, such as linguistics, religion, and philosophy. To follow this style, you will use parenthetical citations to indicate your sources and a works cited page to show the list of books and articles you consulted.
American Psychological Association (APA): The APA style manual tends to be used in psychology, education, and some of the social sciences. This type of report may require the following:
Chicago style: "The Chicago Manual of Style" is used in most college-level history courses as well as professional publications that contain scholarly articles. Chicago style may call for endnotes or footnotes corresponding to a bibliography page at the back or the author-date style of in-text citation, which uses parenthetical citations and a references page at the end.
Turabian style: Turabian is a student version of Chicago style. It requires some of the same formatting techniques as Chicago, but it includes special rules for writing college-level papers, such as book reports. A Turabian research paper may call for endnotes or footnotes and a bibliography.
Science style: Science instructors may require students to use a format that is similar to the structure used in publishing papers in scientific journals. The elements you would include in this sort of paper include:
List of materials and methods used
Results of your methods and experiments
Acknowledgments
American Medical Association (AMA): The AMA style book might be required for students in medical or premedical degree programs in college. Parts of an AMA research paper might include:
Proper headings and lists
Tables and figures
In-text citations
Reference list
Choose Your Topic Carefully
Starting off with a bad, difficult, or narrow topic likely won't lead to a positive result. Don't choose a question or statement that's so broad that it's overwhelming and could comprise a lifetime of research or a topic that's so narrow you'll struggle to compose 10 pages. Consider a topic that has a lot of recent research so you won't struggle to put your hands on current or adequate sources.
Select a topic that interests you. Putting in long hours on a subject that bores you will be arduous—and ripe for procrastination. If a professor recommends an area of interest, make sure it excites you.
Also, consider expanding a paper you've already written; you'll hit the ground running because you've already done some research and know the topic. Last, consult with your advisor before finalizing your topic. You don't want to put in a lot of hours on a subject that is rejected by your instructor.
Organize Your Time
Plan to spend half of your time researching and the other half writing. Often, students spend too much time researching and then find themselves in a crunch, madly writing in the final hours. Give yourself goals to reach along certain "signposts," such as the number of hours you want to have invested each week or by a certain date or how much you want to have completed in those same timeframes.
Organize Your Research
Compose your works cited or bibliography entries as you work on your paper. This is especially important if your style manual requires you to use access dates for any online sources that you review or requires page numbers be included in the citations. You don't want to end up at the very end of the project and not know what day you looked at a particular website or have to search through a hard-copy book looking for a quote that you included in the paper. Save PDFs of online sites, too, as you wouldn't want to need to look back at something and not be able to get online or find that the article has been removed since you read it.
Choose an Advisor You Trust
This may be your first opportunity to work with direct supervision. Choose an advisor who's familiar with the field, and ideally select someone you like and whose classes you've already taken. That way you'll have a rapport from the start. 
Consult Your Instructor
Remember that your instructor is the final authority on the details and requirements of your paper. Read through all instructions, and have a conversation with your instructor at the start of the project to determine his or her preferences and requirements. Have a cheat sheet or checklist of this information; don't expect yourself to remember all year every question you asked or instruction you were given. 
By clicking "Accept All Cookies", you agree to the storing of cookies on your device to enhance site navigation, analyze site usage, and assist in our marketing efforts.
Do All Graduate Students Do a Thesis?
Prior to entering graduate school, many students might wonder if all graduate students do a thesis. Despite what you might hear, a thesis isn't always a requirement for completing all graduate school programs. It often depends on the type of subject you study, but some schools offer both a thesis and a non-thesis route that lets students take more classes in lieu of doing a thesis. Once you learn more about the alternatives to a thesis, you can better decide which option is right for you.
What is a Thesis?
A thesis is a complex paper that you write during the last year of graduate school. Students generally want to take a topic that they studied in class and look at ways to research and build a paper around that topic. According to U.S. News and World Report , students should pick a topic that relates to their past experience. Students will submit your topic to their advisor and meet with their advisor as they research and begin writing their paper. A team of professors will later read their paper and determine if it meets the requirements necessary for graduating.
Capstone or Research Project
Those looking for an answer to the question of do all graduate students do a thesis should know that some schools allow students to complete a final research or capstone project in lieu of doing a thesis. This is often the best option for those who prefer hands on experience rather than doing even more classroom work. For example, a computer science major might create a new piece of software or a computer program instead of writing about recent innovations in the technology field.
Field Experience
Did you know that some graduate schools remove the thesis requirement for students who complete field experience? If you think this sounds like an easier option, keep in mind that your school may require that you complete 300 hours or more of supervised fieldwork after finishing your studies. This may also mean that it takes you three or more years to finish your degree. Students who do a thesis often finish within two years or less. Schools that offer fieldwork in lieu of a thesis often require that students complete detailed logs of the work they do and present those logs to the department before graduating.
Choosing the Right Option
As a student entering grad school, you need to know which option is right for you. Some want an answer to the question of do all graduate students do a thesis, because they dislike research and the idea of spending long hours in the library. A non-thesis route is great for those who want to learn more about their chosen field and take more classes without writing a separate paper. The research project option is best for those who want to create a detailed project without doing any research, and field experience programs appeal to those who don't mind spending extra time working before getting a degree.
Related Resource: Dissertation
Though some students assume that all graduate students require that students write a thesis, this isn't always true. The answer to the question of do all graduate students do a thesis is that it depends on the program and that some schools offer alternatives like fieldwork or a research project.
Latest Posts
Skip to main content
Skip to ChatBot Assistant
Onsite and Online Tutoring
Academic Writing
Research Writing
Critical Reading and Writing
Punctuation
Writing Exercises
ELL/ESL Resources
Thesis Definition
The thesis is one of the most important concepts in college expository writing. A thesis sentence focuses your ideas for the paper; it's your argument or insight or viewpoint crystallized into a single sentence that gives the reader your main idea. It's not only useful for the reading audience to understand the purpose of the essay; this purpose is also useful for you as a writer, as it indicates the type of support that will follow in the paper and may indicate a logical structure or order for that support. Thus, you need to have a good grasp of the concept of thesis in order to proceed.
The thesis identifies two basics:
what your ideas are about, and
what your ideas are (i.e. what you will be trying to prove).
There are two parts to a thesis sentence that reflect these basics.
The topic in the thesis tells what you are writing about.
The angle in the thesis tells what your ideas are about the topic (again, what you are trying to prove).
For example:
All successful college students have certain basic characteristics. [The main topic is about college students, while the idea or angle about the topic is that successful students share certain characteristics. The thesis indicates the type of support needed--discussion of those characteristics that contribute to college success.]
For most adult students returning to college, the problems that they face along the way are outweighed by their achievements. [The main topic is about adult college students, while the idea or angle about the topic is that problems are outweighed by achievements. The thesis indicates the type of support needed and the order of that support--an explanation of the problems first and then an explanation of achievements second.]
Adult students returning to college make up a higher percentage of entering students than they did twenty years ago because of a number of statistical, economic, and social reasons. [The main topic is about adult students returning to college, while the idea or angle about the topic is that there are reasons for the higher percentage of adults returning to college. The thesis indicates the type of support needed and the order of that support--an explanation of the statistical reasons first, economic reasons second, and social reasons third.]
Do you understand the basic topic and angle concept? If so, then there are a few more things to consider about the thesis. (And if not, now's the time to start asking a learning coach for assistance! Email [email protected] or contact your regional Academic Support office ). It's important to investigate additional thesis characteristics at this point to make sure that you'll be creating a working thesis sentence that is workable and appropriate for college essays. In addition to knowing what a thesis is, you need to know what a thesis is not. A thesis sentence's angle should NOT be:
Too broad. For example, the following thesis really doesn't pinpoint a specific insight about the topic: Adult students returning to college have a hard time. In what ways do adult students have a hard time? You'd need to identify a more specific insight in this angle.
Too narrow a statement of fact. For example, the following thesis really cannot be developed into a full essay because the angle doesn't contain the writer's own thoughts or insights about the subject: Adult students returning to college read an average of 7.5 books per term. A reader may respond by saying, "So what?" A narrow statement of fact does not contain your own personal analysis, argument, or interpretation of the topic--that all-important angle which a thesis must have.
An announcement. For example, the following really is not a thesis at all because it lacks an angle that gives the writer's own insight into the topic: My topic is the adult student returning to college. Again, "So what?" What's the reader's idea here?
Once you create a working thesis, you should assess it to make sure that it fulfills thesis characteristics. Make sure it has a clear topic (indication of what the thesis is about) and angle (what your own ideas are about the topic, i.e. what you are trying to prove). Make sure that the angle is not too broad, too narrow, a statement of fact, or an announcement. Work with the angle to make it indicate the order of your support, if you choose to do that for yourself or for your reading audience. And realize that the thesis is a working thesis until you finalize the essay (it's okay to revise the thesis as you go along, just as long as you retain important thesis characteristics.)
Need Assistance?
Don't forget: if you would like assistance with this or any other type of writing assignment, learning coaches are available to assist you. Please contact Academic Support by emailing [email protected] .
Questions or feedback about SUNY Empire's Collegewide Writing Support?
Contact us at [email protected] .
Smart Cookies
They're not just in our classes – they help power our website. Cookies and similar tools allow us to better understand the experience of our visitors. By continuing to use this website, you consent to SUNY Empire State College's usage of cookies and similar technologies in accordance with the college's Privacy Notice and Cookies Policy .
Questions about Expos?
Writing Support for Instructors
Developing A Thesis
Think of yourself as a member of a jury, listening to a lawyer who is presenting an opening argument. You'll want to know very soon whether the lawyer believes the accused to be guilty or not guilty, and how the lawyer plans to convince you. Readers of academic essays are like jury members: before they have read too far, they want to know what the essay argues as well as how the writer plans to make the argument. After reading your thesis statement, the reader should think, "This essay is going to try to convince me of something. I'm not convinced yet, but I'm interested to see how I might be."
An effective thesis cannot be answered with a simple "yes" or "no." A thesis is not a topic; nor is it a fact; nor is it an opinion. "Reasons for the fall of communism" is a topic. "Communism collapsed in Eastern Europe" is a fact known by educated people. "The fall of communism is the best thing that ever happened in Europe" is an opinion. (Superlatives like "the best" almost always lead to trouble. It's impossible to weigh every "thing" that ever happened in Europe. And what about the fall of Hitler? Couldn't that be "the best thing"?)
A good thesis has two parts. It should tell what you plan to argue, and it should "telegraph" how you plan to argue—that is, what particular support for your claim is going where in your essay.
Steps in Constructing a Thesis
First, analyze your primary sources.  Look for tension, interest, ambiguity, controversy, and/or complication. Does the author contradict himself or herself? Is a point made and later reversed? What are the deeper implications of the author's argument? Figuring out the why to one or more of these questions, or to related questions, will put you on the path to developing a working thesis. (Without the why, you probably have only come up with an observation—that there are, for instance, many different metaphors in such-and-such a poem—which is not a thesis.)
Once you have a working thesis, write it down.  There is nothing as frustrating as hitting on a great idea for a thesis, then forgetting it when you lose concentration. And by writing down your thesis you will be forced to think of it clearly, logically, and concisely. You probably will not be able to write out a final-draft version of your thesis the first time you try, but you'll get yourself on the right track by writing down what you have.
Keep your thesis prominent in your introduction.  A good, standard place for your thesis statement is at the end of an introductory paragraph, especially in shorter (5-15 page) essays. Readers are used to finding theses there, so they automatically pay more attention when they read the last sentence of your introduction. Although this is not required in all academic essays, it is a good rule of thumb.
Anticipate the counterarguments.  Once you have a working thesis, you should think about what might be said against it. This will help you to refine your thesis, and it will also make you think of the arguments that you'll need to refute later on in your essay. (Every argument has a counterargument. If yours doesn't, then it's not an argument—it may be a fact, or an opinion, but it is not an argument.)
This statement is on its way to being a thesis. However, it is too easy to imagine possible counterarguments. For example, a political observer might believe that Dukakis lost because he suffered from a "soft-on-crime" image. If you complicate your thesis by anticipating the counterargument, you'll strengthen your argument, as shown in the sentence below.
Some Caveats and Some Examples
A thesis is never a question.  Readers of academic essays expect to have questions discussed, explored, or even answered. A question ("Why did communism collapse in Eastern Europe?") is not an argument, and without an argument, a thesis is dead in the water.
A thesis is never a list.  "For political, economic, social and cultural reasons, communism collapsed in Eastern Europe" does a good job of "telegraphing" the reader what to expect in the essay—a section about political reasons, a section about economic reasons, a section about social reasons, and a section about cultural reasons. However, political, economic, social and cultural reasons are pretty much the only possible reasons why communism could collapse. This sentence lacks tension and doesn't advance an argument. Everyone knows that politics, economics, and culture are important.
A thesis should never be vague, combative or confrontational.  An ineffective thesis would be, "Communism collapsed in Eastern Europe because communism is evil." This is hard to argue (evil from whose perspective? what does evil mean?) and it is likely to mark you as moralistic and judgmental rather than rational and thorough. It also may spark a defensive reaction from readers sympathetic to communism. If readers strongly disagree with you right off the bat, they may stop reading.
An effective thesis has a definable, arguable claim.  "While cultural forces contributed to the collapse of communism in Eastern Europe, the disintegration of economies played the key role in driving its decline" is an effective thesis sentence that "telegraphs," so that the reader expects the essay to have a section about cultural forces and another about the disintegration of economies. This thesis makes a definite, arguable claim: that the disintegration of economies played a more important role than cultural forces in defeating communism in Eastern Europe. The reader would react to this statement by thinking, "Perhaps what the author says is true, but I am not convinced. I want to read further to see how the author argues this claim."
A thesis should be as clear and specific as possible.  Avoid overused, general terms and abstractions. For example, "Communism collapsed in Eastern Europe because of the ruling elite's inability to address the economic concerns of the people" is more powerful than "Communism collapsed due to societal discontent."
Copyright 1999, Maxine Rodburg and The Tutors of the Writing Center at Harvard University
How to Read an Assignment
How to Do a Close Reading
Counterargument
Topic Sentences and Signposting
Transitioning: Beware of Velcro
How to Write a Comparative Analysis
Ending the Essay: Conclusions
Brief Guides to Writing in the Disciplines
Quick Links
Schedule an Appointment
Drop-in Hours
English Grammar and Language Tutor
Harvard Guide to Using Sources
Writing Advice: The Harvard Writing Tutor Blog
Departmental Writing Fellows
Videos from the 2022 Three Minute Thesis Competition
Follow @HCWritingCenter